Canadian Designer Olivia Rubens Is at the Forefront of Sustainable Fashion
As a designer, Olivia Rubens simply isn't interested in surface-level sustainability. "My main goal is not just to be circular—or quote-unquote sustainable, which is quite an overused word anyway—but to be people positive and planet positive," she says. "I want to be able to consistently challenge myself every time I produce a new body of work or develop new collaborations—how can I do better?"
Her eponymous knitwear line features upcycled, plant-based, and recycled fabrics, and the fashion designer holds exacting standards when it comes to responsible sourcing and manufacturing. "I mainly aim to work with social cooperatives for my manufacturing, work with social enterprises in developing new initiatives, and try to give back as much as possible," Rubens says.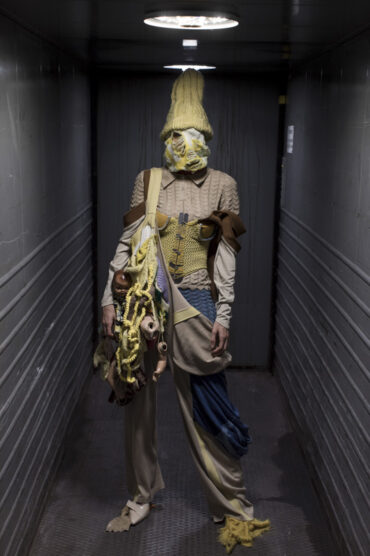 For her eight-piece London College of Fashion MA graduate collection, Rubens collaborated with close to 10 international creatives and companies. For example, she sourced mohair from a goat farmer in England, found a dyer in Ireland for yarns, and worked with knitters from Italy to London.
Her Duplicitous Lives collection debuted at London Fashion Week just weeks before the start of the pandemic. It is "centred around femininity and identity" and inspired in part by Cindy Sherman's self-portraits and the work of artists like Martin Parr and Laurie Simmons. Incorporating hand and machine knits, embroidery, bio-based DenimX plastic, upcycled materials, and more. Last year, Rubens also designed what she describes as a photosynthesizing cardigan for a body of work entitled Birds of a Feather, created in collaboration with London's Post Carbon Lab. "They coat fabric with a live coating that photosynthesizes; the garments are breathing like plants do, and they're sequestering carbon from the atmosphere," Rubens explains.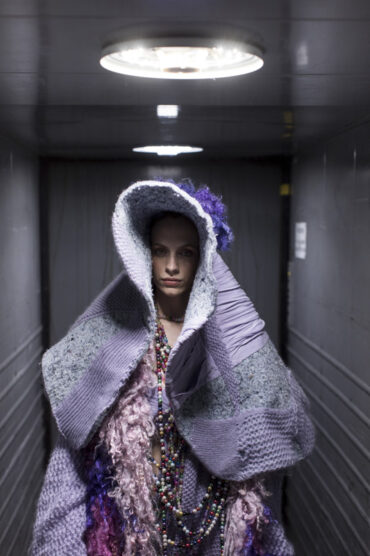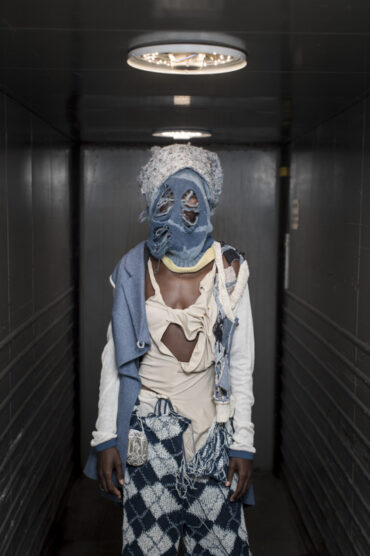 Despite graduating during a pandemic and having to return to Ottawa in spring 2020, Rubens has found creative ways to showcase her work globally in the past year. A look from Birds of a Feather was shown digitally at Digital Helsinki Fashion Week, and her MA work helped Rubens win the 2020 International Talent Support (ITS) Responsible Fashion Award and Camera Nazionale della Moda Italiana Award. This June, her line was also named Most Sustainable Collection at the iD Dunedin International Emerging Designer Awards in New Zealand.
During a particularly tough year, this industry recognition made a difference for the independent designer. "There was a lot of questioning my purpose and making sure that everything I was doing I was doing for a reason," Rubens says. "I don't want to just be another designer, because there are enough of those. I need to make sure that everything I'm doing has an impact." Winning the ITS contest, she says, gave her hope and a renewed sense of purpose, and she used the prize money to set up a design studio in her hometown. The collection is still manufactured in London and Italy, and Rubens hopes to work between the three locations once international travel resumes. "It's been quite a roller coaster over here, if I'm honest," she says. "I'm really happy to be able to be in a place where I can slow down when I need to."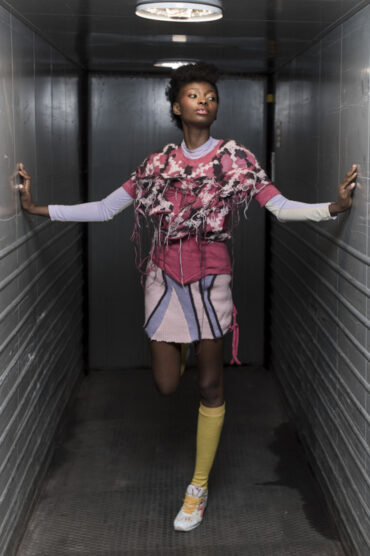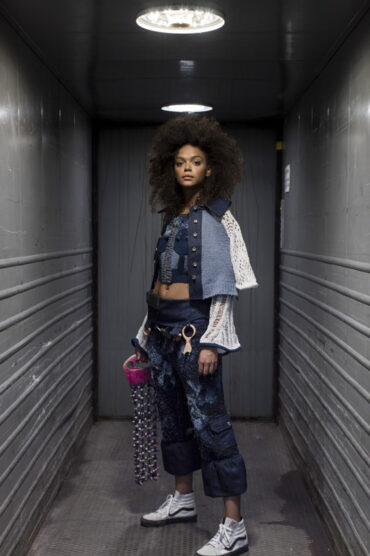 That doesn't mean she plans to stop working anytime soon. Currently, Rubens is selling her knit accessories on Reture and plans to participate in the fashion upcycling platform's pop-up this summer at Selfridges, collaborating with ITS to create looks for their new archive, and developing an exclusive collection for a retailer in London. In addition, she will be releasing a new collection of one-off knits in August. "It'll be very body positive, body inclusive," Rubens says. "You can wear it however you want."