Two Great Designers Meet to Bring to Life the Unbelievable Mazu 82
With a interior by Turkish designer Tanju Özelgin and an edgy exterior by Halit Yukay.
No matter how we frame it, the collaboration of Turkish interior designer Tanju Özelgin and Mazu shipyard founder Halit Yukay produces pure magic, and that's nowhere more evident than in the all-new Mazu 82 a luxurious and capable cruising yacht with more than a touch of military flair.
Crafted from lightweight carbon composite, the Mazu 82 achieves a rare balance of raw power and refined elegance with its outstanding performance and handling, clean profile, and jaw-dropping style inside and out. While its clearly masculine styling (dare we call it tactical chic?) may not appeal to everyone's taste, even those who might prefer a more traditional approach will concede that something magical happened when Özelgin met Yukay.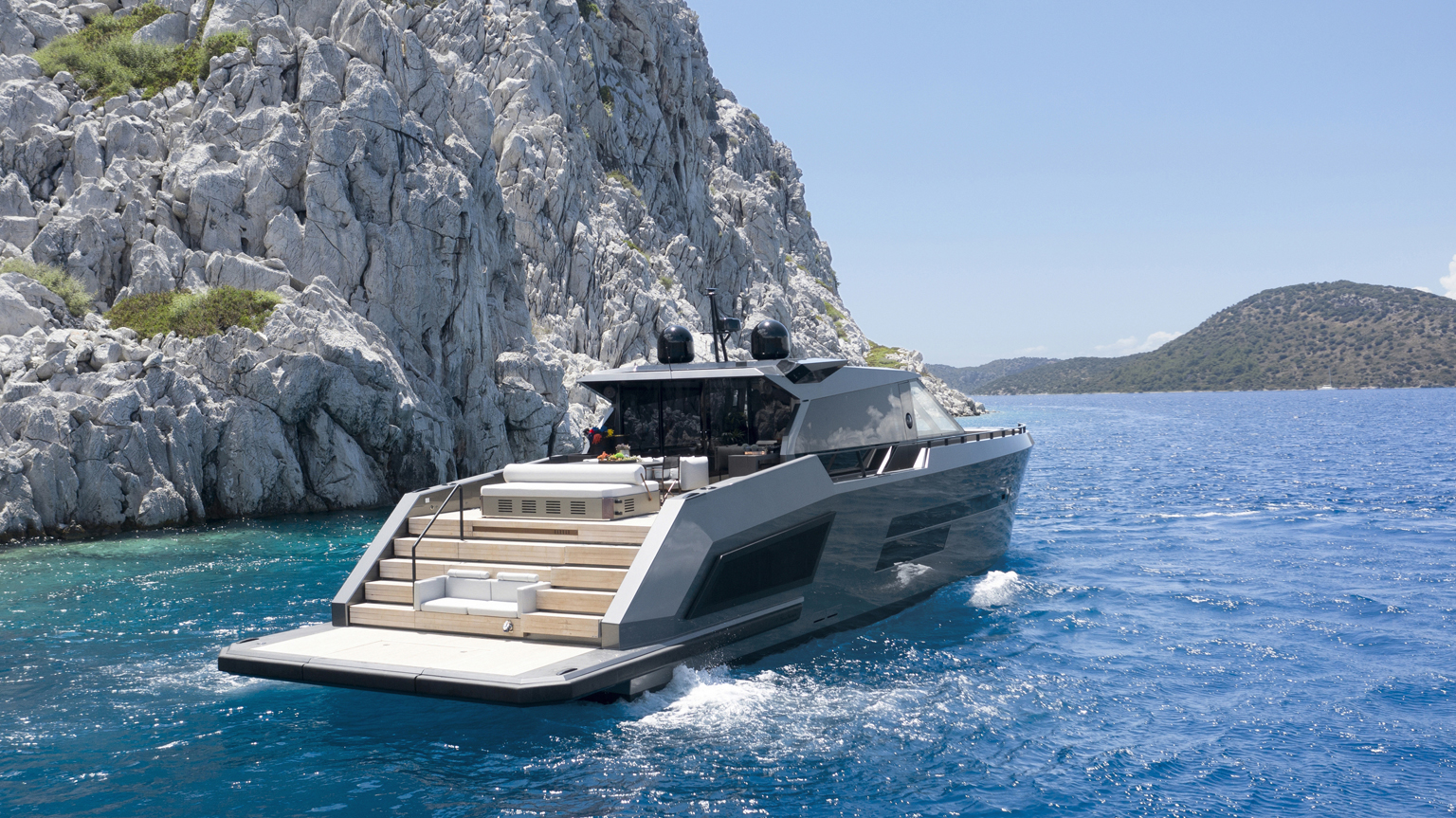 The exterior sets a clear tone, with its straight lines, flush main deck with no steps, and the angular lines of its all-glass deckhouse. That's quite an engineering trick given the stresses posed on glazing in lumpy seas, but the Mazu 82 rises to the task by going full tactical with a 22-millimetre-thick windshield that uses a PVB interlayer for extraordinary structural strength.
How strong is it? Bulletproof, which fits with this yacht's Bond-villain appeal.
Thanks to all that glass, the yacht is bright and airy underway, aided in part by three portholes at the front of the superstructure that open for airflow and a large, sliding aluminum roof custom-made in Italy by Opac.
At the stern swim platform, elegant terraced steps lead up into the cockpit. These function as built-in furniture, wide enough to allow guests to sit or even lie on while conversing and enjoying the sunset. There's even an upholstered loveseat in the centre just above the swim platform, which surely ranks as the best seat in the house.
At the top of the steps, the cockpit welcomes guests aboard with a large central lounge that offers forward-facing or aft-facing seating and can be easily converted to an expansive sun lounge. A removable table, with the addition of some matching deck chairs, creates a lovely spot for drinks and conversation with a view. A small bar area to starboard with swivelling barstools can be equipped with DJ turntables and connected to the JL exterior audio system to covert the cockpit into a spacious outdoor club.
Twin promenades lead forward to a spacious multiuse space on the forward deck, which can alternatively serve as a lounge space, an outdoor dining area, or even an outdoor theatre. Returning aft, with the salon doors fully opened, the cockpit and salon merge together neatly to form a single continuous living space.
A long bench sofa runs forward up the entire port side of the salon, facing an elegant coffee table and a couple of beautifully upholstered leather club chairs, while the starboard side provides a long counter with plenty of storage space beneath. The state-of-the-art Dali interior audio system is set up to work in concert with the salon's leather furnishings and Alcantara cladding to dampen reverberations and mute unwanted noise for an optimal listening experience.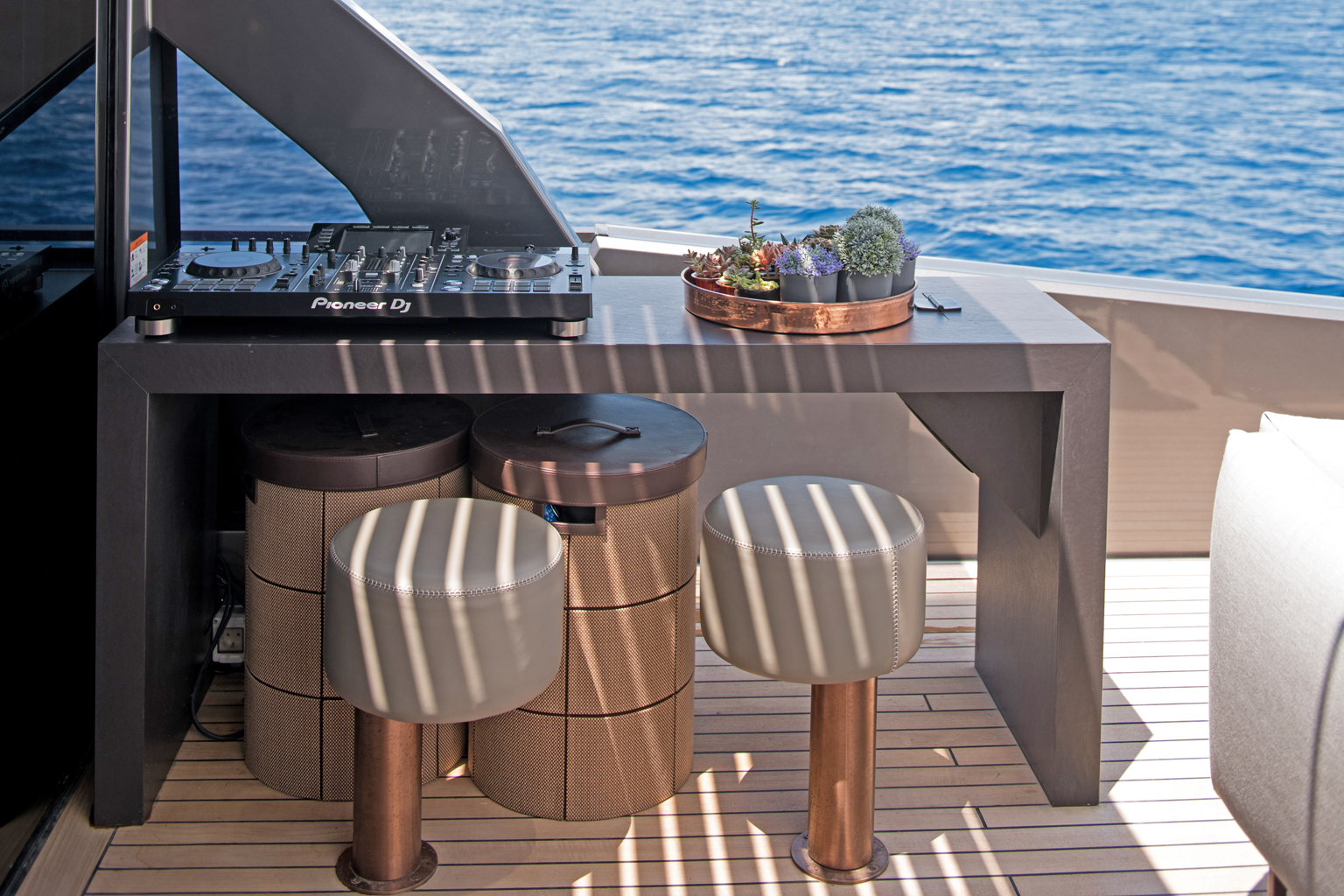 At the helm, the warm walnut and leather of the salon give way to the tactical feel of the precision joystick controls and actual military shock-mitigating SHOX seating created by B.C. manufacturer Allsalt Maritime. The helm controls three Volvo Penta diesels churning out a combined around 3,000 horsepower, more than enough oomph to send the Mazu 82 streaking forth at 40 knots (max) and allowing it to cruise comfortably at 35. With its 6,000-litre fuel capacity, it can cruise along for a long, long way between pit stops.
Continuing forward down a handful of stairs to the lower-level accommodations, there is a sitting area complete with a large-screen TV to starboard and a modern galley to port set up to please any gourmet chef with its full suite of Gaggenau equipment.
The spacious master suite located aft includes a comfortable sitting area on each side of its king bed, an enormous walk-in closet to port, and a roomy ensuite to starboard, all decked out in thoroughly masculine tones and dark sea finishes. It is a contrast from the forward VIP cabin, which features an equally contemporary design but opts for lighter hues overall. Between the VIP suite and the galley is the day head to port and a smaller twin cabin starboard for additional sleeping space.
With its delicious juxtaposition of sumptuous leather upholstery and tactical flair, this is one custom yacht that can't help but raise eyebrows everywhere it goes. Özelgin and Yukay, take a bow.
Imagery via Pozitif Studyo.