The Mercedes G-Class: Five Important Models From Its History
The Mercedes G-Class is obnoxious to the point of cool, standing out in any shopping mall parking lot, in gridlocked traffic, and while rolling on the highway. For an SUV that's designed to beat any terrain into submission, this Mercedes SUV manages to impress even when it's in the most mundane setting. It exudes an old-world aura with a boxy shape that has withstood the test of time.
Your favourite celebrity probably owns or owned a G-Class, including Arnold Schwarzenegger, the Jenner family, Stephen Curry, Megan Fox, and Drake. It even showed up on the big screen, starring in movies like the Fast and Furious and Jurassic Park franchises, as well as appearances in The Bourne Supremacy and A Good Day to Die Hard.
Its story starts way back in 1975 when the Shah of Iran ordered 20,000 units of the yet-to-be-released Mercedes Geländewagen. While the revolution meant the order was cancelled, the G-Wagon has found homes across the world on various country's armies, emergency response teams, and in the garages of the rich and famous.
Over the years it has undergone hardly any redesigns, which is unheard of—most luxury cars get updated every few years. But occasionally Mercedes trots out some limited-edition models that helped push the legend of the G-Glass to more outrageous lengths. Here are a few.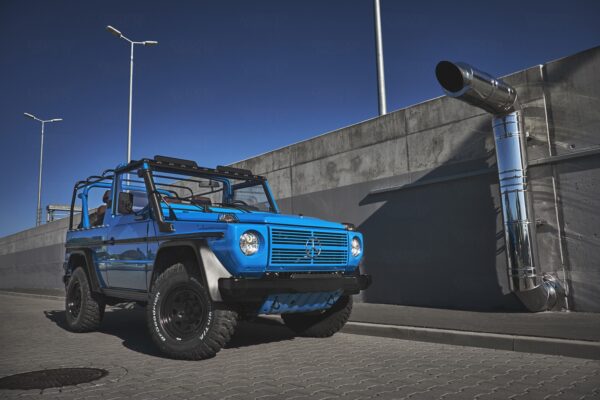 250 GD Wolf
G-Wagons used by the German military had the codename "Wolf." These vehicles used a 2.5-litre five-cylinder diesel motor, featured a fold-down windshield, and sported a convertible or removable top. With its service-oriented development, it's hard to deny the outright badass aura surrounding these trucks, and that is resonating with enthusiasts. Expedition Motor Company specializes in taking these Wolf-spec military vehicles and giving them a complete touch-up with over 1,000 hours of work. It can even customize the Wolf for customers and then get it ready for a long and hardy life with civilians.
Popemobile
For his 1980 visit to Germany, Mercedes made a special G-Class for Pope John Paul II that featured a raised area protected by a transparent dome to allow everyone to see the Pope even if he was seated. Modifications were even made to the vehicle's air-conditioning systems to keep the Pope comfortable during hot days and prevent the glass from fogging up during humid or rainy ones. That G-Class-powered Popemobile was so badass, it broke a few rules, driving in a pedestrianized zone while on the way to the cathedral square in Mainz. This move irked an on-duty policeman who handed out a fine for 20 German marks, which was later settled out of court.
Mercedes repeated its efforts in 1982, making a nearly identical vehicle but based on the more powerful 230 GE model. Mercedes also provided Pope Benedict XVI with a white G 500 back in 2007.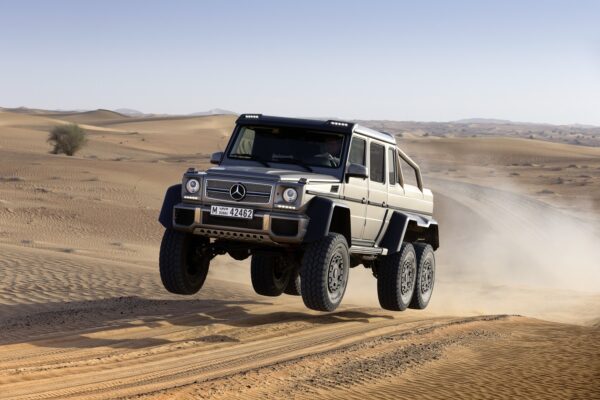 G63 6×6 AMG
In 2013, Mercedes revealed the G63 6×6 AMG, a version of the G-Class with six wheels. With a 5.5-litre twin-turbo V8 under the hood, making 536 horsepower, the 6×6 was a beast of an off-roader, sending power to all three axles with a 31/42/27 power split. It featured five electronic differential locks, a low-range ratio, and portal axles, which were normally seen on Mercedes' Unimog medium-duty vehicle. Just over 100 versions of the G63 6×6 AMG exist, making them an extremely rare sight. It was followed up by the equally wild G 500 4×4², which also used portal axles though had just four wheels instead of six.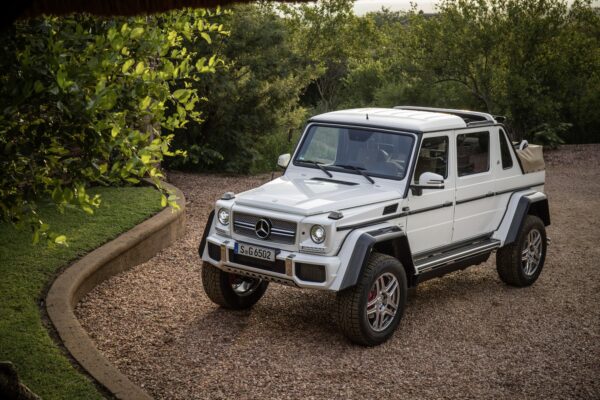 G 650 Landaulet
The success of the G63 AMG 6×6 and G 500 4×4² led to the opulent Mercedes-Maybach G 650 Landaulet, a vehicle that was just as long as the 6×6 but featured an interior plucked straight from the flagship Mercedes-Maybach S-Class and GLS-Class. Under the hood is the ultra-smooth twin-turbo V12 engine making 621 horsepower. Mercedes keeps the details flowing, including a divider for the driver and passenger areas, the massive LED monitors, and the hard-to-miss folding fabric roof that only covers the rear half of the vehicle.
2018 G-Class
It's hard to imagine that after all that history, and these impressive examples, they were all based on the same platform. Vehicles from 1979 to 2018 are all loosely based on the original vehicle, but that all changed with the first all-new G-Class that debuted in 2018. Only three components were carried over from the previous generation G-Class to the new model: the headlight washers, the push-button door handles, and the spare wheel cover that bolted to the rear tailgate. Everything else was all new, and as a result, the driving dynamics of the G-Class have been tightened up, allowing the SUV to feel far more modern on the road, even if its design is decidedly rugged.
_______
Never miss a story. Sign up for NUVO's weekly newsletter here.