The fastest sleeper in town gets even more power.
Now in its sixth generation, the venerable BMW M5 has remained largely true to its roots as the high-performance take on BMW's mid-size luxury sedan. But as sedans have grown ever larger and increasingly more powerful since the original E28 M5 of 1985, the latest F90 generation M5 might be better understood as a 600 horsepower four-door supercar.
The new BMW M5 Competition comes with an exclusive array of performance and aesthetic modifications over the already well-appointed standard M5. Despite its additional power, revised suspension setup, and numerous bespoke visual touches, the M5 Competition manages to look about as subtle as the standard version, a car known for its sleeper appeal.
While some may want their incredibly powerful sports sedan to look much sportier than a standard 535i, I kind of dig that the M5's specific appeal is something almost entirely left to those in the know. If you know cars, you can spot an M5—otherwise, it just rolls past like any other BMW.
Retaining the standard model's 4.4-litre twin turbo V8, the M5 Competition's output is up from 600 to 617 horsepower and 553 lb-ft of torque. Peak torque is found as low as 1,800 rpm, allowing the 1,940 kg (unladen) M5 Competition to scoot to 100 km/h in 3.3 seconds and on to a top speed of 305 km/h. Power is funnelled to all four wheels via an 8-speed automatic gearbox, with 275 section tires up front and 285 in the rear.
If you'll allow me a moment to nerd out on tires, a 285 section rear tire on a car with 625 horsepower is a fairly narrow bit of rubber for that much power. For context, the Lamborghini Urus I recently drove makes a bit more power (650 horsepower) but was also based on an all-wheel-drive platform and used 315 section rear tires (considerably wider than the M5 Competition's 285 sizing). The M5 Competition should feel quite lively on such a (relatively) narrow tire and let's not forget this generation's ability to operate as a rear-wheel-drive car at the push of a button.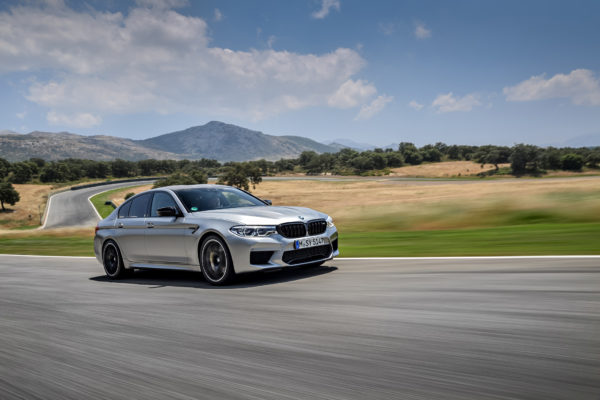 In terms of appearance, the M5 Competition features a sports exhaust with black tips, a lowered suspension, exclusive 20-inch lightweight alloy wheels, blacked-out badging, and a custom interior with Aragon Brown Merino leather on a handsome application of aluminum-carbon trim. Wrap the whole package in BMW's low-key Individual Frozen Dark Silver metallic paint with black accents all around, and you have an M5 that speaks softly but carries just so much stick.

The spirit of the BMW M5, which starts at $113,000, has remained largely unchanged in its 30-plus year run, apart from the addition of xDrive all-wheel drive. While this new $121,000 Competition package may up the power and even make some tweaks to the aesthetics, compared to rivaling models like the Mercedes-AMG E63S, the Cadillac CTS-V, or the Porsche Panamera Turbo, the M5 manages, visually, to be the most stoic of the bunch, and for that I love it.

While I'll get my first chance at driving the current generation M5 later this month, the black-on-silver look of the $121,000 M5 Competition works well and it's not as though anyone is going complain over the increase in power and performance—it is, after all, an M5.

_________

Never miss a story. Sign up for NUVO's weekly newsletter, here.