A remarkably capable all-round sports car.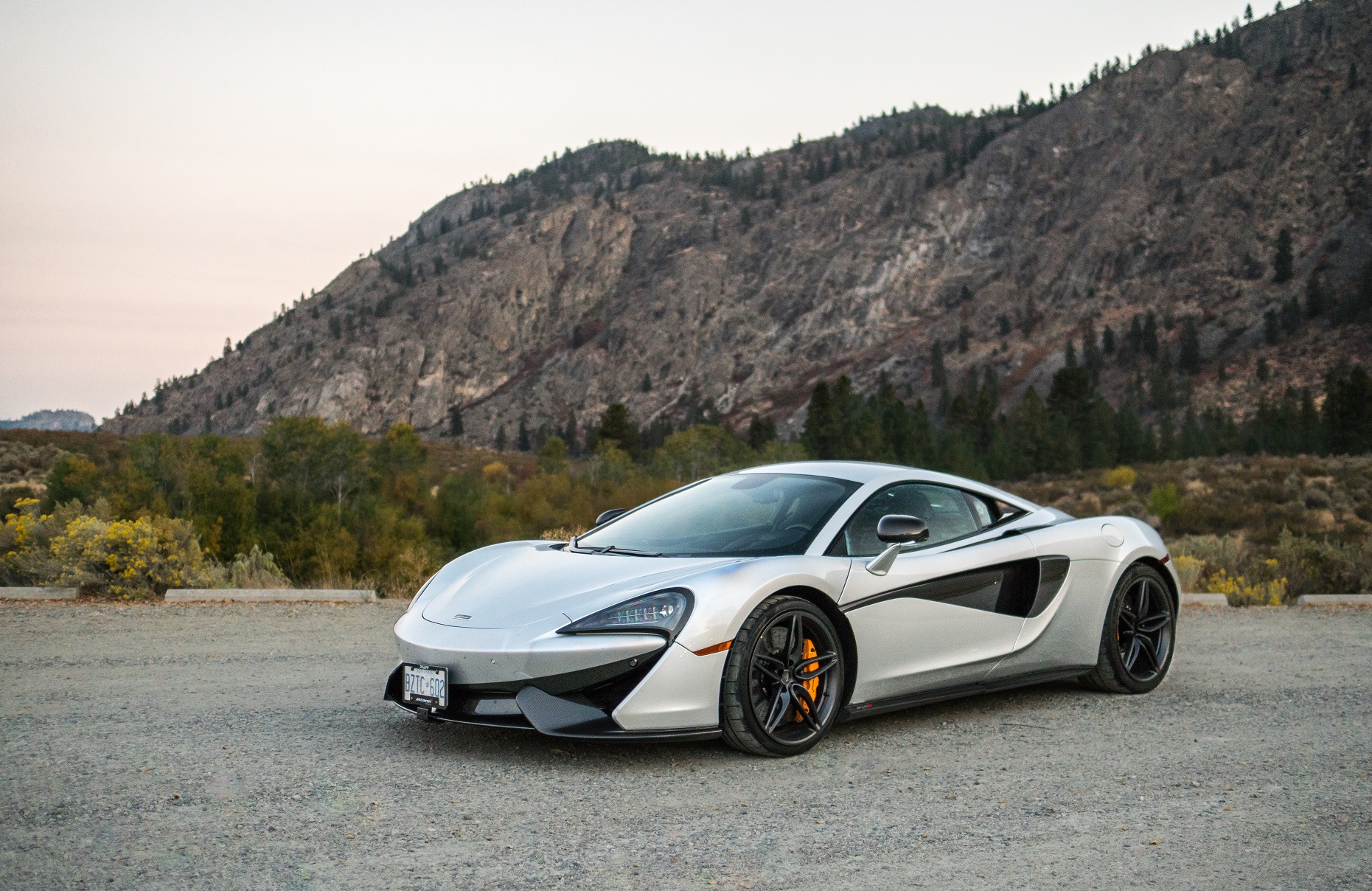 Passing Hope, British Columbia, I turn off Highway 1 and onto Highway 3, a.k.a "the Crowsnest." I'm held tightly in a sporty seat, surrounded by grey Alcantara and soft leather in black and orange. Behind me is a 3.8-liter twin turbo V8, offering an ever-present hum—my only companion since leaving the city. I'm driving a McLaren 570S through the mountains of southern B.C., crossing several hundred kilometres to find this car's spiritual stomping ground: a racetrack.
Despite its V8's impressive 562 horsepower and 440 lb-ft of torque, this is, depending on your region, a mid-level model for McLaren, slotting between the entry-spec 540C and the wild new 720S as the current main model in McLaren's Sports Series range. Regardless of its siblings, the rear-wheel-drive 570S is nothing short of a rocket. 0-100 kph takes 3.2 seconds and, with a long enough piece of straight road, 200 kph is just 9.4 seconds away. Under any condition short of perhaps standing water or snow, the 570S is relentlessly quick, rushing towards an eventual top speed of 328 kph.
Approaching the vineyards and desert-scapes of Osoyoos, the winding lanes of the Crowsnest create a path through low valleys, across high passes, and along the beautiful banks of the Similkameen River. Rising and falling with the terrain, this amazing piece of road is smooth, well maintained, and surprisingly varied. Impressively, unlike some high-performance cars, the 570S shows its playful character at lower speeds. Tight corners and steep slopes reveal an incredible amount of grip from the front wheels and the sport-focused suspension minimizes roll and maximizes agility. From highways to rough backroads and uneven parking lots, the 570S's suspension is smooth and surprisingly compliant, much more comfortable than I expected from a car capable of such high performance.
The cabin is tight, with a seating position that may tire some taller riders (I'm 6'3 and could not fully extend either leg while seated). That said, there is enough headroom for me to wear a helmet, and while the seats are firm, they do offer an adjustable bolster to support your lower back. Unsurprisingly, the 570S's seating position is also very low and, thankfully, allows you to feel as though you are "in" the car, rather than "on" it. Visibility is excellent, with a steeply sloping front deck wrapping tightly to an expansive windshield with thin A-pillars. Likewise rearward, the 570S's sloping engine cover and lack of any large rear spoiler means that the rear-view mirror is perfectly functional. Add to this the wide-set wing mirrors and you have a formula for a very approachable and fuss-free driving perspective.
Interior amenities and controls are integrated into the IRIS multi-media touchscreen in the floating upper console. IRIS is useable but requires more glancing than physical buttons and its GPS is slow and more than a bit cumbersome. Regardless, Bluetooth and the rather lovely 1280W Bowers & Wilkins Hi-Fi will work nicely with any smartphone. The lower center console houses the transmission selection buttons as well as the controls for the active suspension and engine settings. Offering Normal, Sport, and Track configurations, the 570S becomes firmer and more responsive with each option.
With a central large high-resolution display showing all of the key driving metrics, the interior of the 570S is minimal and elegant, providing most of the crucial controls for driving in an intuitive and user-friendly manner. Flanked by the paddle shifters that control the 570S's 7-speed dual clutch gearbox, the steering wheel is a mix of warm leather and smooth carbon fibre. It feels excellent in hand and is ideal for track use. Perhaps most crucial for a car with this much of a focus on outright performance, the 570S has hydraulic steering. As many of McLaren's peers have moved to more modern (but comparably numb) electronic steering systems, the 570S's hydraulic setup ensures much more feedback is delivered from the front wheels and into the driver's hands. Make no mistake; the 570S's simply excellent handling is made only better by its communicative and lively steering.
Yes, the 570S is fast, yes it's beautiful, and yes it's special. More interesting though, is that it is so much fun, even when you're not cresting 225 kph on a track.
My next day in the Okanagan would be spent with McLaren Vancouver and Pfaff Automotive for a track day at Area 27. Area 27 is a newly developed full racetrack located in the hills above Osoyoos. Nearly 5 km long and with 16 corners, this is no backwoods go-kart track. Area 27 has multiple straightaways, elevation changes, and even a corkscrew. Here, the McLaren could finally stretch its legs. With both the handling and the engine set in Track Mode, the 570S is edgy, eager, and wilder than I expected. With 225 section Pirelli P Zero Corsas up front, and 285s in the rear, the 570S danced and wiggled under hard braking. Entering Turn 2 after the 800m long straight, the 570S's carbon ceramic brakes stand the car on its front wheels, allowing for an incredibly fast and confident change of direction as I entered the blind left-hander.
Much of the overall character of the 570S, and indeed any modern McLaren, is derived from its full carbon tub. The 570S uses McLaren's second generation MonoCell 2 carbon fibre passenger cell and, compared to previous generations, the second generation's sills are thinner and lower, for easier entry and exit into the cabin. Weighing only 176 lbs, this tub is part of the formula that brings the whole of the 570S to just 3201 lbs wet, several hundred pounds lighter than its rivals from Porsche, Audi, and Mercedes. McLaren's focus on making the 570S as light as possible is what ensured it would be a strong performer on any road or track.
The 570S ran flawlessly all day, lap after lap. Its performance greatly exceeded my ability behind the wheel, but just like on the drive in from Vancouver, regardless of the speed, I was having an absolute blast. Yes, the 570S is fast, yes it's beautiful, and yes it's special. More interesting though, is that it is so much fun, even when you're not cresting 225 kph on a track.
Leaving Area 27, the 570S settled back into the duties of a normal car. The following morning I set off before dawn, with a bag in the roomy front trunk, a cup of coffee in the cup holder, and "Outro" by Vulfpeck on the stereo. Sure, it's not quite as comfortable as a normal car, nor is it as quiet, but it is far less intimidating and difficult than you might expect of an exotic. For those who might plan more road trips and fewer track days, McLaren offers the 570GT. Tuned for more daily and long travel use; the 570GT has a slightly softer ride, additional storage space, and a panoramic glass roof. Finally, for those who prefer unlimited headroom, the 570S is also available as a convertible in the gorgeous new 570S Spider. Pricing for the 570S starts at $224,150 CAD, with the spec reviewed here carrying some optional extras including numerous carbon trim pieces, a luxury package, and lightweight five-spoke wheels.
After 825 kilometers on the road and some hot laps on an amazing track, it's clear that the 570S is a remarkably capable all-round sports car.
_________
Never miss a story. Sign up for NUVO's weekly newsletter, here.