Red Onions With Walnut Salsa Recipe
From the kitchen of chef Yotam Ottolenghi.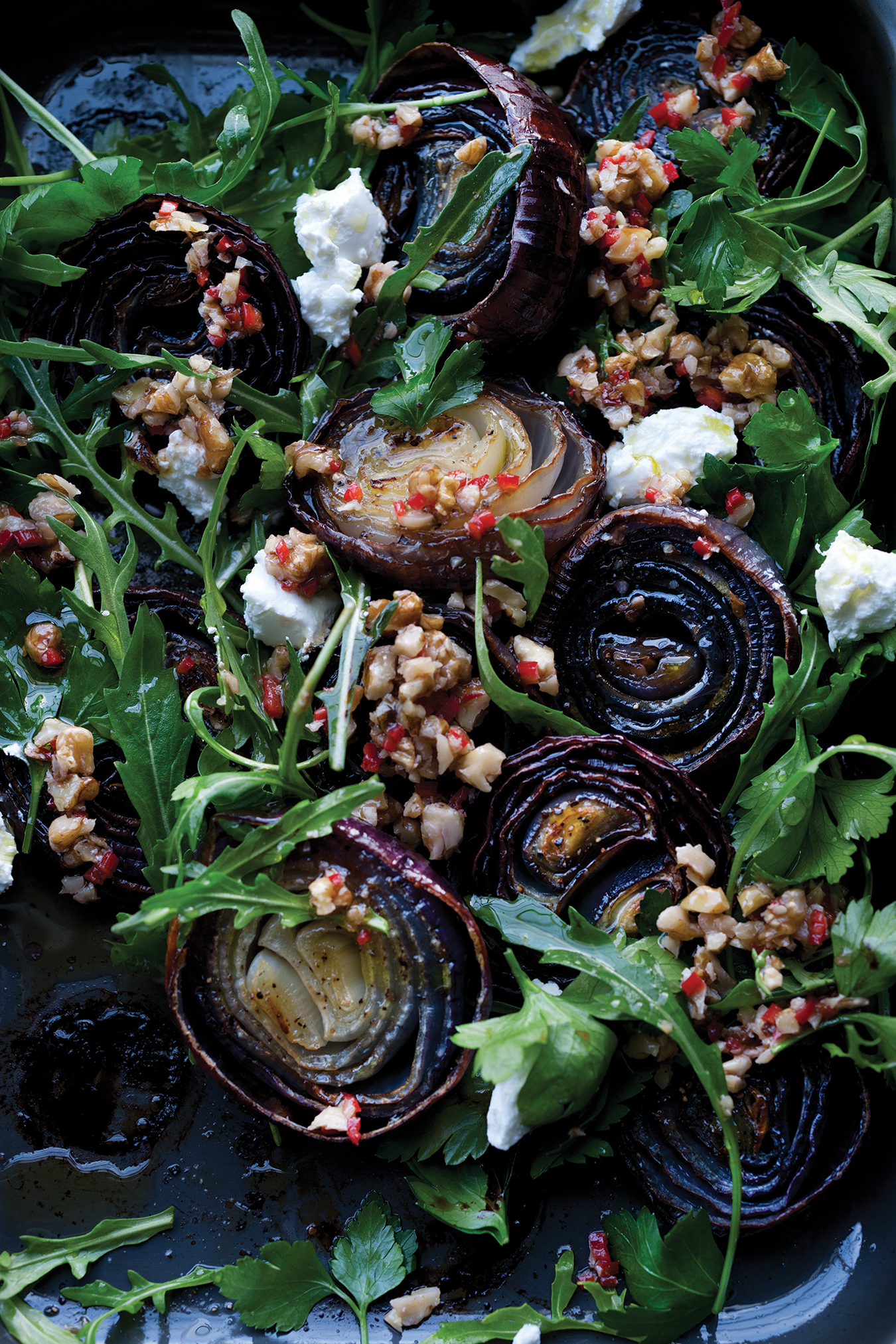 Chef Yotam Ottolenghi's food is inventive, nurturing, and jammed with taste. In this dish, the natural sweetness of red onions is accentuated when grilled or roasted, giving them enough individual character to take centre stage. They also work well in a sandwich or alongside other dishes as a mezze. A few pomegranate seeds sprinkled on top of each portion adds vibrancy and a nice sweet crunch.
Serves: 4

Ingredients
4 medium red onions
1 ½ tbsp olive oil
1 cup arugula
½ cup small flat-leaf parsley leaves
2 oz soft goat cheese, broken into 2 cm chunks
salt and black pepper
Salsa
2/3 cup walnuts, coarsely chopped
1 red chile, seeded and finely chopped
1 clove garlic, crushed
3 tbsp red wine vinegar
1 tbsp olive oil
salt
Method
Preheat the oven to 425ºF/220ºC.
Peel the onions and remove the tops and tails. Cut each crosswise into three slices, about 2 cm thick, and place on a baking sheet. Brush the slices with the olive oil, sprinkle with ¼ teaspoon salt and some black pepper, and roast in the oven for about 40 minutes, until the onions are cooked and golden brown on top. If they haven't taken on much colour, place under a hot broiler for a few minutes. Set aside to cool slightly. While the onions are cooking, put all of the salsa ingredients in a small bowl, add ¼ teaspoon salt, stir, and set aside.
To Serve
Put the arugula and parsley in a large bowl. Add the warm onions, cheese, and half the salsa and toss carefully so the onions don't fall apart. Divide among shallow plates, spoon the remaining salsa over the top, and serve.