Caramelized Fig, Orange, and Feta Salad
From the kitchen of chef Yotam Ottolenghi.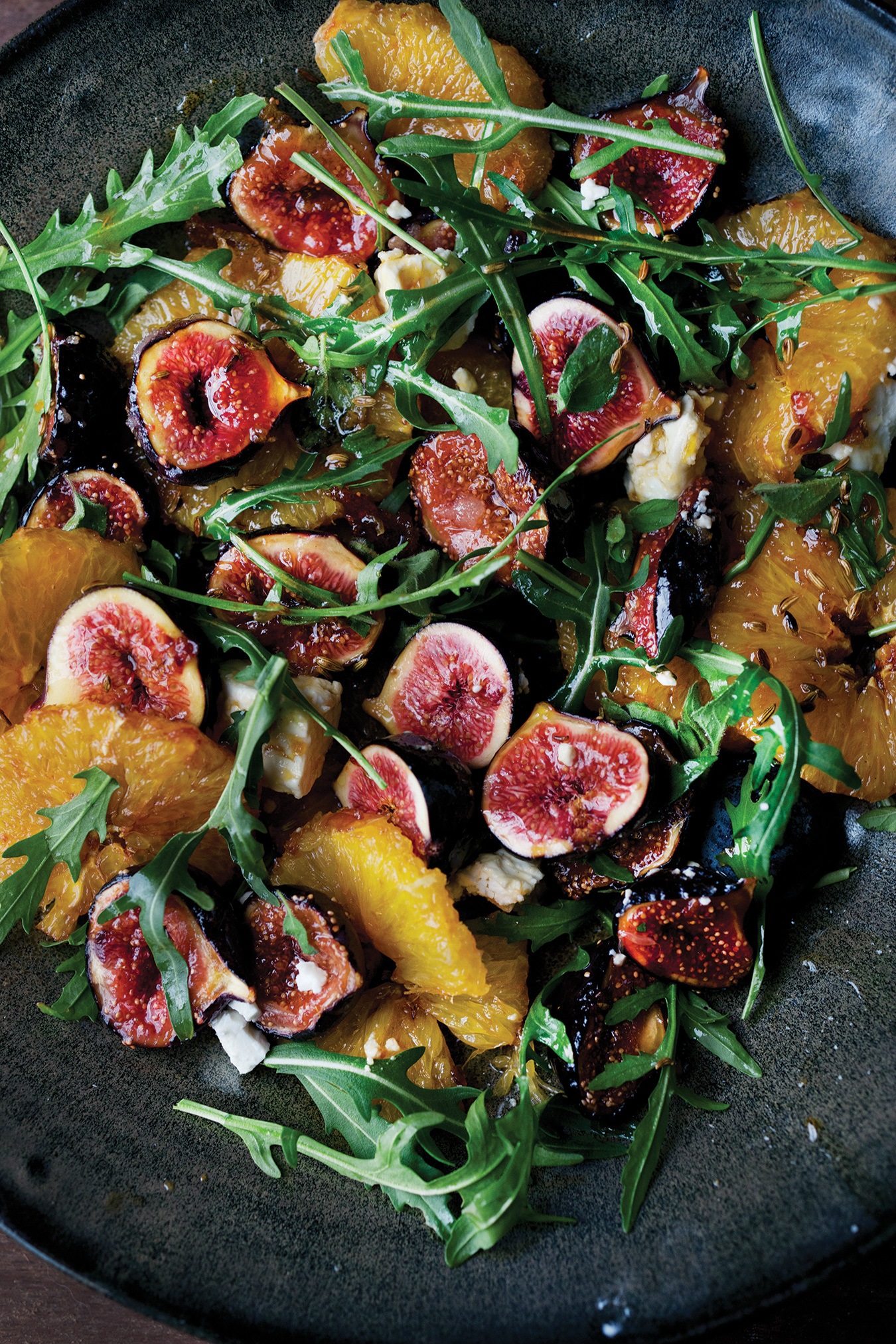 Chef Yotam Ottolenghi acknowledges how intimidating it can be to work with caramel, but assures that you needn't worry. For his distinctive salad, featuring caramelized figs and oranges, he says "the juicy fruit will be just fine even if the caramel is slightly crystallized or lumpy." Delicately sprinkled with feta and arugula, the dish proves a fine combination of sweet, salty, and fresh. Ottolenghi's final words of advice: work fast. "The caramel won't be thanking you if it burns."
Serves: 4
Ingredients
½ cup superfine sugar
16 ripe figs, cut in half lengthwise
4 medium oranges, topped and tailed, peeled, and sliced into rounds 1 cm thick
2 tbsp lemon juice
1½ tbsp Rakı, Pernod, or another aniseed-flavored liqueur
1 tsp aniseeds or fennel seeds, lightly toasted
1 clove garlic, crushed
1/3  cup olive oil
7 oz feta, broken into 1 cm chunks
1 tbsp oregano leaves, small leaves whole and larger ones chopped
3 cups arugula
coarse sea salt and black pepper
Method
Place a large sauté pan over medium heat and add half the sugar. Leave for two to three minutes, or until it turns a golden caramel colour; don't stir the sugar at this stage. Once nice and golden, add half the figs, cut side down. Cook for two minutes, until starting to soften, before turning to cook for a minute more. Remove from the pan and add the second batch of figs and repeat the cooking process. You might need to add a tablespoon or two of water to the pan if the figs aren't very juicy.
Add the remaining sugar to the pan, return to the heat, and let the sugar start to caramelize before adding the oranges and leaving for one minute on each side. They should take on a rich caramel colour. Remove and add to the plate of figs.
Take the caramel off the heat and whisk in the lemon juice, liqueur, aniseeds, garlic, ¾ teaspoon coarse sea salt, and a generous grind of black pepper. Once combined, whisk in the olive oil and set aside.
Arrange the oranges and figs on a large platter and dot with the feta pieces. Drizzle any juices left on the fruit plate over the top, followed by the dressing. Sprinkle with the oregano and arugula and serve.