Canada's First Fresh Goji Berries
Gojoy Berry Farm's ultimate superfood.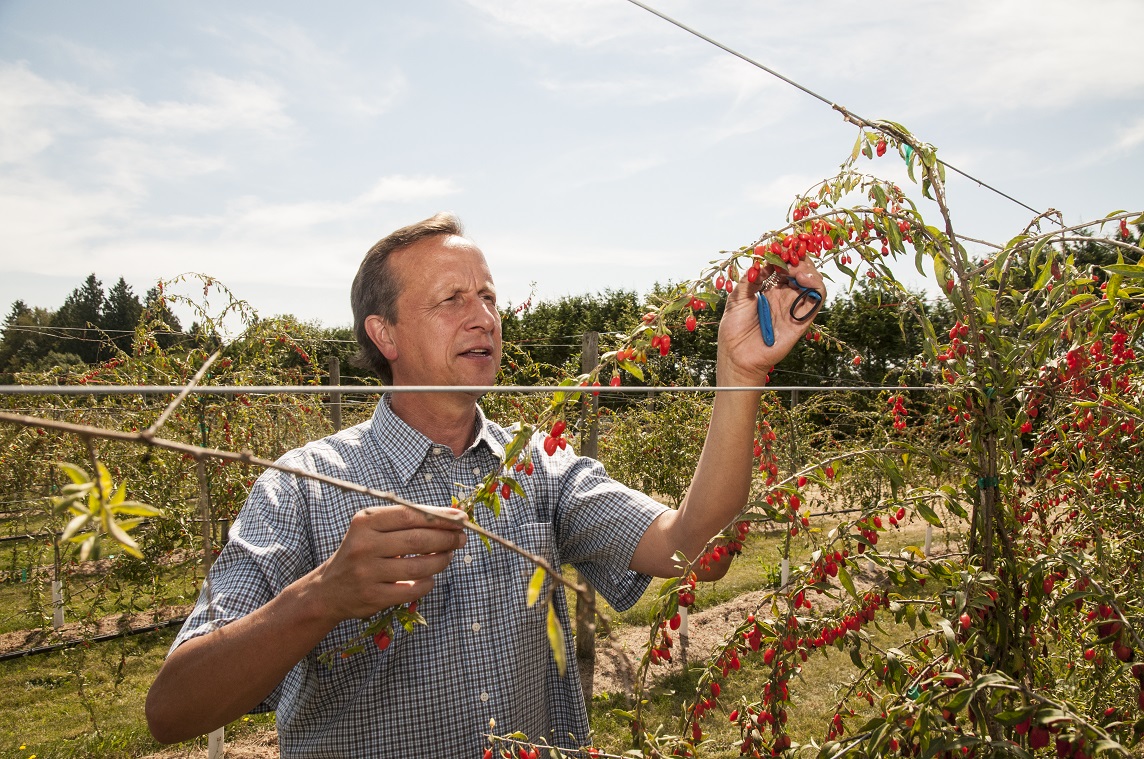 By midsummer, the goji shrubs at Gojoy Berry Farm are in full fruit—their ungainly, slim branches thick with oblong, vermilion teardrops, each the size of a woman's manicured little fingernail. Located in Aldergrove, British Columbia, the 10-acre swath of brambly plants, which stand trussed upright like grapevines, is the product of six years of research and experimentation by farmers Peter and Danise Breedlander. Having gone to market with their inaugural crop in summer 2015, the couple now owns the first successful goji berry farm in Canada.
A nightshade belonging to the same family of plants as peppers (which the Breedlanders also cultivate), fresh goji berries are bittersweet, herbaceous, and slightly piquant. While they can flourish in Vancouver backyards, with between 300 and 400 berries growing on one bush, gojis are ultra-delicate, making them a puzzle to pack, transport, and store. The fruit's thin skins can barely contain their water-balloon juiciness; they're more sensitive to bruising than a raspberry, and once picked, they go bad after just a couple of days.
Due to this delicacy, the vast majority of goji berries are sold dried, often imported from north-central China's Zhongning County, where the commercial cultivation of gojis began around 1950. According to a 2011 report by The Epoch Times, Zhongning County produces $232-million (U.S.) of the berries annually (the provinces of Gansu and Qinghai are also key growing regions). "For most crops, there's a lot of information out there, in English," Peter says of the challenges he faced cultivating gojis in Canada, "but gojis are a very distinctly Chinese berry, they grow in China, and there wasn't really information for us to find, so we began to experiment with soil, drainage, and sun." (They also had to test out pest-prevention, comprised of the piped-in, pre-recorded calls of distressed birds intended to strike fear into the hearts of marauding sparrows).
"Goji berry is in the top class of medicine, because it has numerous health benefits and is very low risk."
Yet even in China, the goji retains a patina of mystery—for instance, rare, different varieties of the plant bear black, white, or yellow berries, yet grow wild at prohibitively high altitudes (and on prohibitively thorny shrubs) making them notoriously exclusive treats. In fact, the 1,800-year-old Chinese herbal text Sinnouhonzougyou claimed there was no finer gift to present at the Royal Courts than gojis.
The Breedlanders's Canadian crops, available fresh in B.C. and frozen as far as Alberta for now, are harvested either by hand or using a doctored fruit-picking machine. They have attracted interest from chefs, chocolatiers, and even beauticians, who hope to incorporate the berries into skin-care potions. But the Breedlanders's keenest customers are often Chinese-Canadians excited to see an ancestral treat in the raw—some for the first time. "Often, Chinese visitors to the farm are incredibly surprised—people say, 'For 50 years I've been eating dry goji berries and this is the first time I've tried fresh.' So they are very positive about it. Some people come back to our U-pick for two weekends in a row," says Danise. (Some visitors even pick the plant's oval leaves, which can be dried and used in tea, or eaten stir-fried with garlic and oil).
"When I was growing up, dried gojis were something we ate all the time; my grandma used to say 'goji' means 'to remember', because they are good for your memory, for your eyes—they are associated with an energy that goes to your head," says Vancouver-based practitioner of traditional Chinese medicine Dr. Karen Lam. "Ancient Chinese textbooks note different grades and classes of medicine," she says. "Goji berry is in the top class of medicine, because it has numerous health benefits and is very low risk."
Indeed, modern lab results indicate that betaine, an amino acid associated with protein synthesis and muscle gain, is plentiful in gojis. The fruit also contains linoleic acid and 10 essential amino acids, and protects the liver, reduces blood sugar levels, enhances the immune system, and aids menstrual function by promoting red blood cells. For centuries, the Chinese have used gojis to combat fatigue, lumbago, dullness, vertigo, anaemia, and ocular degeneration ("We had a man come in in dark sunglasses saying, 'My doctor says I need to eat goji berries for my eyes,'" recounts Danise). Essentially, the little jellybean-drops are nature's multivitamin.
They're also a tasty novelty. "We're providing a new berry with a different set of vitamins and antioxidants," says Danise. "It's different than a blueberry, it's different than a strawberry, and it can be used in savoury foods as well as sweet—you don't usually use berries as a savoury flavour." (The Breedlanders add gojis to salsa, barbeque sauce, and pasta sauce, while Chinese recipes traditionally see gojis added to savoury stews.) Though she acknowledges a trendiness factor at play in the recent popularity spike of gojis among North Americans, "I'm happy there's a farm producing local gojis, and that they'll be more widely available," says Lam. "Gojis are one of the magical herbs that benefit everybody and I think that is the whole point of natural medicine."
Gojoy Berry Farm, 1110 264 Street, Aldergrove, British Columbia, Canada V4W 2M8, 647-204-0124.