The 2016 World Architecture Festival Shortlist
Design highlights in focus.
Now in its ninth year, the World Architecture Festival is the largest celebration of international architectural talent. Through November 16–18, 2016 in Berlin, judges will select winners from the 343 projects currently shortlisted across 32 categories. Major architects—including Foster + Partners, Zaha Hadid Architects, Rogers Stirk Harbour, and Reiulf Ramstad—as well as lesser-known firms are among the nominees. All have one thing in common: their projects have garnered the world's attention, whether due to community building initiatives, ground-breaking technology, or adroit design. Here, a selection of designs above, and five picks detailed below.
Crystal Houses, a Chanel Boutique, by MVRDV
Category: Shopping—Completed Buildings
Architecture firm MVRDV has designed a Chanel boutique on PC Hooftstraat, Amsterdam's shopping street, using glass bricks. Melding the locals' desire to preserve the historic aesthetic of the brick-lined boulevard with a contemporary preference for transparent shop fronts, MVRDV uses glass bricks, beams, and window frames to follow the original exterior blueprint of the shop. The materials—which are entirely recyclable, and were frequently melted down and reformed during construction—are set into place using a high-strength, transparent glue, which MVRDV claims is "in many ways, stronger than concrete."
Messner Mountain Museum Corones by Zaha Hadid Architects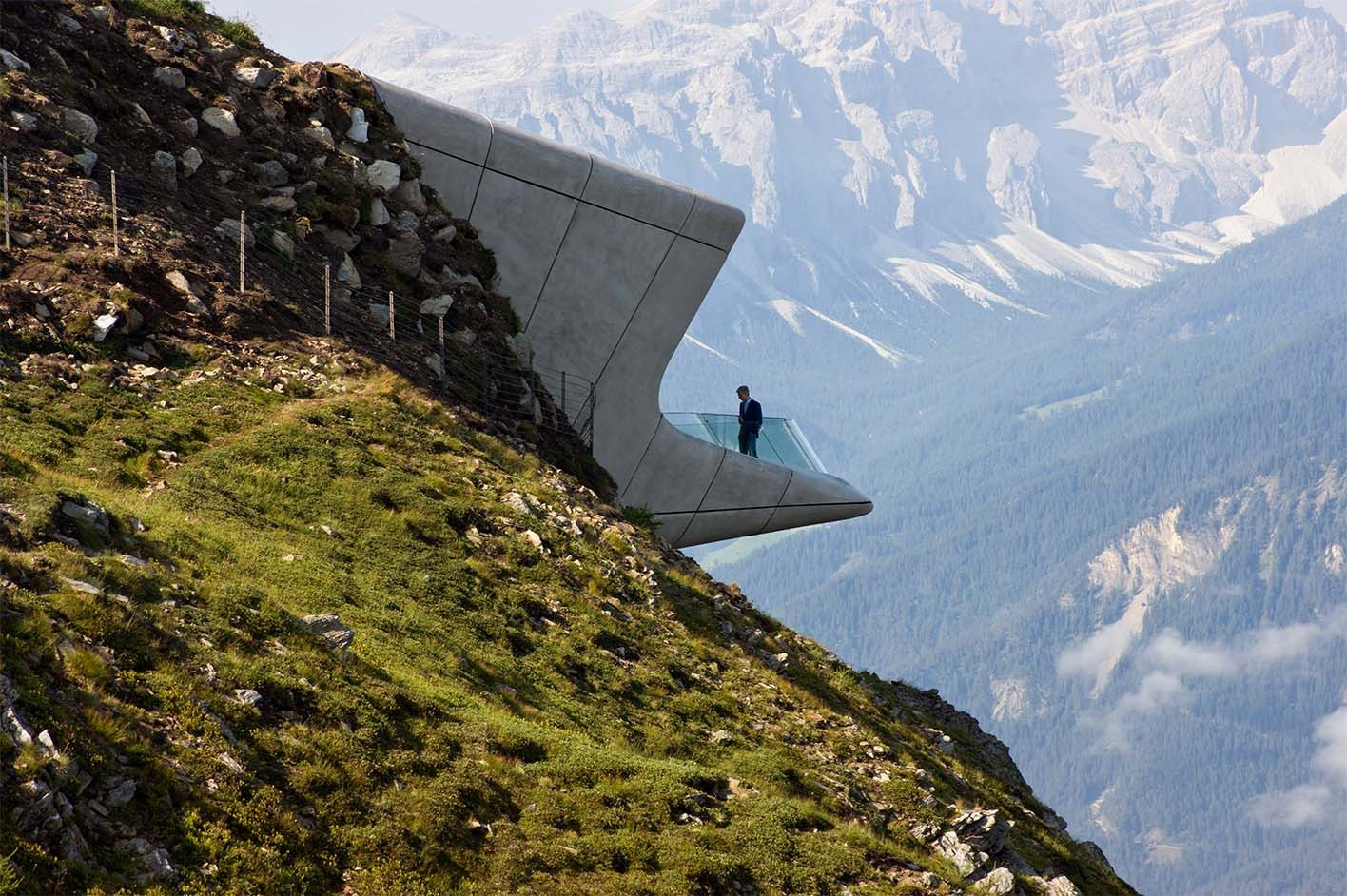 Category: Culture—Completed Buildings
Reinhold Messner was the first to climb all of the world's mountains over 8,000 metres tall, and also to climb Mount Everest without an oxygen tank. Naturally, Messner has established a series of mountaineering museums—the latest, designed by Zaha Hadid Architects, juts out of the summit of Mount Kronplatz at 2,275 metres above sea level. The museum is built on several levels corresponding to the mountain's rippled shape, and a terrace emerges from the mountainside, extending six metres outwards, offering a 240-degree panoramic view of the surrounding Alps.
The Book Stop Project by WTA Architecture + Design Studio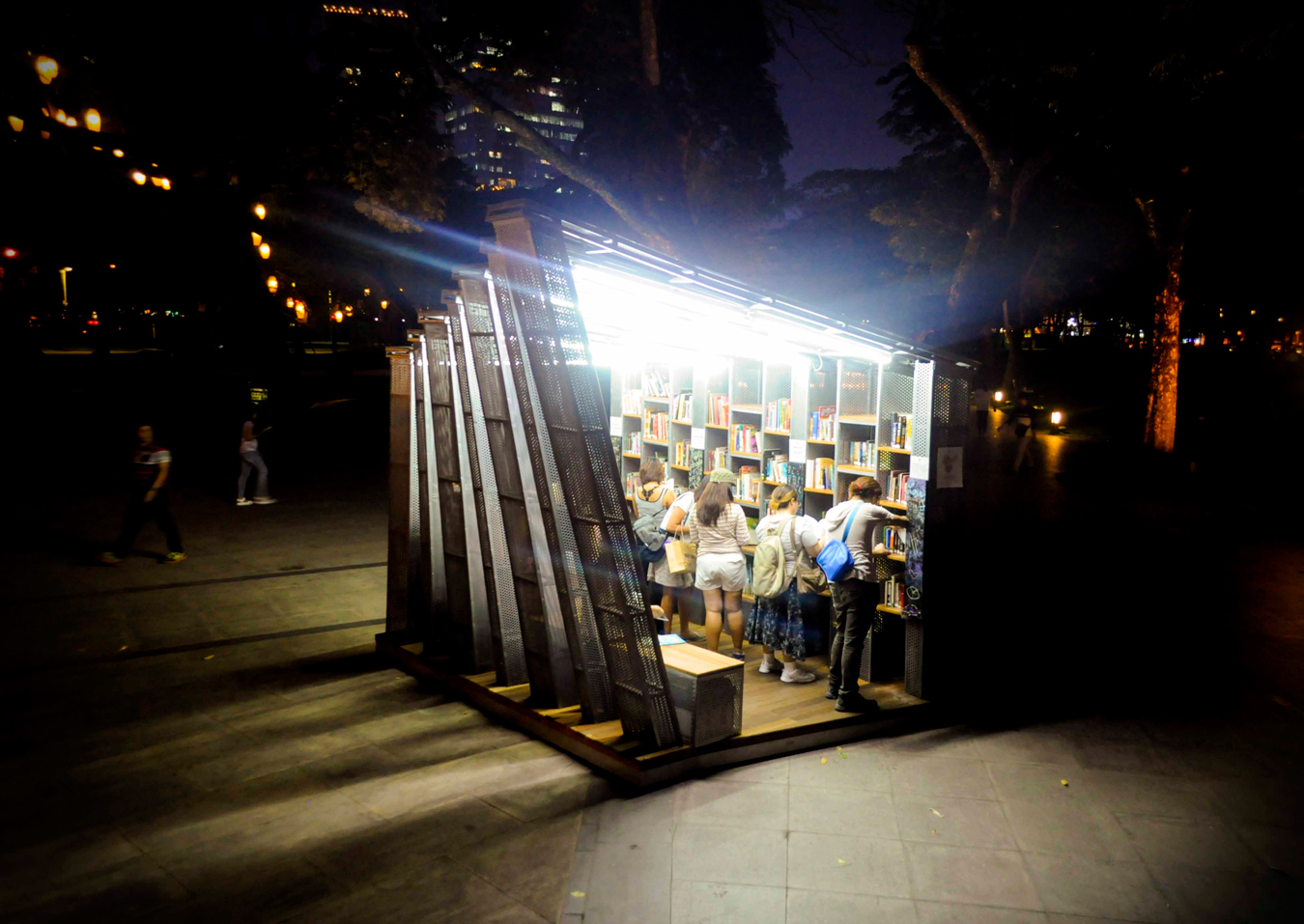 Category: Small Projects
The Book Stop Project was conceived by WTA Architecture + Design Studio with the intent to provide a gateway to other "literary dimensions". The urban pop-up library is designed specifically to look like a portal—with its angular, slanted columns and bright-white lights—and not a static room typically associated with libraries. The project is installed in various venues for a two-month period, and readers are encouraged to drop off a pre-loved book, pick up something new, and carry on through to the other side.
Investcorp Building for Oxford University's Middle East Centre at St Antony's College, by Zaha Hadid Architects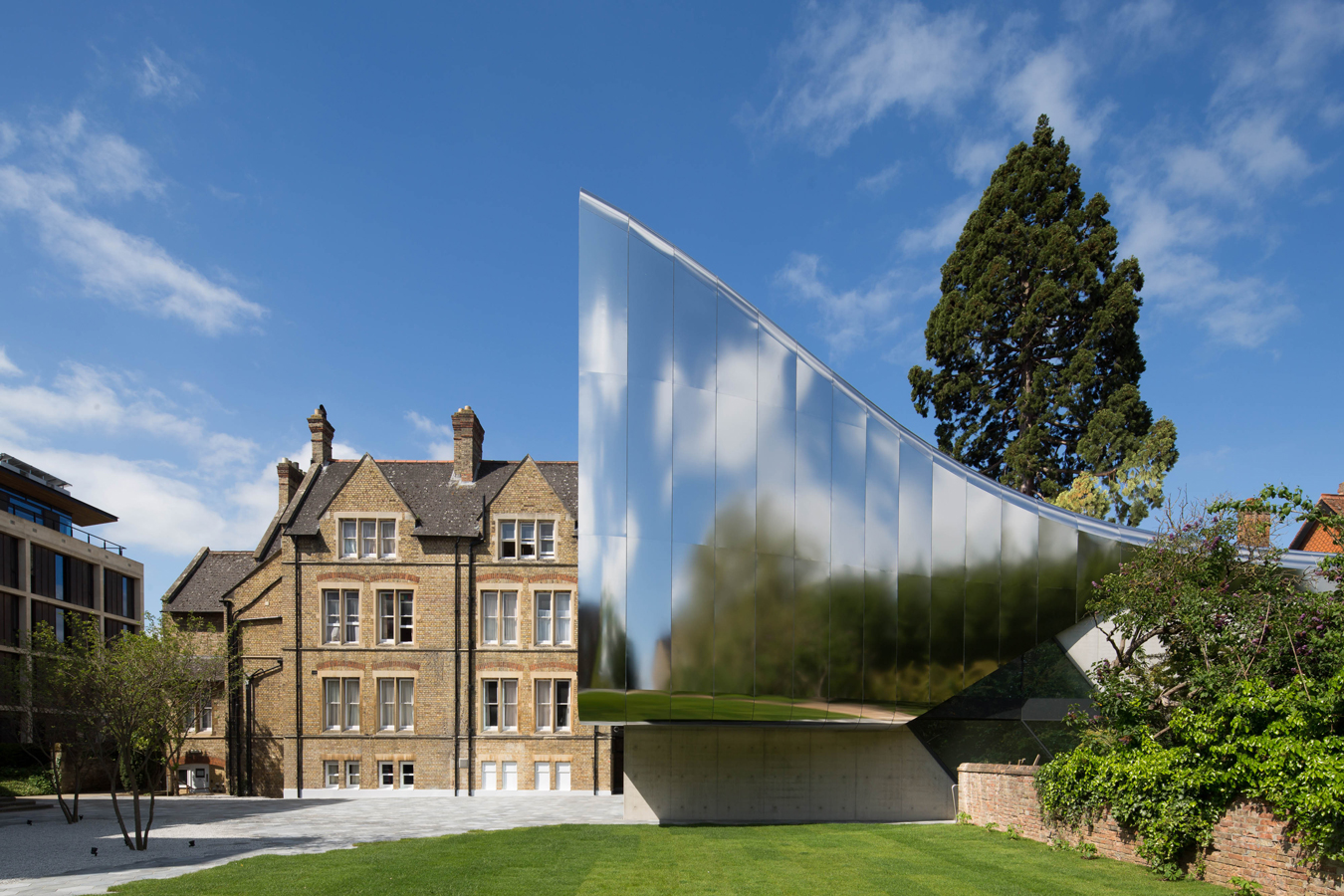 Category: Higher Education and Research—Completed Buildings
Zaha Hadid Architect's Investcorp Building is an addition to the Middle East Centre at St Antony's College, one of Oxford University's seven graduate colleges. The design includes a new 117-seat lecture theatre, library, and archive, and its exterior is visually striking: three stainless steel above-ground storeys snake along the campus, varying in height and curving to avoid a century-old Sequoia.
Crossrail Place by Foster + Partners
Category: Mixed Use—Completed Buildings
Crossrail Place is a seven-storey leisure complex that sits atop London's Canary Wharf Crossrail Station—part of the new 42-kilometre underground rail that will link the city from east to west. Foster + Partners' Crossrail Place includes retail space, pavilions, station entrances, and a roof garden, all encompassed by a shell-like curved lattice covering. The lattice is built using 310-metre-long spruce glulam timber arches that are suspended 30 metres above the park. Although the roof is curved, only four beams within the entire structure are rounded; the straight beams are connected using steel nodes. Some of the angular glass spaces between the lattice's timbers are left open for natural lighting, and to collect rainwater for the garden's irrigation. The façade's curved shape and wooden materials evoke images of the ships that historically docked near the wharf.
Image by diamond geezer via Flickr.