The Fabulous Future of Fizz
Sparking a wine explosion.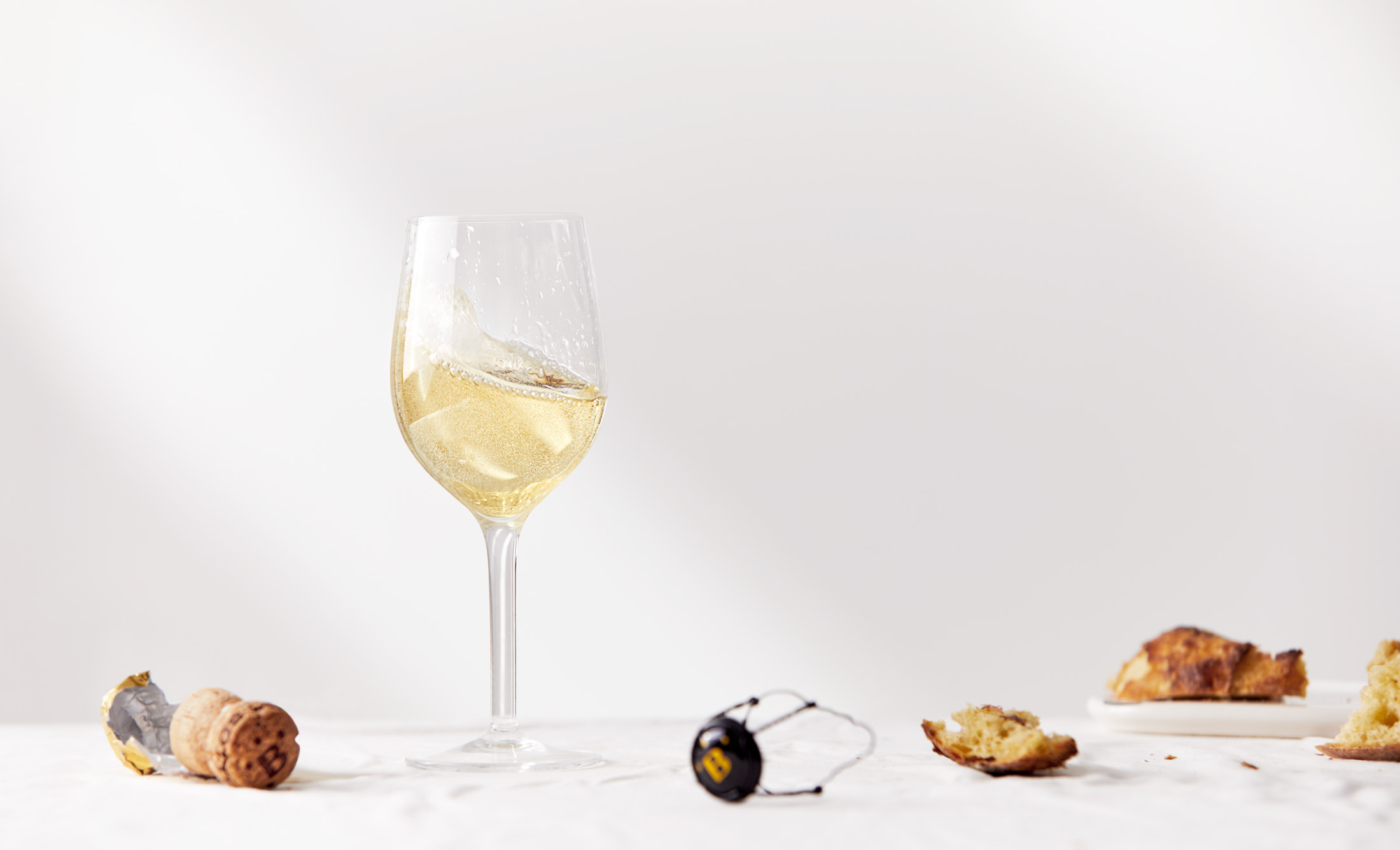 The 1960s song "Tiny Bubbles" declares that "Tiny bubbles in the wine/Make me happy, make me feel fine." It's a recognizable reaction to sparkling wine and just what the producers of champagne—the world's most famous fizz, known for its very small bubbles—intended when they began marketing their product hundreds of years ago. There's no concrete connection between sparkling wine and happiness, yet we've learned to associate it with celebrations, whether it's a wedding, an anniversary, or a Grand Prix victory.
But a funny thing has happened to sparkling wine over the years: wineries around the world began to make it in many different styles, and it is now produced in greater and greater volumes. As a result, it has lost its close association with special occasions and people now drink sparkling wines in the same way as still wines—often. Like rosé, once thought of as a woman's wine, this special occasion wine has entered the mainstream. We're now faced with a bewildering range of sparkling wines: made in diverse styles and colours, they come from just about every wine-producing country. How do you choose when faced with champagne, cava from Spain, Prosecco or Franciacorta from Italy, sekt from Germany, Cap Classique from South Africa, and sparkling wines from England, Croatia, Chile, and hundreds of other regions?
Price is one way, but production method is another. The best-known way of making sparkling wine is the méthode champenoise (the champagne method)—also known as the traditional or classic method—which involves putting a base wine through a second fermentation in the bottle in which it will be sold. Fermentation produces alcohol and carbon dioxide, and the carbon dioxide produced during this second fermentation is trapped in the bottle. As pressure builds, the carbon dioxide dissolves in the wine and when the bottle is opened, it is slowly released in the form of bubbles. Sparkling wine, then, is achieved through manipulation of a natural process: when still wine is made, any carbon dioxide present is allowed to dissipate in the air, but when sparkling wine is made, this gas is harnessed to produce bubbles.
There's no concrete connection between sparkling wine and happiness, yet we've learned to associate it with celebrations, whether it's a wedding, an anniversary, or a Grand Prix victory.
Sparkling wine has been made in the Champagne region of France since the 1600s, and even though it wasn't the first fizz, champagne quickly became the gold standard. Although the production of champagne is highly regulated—it can be made only in specified regions, using the méthode champenoise, from specified grape varieties—many consumers still use champagne as a generic name for all sparkling wines. It drives the champagne people crazy.
A wide range of champagnes is produced each year, hundreds of millions of bottles, most by the big houses (including Taittinger, Moët & Chandon, Perrier-Jouët, G.H. Mumm) and co-operatives (such as Nicolas Feuillatte), and the rest by independent growers such as Marguet, Geoffroy, and Jacques Lassaigne.
France also produces other sparkling wines, many called crémant for the foam produced when they are poured into a glass. Of the nine regions permitted to use the crémant name, Limoux, in southwestern France, is especially important because of evidence that sparkling wine was made there well before it was made in Champagne. A very good Crémant de Limoux is Grande Cuvée 1531, made from chardonnay, chenin blanc, and mauzac. Also look for the chenin blanc–based Château de Montgueret Crémant de Loire Brut and Louis Bouillot Perle Rare Brut Crémant de Bourgogne, made from pinot noir and chardonnay.
These wines are made in the same way as champagne, as is cava, Spain's iconic sparkling wine. Made from indigenous grape varieties in northeastern Spain, cava (meaning "cellar") came into being in the 1970s, when champagne producers began their long fight to stop non-Champagne-originating sparkling wines from using the name. The cavas made by houses such as Freixenet and Codorníu are well known, while smaller producers also offer very good quality, including Mont Marçal, Lacrima Baccus, and Villa Conchi.
In addition to champagne and cava, the third major category of sparkling wine is Prosecco, from the Veneto and Friuli regions of northeastern Italy. Principally using the glera grape variety, Prosecco is sometimes made with the champagne method but mostly with the widely used Charmat method. Here, instead of the second fermentation taking place in a bottle, it occurs in a sealed tank, where the carbon dioxide dissolves in the wine. The wine is then bottled under pressure.
Prosecco has become an immensely popular style of wine, and its production is now twice that of champagne. Although there are different quality levels and styles, it tends to be fruity, easy-drinking, and competitively priced. Good examples are made by Ruffino, Bottega (especially Bottega Gold), La Marca, Danzante, Santa Margherita, Gancia, Astoria, and Varaschin. But Prosecco is not the only sparkling wine of note from Italy. Since the 1960s, the Franciacorta region in Lombardy has been one of the very rare appellations that gives its name only to a sparkling wine, rather than to regular wines. Franciacorta is made mainly from chardonnay (with options to use pinot noir and pinot blanc), and significant producers include Monzio Compagnoni, Ca' del Bosco, and Guido Berlucchi.
Outside Europe, the production of sparkling wine has shot up exponentially in the last decade, both reflecting and driving demand. Some sparkling wines are made outside Champagne by champagne houses. Mumm makes very successful Mumm Napa sparkling wine in California, and Moët & Chandon has established a sparkling empire under the name Domaine Chandon. Sparkling wines from this brand are now produced in California, Argentina, Brazil, Australia, China, and India. In a reversal, Australia's iconic Penfolds winery has partnered with the Thiénot champagne house to make champagne, releasing three vintages throughout 2019 to commemorate Penfolds' 175th anniversary.
Outside Europe, the production of sparkling wine has shot up exponentially in the last decade, both reflecting and driving demand.
Canada produces many fine sparkling wines made with the traditional method. In B.C., Steller's Jay sparkling wines have been around for some time and easily hold their own against many newcomers; other outstanding producers include Blue Mountain Vineyard and Summerhill Pyramid Winery. In the Niagara region of Ontario, the Cuvée Catharine series from Henry of Pelham Winery is notable for its quality, especially the all-chardonnay Carte Blanche, while in Prince Edward County, the Grange of Prince Edward Winery produces a fine range labelled County Crémant. Farther east, in Nova Scotia, Benjamin Bridge has been making waves with its astonishingly vibrant and pure sparkling wines, some of which (such as the Brut Reserve) have seen remarkable success outside Canada.
An old style of sparkling wine that has recently become popular is made using the ancestral method. Here, wine going through its first (rather than second) fermentation is sealed in bottles, so that the carbon dioxide dissolves in the wine. The result is a lighter style of sparkling wine sometimes called pétillant naturel (often abbreviated pét-nat). The Gaillac region in southern France has long produced sparkling wine this way, and the technique is now used in many places. In Ontario's Prince Edward County, Hinterland Wine Company makes one, while Sperling Vineyards in the Okanagan Valley calls its delightful spritzy version Speritz Pet Nat.
Beyond the diversity of production methods, more and more grape varieties are being used to make sparkling wine. The go-to grapes are pinot noir and chardonnay, the main varieties used in champagne, but other commonly used international varieties include riesling and sauvignon blanc. There are also a number of sparkling wines made from cabernet franc. In Ontario, Two Sisters Vineyards makes a delicious white sparkling wine from the variety, while in B.C., Summerhill Pyramid Winery makes a Blanc de Franc sparkling wine. On the sweet side, Inniskillin in Niagara produces a sparkling icewine from cabernet franc.
Sparkling wine, then, runs the gamut of styles, regions, and prices. It's a complex, intriguing category enjoying increased popularity. With roughly 300 million bottles of champagne, 600 million of Prosecco, and 200 million of cava, well over a billion bottles of bubbles hit the market each year. Sparkling wine clearly makes consumers happy.
________
Never miss a story. Sign up for NUVO's weekly newsletter here.