La Prairie's anti-aging hero turns 30.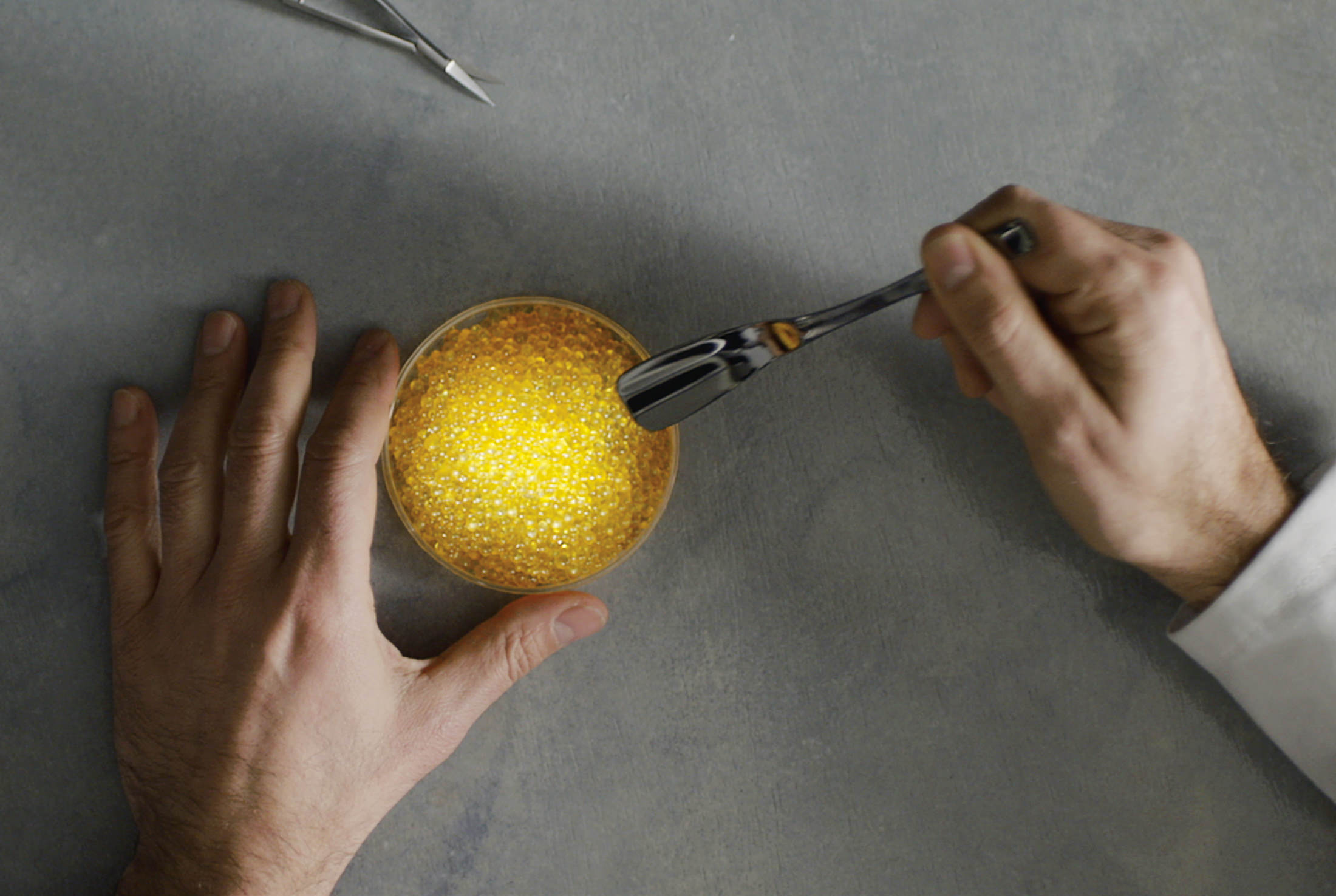 Edible ingredients feature in an array of beauty products today, from coconut oil body balm to kale-infused nail polish. But in the 1980s, this was a radical idea, one that Swiss skin-care purveyor La Prairie heralded with a particularly coveted ingredient—caviar. Rich in skin-firming amino acids, vitamins, and nutrients, the freshwater delicacy became the star ingredient in the brand's Skin Caviar, tiny caviar extract filled beads, that came packaged with a spoon for dispensing when it first debuted in 1987. For many, having their caviar this way—in their skin care rather than in a canapé—was the ultimate luxury. The brand quickly garnered a following and became the go-to skin-care fix for the beau monde.
Now, some 30 years later, La Prairie is back with a next-generation iteration of its caviar. The complex—called Absolute Filler—combines the eggs' potent nutrients: their proteins and oils, which are packed with nourishing omega-3, -6, and -9 fatty acids, plus vitamins A and D, and relies on propriety technology that it hasn't utilized before now. "The extremely gentle process includes pressing and centrifugation steps at room temperature," explains Jacqueline Hill, La Prairie's director of strategic innovation and science. The resulting anti-aging elixir offers "unparalleled firmness, protection, nourishment, and energy to the skin," she says. "It gives back what time has taken away—especially in skin volume and density," adds Greg Prodromides, the brand's global chief marketing officer.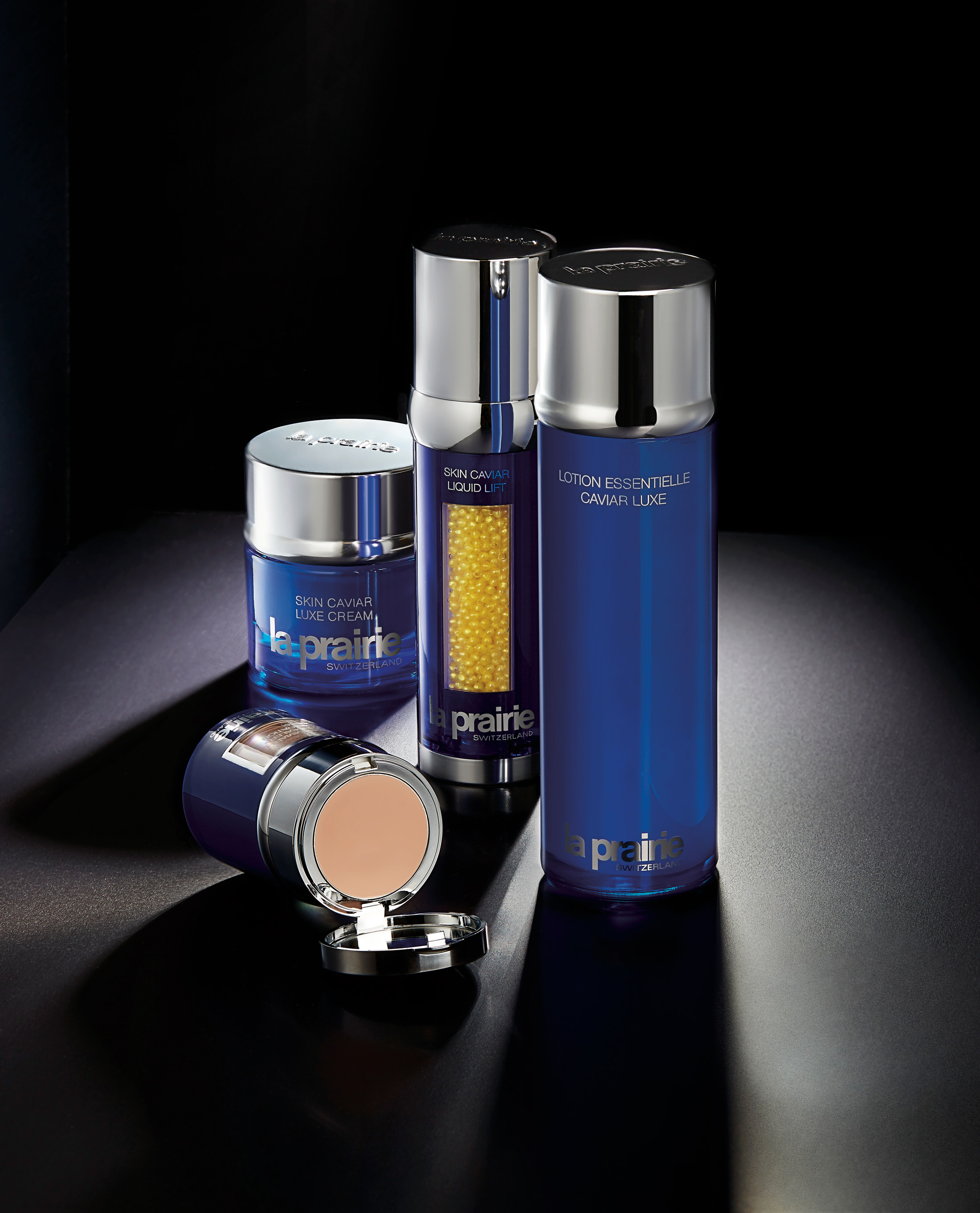 It's an innovation befitting Clinique La Prairie, the birthplace of the brand, founded by Dr. Paul Niehans in the 1930s. An expert in using cellular therapy to rejuvenate the body, the Bern-born physician reportedly treated Pope Pius XII, and icons from Greta Garbo to Marlene Dietrich frequented the lakeside clinic in Montreux in its heyday. Dr. Niehans's experimental work inspired La Prairie's now bioengineered Cellular Complex, a signature (and top secret) concoction that's poured into nearly every product. The Swiss-based company has also developed a reputation for dipping into precious materials—such as gold and platinum—to deliver high-performance, spare-no-expense skin care. As Jerry Hall recently commented to Into the Gloss about her beauty routine, "I put on really expensive cream like La Prairie. It just transforms your skin."
For many, having their caviar this way—in their skin care rather than in a canapé—was the ultimate luxury.
For Hall—and many other A-list beauties—transformation starts with the Skin Caviar range or, as it's commonly called, "The one in the blue jar," says Lisa Berg, an aesthetician at the La Prairie spa at the Ritz-Carlton New York, Central Park. "It's impressive how you can take unpleasant skin texture to very lovely texture with just a few products," she says. The line now includes an eye cream, an overnight mask, a lifting serum that has been insanely popular (it is currently the brand's bestselling item), and an essence-in-lotion, which launched last year and uses a steam distillation process to trap the most volatile components of caviar. Sweeping the elixir on after cleansing and toning, Berg says, helps "boost the effect of everything you put on top of it." So much so that after giving the essence-in-lotion to clients, Berg can detect a change. "The next time I see them, the quality of skin is improved, it's softer, and it [the product] helps smooth the crepey lines caused by improper hydration." Putting this on is "your quickest anti-aging fix," she says.
Many La Prairie–philes, however, have been holding out for the release of Skin Caviar Absolute Filler, the latest addition to the family, and the first to contain the Caviar Absolute complex, along with brown algae and peony root. The day and night cream is rich in lipids and proteins, but has an extremely lightweight texture—a detail that Berg considers a gamechanger. "Everything calms down and looks brighter," she says of the visible results, "so you get this very photo-finished look with skin."
Another standout feature: the jar itself. Designed with an airless pump to preserve the integrity of the ingredients inside, it dispenses the perfect amount of cream with the push of a sleek button. "A little goes a long way, so you don't apply too much," says Berg. (And at $775, that gesture is appreciated.) The only thing that's missing? The spoon for dispensing the velvety cream. With this modern applicator, you can toss aside that accessory—just dab it on and go. Satisfying your caviar cravings has never felt so luxurious.
_________
Never miss a story. Sign up for NUVO's weekly newsletter.