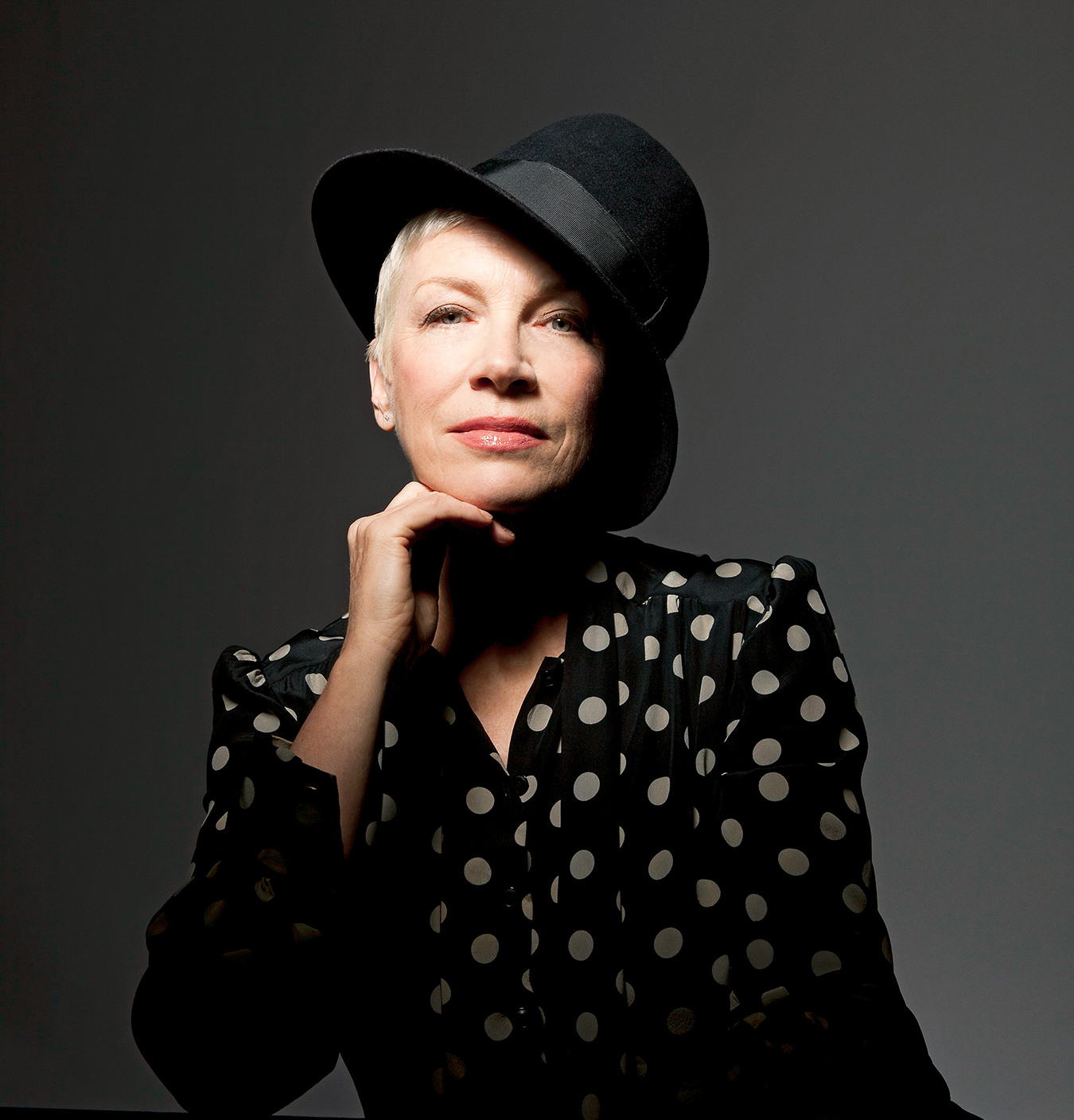 "Here's the deal: jazz has never been my genre," says Annie Lennox, sitting on the sofa in her manager's office in Los Angeles.
Nevertheless, one day Lennox found herself searching for jazz tunes on YouTube and she fell down the Internet rabbit hole. "I'd type in '1930s jazz songs' or whatever and a whole world opened to me," she says. "Not just the music, but incredible imagery of artists like Sammy Fain singing and performing in films. So I got a little fascinated by it."
By the time Lennox resurfaced, she had collected a dozen tunes that span the 1930s to the 1950s—the golden age of the Great American Songbook. The result is Nostalgia, a gorgeous compilation of beloved classics, including George Gershwin and DuBose Heyward's "Summertime", Hoagy Carmichael and Stuart Gorrell's "Georgia on My Mind", Abel Meeropol's "Strange Fruit", and Carmichael and Ned Washington's "The Nearness of You".
Jazz is one of the few genres the Scottish Lennox hasn't attempted in her nearly 40-year career. As lead singer of Eurythmics and then as a solo artist for the past 20 years, she has shown a fearless and unlimited capacity for tackling different musical styles, effortlessly shape-shifting her luminous voice—and her chameleonic appearance—to create such indelible songs as "Sweet Dreams (Are Made of This)", "Here Comes the Rain Again", and "Walking on Broken Glass".
Initially Lennox was daunted, but once she found a way in to the jazz material, her confidence grew. "It's not about the study, it's about the feel—that's always been my place. Once I've got a start of something, that's it, I know I can do it," she says. "I'm stepping out into this different genre and it's not what people have heard from me before. For me, that's what makes it a great experience. I always love to take on a challenge."
Even though the songs vary lyrically, with the exception of "Strange Fruit" they are united by a vulnerability, and, in some cases, an almost aching innocence. "We never really dare to wear our heart on our sleeve like that anymore," Lennox says. "There was a sweetness and tenderness and savouring and we don't live in a time like this at all." That sense of a more genteel time was also appealing. "I'm almost sixty. I'm in the sunset years, heading into them now, and I'm a bit like, 'Could you just slow it down? Could you put the brake on it?' because it's all just too much."
With her laboriously handwritten transcriptions of the songs in tow, Lennox headed to producer Mike Stevens's garage studio in London to begin recording. She and Stevens started with keyboards and added instrumentation sparingly—a razor-edged guitar solo on Screamin' Jay Hawkins's "I Put a Spell on You", or a lonesome accordion on "I Can Dream, Can't I?" They deliberately kept the arrangements simple, with the focus on Lennox's peerless voice.
Though these songs have been recorded hundreds, and, in some cases, thousands, of times previously, Lennox brought a new vitality to the material, infusing the timeless melodies with her years of experience, sorrow, and joy. "These songs are now in my bloodstream," she says.
After choosing the songs, she made the decision not to study existing versions and, instead, create something new and fresh with her interpretations. For example, she imagined "Summertime" as an African American nanny singing to her young charge as she envisions the child's future, full of possibilities she could never experience in the 1930s. "I only wanted to know the song, like I'd never heard any other version," she says. "That way, I keep my relationship with the song very clean."
For Lennox, the tunes on Nostalgia represent our universal humanity and our collective longing for love and acceptance. "Unless you haven't been on the planet, you will identify with every song," she says. "There will be an aspect of your experience—whether it's rejection, whether it's longing, whether it's cherishing, whether it's remembering—in these songs. Even though they came from an era when they were doing things very differently, we are all the same still. We're still just human."
January 9, 2015
Updated: February 8, 2015