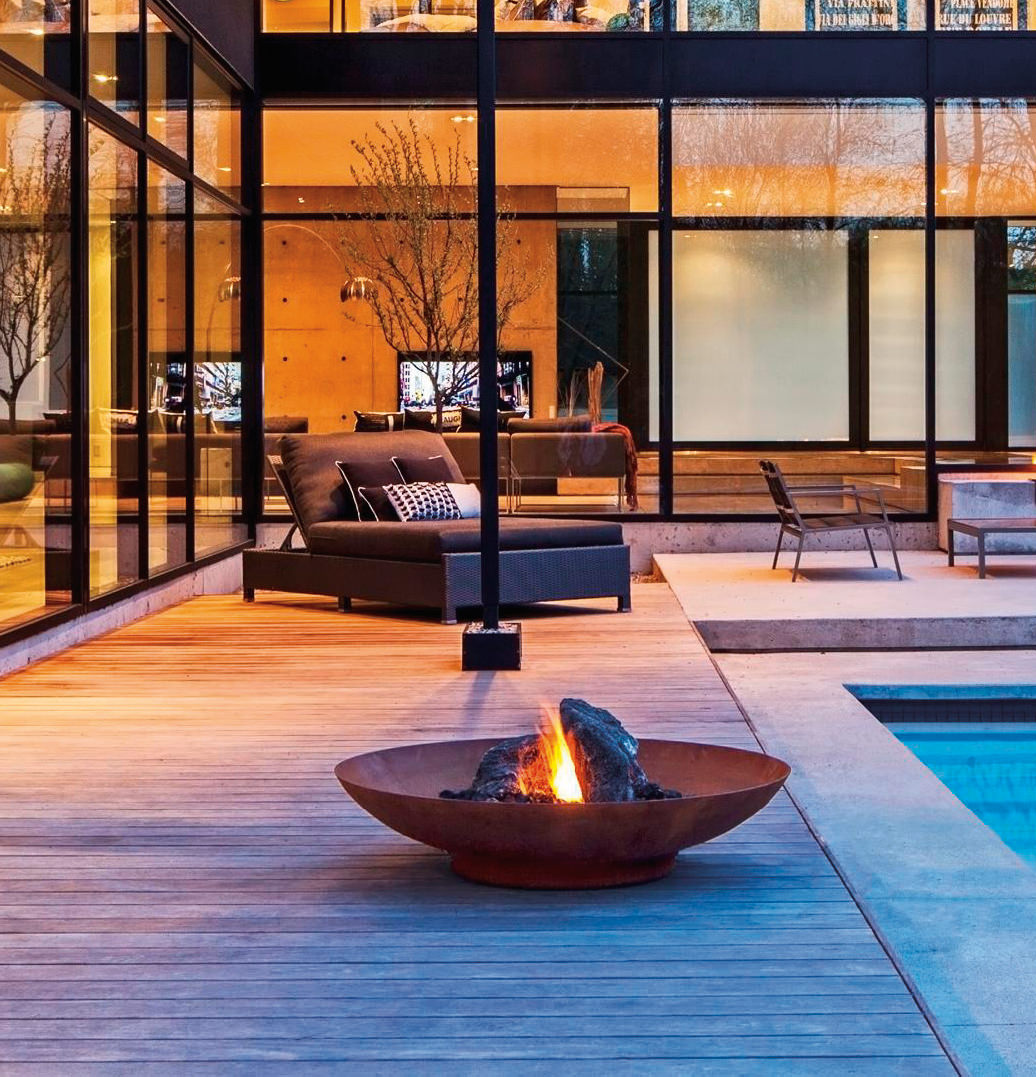 Concrete and steel, rust and ash, the substrate and surfeit of the urban jungle. We walk on it, drive on it, work in it, rush by it, and every once in a while we may stop to look at it in a new light—preferably firelight.
"I was always interested in the beauty of construction materials," says Khai Foo, a fine arts graduate who traded canvas for concrete, designing modern fire features inspired by the panache and patina of the urban environment for his Toronto-based company Paloform. "We're taking the lowest common material—dirt, basically, sand, and gravel—and turning it into beautiful objects, turning common materials into precious materials," he says. "Ultimately, they are the same materials you would find in a sidewalk. That's the alchemy of it."
Foo imagines fire as a design material on par with the vessel that contains it, and focuses on the juxtaposition of crisp and solid concrete with the ethereal, random flame. Imagine a long line of fire and the concrete takes the form of a geometric sculpture; imagine a vessel that resembles a volcano's crater and fire that dances atop the lava rock. "From a design standpoint, it's really fun to work with fire," he says. "You can do all kinds of things with a gas flame that you can't do with a burning log."
Paloform was created in 2010 after Foo and his wife, architect Elise Young, relocated to Toronto from Vancouver, where he had originally started experimenting with cast concrete in his father's garage. To make ends meet as a young artist in the 1990s, he took a job with a company that poured sidewalks and concrete countertops. Rather than lament the time lost to his artwork, he saw the magic in the material. Concrete appealed to his personal style ethic; the simple, clean lines of mid-century modern and minimalist Scandinavian design.
"My dad was an architect, and I grew up with this particular aesthetic instilled in me. He was educated in the U.K. and was a real fan of Nordic modern. Everything was very clean and pared down in our house," he recalls.
Foo and a business partner started a company making custom concrete fireplace mantles, architectural features, and furniture. The time was right; loft living and industrial elements were in vogue in Vancouver, and concrete fit the decor. The challenge, he realized, was convincing clients and interior designers that concrete had an intrinsic value that belonged in the broad palate of modern design.
"When I first started working in concrete, I really had to sell the idea of concrete. People weren't saying, 'I could use marble or limestone or concrete' in the same breath. That's started to change," he says.
At Paloform (palo is Finnish for "fire"), Foo has concentrated his design energy on fire features, but has expanded his materials. Hand-cast concrete in a range of earthy colours is the elemental material for fireplace mantles, tile surrounds, and outdoor fire features, but he has also added firepits in stainless and Corten steel. (Corten is a unique alloy that weathers to form a protective, uniform rust, and was developed for industrial uses such as shipping containers, railcars, and bridges.)
If natural rust is trending, so is the use of recycled post-industrial waste materials such as fly ash, the soot that collects in the filters of coal-fired electrical plants. At Paloform, fly ash is used in place of some cement, the binding agent in concrete, to create a more workable and durable product. "The production of cement is quite energy intensive," says Foo. "Any amount of cement you can replace with something else reduces the energy footprint of your product." The concrete fire features are fitted for a gas flame (natural gas, propane, or ethanol), while Corten steel can handle the higher heat of a natural wood-burning fire
Despite his Canadian address, Foo says half his sales are from south of the border, particularly to ski hotels in Colorado and poolside patios from California to Florida, where outdoor fire features have a year-round appeal. In Canada, his clients include residential projects, such as a large-scale condo underway in Oakville, Ontario, where every terrace will be graced with a fire feature. And he expects demand to rise with the growing trend toward outdoor living spaces. "More people are using modern design for their backyards and roof decks," he says, "and, like their living rooms, there's often a fire at the centre of it."