Michael Budman and Don Green of Roots Canada.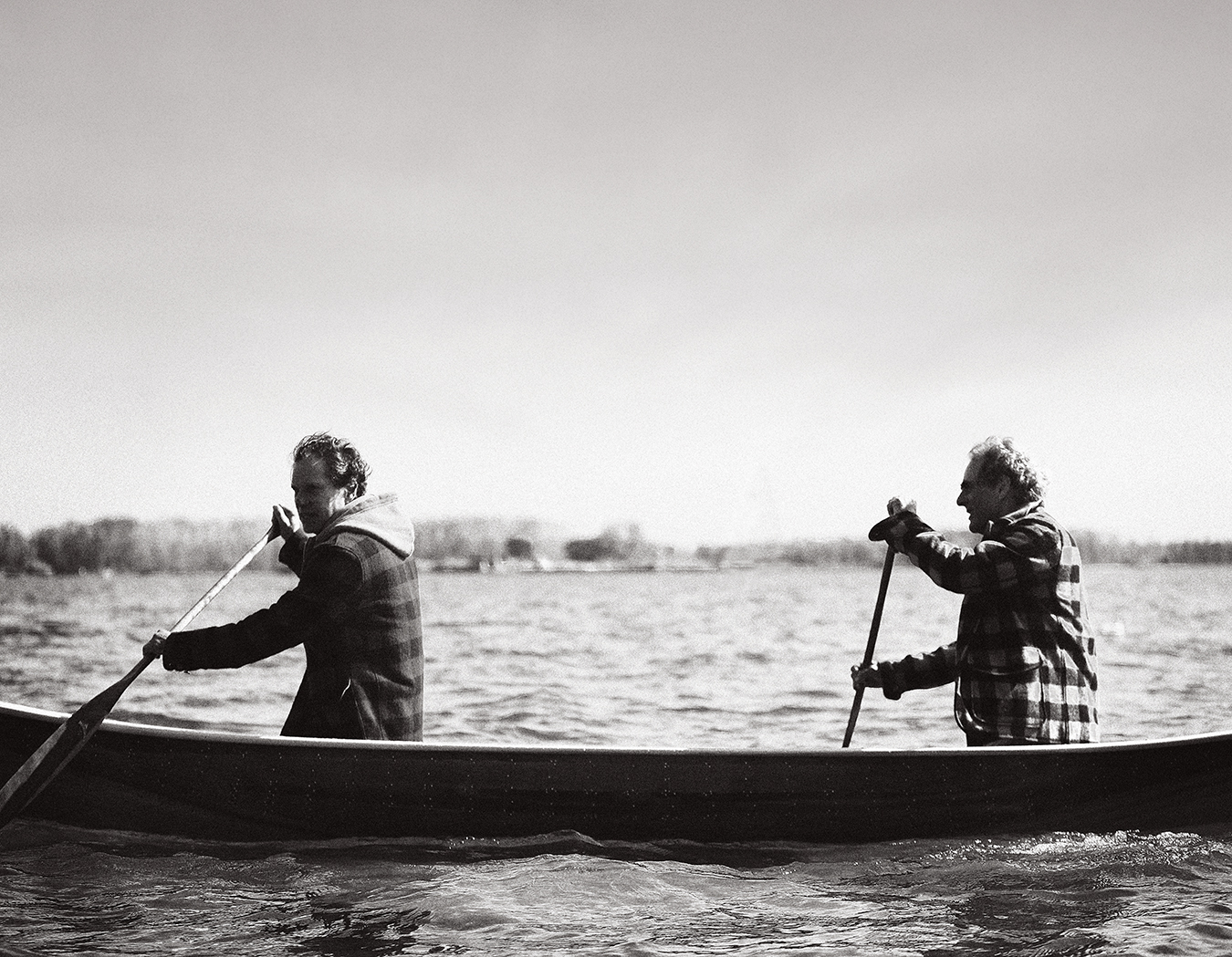 Michael Budman emerges from offices on the mezzanine of the Roots leather factory in Toronto and bounds down the stairs. He's carrying a BlackBerry Curve in one hand and a flat brown bag with two big front pockets in the other. It's the Village Bag in Vintage Tribe Leather, a style that Roots launched a few years ago, and which is now scoring big after it appeared in the Warner Bros. comedy The Hangover.
"In the movie, there are four guys on a big night in Vegas," says Budman. "One of them, this sort of shlubby-looking guy, comes out with this bag. The good-looking guy says, 'You can't wear that—that's a man-purse.' And [the shlubby guy] looks up and says, 'It's not a man-purse. It's a satchel. Indiana Jones wears one.' "
Budman, who co-founded Roots with Don Green 36 years ago, can't suppress a grin. "The bag has hit number one on our charts," he says proudly. Demand has been so great that in July, Roots suspended production of some of its other leather goods and diverted it to manufacturing more of the bag.
The company has always found gold with its marketing and celebrity tie-ins. Roots first forayed into Hollywood when it provided Richard Gere's footwear and leather belts for the 1980 movie American Gigolo, produced by Jerry Bruckheimer, Green's cousin. The initial idea was to kick-start the business-to-business side of the company by making crew gifts, but Roots has worked the star-endorsement angle ever since.
Budman, 63, and Green, 60, are known as the Roots Boys. Tanned and fit, they make time for exercising and activities outdoors, and barely look their age. The two met as teens one summer at Camp Tamakwa in Algonquin Park. They still have cabins on Smoke Lake in Algonquin, where they vacation every summer.
They are the Detroiters who revered the Canadian landscape, Americans who marketed the romantic, unspoiled wilderness of Canada back to Canadians. They love hockey, and they play it several times a week, often on Budman's backyard rink in the winter. They liken their partnership to that of legendary hockey greats Ted Lindsay and Gordie Howe of the Detroit Red Wings.
"Growing up in Detroit in the fifties, number seven Ted Lindsay and number nine Gordie Howe were hockey heroes," says Green. "Ted Lindsay was very feisty, tough, gritty—a fantastic team player, a winner. Gordie Howe was a smooth operator, goal scorer, quiet but productive—one of the greatest players to play the game. We idolized these guys. Michael thinks he's Ted Lindsay and I think I'm Gordie Howe."
It is not unexpected that Canada's winter pastime is an apt metaphor for the company. Budman adds, "How you play hockey is an indication of your character—how you handle yourself in a tough situation, how you stand up for teammates."
Roots was started in the 1970s after fate, luck, or whatever you want to call it led Budman and Green to the fashion business. Green had just returned to Toronto from Jamaica, where he'd lived for two years and his biggest project for the day, he once said, was riding to the roundabout a few kilometres away to buy an orange. They had tossed around business ideas like waterbeds and yogurt. Then, while visiting Detroit in the summer of 1972, they saw a friend wearing the Negative Heel Earth Shoe. And a light bulb went on in their heads. This was cool.
In North America, the Earth Shoe was only available in two stores: one in Ann Arbor, Michigan, and the other in New York. Budman and Green immediately met with the importer, who promised them the rights to all of Canada but who, a week later, couldn't remember their names. On the advice of Green's father, a successful manufacturer in Detroit's auto industry, they decided to make the shoe themselves.
They opened Roots on August 15, 1973, and sold seven pairs of shoes that first day. By the second Saturday there were lineups down the street.
Denyse Tremblay, a friend, was in that line. They asked her to help out. She did, becoming their first employee and, soon after, the store manager. In 1981, she married Green and became the product manager, spearheading Baby Roots and helping design the women's clothing line.
Team Roots was coming together. In 1976, People magazine ran an article that called Roots shoes the "Gucci shoe of the crunchy granola set". Roots was on its way to becoming a cultural icon. Today, Roots has sales of approximately $250-million annually.
Budman and Green are the Detroiters who revered the Canadian landscape, Americans who marketed the romantic, unspoiled wilderness of Canada back to Canadians.
"Roots is a complex brand because it's so much a reflection of the guys," says John Torella, a senior partner and retail consultant at J.C. Williams Group in Toronto. "They are a category of one. Any time you get a brand being a reflection of some dynamic leadership—whether it's Lee Iacocca or Dave Nichol—who have a vision of their lifestyles and how it manifests in a retail outlet, it sets it apart."
Roots made its mark with a hat trick of fads. The first was the Negative Heel Earth Shoe. The second was the beaver-logoed sweatshirts that came six years later, when the company's appeal had begun to fade. "There weren't any quality sweats in the marketplace at the time," says retail consultant Karen Aboud of K.A.A. Business Solutions. "They were able to fill a need created by the cocooning trend."
Then, in 1998 and just as the sweatshirt trend waned, they again struck gold with the Poorboy hat at the Winter Olympics in Nagano. When the Canadian Olympians walked into the opening ceremonies, waving and looking sharp in their Roots-designed red hats and red-and-white athletic wear, the world noticed.
A waiting list for the hats grew quickly and you could make an event of spotting celebrities sporting them: James Cameron, Robin Williams, Spike Lee. It appeared on The Tonight Show with Jay Leno, Saturday Night Live, and The Rosie O'Donnell Show. Roots sold 500,000 of them.
A month after the Olympics, Roots received the royal seal of approval when Princes Charles, William, and Harry visited Whistler. Budman and Green personally brought them jackets and hats, which they donned in front of 200 photographers. Pictures of the laughing royals wearing Roots made the front page of newspapers in Europe and North America. (This wasn't the first time the company had created Olympic fever: in 1988
it made jackets for the Jamaican bobsledding team after hearing about them landing in Calgary with no winter outerwear.)
The biggest news that came out of the 1998 games was not only how the Canadians performed but how they looked. They were recognized around the world as the best-dressed athletes, prompting the U.S. Olympics committee to come calling for the 2002 games in Salt Lake City. In 2004, Roots was responsible for dressing not only the Canadians, but also the teams from the United States, the United Kingdom, and Barbados.
But only two years later, in 2006, the company's association with the Canadian Olympians ended, and in 2008, it parted with the U.S. team as well. Regarding the Canadian team's current deal with the Hudson's Bay Company, the Vancouver Organizing Committee declined to comment, and the normally boisterous Budman is taciturn when the subject comes up.
"We had the greatest sports merchandise in the history of the Olympics," he finally says. "We created an identity for Canada. We did an incredible job … It was great while it lasted. We'll be on the scene again."
The 65,000-square-foot Roots head office on Castlefield Road in northwest Toronto is a five-minute drive from the Roots factory. It moved here in 2005, amalgamating design, IT, wholesale, and the furniture showroom, which were previously in separate buildings. "This building has been great luck for us," says Green. "It's an excellent symbol of the new Roots … We wanted to create an open, transparent environment but give everyone their space. Everything has to have a certain aesthetic. It appeals to our internal taste." Like Green himself, the atmosphere is comfortably laid-back yet unmistakably professional.
"Roots is in there with the best of class because they are in sync with their own selves," says Torella. "They are not trying to be a luxury brand, glitzy, in your face. They've played it well."
Roots' success lies less in its fashion innovation and more in the luck of its timing and its marketing. Design is a team effort and everything passes through the hands of Budman, Green, and their wives. Budman's wife, architect Diane Bald, oversees the design of the stores, the Roots Home products, and the bags, with Green's wife, Denyse, who also runs the Roots Yoga Studio in Toronto.
At the core, Roots' product is defined by simplicity, functionality, and great value. It was never known for being fashion-forward, although it has upped the percentage of streetwear in recent years, offering more refined materials like cotton cashmeres and fitted knits. Items from the eco-friendly collection—organic cottons and bamboos—are cut, pintucked, and fitted into more fashionable lines and sport stylish prints.
However, the leathers are the current focus. "We've always had bags, but sometimes they got lost by the wayside," says Bald. "Now we're serious bag people. We're selling a huge amount every week."
A rainbow of jewel-toned samples hangs upstairs in the factory studio, waiting for production. The Village Bag was such a hit, Budman got the idea to create the Satchel, a larger version, wearing it everywhere and giving it to friends. Fashionable and functional, the Carla bag (named after Carla Bruni) is a slouchy, unstructured piece with toothy zippered pockets on the outside. The Michelle (as in Obama) is a similar design. "It's simple and beautiful with very little hardware, but what's there looks like jewellery," says Bald.
The recent relaunch of Roots' footwear line, which the company started phasing out close to nine years ago, has been another exciting development. Some of the men's and women's styles sport soles made for the military that are lightweight, waterproof and skid-proof, and can withstand 60ºC temperatures.
There are currently 125 Roots stores, including four in the U.S., and approximately 30 more Canadian locations are set to open in the next four years. Another 50 franchised stores exist in Taiwan, China, and Hong Kong, where the demand is high for the outdoorsy image Roots sells.
"Roots has a holistic brand message," says Torella. "It's not about the store, the product. It's about what it says about you. It has badge value. [The recession has been] an interesting situation. People are going back to authenticity. They're talking about durability and value. Roots is a brand that's right for the times."
Admittedly, not every venture has been a success. The expensive Roots Lodge in Aspen, Colorado, failed. There was a fruitless attempt to take a bite out of the Big Apple with a New York store. And there was also Roots Air, which flew for only six weeks before it was grounded.
With calm finesse, Green spins the last into a positive. "It was financially good for Roots. We had a partner in the airline. When it sold, we did really well in the sale of that company. That one had a happy ending."
Back at the factory, it's Thursday afternoon and the buzzer sounds, signaling the end of the workday. Almost 200 employees clear out in less than two minutes. Usually the buzz is of activity. The factory can churn out 800 to 1,000 units a day, depending on the degree of difficulty. All the leather goods are manufactured here and about 20 per cent of the clothing is still made in Canada, too, at other locations.
Walking to the parking lot, Budman is wearing a white Roots Athletic shirt, white ankle socks emblazoned with the word Canada, and taupe desert boots, a sample of the new men's footwear line—he is a veritable advertisement for the company. He's carrying four handbags to show his wife and get her opinion. But first he's going to a golf tournament hosted by Wayne Gretzky, a friend.
Reaching his car, he stops. "Look at these bags," he says in his salesman voice. He holds up the Village bag. "Love it," he says, slinging it across his body and giving it a hard pat on one pocket. "BlackBerry." Hard pat on the other pocket. "Wallet." He laughs. "It's not a purse."
Green and Budman aren't planning on stopping any time soon. "We don't think about retirement. A succession plan is not in the works," says Green. "There are five kids in the Green/Budman family. They're going in different directions, but that's today. We have a good balanced lifestyle with work. It's the fun, stimulating part. There's no reason to think past that." It's the same laidback attitude that has guided much of the company's progress through the years. It is a part of their history, their background. Roots, for sure.