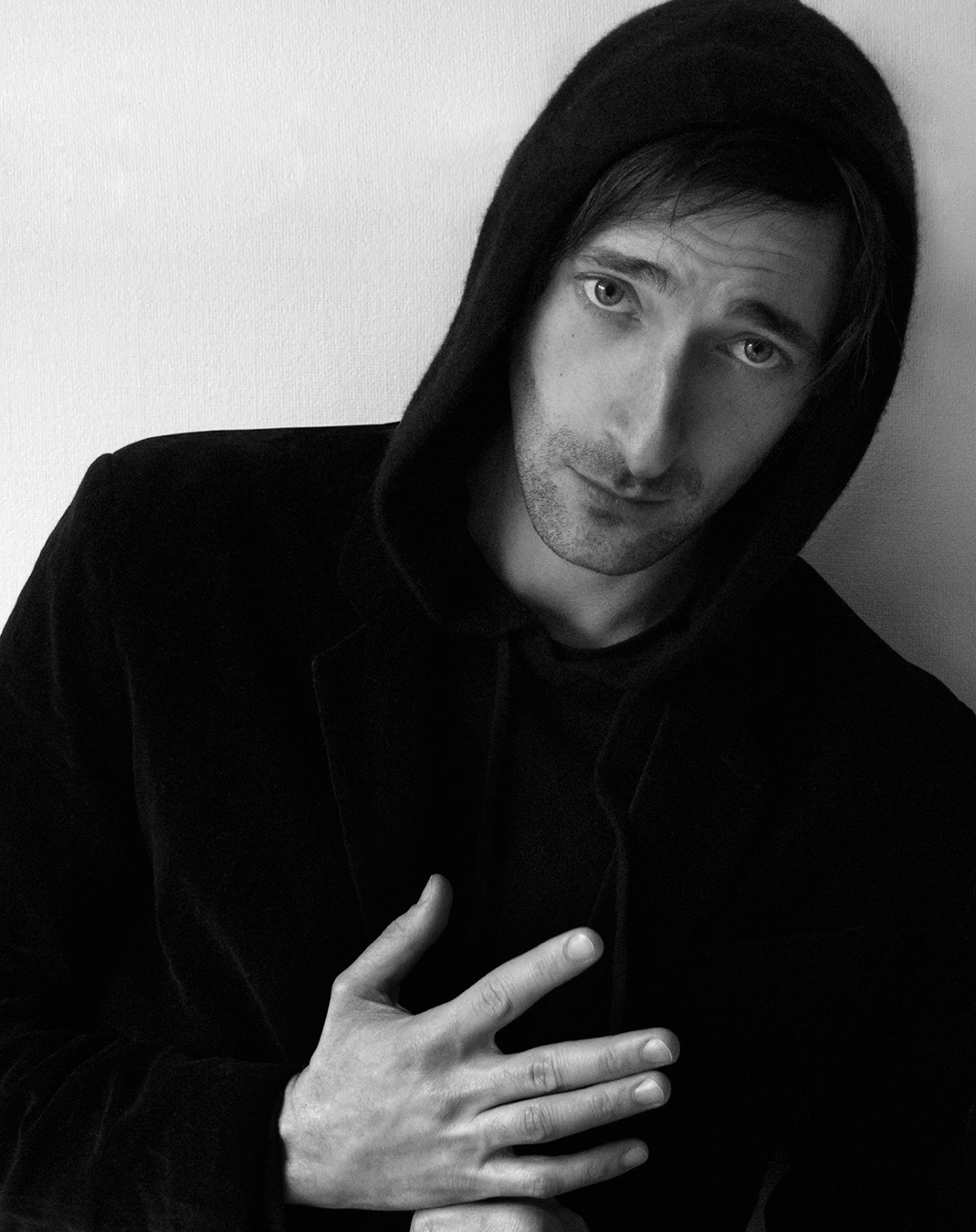 Words. Writers labour over them; actors memorize, rehearse and recite them for take after take to ensure each word is meaningful and delivered to perfection. "It takes me a moment sometimes to think of the appropriate word. I do not want to say things that I don't mean. Words are important, and the choice of one's words is very important," says Adrien Brody.
And this is how we begin. An actor and a writer—and words. Brody does not give off the smooth-talking, sound bite–heavy suaveness that defines so many of his contemporaries. He is eloquent and humble, his voice deep and his laugh infectious, his words thoughtful and sincere.
Waiting this afternoon at a hotel in New York's Lower East Side, Brody is on a break from post-production work on his upcoming film Cadillac Records. He has selected a corner spot on the outdoor terrace. His shoulders are hunched, his long arms hang between his knees and his toque is pulled low. I'm never sure if this draws more or less attention to a person, but on this day, with so few around, it's a moot point. My eyes are directed at him; it's his face, long and thin, that really gets to you, and there's something behind those deep-set green eyes that defies you not to be drawn in.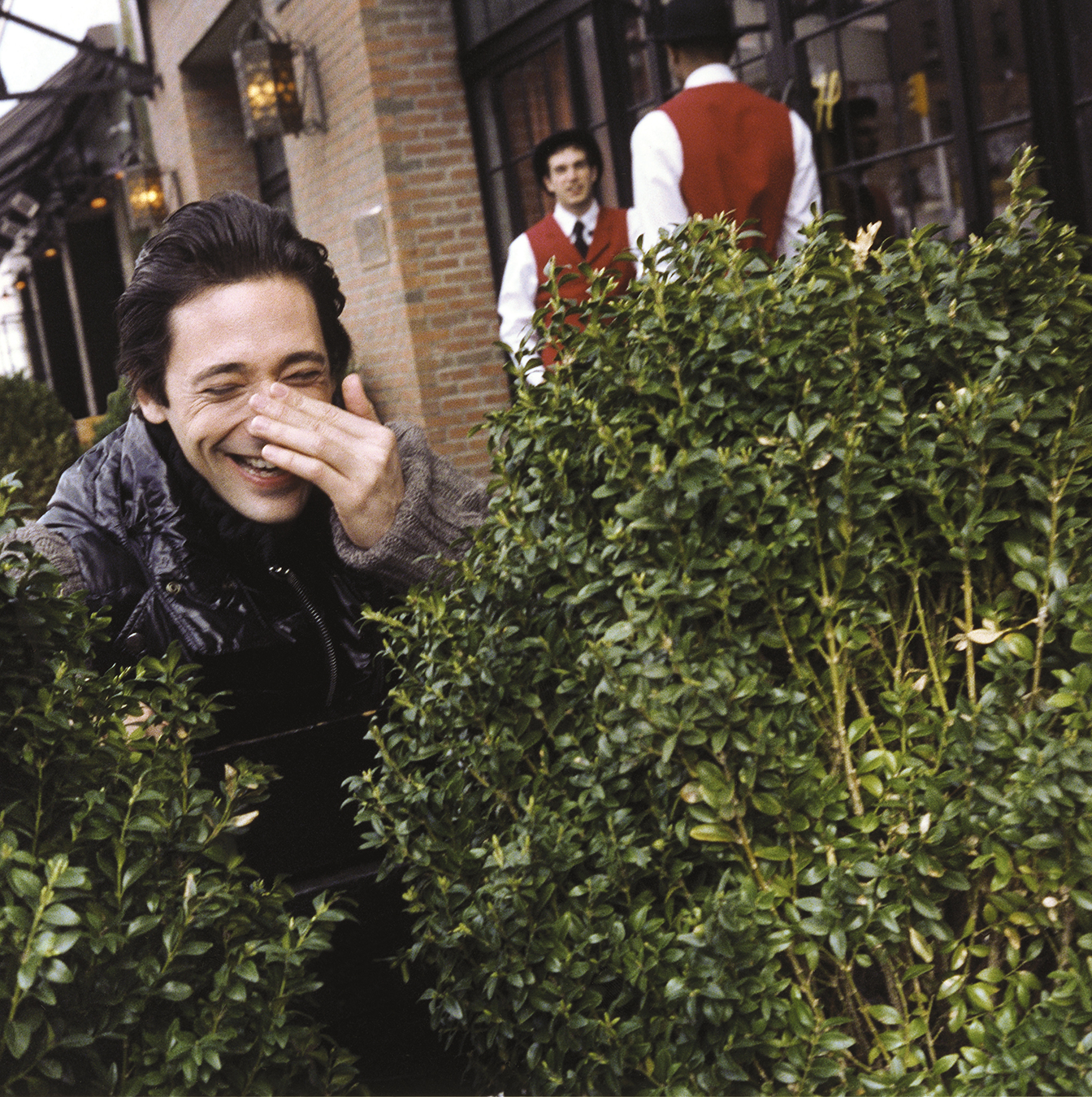 He was born in the Woodhaven neighbourhood of Queens in New York, the only child of Elliot Brody, a history teacher of Polish descent, and Sylvia Plachy, a Hungarian-born photographer. It was a creative, artistic household. "My mother discovered the acting school [the American Academy of Dramatic Arts] by being on an assignment, and thought I might enjoy it," recounts Brody. Enthused, he enrolled. "It was something I knew I loved immediately, and it was my mother's intuition and understanding me, when she photographed that school, that it was a perfect outlet for my kind of adventuresome behaviour and imagination. I am grateful for that, because I don't know if I would have found that. Who knows." And thus, Brody began to focus on acting.
His conversation is a maze of starts and stops, long pauses, lucid proclamations, stream-of-consciousness digressions and sentences that trail off. "I started working professionally right away. I got a job. I was working in the East Village, taking the train in from junior high school in Queens to go to the theatre and work on this play, Family Pride in the Fifties by Joan Schenkar. I didn't feel the burden of it having to be a profession. I began acting before supporting myself became an issue," he says. His first screen-acting job was the lead role in a PBS film called Home at Last. "I was 13 years old when I did this film. At 14, I had a walk-on role in Francis Ford Coppola's New York Stories."
It's his face, long and thin, that really gets to you, and there's something behind those deep-set green eyes that defies you not to be drawn in.
The road to recognition was not a smooth one. Possessing undeniable talent, Brody spent much of the nineties as a candidate for the "next big thing". After appearing on the cover of Vanity Fair in 1999, and having principal roles in two highly anticipated films—Spike Lee's Summer of Sam and the ensemble war drama The Thin Red Line—Brody seemed perfectly positioned to step into the spotlight. It wasn't until he went to an early screening of the latter film that he discovered his character had been cut significantly. "It was hard to take. The dilemma of being an actor is that there is a tremendous amount of rejection that comes with the process. It is just part of it."
With an innate desire to succeed despite the immense disappointment, Brody soldiered on to do solid work in films like Liberty Heights, Harrison's Flowers and The Affair of the Necklace. It wasn't until he was cast as the lead in Roman Polanski's The Pianist that he won the recognition that had previously eluded him. Finally, the critics—and the Academy—took notice.
By now, we all know the role: Wladyslaw Szpilman, a pianist struggling to survive the Holocaust in the Warsaw Ghetto. Brody invested himself in the role mentally, emotionally and physically, and was rewarded for his dedication with numerous honours, including the French César Award and an Academy Award for Performance by an Actor in a Leading Role, making him the youngest-ever recipient—at age 29—of that Oscar. At the time, many thought he was fairly new to the scene, but in fact Brody had been in more than 20 films before The Pianist, dating back to the late eighties. Now, though, he had secured his place in cinematic history.
Brody's portrayal of Szpilman is remarkable, and is a perfect harmony of actor and character. "It is profound to have an effect on so many people from something you've done in your life—and that film really touched a lot of people, including myself." He pauses, taking the time to choose the right words. "The process had a profound effect on me, and me understanding the beauty of life, and the precariousness of life and the sadness that exists in this world. My perception of myself prior to that experience was that I was a man, and I knew my values, and I had my agenda and had a career, but it touched me in a way that it affected me so deeply."
Acting defines him, consumes him. "The process is very important. It varies from project to project, but it is very important to me to be sincere to my work. Sincere to myself. So I have to take the steps that are necessary to connect truthfully. Because if I don't believe what I'm going through as a character, why should you believe it when you watch me going through that? And film is permanent, so I don't want to walk through anything or miss opportunities because then I have it there, staring at me."
Brody is a driven perfectionist as well as a method actor, practising full immersion in the emotion of an experience in order to apply it to a scene.
Brody is a driven perfectionist as well as a method actor, practising full immersion in the emotion of an experience in order to apply it to a scene. While preparing to play a strike organizer in Ken Loach's Bread and Roses, Brody joined a janitors' union and sat in on strike talks. For The Pianist, he learned to play Chopin and lost 30 pounds from his already-lean frame in just six weeks. ("I wanted to know the desperation that comes with hunger," he says. "I could have never acted that without knowing.") And while filming The Jacket, in order to enhance his performance as a man being psychologically tormented while trapped in a straitjacket in a morgue drawer, Brody would ask to be left strapped in the drawer even when the cameras weren't rolling.
Every emotion Brody experiences is valuable to him by virtue of the fact that it can be used. "You have to draw from your own. Not necessarily your own experiences—although they help—but ultimately what my objective is, is to let my inhibitions go and express something that the character that I'm playing feels, which is a human emotion. I have to tap into those emotions within myself and not be afraid to let people see them. It's a magical thing. I think no matter how talented one is, it is elusive, that connection. That's why you have to do the homework. That's why you have to be focused." His performances, true to form, are intensely watchable. Brody connects.
In 2005, he starred in Peter Jackson's gargantuan remake of King Kong, a departure from the surfeit of more dramatic roles he had taken before that. "I took King Kong partially because it was a big adventure. It was exciting to interact in this world with dinosaurs and this great ape that was 20-something-feet tall and this big romantic fantasy." So does a role like that require less focus, less homework? "I had the responsibility to interact with something that isn't there. Those emotions have to be real. And I didn't get that somehow," he says, laughing. "I don't know why. I thought it would be easier, and it was much more difficult because … there is no beautiful, graceful, subtle, sensitive giant ape. The dynamic of your struggle is not present."
After Kong, Brody portrayed a detective attempting to unravel the mysterious death of actor George Reeves in Hollywoodland, played a revered Spanish bullfighter in Manolete and went on a comedic adventure in Wes Anderson's The Darjeeling Limited as one of three brothers seeking, but not necessarily finding, spiritual enlightenment in India.
An actor's job involves the pursuit of authenticity, and Brody seems to be constantly looking to feed his inner spirit. "I have a number of things I need to do, would like to do. I've been making music too long to not do something with it," he says, then pauses. "I don't have as much time as I had. I used to make music a lot when I was an unemployed actor."
"It is very important to me to be sincere to my work. Sincere to myself. So I have to take the steps that are necessary to connect truthfully. Because if I don't believe what I'm going through as a character, why would you believe it when you watch me going through that?"
Both of Brody's passions—music and acting—connect in one of his upcoming films. Cadillac Records, in theatres on December 5, chronicles the life of influential record-company executive Leonard Chess, who is played by Brody. "It's a really compelling story, and it's a time when blues shaped a lot of modern music, including rock and roll, and it's interesting to see the origin of that." The film is set against the Chicago music scene of the 1950s, and charts the colourful lives of musical legends like Etta James (played by Beyoncé Knowles), Muddy Waters (Jeffrey Wright) and Chuck Berry (Mos Def).
An hour has passed and the terrace has cleared. It's just past noon, and neither of us has eaten. "Are you hungry?" he asks. I'm hungry. He's hungry. We order oatmeal and berry yogurt. The hotel only has plain, so Brody suggests, "Order plain with strawberry or raspberry jam and mix it together. I'm used to living on the road. I can wing it. I can whip up an amazing meal with very little. Cheese and crackers and a microwave, and you can get something really interesting." The life of this down-to-earth, hard-working actor is not, evidently, all glamour.
Due for wide release in January is The Brothers Bloom, an entertaining and quirky film complete with style, substance, comedy, romance, suspense, explosions, guns and con men. Directed by Rian Johnson, the film stars Brody as Bloom, a conflicted con man whose brother Stephen (Mark Ruffalo) persuades him to team up for one last job. In the process, Bloom falls for a beautiful heiress, played by Rachel Weisz. "It's comedic, yet the humour would not resonate if you don't underplay your part in it. It's a balancing act. I attribute it to the writing, to the scenarios and to the direction," says Brody.
And his work continues. Also slated for next year is Giallo, a thriller from Italian horrormeister Dario Argento. Brody is producing the film, and also stars as a detective who is chasing a serial killer with a penchant for beautiful women. In it, Brody shares the screen with his girlfriend, Elsa Pataky. "I signed on as a producer on the film in an effort to protect her [Elsa] because the character was going through such a hellish journey, and my character is a detective who is trying to find the killer and rescue her. And so my motivation of a character followed my real motivation of watching over her." Brody will also pair up with Canadian talent Sarah Polley in Splice, a sci-fi thriller involving two scientists who experiment with combining animal DNA.
Adrien Brody has carved out an enviable path. And yet, he says, "You will not get most of the things you want to get. Most of the things you dream to have a shot at, you don't get a shot at. That feeling, I think, doesn't leave you entirely—ever—including people who are far more successful than I am. You still want an opportunity to do things that have not been given." Great moments are born from great opportunity, and it seems Brody has no shortage of opportunities coming his way.
Although fame eluded him in the past, Brody has deservedly triumphed. He is very much a natural, an individual, an original. As a child, he was nicknamed Amazing Adrien, because he would perform magic tricks. Brody still has a few tricks up his sleeve, and, undoubtedly, he will continue to amaze.
Styling: Trish Summerville for Discent. Grooming: Alexandra Kwiatkowski for Atelier Management using Oraia skin care.
November 1, 2008
Updated: January 10, 2015