Panettone Is A Seasonal Favourite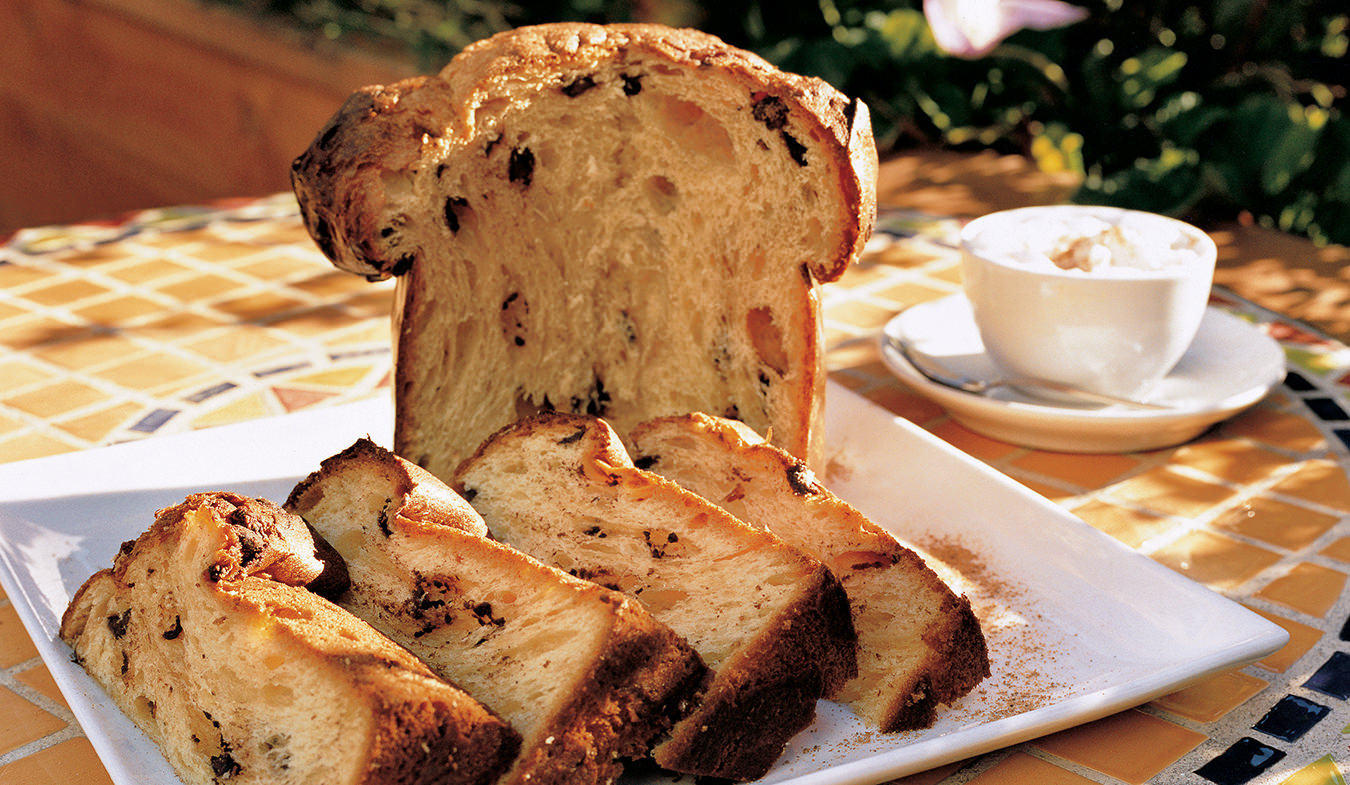 Some of the sweetest days of my life have been spent in Milan's grey winter. My concrete-block apartment offered a spectacular view over the nearby Alps and on a clear day the diamond peaks would reflect crystals of cerulean blue in the morning light. But mostly, Milan at this time of year is a relentless grey. The fog rolls in with autumn, dominating the city sky and the Lombard plain until spring. I thought winter would be as long as the faces I met each morning on the trolley. That was before I learned about panettone season.
Panettone is Milan's own fragrant Christmas fruitcake. There are many tales about its beginnings, from a love-sick baker looking to impress his girlfriend's father to an inspired pastry chef who invented it when his cake collapsed hours before one of Duke Ludovico il Moro's fabulous 15th century banquets. Un miracolo! More believable is that a baker named Antonio—and thus Tony's bread, or pane di Tonio—created in the 1400s a classic: a brioche-style bread, shaped like a dome, scented with citrus peel, laced with eggs and butter, and flecked with plump raisins. If it sounds simple, consider the process: double-leavening, slow baking, and a finishing stage upside down. Unlike the boozy British Christmas pudding, it is rarely made at home.
Ducking out of a damp wind into a chandeliered café on via Montenapoleone, I take shelter in Pasticceria Cova, one of the city's prettiest institutions. The bartender presents a slice of the golden cake, promising: "It will revive you." Cova has been making panettone since it opened its doors in 1817. Production begins each September. "It wouldn't work any earlier," explains manager Daniela Faccioli. "You can't make panettone when it's too hot because the dough won't rise."
Across town, in an industrial suburb, Tre Marie bakery has begun its winter production schedule, clocking 24 hours each day. In the course of a little over three months, this commercial, top-end producer bakes, bundles, and ships two million panettone, from individual, muffin-sized ones at 50 grams to ten-kilo titans. In my neighbourhood, an empty bakery is transformed into a small fruitcake factory, pumping the air with a citrus perfume I can smell from my bedroom window.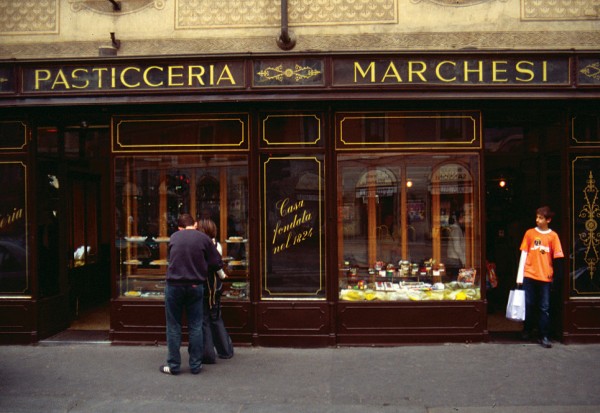 I thought winter would be as long as the faces I met each morning on the trolley. That was before I learned about panettone season.
By the time Piazza del Duomo is strung with holiday decorations in late November, most other foods have disappeared from the display windows in shops and cafes. Some vendors make room for marrons glace and a few chocolate Santas, but everything is dwarfed by mountains of panettone wrapped in shiny paper and tied with ribbons in rainbows of colour. Even supermarkets make staples a low priority—polenta, move over.
The Milanese have famously declared that Pasticceria Marchesi makes the city's finest panettone. Little wonder that supplies are notoriously limited at this atmospheric shop a short walk from Leonardo da Vinci's The Last Supper (and Santa Maria della Grazie church). I squeeze into a crowd of late-afternoon cake-eaters and order a piece of—what else? It tastes of pure radiance. An old woman pushes up beside me and orders the same. "Sorry, signora," says the barrista, shaking her head so heavily the news might have been that Leonardo's fresco itself had suddenly disappeared. "No more for today. E finito." Silence falls over the room. I thought I would choke on my last bite but instead let out a nervous laugh. Under a cloud of penetrating stares, I slip out the door. Apparently a shortage of panettone is no laughing matter.
At the wonderland food emporium Peck, which stocks artisan producer Pasticceria Galbusera's classic panettone, employee Giampoalo Marinoni recounts the Christmas cake lore he was fed as a child: "You buy it for the first time each year on December 7"—the feast day of Milan's patron saint, Sant' Ambrogio—"and you eat just one slice, no more on that day. And you should finish the last piece on Epiphany." Does he follow these rules? "Absolutely not," he laughs. "I eat it all winter." Another bit of advice is to eat a slice of panettone on San Biaggio's feast day, February 3 (if you still have some around the house) and it will ward off sore throats for the rest of the year.
In early December, Tre Marie's prized sourdough mother starter is locked away in a safe vault ready for next year. My stay in Milan will outlast the fog, no small thanks to the warmth and comfort offered by this sunny cake, Milan's cold-weather remedy.