Chef Charles-Antoine Crête
Montreal's enfant terrible of haute cuisine.
Quebec's chef scene is filled with larger-than-life characters, and the menus they are turning out are a pretty accurate representation of each personality. Martin Picard's cuisine is bold and decadent, Normand Laprise's plates are intricate and inventive, and Colombe St-Pierre's food is delicate and unique. The best words for Charles-Antoine Crête's style are creative and crazy—or, better yet, kooky. His signature dishes include baloney cannelloni and deep-fried stalks of Brussels sprouts covered in zigzags of mayonnaise and showers of Parmesan cheese. His most popular dessert, called Fruits Crispy, is a mix of white chocolate mousse, rhubarb purée, and strawberry sorbet spiked with shards of strawberry meringue. Crash your spoon through this sweet concoction and you just might find a Smurf figurine peeking out from under the cream—an artifact from Crête's prized collection. If there's a Smurf in your food, it means he likes you.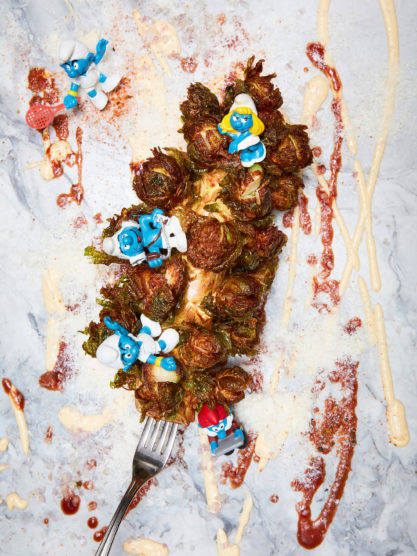 In the three years since it opened, Crête's restaurant, Montréal Plaza, has become the city's most enchanting culinary spot. Alongside his partners, co-chef Cheryl Johnson and dining room and operations manager Sébastien Blanchette, Crête has managed to create a dining space in a neighbourhood hardly known for its restaurant scene. Located on the famous Plaza St-Hubert, a shopping area known as a destination for buying wedding dresses and cheap fabrics, Montréal Plaza has brought new life to this once shabby commercial strip. The makeover of the restaurant (originally bistro L'Étoile) was overseen by Montreal designer-du-moment Zébulon Perron, and the results are fabulous. A once dark and cavernous space, the restaurant is now bright and beautiful. White beadboard graces the walls, frosted glass fixtures run along the ceiling, and orange banquettes provide a hit of colour. The heart of the action is a large open kitchen at the back of the room. The tables and chairs are more tavern-style than posh, and the room has been personalized with flowers and plants, stuffed animals, and an animation studio, where Crête's good friend Matthieu Goyer produces short animated clips for the restaurant's social media pages.
"Le Plaza"—as it's known to regulars—is always booked, and you'll spot many local chefs socializing where Crête holds court: sometimes in front of the bar, sometimes behind the bar, and often, after midnight, standing right on the bar.
Crête doesn't come from the stereotypical chef mould. His look is reminiscent of French actor Vincent Cassel, but with humour behind that blue-eyed stare and a charm that offsets his no-holds-barred personality. Eccentricities aside, his reputation is that of an excellent cook. His latest collaboration is a fast-food eatery—but we're not talking burgers and fries. Called Foodchain, the restaurant sells eight varieties of salad, all vegetarian and all shredded in large food processors to order. Opened in the summer of 2017, Foodchain was created by Crête, Johnson, Blanchette, and baker Jeffrey Finkelstein, along with businessman Jean-François Saine. Also designed by Perron, the downtown space has become one of the city's hottest lunch destinations, with plans to expand it already underway.
"I never like to put myself in a box. My style is not like a straight line, but like a cardiac readout."
With so much on the go, Crête, a 38-year-old native of St-Augustin, Mirabel in the Laurentians just north of Montreal, might seem overwhelmed, but during a visit with him in his office at Montréal Plaza on a weekday, he couldn't be more relaxed. "I've been working non-stop for two and a half years," says Crête. "These days, I'm an ideas guy. I have nothing against flipping pans—I've flipped a lot of pans—but now I spend my time entertaining customers and dreaming about tomorrow. I worked on a TV show, I've consulted for other restaurants, I thought up the Foodchain menu in about seven minutes. I manage my staff like a big family. We've built a tool box of ideas here, and I encourage everyone to pull from it."
Like many chefs of his generation, Crête credits his mother as his early cooking inspiration. "As a kid, every weekend we had big meals and I cooked with my mother a lot. She would go through these periods of trying out new recipes. We'd be flambéing things like crêpes, cherries, shrimps with Pernod. I loved helping. By the age of nine, I told my mother I wanted to be a chef."
By age 12, Crête was working in a professional kitchen doing dishes, making salads, and cutting things ("Including myself," he says with a laugh) for chef Jean-Paul Giroux at his restaurant, Le St-Augustin in his hometown. At 17, he entered cooking school ("That didn't go too well," says Crête, as he was kicked out), and by 18 he was working under acclaimed chef Normand Laprise at Montreal's top restaurant, Toqué!, where he quickly rose to the position of chef de cuisine at the maison mère, as well as Laprise's second restaurant, Brasserie T!. "I spent 15 years working at Toqué!" says Crête, "And I'd say Toqué! shaped me as much as I shaped Toqué! I gave a year's notice before I left."
While working at Toqué!, Crête staged in famous kitchens around the world including Tetsuya's in Sydney and El Bulli in Catalonia. So eager was he to work for chef Ferran Adrià at El Bulli that he sent in his résumé 17 times. "I hitchhiked from Biarritz to El Bulli with a friend for dinner," says Crête. "We put the whole meal on her dad's credit card. I went back the next day with my CV. It was raining and I stood there in the kitchen, all wet, holding my CV, asking if they would take me for a stage. They said, 'Okay, come back in two weeks.' I worked there for five months in 2003 and two months in 2004."
And what did Crête learn from the master of molecular gastronomy? "I learned that creativity requires discipline. It has to be structured. Always keep records of what you do to avoid making the same mistakes. I also learned that Catalans and Quebecers have something in common: we're both really good at doing the best with what we have. We are not rich people, so we cook from scraps. We use everything. I can show you 14 ways to transform a tomato using everything from the peel to the seeds to the pulp."
These days, Crête says, "I never like to put myself in a box. My style is not like a straight line, but like a cardiac readout. I spend a lot of my time looking for products from Quebec, developing a network of chefs to share a whole tuna or whelks or other ingredients. In Montreal, our style is a bit old school. We're all doing different things, but we respect each other. I've seen other cities where everyone is doing the same thing and they're all bitching about each other. For a long time I was in Normand's world, but now I'm in my own. By the time I opened my restaurant [Montréal Plaza], I was ready to show everyone who I was."
_________
Never miss a story. Sign up for NUVO's weekly newsletter, here.