France leads the charge in the pink revolution.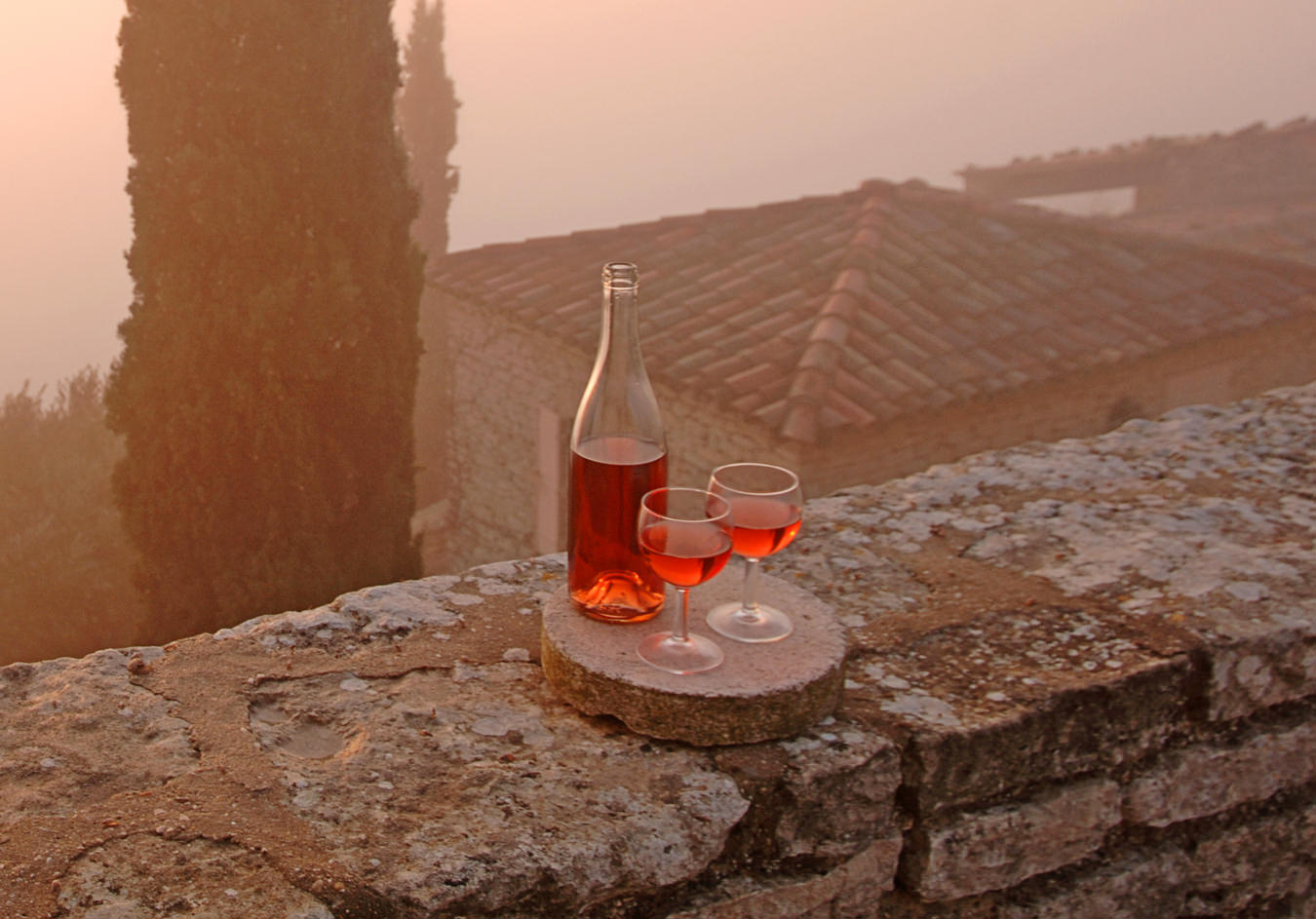 It's a truism that colour is important in the world of wine. One of the main ways wines are categorized is by colour, and restaurant wine lists are almost always divided this way. Most of us have colour preferences that are either general—red or white—or contextual, such as thinking only of red wine for certain foods and of white wine for others. And yet we don't pay too much attention to actual hue: whether a white is watery-clear, like many sauvignon blancs, or darker yellow, like many chardonnays. We certainly don't buy by precise hue, because most wine bottles are made from coloured glass that prevents us from seeing if a wine is light or dark red until we pour it.
It's different with rosé wines. For one thing, they are almost always sold in clear glass bottles so that you can see not just that the wine is pink, but also the precise shade and intensity of the colour. The clear bottles could be explained by the general assumption that rosé wine is likely to be consumed sooner than many reds or whites, and therefore doesn't need the protection from light that a darker bottle provides. But it has much to do with the colour of rosé wine often being seen as a guide to the style of the wine. When we look at a rosé that's vibrantly, intensely pink in colour, we tend to think it will be fruity and somewhat sweet. But we expect a pale, salmon pink rosé wine to be dry, structured, and generally more elegant. Producers know we approach wine this way: Ontario's Featherstone Estate Winery warns of its sparkling Cuvée Joy Rosé, "Don't let the pretty pink hue mislead you. This is a structured sparkler."
The intricacies of making and selling rosé wines have come to the fore because of their surging popularity. For decades, pink wines were not taken seriously by many wine professionals; they were considered to be in the "cheap and cheerful" camp, often made when red grapes failed to ripen fully. The exceptions were the wines of Provence, the southeastern region that produces most of France's rosé wines. Rosés from Provence are generally a very pale colour known as oeil de perdrix, or partridge eye. (More specifically, the colour is said to be similar to that of the eyes of a dying partridge—something that might be familiar to partridge hunters, but that the rest of us will have to accept.) Examples are François Dulac's Côtes de Provence rosé and Aix Rosé, from the region near Aix-en-Provence.
For decades, pink wines were not taken seriously by many wine professionals; they were considered to be in the "cheap and cheerful" camp.
Yet although there's a trend toward this pale colour, most rosé wines are a deeper, more definite pink, the colour associated with what is confusingly called white zinfandel. In 1975, at California's Sutter Home winery, white wine was being made from zinfandel—a black-skinned grape—but the fermentation stuck and produced a sweet and unmistakably pink-coloured wine. It was bottled as white zinfandel, the colour it was meant to be, rather than what it was, and perhaps the disconnect between the name and the colour made white zinfandel intriguing. White zinfandel became one of the bestselling wine styles in the United States, with 260 million bottles sold in 2000.
As polar opposites, Provence rosé and white zinfandel may have helped establish the associations of colour and style: the very pale rosé wine that was dry and structured, and the bright pink wine that was sweet and fruity. But while rosé wines from Provence are on a roll (exports have nearly tripled in a five-year period, according to recent stats), sales of white zinfandel have continued to drop since its heyday. Once America's third most popular wine, white zinfandel is now ninth, and the U.S., Spain, and Italy—all major producers of rosé wine—saw rosé production decline in the past decade (the U.S. and Spain have since recovered). Everywhere else, it is up, with France leading the way. That country is now the world's leading rosé wine producer (nearly 30 per cent of rosé wine is made there) and the French apparently can't get enough. Currently almost a third of the wine sold in French supermarkets (where most French people buy their wine) is rosé. Twenty-five years ago, around nearly 75 per cent of wine sold was red, 12 per cent was white, and 13 per cent was rosé. Now red accounts for just over half and rosé for almost 30 per cent, while white is at 17.
This is a rosé renaissance for the French because for centuries, until the 1600s or thereabouts, pink-coloured wine was their default wine. It was called clairette (claret in English) because it was far more transparent than wines that today we would call red, which were then called "black" because of their deeper colour. (It makes as much sense to call a red wine black as to call a yellow wine white.) Same as today, back in those days the actual colour was of prime importance, and there are records of winemakers adjusting colour—adding "black" wine to clairette to deepen the hue, or adding white wine to lighten it—until they got it just right.
These days, claret no longer refers to pale-hued wines, but generically to the red wines of Bordeaux, and rosé has stepped in to describe these lighter, pink wines. Not only are the French producing and drinking far more rosé than they have for centuries, others are following suit. South Africa, Chile, and Austria have more than doubled their rosé production in the last 15 years, and Italy competes with France in exports, though it has seen a steep decline in production since 2010. Although the U.S. produces less and less rosé wine, it has become a major importer, and Americans drink more than a quarter of Provence's rosé exports. About a third of the rosé wine the country imports is consumed in two cities: New York and Miami. Canadians are consuming 120 per cent more rosé than they were in 2002, and the United Kingdom is tipping the scales at 250 per cent more.
The popularity of rosé is reflected in the vast range available today, as wineries around the world have created rosé production programs rather than treating rosé as a poor cousin to red and white wine, or one to be made only in years when the reds fail. Rosés come in many styles (but more and more are dry), are made in many colours (though an increasing proportion are pale Provençal pink), and are produced from many grape varieties. In some cases, the shifts are perceptible. Ontario's Malivoire winery has successfully made a bright pink wine called Ladybug for many years, but it has just started to produce a dry, partridge-eye pink wine made from pinot noir grapes called Vivant. Even owner Martin Malivoire jokes that you have to hold the wine up to the light to see that it has colour.
The popularity of rosé has given rise to wineries creating rosé production programs rather than treating it as a poor cousin to red and white wine.
Rosé wines that are this superpale colour, common in Provence, are now popping up everywhere. Sonoma's Angels & Cowboys has a vibrant and textured partridge-eye rosé that's a blend of grenache, merlot, sangiovese, and syrah, while Chile's Errazuriz produces one that's made from cabernet sauvignon. In Spain, Torres makes Viña Esmeralda rosé from garnacha. Most of these pale pink wines are dry, although the one from Australia's Banrock Station is slightly off-dry.
But not everyone is aligned with the partridge-eye trend, and there are plenty of dry rosés dressed in positive pink. In the Okanagan Valley, Nk'Mip Cellars makes a brightly coloured and fairly full-bodied rosé from merlot, syrah, pinot noir, and cabernet franc, while See Ya Later Ranch's version is based on merlot, gamay, and gewürztraminer. On the Niagara Peninsula, Featherstone's vibrant pink rosé is a blend of gamay, cabernet sauvignon, and pinot noir, though its neighbour Southbrook's organic and biodynamic cabernet rosé is made from cabernet sauvignon and cabernet franc.
If French sales figures are a guide—with white wine sales steady and red wine losing its share as rosé sales soar—rosé is poised to become the new red. Once scorned, it has shaken off its detractors and roared to prominence in many markets. We now have an unprecedented range of rosé wines to choose from. If there was ever an excuse to use the cliché about rose-coloured glasses, this is it: it's not that we're looking at the world through such lenses, but rosé coloured describes our glass's look as we raise it to our lips.
_________
Never miss a story. Sign up for NUVO's weekly newsletter.