The high-flying Swiss watch brand.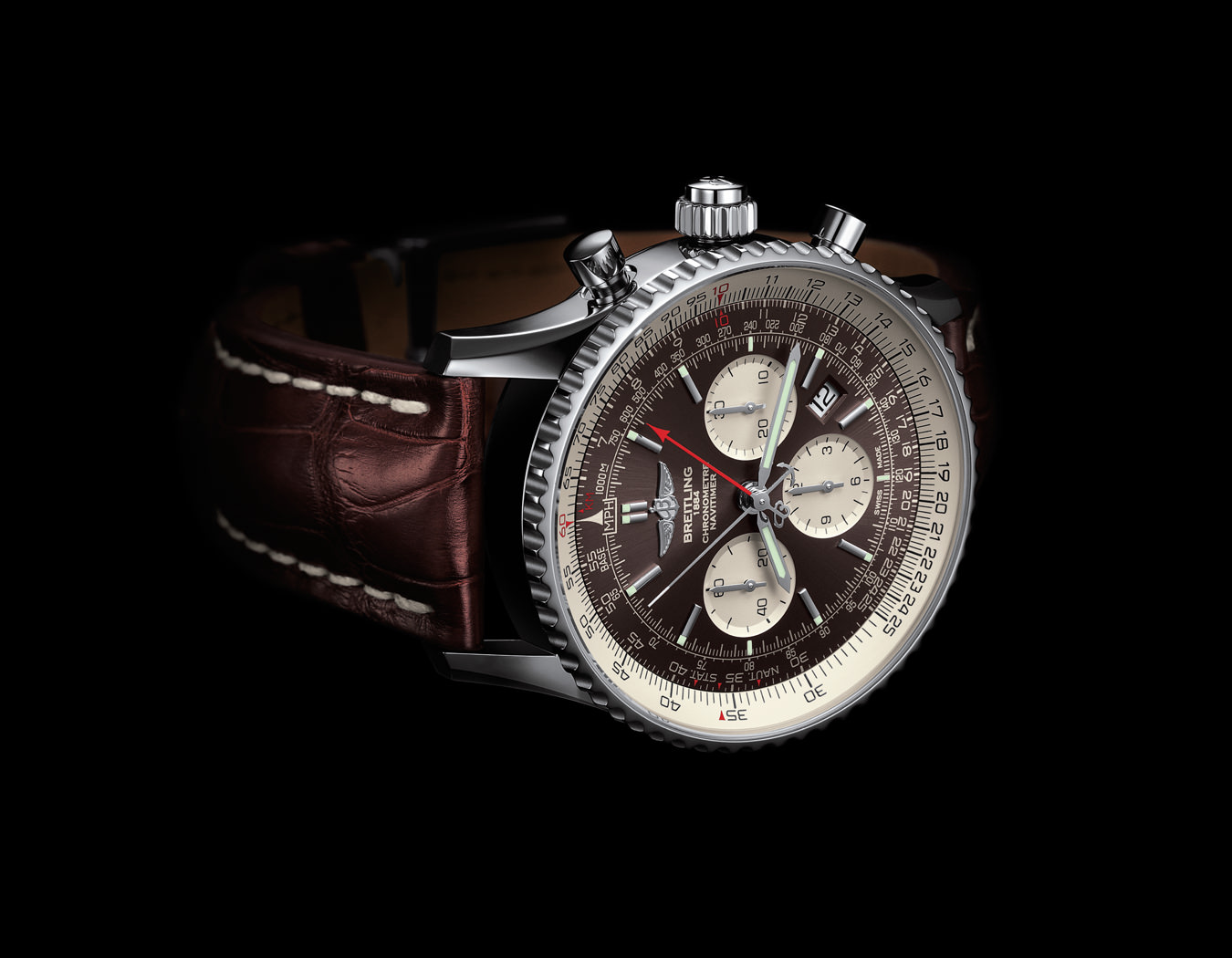 "When you see the world turn, it's no problem," assures Captain Jacques Bothelin. The lead pilot of Breitling's Jet Team is guiding jet-flying neophytes through a safety session in Dijon, France, before they head up in the air as passengers, and the group is blanching at the descriptions of experiencing G-force. "Tense up your abs when you feel the pressure," advises Bothelin, adding: "If the captain yells, 'Eject, eject, eject!', pull the red levers to engage your ejection seat."
These guests, mainly Breitling aficionados and collectors, are taking flight in an L-39C Albatros, coming within mere metres of other aircraft and performing daring flips, barrel rolls, and myriad aeronautical formations at speeds of over 700 km/h. The flights, of course, go smoothly, and afterward many guests will take to the sky yet again to try their hand at tandem skydiving above the French countryside. Indeed, anything seems possible after flying in the back seat of a jet performing aerobatics. And if there's a luxury watch brand that instills a contagious fervour in aviation, it is Breitling.
The company story begins in 1884, when a 24-year-old Léon Breitling, a trained watchmaker, honed his passion for chronographs (stopwatches) and timers by opening a workshop in Saint-Imier, Switzerland. (In 1982 the company moved to its current location, La Chaux-de-Fonds, located in Watch Valley, the Swiss epicentre of horology.) Léon was riding the wave of competitive sports, the development of the automobile, and the first successes in the groundbreaking field of aviation. As historian and author Nicholas Foulkes once noted of these early Breitling timepieces, "In a very real way, these were cutting-edge scientific instruments that helped mankind make sense of his surroundings. It was like having the latest iPad."
In keeping with the evolution of watchmaking during the 20th century, Léon's son, Gaston, (who succeeded his father) released a revolutionary wrist chronograph in 1915 with an independent push-piece, separate from the crown, placed adjacent to the 2 o'clock marker. Eight years later, the system was refined: the start/stop mechanisms were separated from the reset function of the watch, allowing for several times to be added without returning the hands to zero—an innovation that proved useful for timing sports competitions and calculating flight times. In 1934, Breitling created a second independent reset push-piece, a breakthrough that was soon adopted by others in the field. Glance at a chronograph wristwatch today and it will mirror the face of this Breitling, with the pusher on either side of the crown; with this, the final touch to the face of the modern chronograph had been set.
During the next decade, third-generation family member Willy Breitling masterminded the development of on-board chronographs for airplane instrument panels, widely used in the Second World War by the Royal Air Force's propeller-driven fighter planes. Then, in the early 1940s, Breitling patented the Chronomat, a timepiece often likened to an "on-wrist minicomputer," which included a circular slide rule developed by mathematician Marcel Robert. Its significance loomed large during a time when pilots were only working with analogue tools, and it simplified some key flight tasks. The manual-wind Chronomat was designed so that the wearer could conduct complex calculations by simply rotating the bold bezel on the wrist, using standard mileage, nautical miles, and kilometres to calculate stats like fuel consumption and aircraft climbing speed. It was yet another industry first, and it would lead to a timepiece that formally cemented Breitling's association with the skies.
If there's a watch brand that instills a contagious fervour in aviation, it is Breitling—a company augmented by its prized aerobatic Jet Team.
In 1952, the great Navitimer was released—a complex chronograph wristwatch with an integrated flight computer. The "Navi" was an evolution of the Chronomat from a decade earlier, and it became the most iconic Breitling ever made, a brand cornerstone that would be used by pilots the world over including by the U.S. Air Force, as well as actor and Breitling lover John Travolta (a certified pilot who has been featured in multiple Navitimer advertisements). Then, in 1969 the company debuted an exciting self-winding chronograph movement, a watch-industry first. But this major success was, in many ways, short-circuited by the quartz crisis of the 1970s (when the production of cheap quartz timepieces hit the mechanical-watchmaking industry with force). As Watch Valley fell upon hard times, a new family was preparing to lift Breitling back up in the air.
Ernest Schneider, a pilot and watchmaker, bought Breitling in 1979. He had a plan. The entrepreneur had heard the Italian aerobatic jet team was looking for an official watch; Breitling debuted the robust Frecce Tricolori Chronomat in 1984. Functional and fierce, with Italian flair, the Chronomat's three chronograph subdials became renowned and the timepiece was an instant bestseller, in some ways symbolic of the return of the mechanical chronograph. (These days, each member of the Breitling Jet Team wears a special edition Chronomat 44.)
Many revolutionary models have followed. There was the titanium Aerospace multi-function of 1985, which used the company's own SuperQuartz movement; the Breitling Emergency of 1995, the first wristwatch with a built-in distress transmitter, which has saved dozens of lives; and the Breitling for Bentley collaborations in the 2000s and ongoing, such design features including Bentley varnish colours for the dials. The custom-made Breitling for Bentley Mulliner Tourbillon starts at roughly $175,000, making it the most expensive watch in Breitling's current portfolio. And if that portfolio seems overwhelming, that's because it is.
Deepak Chopra, country manager at Breitling Canada, acknowledges that today's buyer is looking for a more restrained selection. "One of our major goals," he explains, "and this has been the strategy over the last three to four years, is to make a concerted effort to narrow down the items we offer." This decision comes on the heels of Breitling's acquisition—in April the company was sold to British private equity giant CVC Capital Partners. (Reports indicate that CVC paid almost twice the company's valuation of €800-million/$1.17-billion Canadian.) It also brings to an end the family-run legacy the company has held so dear, though prior owner and CEO Teddy Schneider still retains a 20 per cent share and is active within the organization. The momentum continued this past July when Breitling announced the appointment of ex–head of watchmaking with the Richemont Group, Georges Kern, as CEO. These major shifts are sure to bring growth to the brand, and CVC's plans include accelerating expansion in the Chinese market. In Canada, a stand-alone boutique in Toronto's Yorkdale Shopping Centre just opened in August.
Indeed, change is in the air, but strict authenticity remains. These days, a "Swiss Made" label can legally be applied to a watch with components that are only 60 per cent made in the country; Breitling still produces no less than 100 per cent of each watch in Switzerland. At the Breitling Chronométrie in La Chaux-de-Fonds, a visit to the factory reveals 200 skilled craftspeople toiling in pristine rooms, performing the highly technical and detail-oriented work required of making the mechanical chronograph movements. Each Breitling timepiece takes about a year to make and passes through the hands of 41 different craftspeople. (Most of the models are men's watches, which make up over 91 per cent of Breitling sales in North America.) The watchmakers are outfitted in white Crocs and white uniforms, the rooms are as clean as forensics laboratories, and the air is filtered seven times per hour. There is also a Swiss sense of place: just outside, cows are eating grass off the lush valley floor.
These days, a "Swiss Made" label can legally be applied to a watch with components that are only 60 per cent made in the country; Breitling still produces no less than 100 per cent of each watch in Switzerland.
Near a top-floor boardroom there is another element of Breitling, less talked about but one that has made headlines: a blonde, female mannequin seated on a missile, legs akimbo and red dress afloat. This pin-up can be found in Breitling boutiques around the world. It is meant to embody the "nose art" (paintings on the front fuselage) pin-ups that graced military planes in the 1940s. To Breitling, the mannequin is a symbol of freedom and strength, but to many she is out of touch with modern times—as are some of the company's advertising campaigns that appear to objectify women. Breitling's new ownership seems poised to evolve in a more inclusive marketing direction for a brand that deserves to be free from dissension. And if this year's Baselworld watch and jewellery show was any indicator, it started off in a new direction even before the CVC takeover: opening up to a younger audience.
"I'd say the biggest splash at Baselworld was the Colt Skyracer, which is really opening the brand to a whole new customer demographic," explains Chopra of the timepiece named after the MXS-R Skyracer, the high-performance plane flown under the Breiting banner at the Red Bull Air Race World Championship. "But from watch standards, the Navitimer Rattrapante was groundbreaking," says Chopra. This timepiece, also launched at Baselworld, marks the debut of Breitling's first in-house split-seconds chronograph movement, one of the most sophisticated horological complications. The watch is available in steel, as well as a 250-piece red gold limited edition with a transparent case back. The new Superocean Héritage II, a 60th anniversary version of the brand's professional diving watch, and the Avenger Hurricane Military, a 1,000-piece limited edition instrument powered by a self-winding chronograph, were also unveiled at Baselworld.
In North America, the Avenger is Breitling's bestselling timepiece. And while the current Breitling buyer may not be an aviator, they are likely to be a frequent flyer. One such example is Michael Romano, a Breitling collector. Often working out of multiple time zones, Breitling is his brand of choice. He owns "about 60" models and says it is difficult for him to pick a favourite, but a limited-edition Chronomat GMT ranks up there. "I recall when I used to think $150 was expensive for a watch. This Chronomat was my first foray into five figures. And I currently have on hold at the boutique a very limited-edition solid white gold Chronomat. It costs more than my car—and that's not hyperbole."
Romano began collecting Breitlings not because of a specific watch he liked, but because of a specific experience. "One day I went to the Breitling boutique and had such a wonderful interaction with a salesperson there," he says of the moment that led to his first purchase (a Superocean GMT). "She took the time to find the right piece for me, besides just trying to make the sale."
While the company may not be family-owned anymore, who's to say a clan has to be blood-related? The extended Breitling family—from its customers, to its dealers, to the craftspeople and technicians who handcraft the watches, to the corporate fabric—remains strong. And for many, the brand itself is contagious.
_________
Never miss a story. Sign up for NUVO's weekly newsletter, here.