Lee Broom's staff are planning to commission a neon sign to hang above his office door in London's Shoreditch district, reading, "Never 100% Happy." For that is his state whenever they ask for his final approval of any new design. He laughs as he tells me this. "I have learned over the years that 95 per cent is good enough, because aiming for the 100 per cent all the time is crippling and actually stops you from ever getting anything done. Being a perfectionist is a double-edged sword when it comes to business."
Over the last 10 years, Broom has established himself as one of the U.K.'s leading product designers, with over 100 furniture, lighting, and accessory pieces designed, manufactured, and retailed under his eponymous label. It is possible to buy his collections in 48 countries, including through Klaus in Toronto, as well as the Shoreditch head office and showroom. The designer has a dedicated Lee Broom factory in Bow (also in London's East End) and a New York showroom, which opened in fall of last year. The company is due to turn over £3.5-million ($6-million Canadian) this financial year, a success he credits as much to his partner, Charles Rudgard, as to his own boundless creativity.
A youthful 41 years old, Broom had already embarked on three highly successful careers before diverting to product design. The first was 10 years he spent as a child actor. Having nagged his parents to allow him to join his elder sister at dance classes, he enrolled at the Betty Fox Stage School in Birmingham at the age of seven, where he learned not only dance, but also acting and singing. Before long he was winning parts on TV and in advertisements and West End productions—and was even a member of the Royal Shakespeare Company. There was no doubt in his mind that he would continue as an actor into adulthood. "I was interested in the whole aspect of theatre and film—the sets, costumes, lighting, musicality—all the elements that go into a production."
However, he had another love: drawing. His parents owned a printing company, and his father had a sideline as an artist. "Alongside theatre school, I spent a lot of time in my bedroom drawing, not so much fine art as fashion, architecture, and interiors. I was growing up in the 1980s post-modernism era, and that subliminally influenced a lot of my later work."
At 17, he decided to put his sketchbooks filled with fashion designs to good use and entered the Lloyds Bank and The Clothes Show-sponsored Young Designer of the Year contest, which was judged by, among others, Vivienne Westwood. Broom won, and Westwood invited him to spend a day shadowing her at her studio, which led to the offer of an unpaid internship. "So I took the money I had earned from acting and moved to London for 10 months to work for Vivienne," he says. So at 17, he found himself dressing the likes of Kate Moss and Naomi Campbell for the Paris shows, as well as learning about pattern-cutting techniques and millinery, and how Westwood herself was influenced more by different periods of history than by her peers.
Over the last 10 years, Broom has established himself as one of the U.K.'s leading product designers, with over 100 furniture, lighting, and accessory pieces designed, manufactured, and retailed under his eponymous label.
Having decided to chart a new course in fashion design, Broom knew he had to study his craft, so he embarked on a series of courses before being awarded a spot in a degree program at the internationally regarded Central Saint Martins in London to study womenswear design. By the time he graduated in 2000, he was determined to set up his own label and become a big-brand fashion designer, but again fate stepped in.
"During my final year, I had taken various part-time jobs to support myself, including restyling bars and restaurants. I would simply walk in and ask them if there was anything I could do—very hands-on: paint effects, upholstery, even making mirror frames. It was just a side business to help pay the rent." Until, that is, Broom and his friend Maki Aoki were offered the chance to design a new 25,000-square-foot venue in the City of London from scratch, working alongside a team of architects. As he recalls, it was naive of them to say yes given their lack of experience, but somehow they managed it. "We renovated the entire building, designed furniture and lighting, and project managed the whole build over nine months. It was a huge live project and was also my entire training in interiors."
So successful was the venue, Nylon, that it was nominated for the Evening Standard Bar of the Year award. Broom and Aoki then opened their own design studio, Makilee Design, taking on mainly hospitality-based commissions. "It was a conscious decision to focus on bars and restaurants, because I liked the idea of designing environments that people go to in order to escape. If you design someone's home, everything is an emotional purchase, but you have much more creative freedom in hospitality. "
However, after four years, Aoki decided to move back to Tokyo and Broom determined the time had come to set up his own label. "By then, we had nailed a really huge job designing corporate hospitality boxes for Wembley Stadium, which had meant designing a huge amount of custom furniture and lighting. Maki left before the project was finished, so I continued on my own and built up a fantastic network of designers and manufacturers for that one project. That network gave me the confidence to launch as a product designer in my own name."
One of his first own-label designs was Neo Neon, a collection of six silhouettes of various furniture pieces in neon, which was launched at the London Design Festival of 2007 and established Broom as a serious contender in the design industry. "Neo Neon was a backlash against the Wembley project, in many ways, because rather than focus on durability and practicality, I wanted to express myself through fragility. It was an art piece—a folly—because it was designed from an emotional place rather than a functional one, but in fact it proved to be very successful." Another personal highlight was Broom's award-winning Crystal Bulb, with over 30,000 sold since it launched in 2012. It transformed the everyday industrial light bulb into a decorative cut-glass object of beauty. Says Broom, "I actually dreamt of Crystal Bulb one night and sketched it out on the drawing pad by my bed in the early hours. Usually I wake up and see something like that and think, 'What rubbish!', but this time I thought it could really work. When I showed it to Charles, he said, 'We have to get this done in time for the Milan Salone,'—which was then only eight weeks away—but we managed it and it became a signature piece. Over 250 stores worldwide now sell our products, and most of them stock Crystal Bulb."
In 2015, Broom launched another seminal piece. Crescent Light is an art deco–inspired globe that appears to have been sliced in half to reveal its brass fascia—a contemporary twist on a classic form that has proven to be a global hit. "One thing I love to do when designing is to take familiar objects and re-present them in a very different way," explains Broom. It is why his favourite piece of own-brand furniture to date is 2015's Hanging Hoop Chair, a deconstructed interpretation of the famous Eero Aarnio Bubble Chair from 1968, which he describes as "a burlesque showpiece, but one that is also very functional and comfortable."
"One thing I love to do when designing is to take familiar objects and re-present them in a very different way," explains Broom.
At this year's Salone Internazionale del Mobile in Milan in early April, a retrospective show staged in a derelict vault within the historic Milano Centrale train station, Broom celebrated 10 years of product design with Time Machine. The limited edition collection—10 of each piece—will be presented on a fairground carousel, a playful metaphor for the evolving life cycle of the brand over the last decade. Illuminated solely by the light of the carousel, this is an immersive installation that promises to combine show-stopping theatricality with a celebratory reimagining of his most recognizable designs to date. There will also be a new member of the Broom family: a handcrafted Carrara marble grandfather clock with a solid brass pendulum (inspired by brutalist architecture), again in an edition of 10. He explains, "I have wanted to design this for a long time, but a 10-year anniversary seems a fitting moment. As a designer, I prefer to look forwards rather than backwards, but on this occasion, it seemed right to embrace the moment."
He has also been looking backwards. An exciting new collaboration with the venerable British brand Wedgwood has resulted in a capsule collection of limited edition vases and bowls that reference the iconic Jasperware designs of the 18th century. Broom was inspired by several classic Wedgwood silhouettes, including the iconic Panther Vase: "The black and white stripes really appealed because they have such modernity, so I used that as the starting point, but introduced vibrant glazes and metallics to really make that biscuity surface pop. The stripes are made on an ancient turning machine that dates back to the 18th century and is operated by hand [the only other one in existence is in the Wedgwood Museum], so it took a lot of technical expertise by the guys on the factory floor to achieve the effects I wanted, but we were thrilled by the way the collection turned out." Dik Delaney, design director of Wedgwood, agrees. "It has been wonderful to work with Lee through the journey of reimagining classic Wedgwood designs, and to see how he has honoured the materials, shapes, and techniques invented by Josiah Wedgwood from 1759 and still used in the factory today." The Wedgwood by Lee Broom collection is available through Harrods and Lee Broom's New York store on Greene Street in SoHo.
Broom has also enjoyed returning to his fashion roots and recently unveiled a series of windows at Bergdorf Goodman around the theme of the "life of an average man." The four windows are curated with a surreal aesthetic, placing Broom's signature designs alongside men's summer fashions.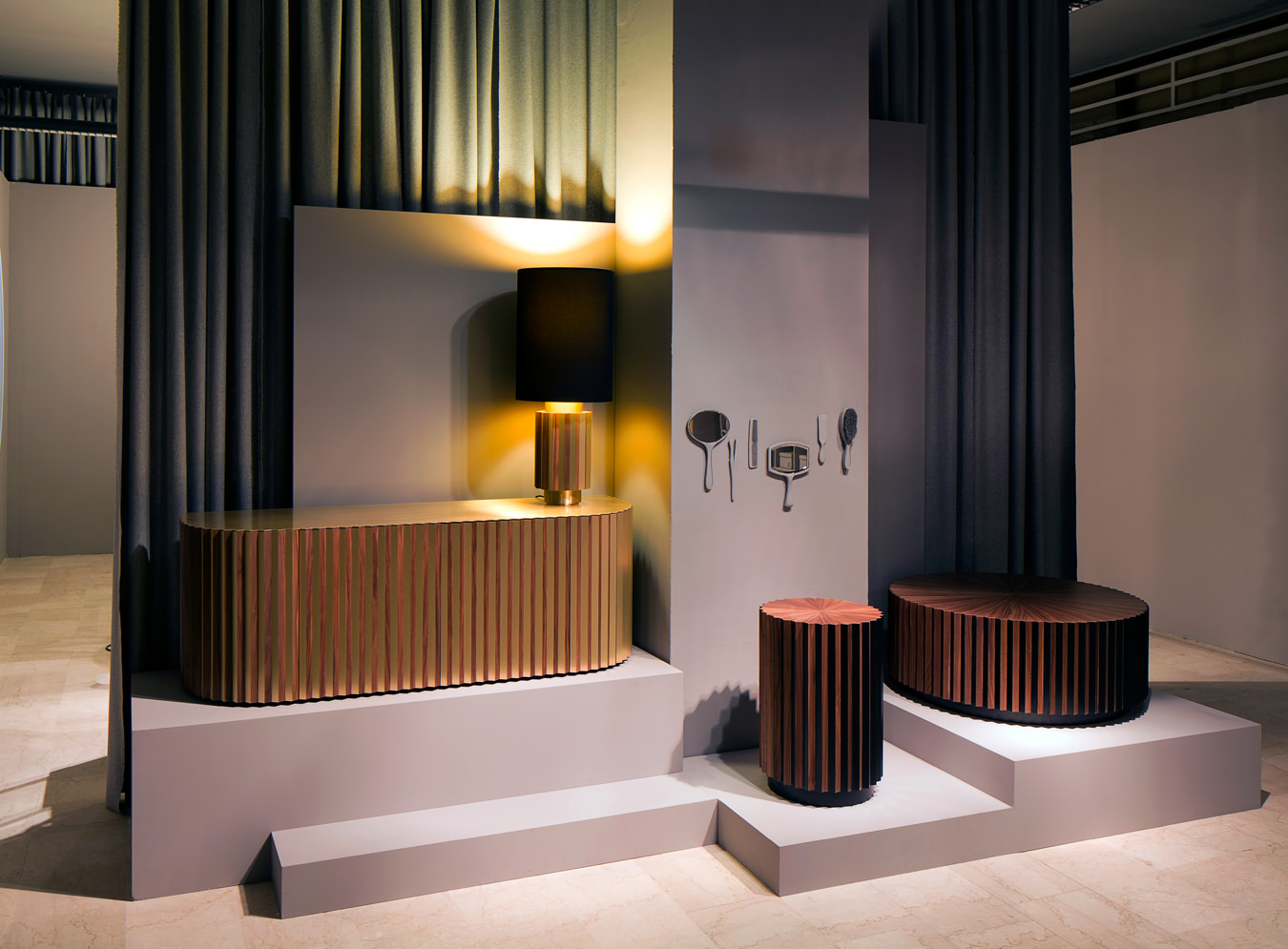 With a few successful career incarnations under his belt, it seems natural to wonder whether Broom is already planning another, but he shrugs off that notion with a laugh. His ambition for the next decade is to open more Lee Broom flagship stores in cities around the world. He is proud of his success as a designer, but is equally proud of the success of the business, which was recognized in 2015 by Britain's highest accolade, the Queen's Award for Enterprise, in international trade. As he says, "Britain has a strong reputation for creativity, but is not always so successful at marketing that into something that can sell on a global scale. I am fortunate that I was born with a natural design ability and an excellent visual memory, but that doesn't mean anything if you don't also have focus, drive, and ambition."
Even perfectionists have to rest sometimes, which is why Broom lives south of the river in South London, in a slightly sleepy neighbourhood beloved of MPs and members of the judiciary. When it comes to design, that "Never 100% Happy" ethos continues to drive him. "I could just keep designing in crystal and I am sure it would sell perfectly well, but that is not the point," he says. "What I like to do is make people look at things in a different way and to inject a playfulness into products that is often missing in design. It has never been my intention to reinvent the wheel, but over the last 10 years there has been a thread running through my work, which is probably best expressed as reinterpreting the past while wearing what I call my contemporary goggles." Not a bad view to have, from our perspective.
_________
Never miss a story. Sign up for NUVO's weekly newsletter.