Bee Venom–Laced Skin Care
The collective view of the humble bee has been elevated in recent years, and rightfully so. Many understand that these critical pollinators are irreplaceable, and scientists foresee our world quickly collapsing without them. Now, as if the globe's bees aren't busy enough, they've started providing us humans with another advantage over the future—in beauty products.
For starters, bee venom has been used for decades in the alternative medicine industry as part of treatments ranging from acupuncture to ingestion to live bee stings. Western medicine has researched its effects on conditions such as arthritis, cancer, multiple sclerosis, and more. As Dr. Lisa Kellett, fellow of the Royal College of Physicians and Surgeons of Canada, noted recently on the website CosMedicList, bee venom contains apitoxin, which largely consists of the active substance melittin. "Melittin stimulates an enzyme called phospholipase A2, [which has] been shown to have the ability to destroy cells and, therefore, there is interest in its use to treat HIV and cancer," she explains. Osteopaths have been known to treat athletes' injuries by injecting pure venom into an inflamed area, where it goes to work much like a cortisone shot but without the side effects.
A few years ago, ingredient-savvy beauty companies started using the pricey ingredient, and queen bees of the beauty world—Kylie Minogue, Victoria Beckham, and Kate Middleton among them—were soon extolling venom's virtues. Of course, those with bee allergies are advised to steer clear of the concoctions. Proponents say bee venom essentially works as "nature's Botox", with small doses "fooling" the skin into thinking it has been stung, sending blood to the area. And voilà—that stimulates the production of collagen, which helps combat the wrinkles and sagging skin that accompany aging.
"After age 24, we start to lose that growth factor in our skin," says Quebec-born beauty maven Shelley Rollick-Collins, who founded her Bénir Beauty line in 2012. "I always say, if you can afford good skin care in your budget, invest." With a background in cosmetic chemistry, aromatherapy, and natural perfumery, Rollick-Collins has a penchant for playing with natural ingredients and botanicals. (Bénir is pronounced Bay-nir and it means "to be blessed"—in this case with beautiful skin.) Bénir Beauty, which is produced in small batches in two laboratories (in Vancouver, B.C., and southern Florida), combines high-grade bee venom with natural ingredients—think skin-calming arnica, chamomile, and green tea—along with seven different peptides and super-hydrating hyaluronic acid to moisturize and plump dry skin. "This combination makes for a very, very active formula," says Rollick-Collins of the paraben- and perfume-free two-product bee venom line, an anti-aging serum and a moisturizer, both of which contain venom and work synergistically.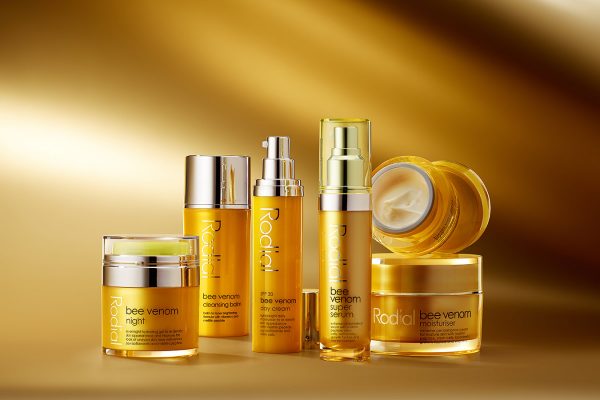 The beauty world has deemed bee venom to be "nature's Botox", as small doses "fool" the skin into thinking it has been stung.
"When you add [bee venom] into a skin scenario, it's actually going to help counteract inflammation," she adds. "I've found a lot of lines these days will just put bee venom in there, and not a whole heck of a lot else, but [with Bénir] you also get an instantaneous effect from the ingredients for hydration, then the long-term effects kick in with the continuous use of the peptides and some of the botanicals." During the very first application, a slight plumping sensation can be felt within five minutes, but this is not due to the venom. "That's the effect of the hyaluronic acid," confirms Rollick-Collins. "It also goes in and plumps up the skin, while algae seaweed extracts produce an all-natural tightening effect."
Another great label, high-tech London-based beauty brand Rodial, has a daffodil yellow–packaged bee venom line that is six products strong: cleansing balm, eye cream, super serum, moisturizer, day cream, and nighttime hydrating gel. Melanie Khoury, head of new product development for Rodial, notes that the most interested buyers have been "those looking for cutting-edge and fast-acting anti-aging remedies." Unsurprisingly, the star of the ingredient list is top-grade purified bee venom from South Korea, which plumps and firms over time, while soy isoflavones re-densify the skin's appearance and improve elasticity.
But what of the bees themselves? Certain species famously die when they sting, but modern collection methods ensure a humane harvesting process that reportedly causes the bees no harm. A frame of glass is placed at the entrance of the hive with a weak electrical current running through wires attached to it, which encourages the insects to sting the surface. After the venom is deposited, it is freeze-dried (or left to dry into a powder-like consistency) before collection. The bees suffer no long-term effects from this and continue to be productive, often subsequently making beeswax and honey. Bénir Beauty, for instance, sources venom harvested from ethical beehives in B.C. and Alberta, where most of the beekeepers also make organic honey.
"Basically, the bees are extremely valuable to the keepers," says Kurt Collins of Bénir Beauty (and husband to founder Shelley). "They want to take really good care of their hives." The future of our skin, and much more, might well depend on it.
Stockists for Bénir Beauty include Kiss and Makeup in Vancouver, B.C. and Glow Luxe in Victoria, B.C. Rodial products can be found at Murale locations across Canada.
Bee photo ©Pookpiik, iStockphoto.com.