Is this Canada's Best Honey?
Miels d'Anicet is the pride and joy of beekeeper and bee breeder Anicet Desrochers and Anne-Virginie Schmidt.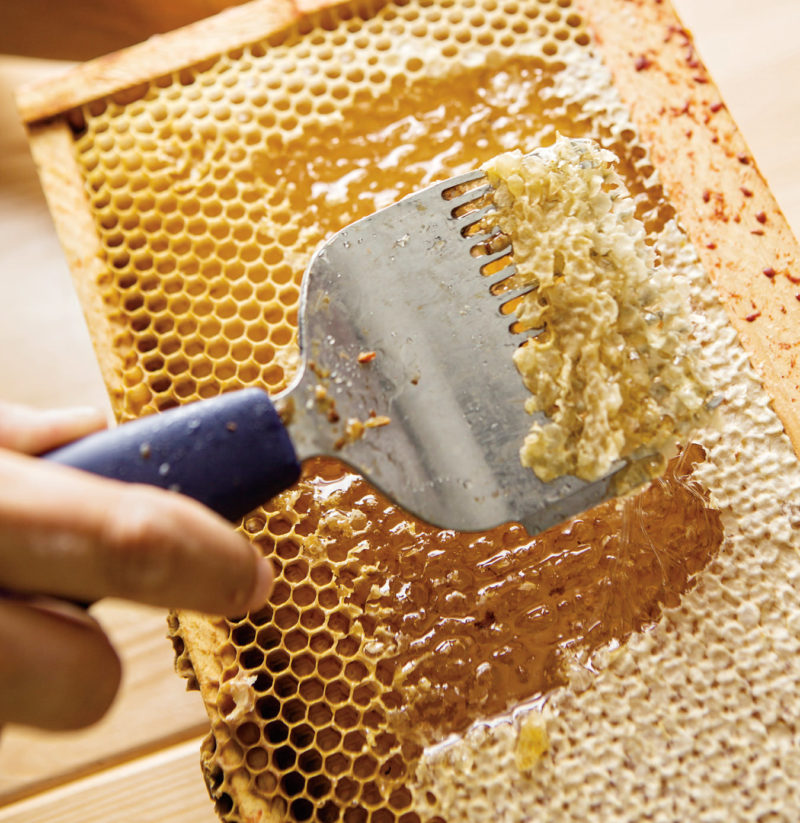 Scan the shelves of any gourmet shop and you'll find a plethora of honeys. Ranging in colour from pale yellow to a deep amber hue, they often hail from exotic locations like Corsica or Provence. Some are produced by bees that have suckled on lavender, rosemary, or buckwheat flowers. A few are even labelled organic. The array of high-end honeys available today is staggering; one of the best is Miels d'Anicet.
Produced in the Upper Laurentians in the village of Ferme-Neuve in Quebec, Anicet honeys are the pride and joy of beekeeper and bee breeder Anicet Desrochers and his partner, Anne-Virginie Schmidt. For the past 15 years, the couple has operated the Api Culture Hautes-Laurentides, fabricating not only superb honeys but also honey mustards, honey jams, and honey caramel spreads. They also make honey-based soaps, body butters, hand balms, and even a lip balm, as well as run a breeding centre in Napa Valley for the Russian Primorsky, carniolan, Minnesota hygienic, and Varroa sensitive hygiene (VSH) bees they sell to other beekeepers.
Anicet miels are far from the one-dimensional industrial honeys that are often diluted and sold under the generic term "honey" with no reference to the place of origin, the flowers from which it hails, or the season in which it was harvested. What makes Anicet honey so sought-after is its purity.
"It is a true wild honey," says Desrochers in a phone interview from the Napa Valley, where he spends several months each spring breeding queen bees. "What's on the market now are mostly honeys based on monoculture. We produce our honey in a protected environment. There is a diversification of plants and flowers and pollens you just don't find anymore."
With his long hair and gangly frame, Desrochers, 36, looks more like a Quebecois rock star than one of North America's largest producers of organic honey. There are about a half dozen certified organic honey producers in Quebec, yet none come close in production to Miels d'Anicet. The reason there are so few organic honeys in North America is that the honey must come from hives within at least a three-kilometre radius of pesticide-free plants and GMO-free land (bees tend to stay close to the hive, yet they will travel up to five kilometres away to gather pollen). Anicet hives are set over 100 kilometres of forests, fields, and hills, none of which are planted with commercial crops. There are more than 1,200 hives on the property, each housing between 60,000 to 80,000 bees at work producing the 36,000 to 45,000 kilograms of honey sold each year.
Desrochers's land, which he describes as "a magical place", is a sort of bee paradise, far from the intense commercial farming down south, yet still warm enough for the bees to flourish (in cooler climes, bees get sleepy). "Everything affects honey—temperature, humidity, intensity of the flowering," says Desrochers.
Another secret to making beautiful honey is to manipulate it as little as possible. Like raw-milk cheese, honey's flavour is most complex in its raw state. "Honey is fragile," says Desrochers. "It degrades easily once heated, losing much of its flavour and softness." Most honey is pasteurized to standardize the flavour and keep the honey runny by preventing the natural crystallization process. Desrochers's honey is never pasteurized. "A raw honey should crystallize," says Desrochers. "It's a sign that it's rich in enzymes. That it's alive."
Anicet honeys are also atypical in that they are not identified by the type of flower the bees suckled, but the season in which it is produced. Different season, different pollens, resulting in honey that in summer, for instance, is made from the nectar of white clover, raspberry bush, alfalfa, melilot, and wildflowers. Desrochers prefers the multiflower honeys, as they are "more complex, rounder, and have a richness of flavour." He also produces a buckwheat honey, a linden honey, a rare "cru" honey that comes from his forest hives, and a raw (unfiltered) honey that is almost as pungent as cheese.
Desrochers and Schmidt use adjectives worthy of a sommelier to describe their honeys, such as floral, toasted, soapy, green, malty, spicy, resiny, and fruity. So devoted are the couple to their precious product that recently they published a book, Miel: L'Art des Abeilles, l'Or de la Ruche to celebrate the finer points of this divine food and treat it with the gastronomic respect it deserves. "We have the reflex to replace white sugar with honey," says Schmidt, "yet we should use honey not just for sweetness, but for its [actual] taste. I always put a pot of honey on the table with a cheese plate. The raw nature of the two products work well together, resulting in this wonderful interplay of flavours."
_________
Never miss a story. Sign up for NUVO's weekly newsletter, here.