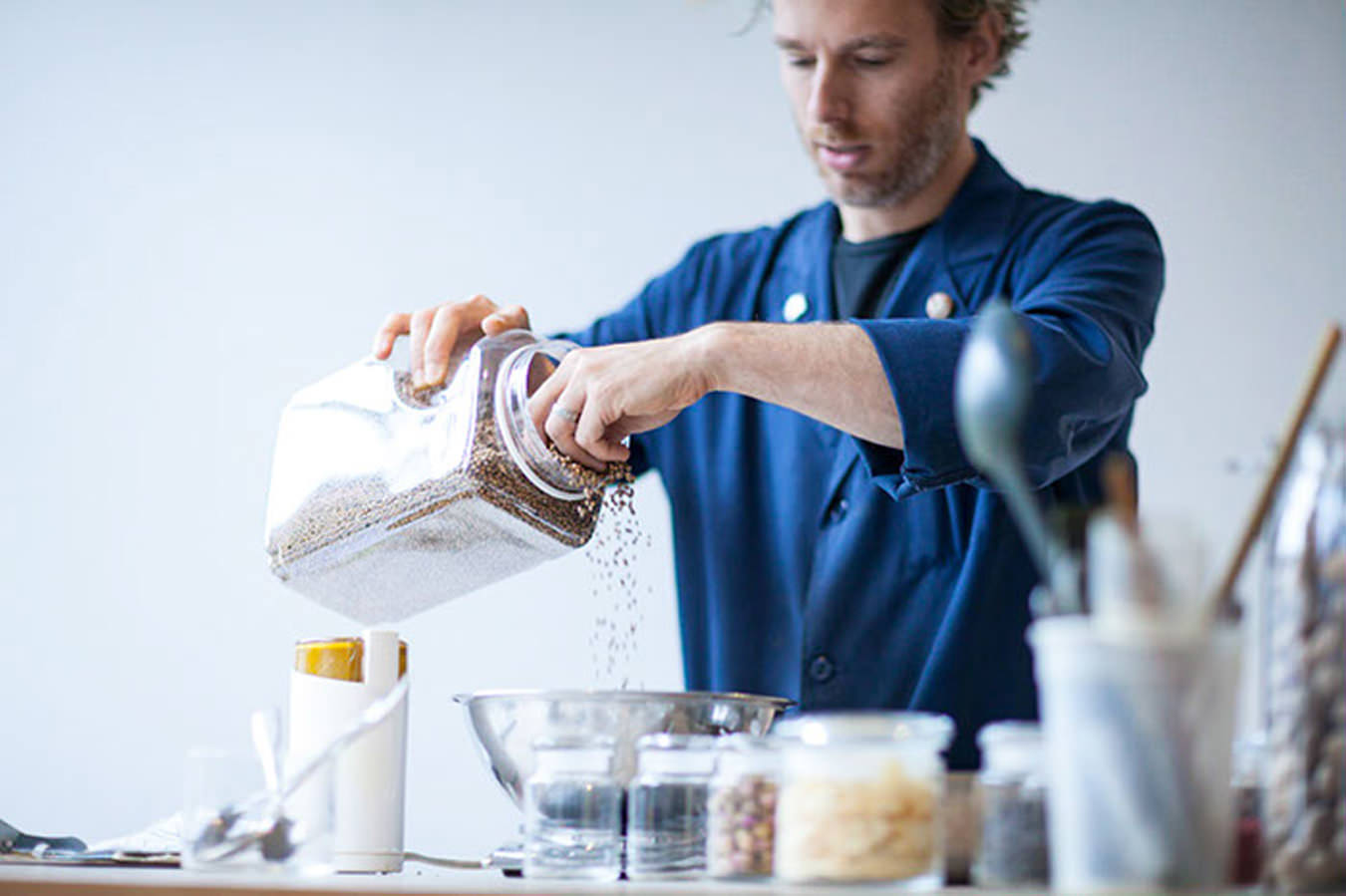 Lior Lev Sercarz clings to coasts. The 43-year-old master spice blender with a leonine mane of grey hair and Newman-blue eyes grew up on a kibbutz in Galilee, learned his trade on the northwestern coast of France, and today runs his spice blending enterprise, La Boîte, on a stretch of far-western Manhattan known mostly for car washes and carriage houses.
A love for littoral zones makes sense for a spice blender. Spices like cassia and cardamom and a panoply of peppers lured Europeans to the Far East and Far Easterners to the Americas, weaving together the global trade routes that still ensnare the world. And, with the entire world somehow touched by the spice trade, it also makes sense that the 60 or so neat little jars that contain Sercarz's blends read like the itinerary of an exotic tour: Bombay N.3, Marrakesh N.6, Tangier N.23.
Some of these blends are souvenirs from Sercarz's circuitous journey to spice mixer; others are fragrant fantasies of far-off locales to which he's never set foot. But in each of the small jars, an entire world swirls, born of the combinations of spices he's roasted, toasted, crushed, ground, and mixed. Sercarz came to spices late in life. "I grew up with terrible cooking," he says with a laugh, recalling the bland Ashkenazic cooking from his kibbutz cafeteria, "but I always snuck out for street food." His taste buds were enlivened by the profusion of Israel's 70 ethnic cuisines, from the falafel topped with mango pickle amba to the cinnamon-topped wintry porridge called sachlav.
Like most 18-year-olds in Israel, he entered into the military, rather unhappily, but quickly rose to level of sergeant. Food in the military has never been lauded for its high culinary standards, and the IDF was no exception. "We call it 'lunch and throw it away' food," he says. But even then, as a young soldier in southern Lebanon, Sercarz experimented with spice. "You try to be as creative as you can, given the limitations."
After the army Sercarz took a year off. He travelled to South America and says he felt most at home among the glistening tableaux of fresh fish in Amazonian jungle markets or dodging falling coconuts while making arepas out of masa on the beaches of Colombia. When he returned home, it was as a chef.
"I come from a line of diamond dealers. And I am the last not to deal with diamonds. Back then cooking was not very popular," says Sercarz of his ambition. "It was what you did because you were a failure elsewhere." Sercarz worked for three years at a catering company in Israel before travelling, with his family's blessing, to Lyon, the gastronomic capital of France, where he studied at the Institut Paul Bocuse, run by Lyon's legendary chef. Sercarz fell in love with the kitchen, the exacting tasks of mise en place and even the courses in accounting and architecture that make up the curriculum. "But," he says, "one of the first questions I asked to the guys in the kitchen was, 'Where are the spices? You only have salt, pepper, and nutmeg. What about sumac? What about cumin? What about fennel?' "
Soon Sercarz was trolling the markets of Lyon, gathering the sumac, allspice, and star anise he incorporated into classic French recipes like beef bourguignon. The Israeli's unexpected facility and knowledge of spice landed him an externship at the prestigious kitchen of Breton chef Olivier Roellinger, whose restaurant, Les Maisons de Bricourt, occupied a house in the small coastal town of Cancale. And it was in the attic of that house one day where Sercarz stumbled into a treasury of spices that changed the course of his life. "The attic was full of linen sacks of cumin and turmeric, [along with] skewers of fennel branches, lemongrass, curry leaves en branche."
Cut to 2004. By this time Sercarz had moved to New York, he had been hired by the other Lyonnaise chef, Daniel Boulud, and was working his way up through the ranks, leaving a love of spice like a fragrant wake behind him. One day, wandering through Central Park, Sercarz realized "perhaps I can use spices and spice blends to tell a story," he says.
That a decade later his spice business would make Pierre Poivre proud is evidence of how hungry the world was for a modern-day spice master. Creating custom blends at his Hell's Kitchen laboratory for chefs like Eric Ripert of Le Bernardin, Laurent Tourondel, and, of course, Mr. Boulud, Sercarz marshals all the knowledge of a life spent on the spice rack—and tells stories of some places he's never been as well. Take Isphahan N.1, for instance, one of his spice blends, of which there are nearly 60. "I've never been to Persia," he admits, "but I'm fascinated by Persian cuisines." Sercarz dug deep into Iranian cookbooks, spoke to Persian friends, and conjured from dried limes, garlic, cardamom: Isphahan N.1, a blend named after an ancient city in modern-day Iran. Blending, he says, is akin to cooking, a chimera twixt art and science. "Some spices I'll toast, some I won't. Some I'll grind finely and others more coarsely, to lengthen the flavour. Sometimes I just leave the blend and return a day later, to see how it evolves."
Sercarz offers me a look at the variegated mixture of green and tan dried leaves that is Isphahan N.1 in a bottle. I catch a whiff of astringent citrus, bracing garlic, and exotic cardamom. The taste seems flown in from a spice market thousands of miles away, from a place I've never been but love to imagine. And that's the final frontier Sercarz explores, where imagination outpaces experience but offers no less rich a bounty. "My job," he says simply, "is to expand horizons."
Photos by Thomas Schauer.