Michelle Monaghan, accidental actress.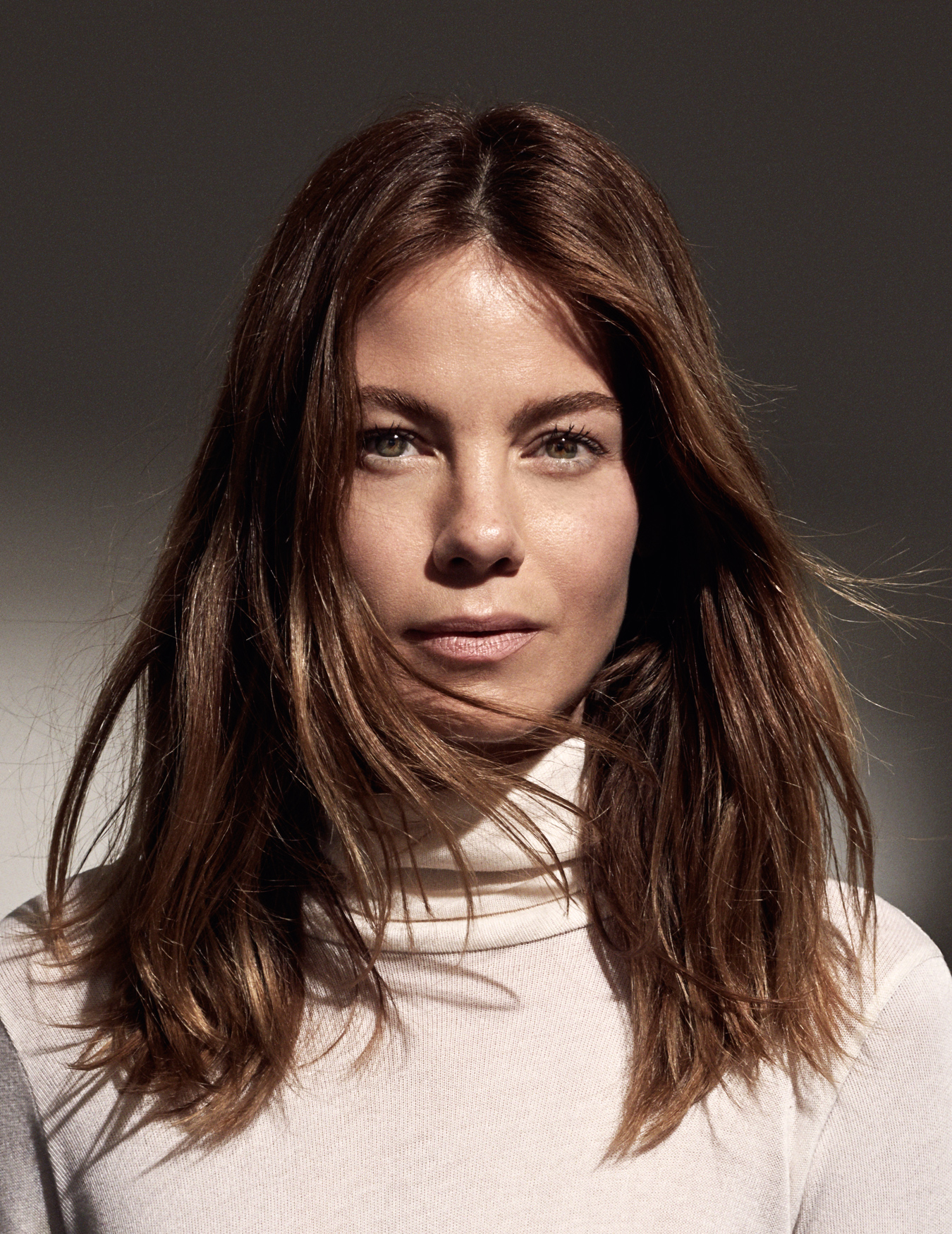 Don't let Michelle Monaghan's model good looks or red carpet glamour fool you. The actress who played the beleaguered Maggie Hart against Woody Harrelson's volatile husband in last year's HBO hit True Detective is no girly girl. This former blue-ribbon hog wrestler from small-town Iowa still arm-wrestles relatives during family gatherings. She learned to drive an 18-wheeler and trained with the military for roles in the films Trucker and Fort Bliss. And she tends to let practicality win out over sentimentality.
Take the vintage dresser she bought a decade ago on Sixth Avenue in New York with her then-boyfriend, now-husband, Peter White, a graphic designer from Australia. After cleaning out the drawers, White picked her up, perched her atop the dresser and proposed marriage to her right then and there.
When the couple decided to move to Los Angeles a few years later, they debated whether to bring the dresser. But in the end, they decided that a piece that had worked so well in their prewar New York apartment would not fit in with the mostly mid-century modern decor of their new Hollywood Hills home, former home of Ginger Rogers. Nevertheless, Monaghan occasionally feels a tinge of nostalgic regret.
"Every now and then we'll be looking at old pictures, and I'll see the dresser in the background. I'm like, 'Oh, there's that dresser, that one dresser,' " she says over a lunch in West Hollywood.
Monaghan, who stars as a military weapons developer in Chris Columbus's July 24 action-comedy release Pixels with Adam Sandler, does what she needs to in order to get the job done. In fact, this is a woman who put off her honeymoon to start working on the film Mission: Impossible III within days of getting married in 2005. Her very first day of filming, she had a kissing scene with co-star Tom Cruise.
"I tell him how the day went, and he goes, 'Baby, you spent our honeymoon making out with Tom Cruise. How cool is that?' "
"I was so nervous the day before, I said, 'Oh, honey, what do I do? It's Tom Cruise. It's Tom Cruise,' " she recalls. "He said, 'Baby, you'll be fine, just follow his lead.' So I walk in the door afterward. I tell him how the day went, and he goes, 'Baby, you spent our honeymoon making out with Tom Cruise. How cool is that?' " (She made it up to him a year later when Ben Affleck, who was directing her in the film Gone Baby Gone, hooked them up for a delayed honeymoon at the spot in Turks and Caicos where he and Jennifer Garner had gotten married.)
Monaghan even managed to hide the first five months of her second pregnancy while shooting True Detective—staying in character even while the baby kicked for the first time in the middle of a scene—telling no one except for the costume designer during the final weeks after her pants stopped fitting.
"My character was getting older as I was getting larger," Monaghan says. "My face was getting fuller. My ass was really getting bigger, and I think that they just thought that I was totally being method. It's crazy, but it's funny because I actually think it worked."
Monaghan believes her pragmatism and work ethic stem from family roots in the Midwest. Her mom ran a daycare out of their home, and her dad was a farmer and factory worker. She has two older brothers, and her parents also took in 14 foster kids, so there was always work to be done. "In the summer, if I wasn't detasseling [corn] or picking up rock, I was helping my mom at home with the kids," she says.
"I'm a bit of a tomboy and an adrenalin junkie," says Monaghan, who loves playing strong women onscreen. Two of her favourite roles were those of a truck driver in Trucker and a military medic in Fort Bliss.
Despite starring in a slew of comedy, drama, romance, and action films and TV series over the past 15 years opposite leading men such as Patrick Dempsey (Made of Honor), Robert Downey Jr. (Kiss Kiss Bang Bang), Jake Gyllenhaal (Source Code), and James Marsden (The Best of Me), Monaghan still manages to exude the kind of down-home normalcy of a regular working mom to two kids, Willow, 6, and Tommy, 18 months.
Long hair, no makeup, and a strappy black and white sundress, Monaghan seems more like an earth mama than a movie star, albeit one with a magnetic intensity about her.
"She is the girl next door, she really is," says Pixels co-star Josh Gad, who plays an avid arcader recruited by Monaghan to fight off aliens attacking Earth in the form of life-sized video game characters such as Pac-Man and Donkey Kong. "I have never met somebody in the industry who is as salt-of-the-earth, down-to-earth, amazingly grounded and humble like Michelle. She's like a Middle America girl, and she's the kind of person if you didn't know she was a star, you would never suspect it, because she doesn't carry herself like that."
That may be how she has managed to "fly somewhat under the radar" and avoid the constant glare of paparazzi. "I don't feel like I'm recognized a lot, and that is exactly the way I want it," she says. Acting, after all, was not even Monaghan's first career choice. She stumbled into stardom by accident after studying journalism in college in Chicago with idealistic hopes of changing the world. "I really wanted to do investigative journalism," she says. "I liked the idea of helping people." Her desire was fuelled by current and world events, and it was something she wanted to do from a very young age.
Monaghan eventually grew disenchanted with the idea of journalism, though, particularly the prospects of low pay and starting in a small market like the one in Iowa that she'd just escaped. "I was like, no, my dreams are bigger than that. And that's going to take too long. No, no, no, I'm too impatient." After modelling in Chicago to pay her way through college, she decided to leave a semester and a half before graduating, and move to New York to model full-time.
"I remember calling my folks, and saying, 'Mom, Dad, I am dropping out of college and moving to New York,' and they were like, 'Well, you've always had a good head on your shoulders. We've always told you to follow your heart.' And they totally supported me in that move. They drove me out with a U-Haul a few weeks later."
Monaghan soon got some commercial work and ultimately landed the first TV part that she auditioned for, a guest role on Young Americans. Then came a recurring role on Boston Public and her breakout film role opposite Downey Jr., in director Shane Black's Kiss Kiss Bang Bang in 2005.
"He was my greatest teacher," she says of Downey Jr. "I worked with him 45 nights in a row. We did everything together. On the first day of shooting, he gave me a T-shirt with Olive Oyl from Popeye [that read]: 'You may be small, but I know you're mighty.' He really became this older-brother mentor."
It was a relatively rapid path from farm girl to the silver screen, but Monaghan has not forgotten where she came from.
It was a relatively rapid path from farm girl to the silver screen, but Monaghan has not forgotten where she came from and still remains close with her hometown friends. When they're together, they all tend to forget that she's no longer just one of the Iowa pals.
A few months ago, she attended a dual bachelor/bachelorette party in Las Vegas for one of her close friends, a hog farmer. At the party, she had a few drinks and rode the mechanical bull. "We had an absolute ball," she says. "I was riding the bull, and I see the playback, and the next day I'm like, oh my God. That could wind up on TMZ. It didn't, thank goodness."
Nothing stands in the way of Monaghan having some free-spirited fun. Over a spring vacation, she posted an Instagram picture of herself doing a cartwheel in the sand in a bikini in Mexico. Her close friend and fellow mom Abby Girvin, who owns a talent agency, describes her as "very spritely, fairyish."
A couple of years ago, the two of them brought their daughters to Lightning in a Bottle, an artsy festival "in the middle of nowhere" that Girvin describes as a cross between Cirque du Soleil and Burning Man. "We danced our asses off, and we just kind of ran around in the forest and had a magical time," she says. "She's [Monaghan] just kind of up for anything."
In fact, Girvin recruited Monaghan to run a half marathon with her, practically on a whim. "She was the only person I knew who would be completely up for running the half marathon with six weeks' notice," Girvin says. "Very few people would be like, 'Oh, yeah, I'll totally do that.' "
Monaghan likes to challenge herself physically, and it was that prowess that most impressed—and simultaneously frustrated—co-star Gad on the set of Pixels, which filmed in Toronto last summer.
"It's 95-degree [35°C] summer heat, and we're wearing these suits that are like race-car-driver suits. They don't breathe at all," he says. "And during a scene, we all had to be in a grouping as we were running. And of course, Miss Sprinter, Miss Triathlon, every time she would tell us she was going as slow as she could, but she would literally be 30 feet [9 metres] in front of us as they called action. I would have a heart attack trying to keep up with her. It was the most upsetting day of shooting I've ever had because it made me come face to face with how out of shape I was."
Even more annoying, Gad says, is the fact that Monaghan manages to stays so trim while being a huge foodie. "I resent her so much for it because God gave her ninja metabolism," he says. "She can eat any of us under the table." (Monaghan raves about the steak at Jacobs & Co. Steakhouse in Toronto, and the pulled pork sandwich at Black Camel, which she says is "to die for.") Monaghan admits she works hard to burn it all off and simultaneously get some time to herself. "Going on a hike, a run, a spin—I really try to do that daily, and I try to do it solo," she says. "It's important to have an hour."
On the day we meet, Monaghan has just started stunt training for the upcoming film Sleepless Night opposite Jamie Foxx. For the next couple of months, she is planning to spend three hours a day, three times a week, learning martial arts for fight scenes in her role as an internal affairs investigator.
Even though she's in great shape, it can be a little hard to imagine Monaghan, with her willowy wisp of a frame, packing much of a punch. But don't count her out. "I'm a bit of a tomboy," she says, "and an adrenalin junkie."
In fact, Monaghan loves playing strong women on-screen. Two of her favourite roles were those of a truck driver in Trucker and a military medic back from Afghanistan struggling to reunite with a young son who no longer recognizes her in Fort Bliss. Monaghan always finds it curious, though, when people make a big deal of her playing tough female characters.
"I'm mature enough and have been in the industry long enough that I understand there's a natural ebb and flow of career, and I'm okay with that now."
"That's who I am. That's who most of the women are in my life. Why is that surprising?" she says. "I have to laugh at it because it's kind of so absurd. I actually don't know any women in my life that are meek. You can still be vulnerable, but we all are all these things, and unfortunately, we don't always see all those sides depicted onscreen. I like multidimensional women. I am a multidimensional woman. We exist, just not a lot on film."
True Detective received some criticism for its depiction of female characters as one-dimensional, although Monaghan believes her character, Maggie, ultimately grew into her own over the course of the season. She remembers shooting the pivotal scene in which she seduced Matthew McConaughey's character in order to free herself from her husband.
"It was a very vulnerable scene to shoot, and it was electric," she says. "The energy was so palpable that night. It was a very raw scene, and it works. I remember we finished it, and we had to go back to the trailer. It was midnight. We were taking off our hair and makeup, and we hugged each other again and were like, 'That was good.' Everything's all sort of tingling when you do intense scenes like that."
To go from the drama of True Detective to the goofy, high-concept comedy of Pixels is quite a switch.
"There was a lot of madness on the set of Pixels," says director Columbus. "We were juggling huge visual effects action sequences along with sometimes improvised comedy… Most of us had never experienced anything like it, and there could be anywhere from five to seven different versions of each scene, with newly written lines given to the actors moments before the cameras rolled. Michelle handled this beautifully, like a total pro, always game to try anything and improvise."
Monaghan says she found the experience of working with legendary comedians like Sandler "intimidating. I can't say I'm really comfortable doing comedy," she says. "I love it. There's nothing greater than to make somebody laugh or for one to laugh, but it's daunting when you have a joke, and all of a sudden, he'll say a completely different line, and you're like, 'Oh my God, it's on. I've got to come up with something clever and funny.' Heart starts beating."
Sandler, however, managed to make her look and feel good about the experience. "When you're working with someone who's great at improv, even if what you say is not really funny on paper, they can make it funny by whatever their reaction is or whatever they say after that," she says. "He would text me at the end of the day, about an hour after work, and he'd say, 'You were really funny today. Good job. Can't wait to see you again tomorrow.' And I was like, I feel so awesome right now."
Given steady work and the range of projects she has gotten to tackle, Monaghan has no fears about being a Hollywood actress who turns 40 next year. "I feel like I am in such a good place in my career. I've naturally progressed. I've had the opportunity to do a lot of different things. I just want to continue to keep on that path and also continue to challenge myself doing [movies like] the Fort Bliss-es out there that really, really profoundly mean so much to me. Those movies, they fuel me personally, they inspire me, motivate me. Those are films that I wasn't able to do years ago. And also, I'm mature enough and have been in the industry long enough that I understand there's a natural ebb and flow of career, and I'm okay with that now. I know what goes up will come down. So that allows me to appreciate when times are very good and to really enjoy the moment. And when things aren't going so well, just to hang in there and really just be patient."
Styling: Sissy Sainte-Marie. Hair: Luke Chamberlain for Forward Artists using R+Co. Makeup: Shane Paish for Walter Schupfer Management using Tatcha and Dior. Nails: Karen Gutierrez for Nailing Hollywood using Azature.
May 25, 2015
Updated: July 24, 2015