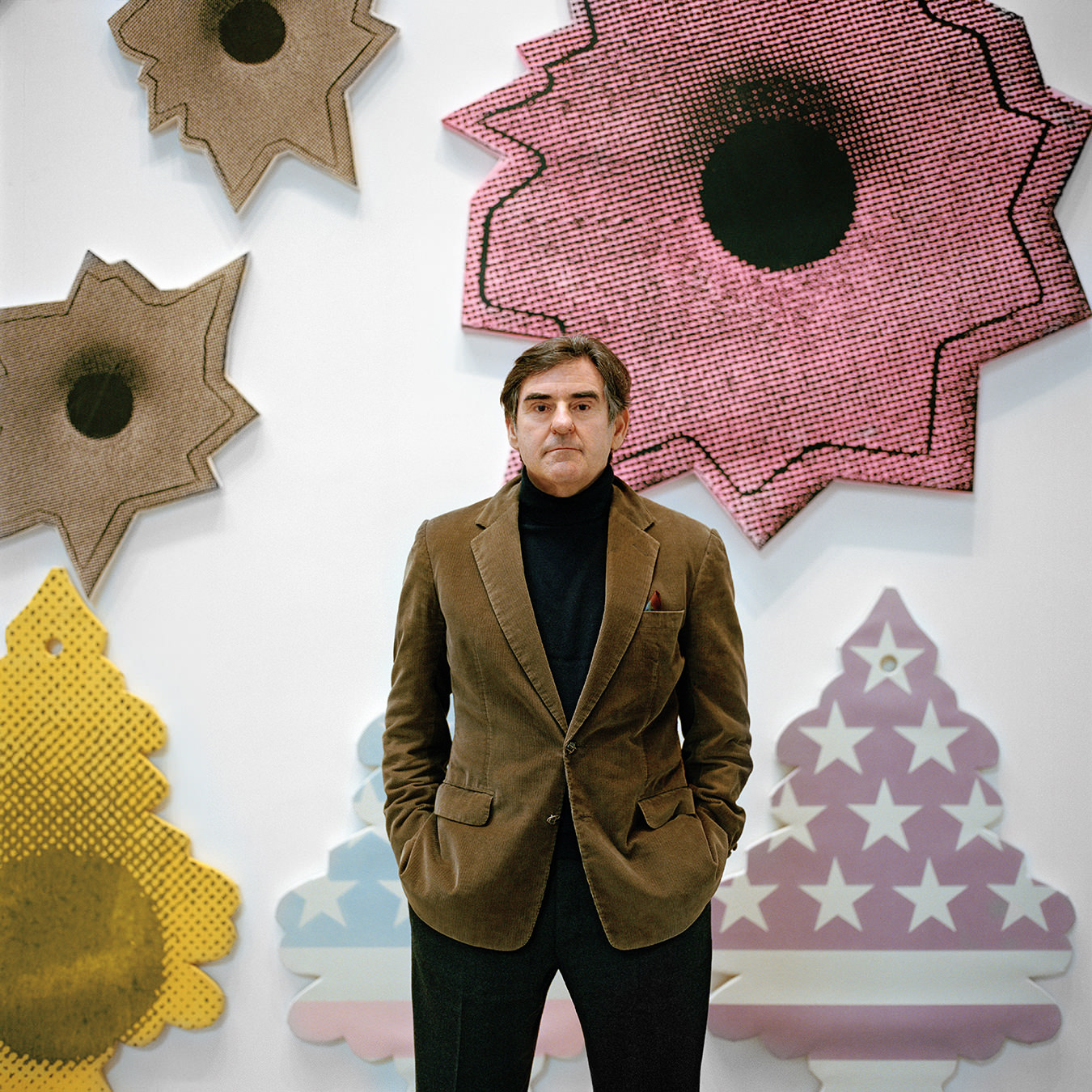 From virtually any point in mad New York, if you take a train, and then another train, and then a car, you can end up in a different world. This particular route is specific: the first train is a subway to Grand Central, and the next about an hour's Metro-North railway ride to the privileged, picturesque, and magically serene New England town of Greenwich, Connecticut. The journey's final leg is a 15-minute cab ride from the Greenwich Train Station, up the winding road, past sprawling mansions, polo fields, and manicured lawns, to the 1902 stone building turned art gallery that is the Brant Foundation Art Study Center, where a new Andy Warhol exhibit is taking place through the fall.
Owned by the Brant Foundation and founded in 1996 by famed industrialist, businessman, and lifelong art collector Peter Brant, the not-for-profit centre is open—by appointment, to the public, schools, and institutions—with the aim to "promote education and appreciation of contemporary art and design." The Brant Foundation itself also lends works from its vast collection to galleries and museums. Its first show upon opening in 2009, Remembering Henry's Show: Selected Works 1978–2008, was a tribute to the 1969 Metropolitan Museum of Art exhibit organized by Henry Geldzahler, which Brant says significantly influenced him as a collector. The 2009 exhibition included some 91 works selected from the foundation's collection and the Brant family's personal archives. (Warhol was among the first artists that Brant ever collected.)
"I remember every single painting I ever bought and where I bought it and how I bought it, absolutely," says Brant, 66, over tea in the family room of his Greenwich family home. Adorning the walls are works by some of his favourite contemporary artists—Steven Shearer, Karen Kilimnik, John Currin—and shelves upon shelves of books about art, design, and interiors. It's clear that his passion for both experiencing and sharing contemporary art is heartfelt. His no-nonsense expression softens into a grin and his eyes illuminate as he talks enthusiastically about the artists he loves and the paintings in the room.
Framed snapshots of his family sit on an end table, including a gorgeous black-and-white photograph of his wife playing with their kids as toddlers. (Brant has been married to model Stephanie Seymour since 1996 and they have three children together, plus five kids from his previous marriage to Sandra Brant and Seymour's son from her previous marriage, for a brood of nine.) And in the Brant home, art is a family affair. In fact, daughter Allison is the Art Study Center's director.
With so many artworks in his collection, how does Brant know when he's seeing something special? "I like to show and collect artists that I think are making a mark in terms of art history and having an effect on many other artists, as well as being a leader within their own generation," he says. "I have a lot of friends that are artists, and I speak with artists and art dealers and museum people all the time—it's part of my life. I'm out there and seeing a lot of work." So his eye, then, has been refined through years of not only practice but also "homework," explains Brant, who is on the boards of museums, including the Museum of Contemporary Art, Los Angeles. "It's a gut feeling, and my eye and judgment, but based on a lot of looking and homework. I don't believe there's anything really natural in the skill of being able to do it. I just think it's all from experience and from the passion of wanting to discover more in art. I don't believe that I'm any more intelligent or bright or any different than any other person—I just have a passion to really want to learn and further discuss what is happening in terms of contemporary art."
The ultimate beholder, Brant began collecting art in his late teens. His father, Murray Brant, adored old rococo paintings and often brought his son to museums. Brant also inherited another passion from his father: an insatiable entrepreneurial spirit. The elder Brant also co-founded a paper company in the 1940s, a grassroots family business that evolved into White Birch Paper, now one of North America's largest newsprint manufacturers, which Peter Brant runs as chairman and CEO. He's explored real estate as the developer of Conyers Farm, which spans both Greenwich, Connecticut, and North Castle, New York. He also adores horses and is an avid polo player; he founded the Greenwich Polo Club and the Saratoga Polo Association, and co-founded the Bridgehampton Polo Club. Brant's entrepreneurial ventures over the years are certainly well documented—especially throughout the recent recession and near collapse of North America's print media industry. "That was a very, very tough time, and we've gotten through that time," says Brant.
In Brant's media endeavours, he's at the helm of Brant Publications, whose titles include The Magazine Antiques, Art in America, Modern, and, of course, Interview, which was founded by Warhol himself. By the same token, Brant's forays into the movie business have a Warholian thumbprint: he was an executive producer of Basquiat (1996) and Pollock (2000), along with PBS's Andy Warhol: A Documentary Film (2006), which won a Peabody Award and an Emmy Award.
His entrepreneurial and artistic interests also intersect at the Brant Foundation Art Study Center. With just two exhibits showing at the 9,800-square-foot gallery each year, every show is a labour of love. Exhibitions have included solo shows by Urs Fischer, Josh Smith, Karen Kilimnik, Nate Lowman, and Canadian David Altmejd. "These guys are such good artists—it, like, comes from God," says Brant.
Reverence aside, Brant and his cohorts aren't above having fun. Downtown New York artist Nate Lowman's recent show, I Wanted To Be An Artist But All I Got Was This Lousy Career, featured Lowman's signature symbols of sex, death, and Americana: smiley faces, bullet holes, and the actual Ford Bronco used in the 1994 O.J. Simpson police chase, rented for the occasion and parked innocuously on the centre's bright green lawn. And, as with most of the openings, a fantastic party rang in Lowman's exhibit. Indie band Gang Gang Dance played a surprise set to a charmed audience of chi-chi society and downtown hipsters sharing banter with celebrities, media, and that eclectic assortment of personalities that can make a New York party epic, even when it's in Connecticut.
The elegant shindig also demonstrated the unexpected ways in which the Brant Foundation lives up to its mission. With openings being a must on the social circuit, a terrific side effect of this operation is that a new wave of the New York public is learning to truly love art. Strangers who might never talk to each other on the subway suddenly interact or bond over an artwork.
"I'm very surprised that pretty much all the shows we've done have gotten very positive reviews. But maybe critics see that this is not a superficial thing and it is done with great love, and we're not doing the obvious things—though Warhol is obvious because we've been collecting it for such a long time."
While Brant works closely with all the artists who show at the Brant Foundation Art Study Center, this Warhol exhibition has additional personal significance: after Brant purchased a few of Warhol's paintings in the late 1960s, the men became good friends and collaborators. "You always wanted to help Andy," he recalls. "Andy always felt helpless and vulnerable in many ways. Of course, he was smart as a fox and strong as a lion, but one of his strengths was he could really enlist people to help him. And I always was there to look after him, as most of his people around him were."
The Andy Warhol exhibition was curated by Heiner Bastian and is on view by appointment throughout the summer. Almost all of the show's artworks come from the collections of the Brant family and Art Study Center. "All the works belong to us except for the big Mao that we gifted to the Metropolitan Museum back in 1978; we're re-borrowing it," says Brant. "It's very exciting—it's a lifelong endeavour to collect those works.
"The first Warhol I ever bought was a drawing of stacked soup cans from 1962, and I bought it from a man called Ben Birillo. I think it was, like, $500, which was a lot of money for me then. That was in '67," he recalls. "It was a different time in the art world. People knew who [Warhol] was, but he was more famous than considered a great artist because he did very radical things, like the Brillo boxes or the soup cans or the Jackie Kennedys. People didn't really want that stuff at the beginning. Warhol was dealing with silkscreening, photography, things that were anti-painting and anti-art world in a way. I thought he was really the most interesting artist at that time."
When Warhol heard that Brant had bought a bunch of his works, the artist wanted to meet the collector. "I had probably seven or eight of his paintings before I ever met him," says Brant. "I met him in '68, after he was recovering from being shot by Valerie Solanas."
Before their meeting, Brant had no idea what to expect. "I didn't know that much about him. I knew about the avant-garde movies and how, at the time, radical and crazy they were for me. I'd seen Chelsea Girls and thought it was not coming from the same world that I came from, but I thought it was very interesting. That idea of the hand-held camera, ad libbing, no script, everything. I was very interested in film at the time. I had been as a child—it was the recreation I had with my parents. We'd go to the movies often—I still do." During those Factory years, Brant and his first wife, Sandra, became close with Warhol and his friend and business manager, Fred Hughes. Brant produced some of Warhol's films, and along with gallerist and art dealer Leo Castelli, commissioned the now-famous series of paintings and prints of communist leader Mao Zedong. "We got involved with Interview magazine and continued to collect, and continued to do fun projects. I did several movies with Andy—L'Amour [1973] and Bad [1977]—and financed them and produced them."
Today, Brant says he's proud to have kept Interview's legacy alive—and commercially viable. It was successfully run for 26 years by Sandra Brant; the former publisher of Brant Publications sold her company shares in 2008. "This magazine is almost 45 years old," says Peter Brant. "To me, the magazine under Andy and Fred [Hughes]—and Fred had a big influence in that magazine—was always elegant. It always represented what Andy was really interested in: a crossover of the arts, the decorative arts, performing arts, and the classical arts. It always covered dance, film, fashion, and people. Andy was always about bringing the positive, creative aspects of life towards us."
If there's a skill guiding the beholder's eye, it might be the ability to stand back and really see things; to assess, then act. Perhaps it's a willingness to take risks, and the decisive confidence to follow one's own instincts. Has Brant always had this confidence? "Yes and no," he says. "Yes, in that I must have, because some of the greatest acquisitions I ever made were when I was a very young kid. If I were to look at the 10 greatest acquisitions I've ever done, five of them would predate my age of 21," he says, citing among them his early Warhols and Lichtensteins. On the other hand, "Value normally comes after a work has been socialized for many years, so it becomes more sought after or more valuable."
Ultimately in art, as in life, beauty is in the eye of the beholder. "There's a certain radicality in dealing with art," explains Brant, who estimates that 10,000 people visit the Art Study Center each year. "It's all looking at breakthrough things, and that is foreign to a lot of people and adversarial to a lot of people … you have to invest the time and the effort to study before you make your judgment."