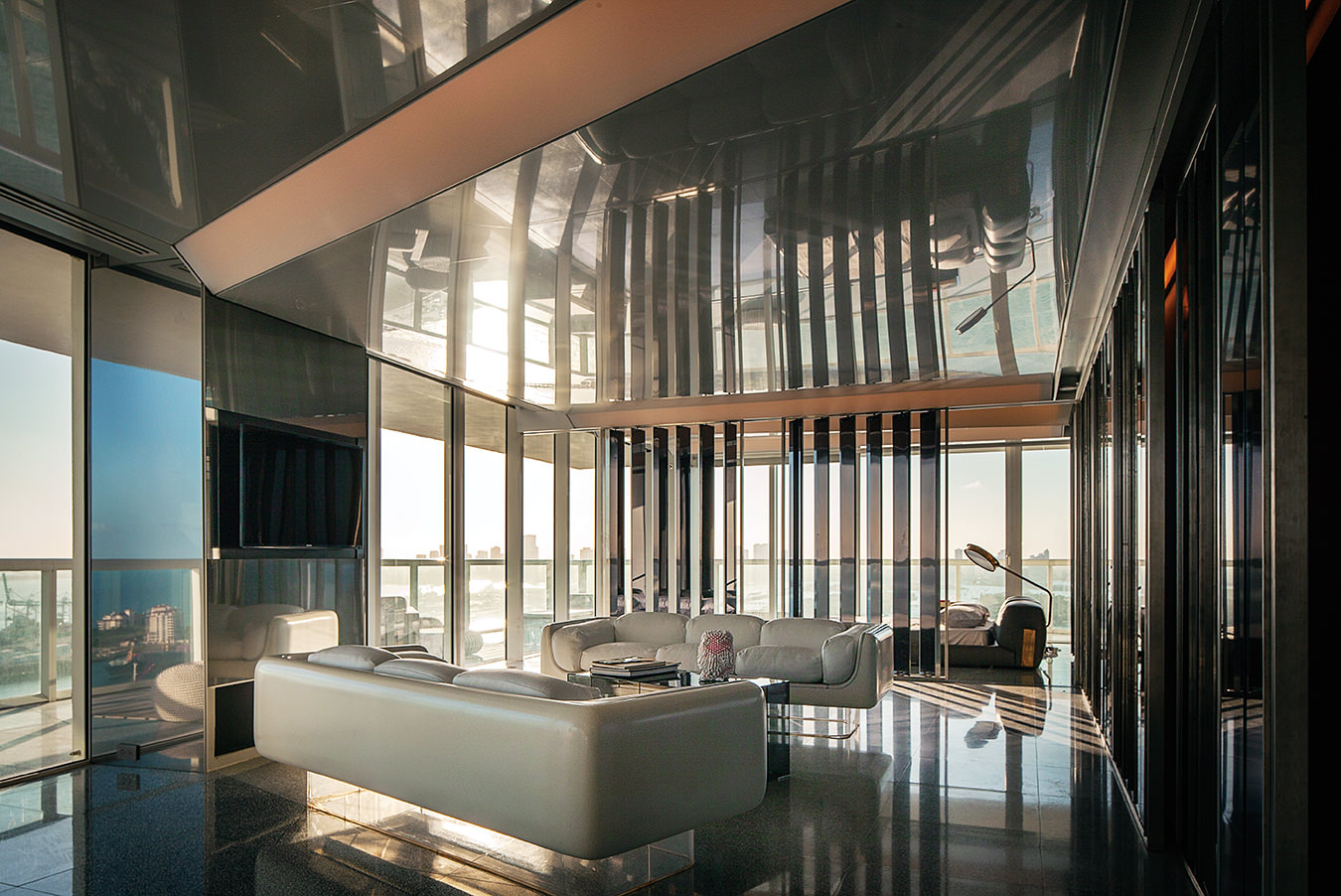 At sunset, the entire apartment appears to be floating on a sea of light, gilded. Which is quite appropriate, since it was completed last summer for a Greek shipping magnate. Ion Varouxakis wanted to create a holiday home where he could absorb Miami's sultry ambience, its exuberance for life, and the natural world while using it as a base from which to make business connections around Europe and Central and South America. Understandably, Varouxakis asked his architect to make the apartment feel light and airy, and, 37 storeys up, include uninterrupted views of the surrounding skyline and Biscayne Bay.
Check.
And check.
The solution, conjured by Miami-based architect Rene Gonzalez, exposes the apartment strategically to its surroundings, and the result is poetic: a man who makes his living on the water is now living in the air. Varouxakis's apartment, residing within a complex called Icon, exudes a golden glamour. Gonzalez worked to open up the 2,000-square-foot interior (an effort assisted by 800 square feet of terrace) to allow for a sweeping, nearly 180-degree panorama of, and irresistible engagement with, both the city and the bay. Tall, narrow, mirrored panels in the largest room, the living room, amplify these views artfully by fragmenting their reflections along the interior walls of the apartment. "We wanted the interior to dissipate into the Miami sky," Gonzalez says "to reflect its blueness and its sunsets."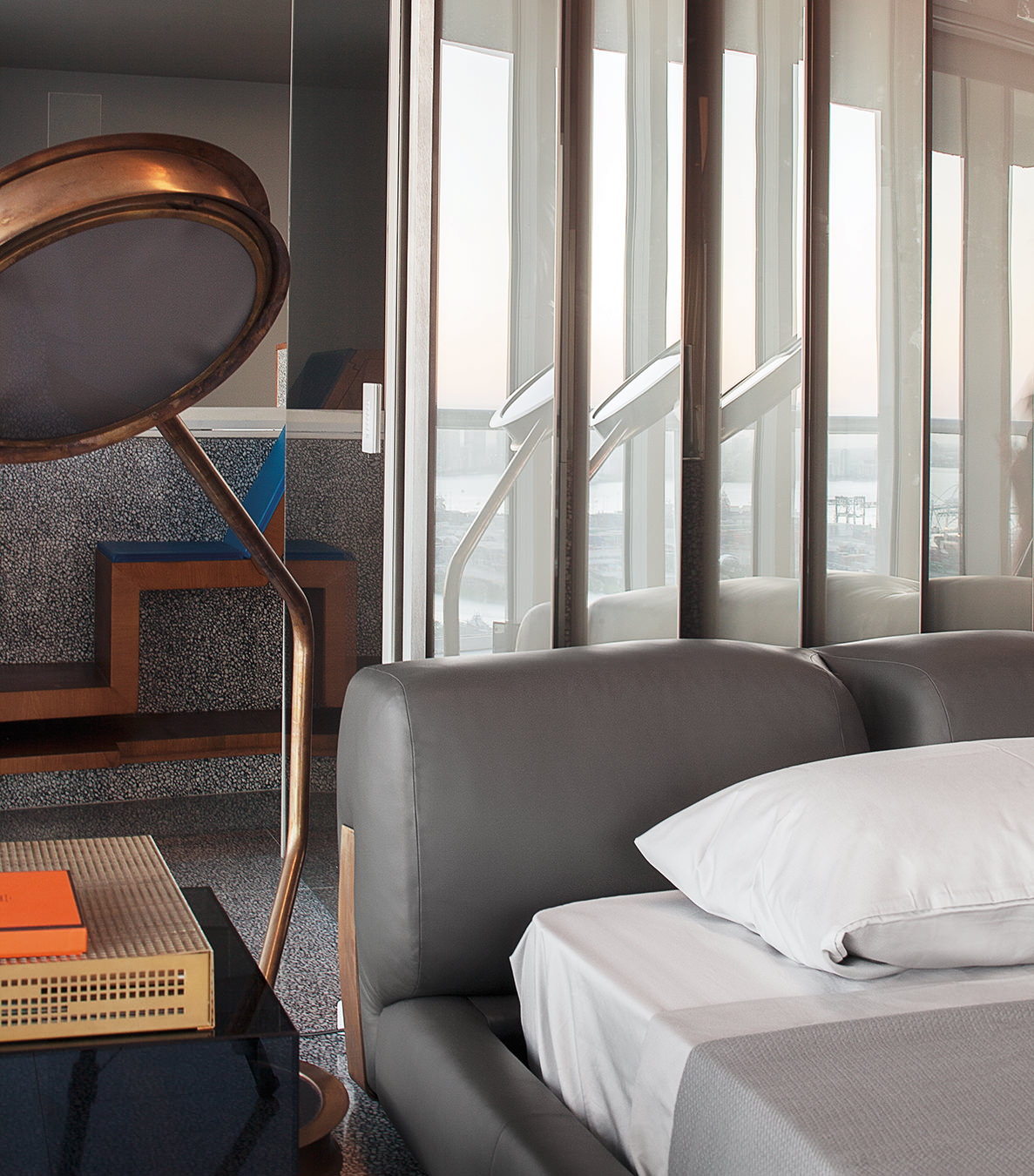 Gonzalez has built a wide-ranging portfolio that includes a super-modern hotel in Guatemala called Casa Palopo, a highly graphical exhibition design for a Wolfsonian-FIU museum show about the concept of speed in media and design, and the light-saturated interior of a high-end fashion boutique called Alchemist. (His firm, Rene Gonzalez Architect, maintains a second office in Manhattan.) But along the way, as Alchemist's design confirmed definitively, Gonzalez has become particularly adept at architecting not just shelter but something closer to a sheltering exposure, so that his architecture becomes a membrane instead of a wall, an ideal interface with the space around it.
Exposure (in more ways than one) is a theme native to this tropical city, but it's not always masterfully executed in its contemporary architecture. Gonzalez never referred to Alchemist in his plan for Varouxakis's house (one is retail space, the other purely domestic, after all) and yet both represent his talent for exposure, apparently eliminating barriers between architecture and site, inside and out, preparing dinner and flying over the bay—"apparently," because this takes some sleight of hand. In Alchemist, one doesn't simply observe the sky and activity on the street below while shopping; the senses participate in them. In fragments and shards, through generous glazing and strategically placed mirrors that move in response to shoppers' movements, visitors become more than voyeurs. So, too, in Varouxakis's home. "I think that there are lessons you learn along the way in projects that are applied and developed in new projects," says Gonzalez. "In Alchemist, we worked with angled surfaces to create a hyper-reflection of the environment. This strategy was used here again in the more controllable pivoting mirrored surfaces and in the glossy, reflective latex ceiling, which has a sawtooth geometry and is angled to reflect the view in an optimal way."
The most striking element is a phalanx of custom louvres that flank the walls. The louvres, each consisting of six mirrored slats, are fabricated from stainless steel and grey glass, and provide a leitmotif throughout the house.
An ever-shifting image of Miami through the glass walls is to be expected. The transporting power of a jagged, glossy ceiling and reflective louvres is not. Overhead, Brambier's Barrisol latex sheeting in gris ombelle and blanc venus stretch taut as a drum across the ceiling, which drops toward the floor and rises in an arrhythmic, vertical sawtooth. Though not mirrored, the glossy sections (there are matte, translucent sections as well) capture low-fi reflections of the view on their canting surfaces. Gonzalez tucked the lights above the Barrisol and composed them carefully into long, slender ray-like panels that run from the rear of the house toward the terrace. These panels generate an even diffuse illumination that (literally) highlights the uneven altitudes of the ceiling.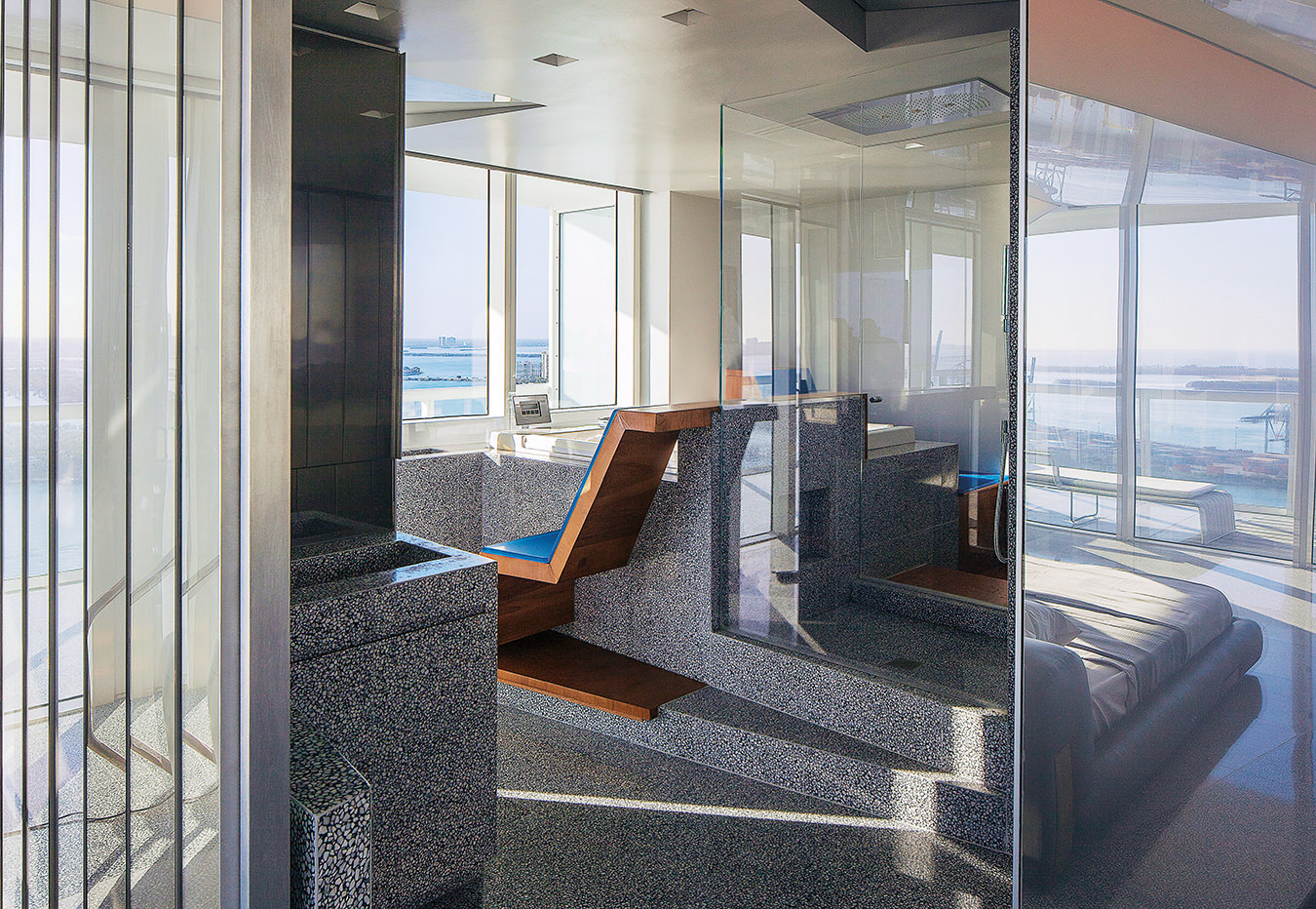 The fact that the room remains uncluttered means that sightlines are free, but it is full of objects made by big names with big talent to match. Beneath artwork by Mika Tajima, the room is anchored by a tempered smoked-glass Alice coffee table designed by Jean-Marie Massaud for Glas Italia. The heaviest objects here turn out to be those that are most visually lightweight: two leather, eggshell-coloured sofas with acrylic bases and generously stuffed cushions give the impression of drifting clouds. These were designed by Warren Platner in the 1960s and previously owned by musician and tastemaker Lenny Kravitz.
The most striking element, however, because it deepens the effect of the constantly shifting light, is a phalanx of custom louvres that flank the side and rear walls. The louvres, each consisting of six mirrored slats, are fabricated from stainless steel and grey glass and provide a leitmotif throughout the house. Four of them pivot on their axes while six pivot and slide to open rooms to each other. A couple of the louvres in the living room open up to the master bedroom, which also looks onto the terrace, populated with a small colony of Paola Lenti Frame furnishings. The brushed-brass bed was designed for Ceccotti by Vincenzo De Cotiis, who also made the unusual bedside lamp, a brass torchiere called After Glow that's wide, flat face resembles an industrial-sized magnifying glass. Here, too, behind the bed, are stainless steel panels fragmenting the view.
The bedroom connects to the master bathroom, accessorized with Dornbracht, and a bathtub and custom shower have been carved from a field of hillcrest grey and black terrazzo. The tub is integrated into this monolithic terrazzo and elevated to take advantage of another window wall. Because it is also used as an indoor hot tub, Gonzalez made space for a few people to lounge while others steep, and constructed a teak seat alongside that cantilevers at hard angles, with the italicized tilt of a lounger and a gel cushion, "blue like the bay," he says, that tempers its sharp edges. To complete this luxury, Gonzalez embedded a champagne bucket of his own design in the plinth of the tub.
Little pockets in the rest of the apartment suggest living on the sea. In the dining room, the transparent dining table is another Glas Italia design in tempered clear glass, called Oscar and by Piero Lissoni. It is encircled by B&B Italia Lazy '05 chairs by Patricia Urquiola with their tall, narrow backrests, which are in turn guarded by another line of steel and glass louvres. The element that gives the dining room its sense of being shipshape, however, is hidden behind the louvres, as if behind a thick curtain: a small bar with a steel sink, a wine refrigerator, and clear glass shelving feels both modern and cozy, and looks as efficient as a ship's galley.
Rene Gonzalez worked to open up the 2,000-square-foot interior to allow for a sweeping, nearly 180-degree panorama of, and engagement with, both the city and the bay.
Even the guest room, hidden behind more sliding, pivoting, reflective panels, is called a cabin, and for good reason. Lined with a rich cladding of teak, it feels like the belly of a sailboat (or yacht), and serves as a nod to both Varouxakis's profession and his love for boating and sailing. A wooden wall in the cabin pulls down to reveal a custom-made Murphy bed, and the room doubles as an office space, albeit an intimate, teak-suited office space, kitted out with a desktop recessed into the cabinetry and a classic black Eames chair.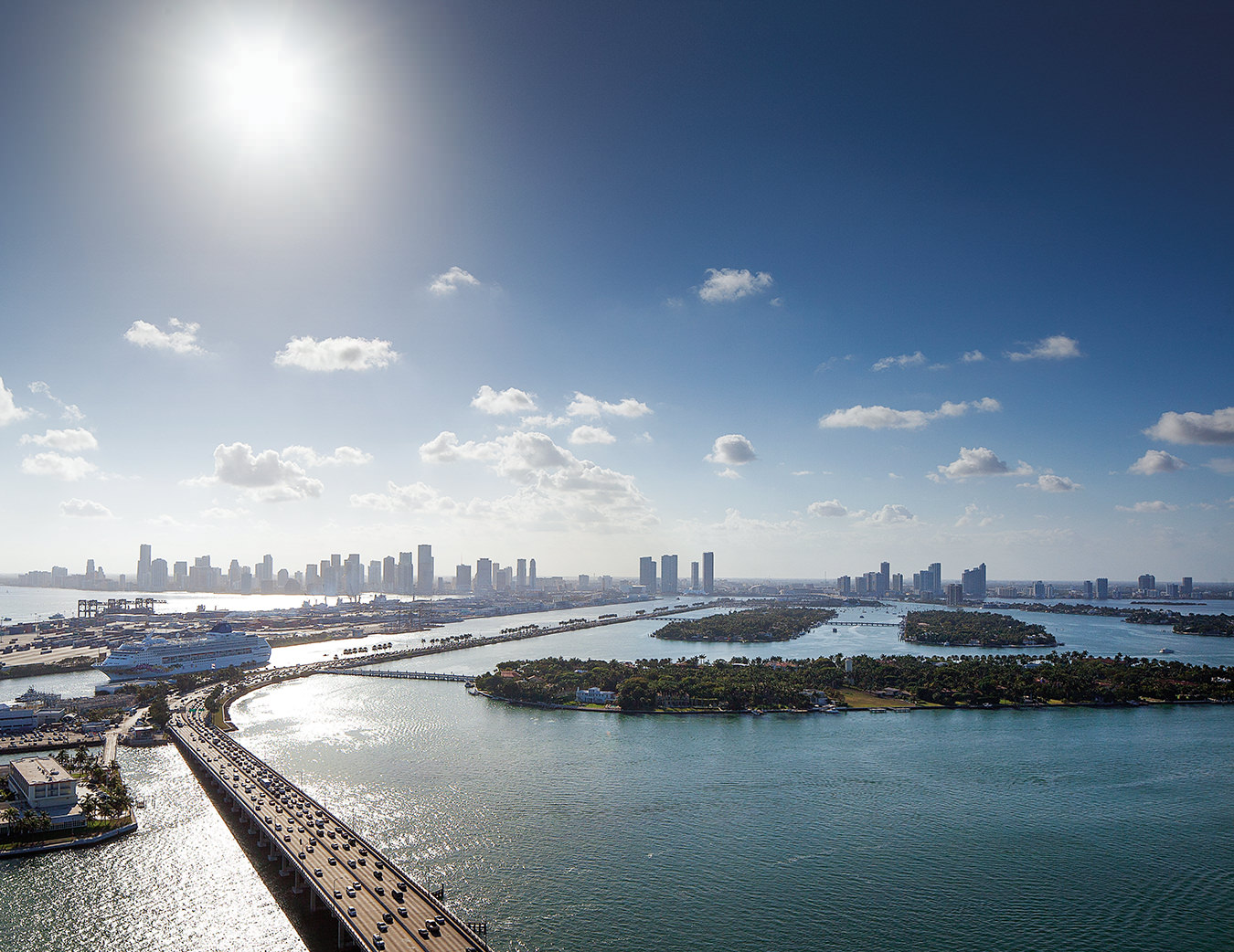 There are two other bathrooms: the guest's, slathered in white terrazzo and also decked out in Dornbracht, and another called the powder room. A powder room is usually used for guests not staying the night, but because this one sometimes is, it reaches beyond the call of hospitality with a custom shower, chunky terrazzo surfaces, and a pocket sink. Recessed into the wall, the sink has no faucet; it's simply a waterfall that rains over its black terrazzo surfaces as if to suggest a mysterious cavern—maybe a diamond mine.
Miami wears many costumes—some wildly gaudy—but its glamour, its tropical moodiness, the weight of its air, and the range of its light are qualities essential to it. Gonzalez has tapped into the city's finest spirit through his deft combination of reflective materials, latex ceiling, cool polished terrazzo, and view. At night, Varouxakis can see a horizon incandescent with city lights and the trail of the bay as it winds toward downtown Miami and beyond. Day and night, the city is caught in slivered images that flow over the latex ceiling and louvres, like gems in a jewel box; darkness and light emphatically alter the mood of the apartment, as much as its appearance.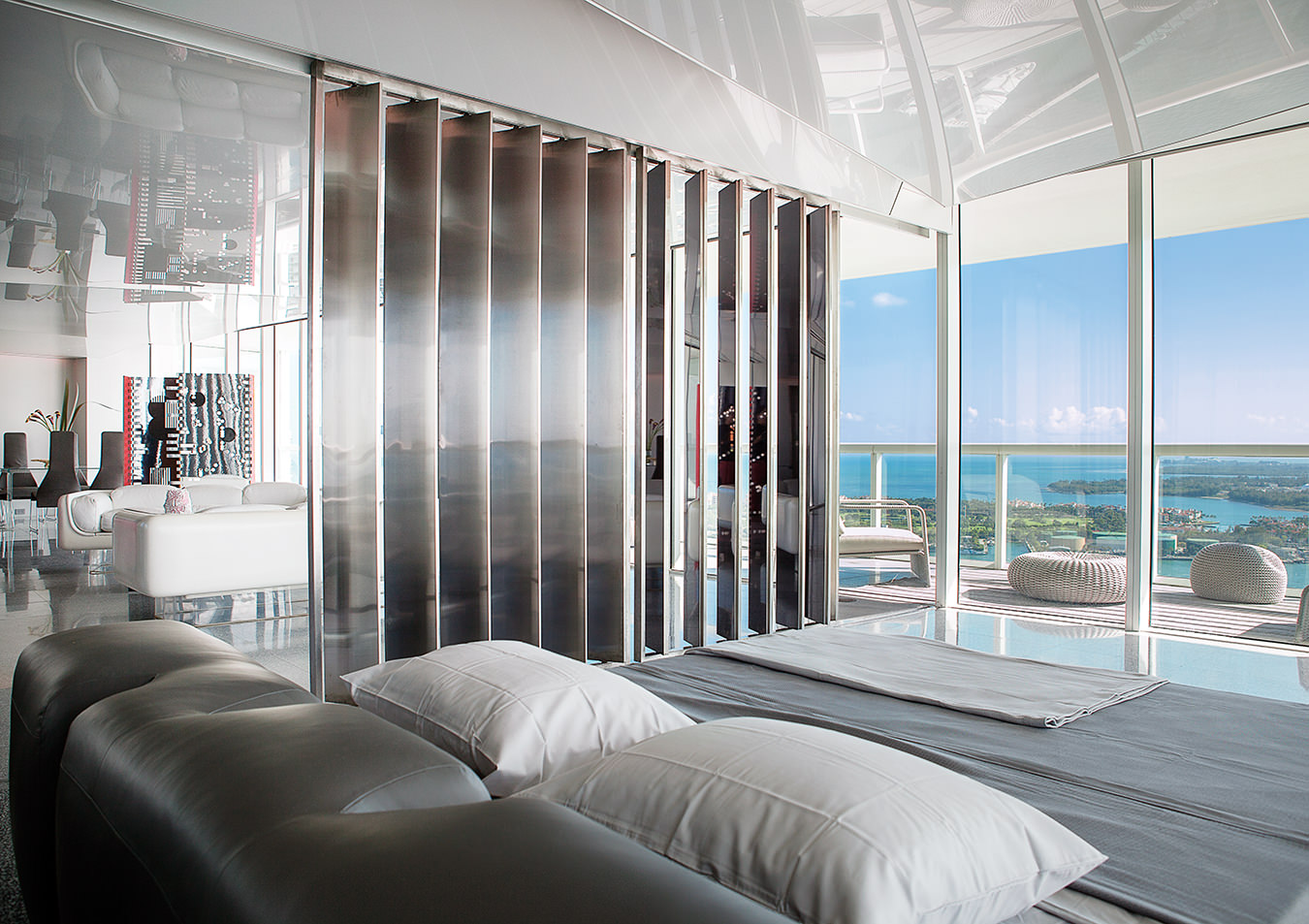 "The louvres look almost like weathered brass or bronze at sunset," Gonzalez says. "This is definitely my favourite time of the day at the apartment. The light changes very quickly so the walls become a reflection of the environment, which means that while the sun is setting, the apartment is in constant flux. The sunsets in Miami can be very dramatic. The apartment becomes a canvas."
Photos by Michael Stavaridis.