Jason Wu: Taiwanese-Canadian Fashion Designer
Designing ladylike classics.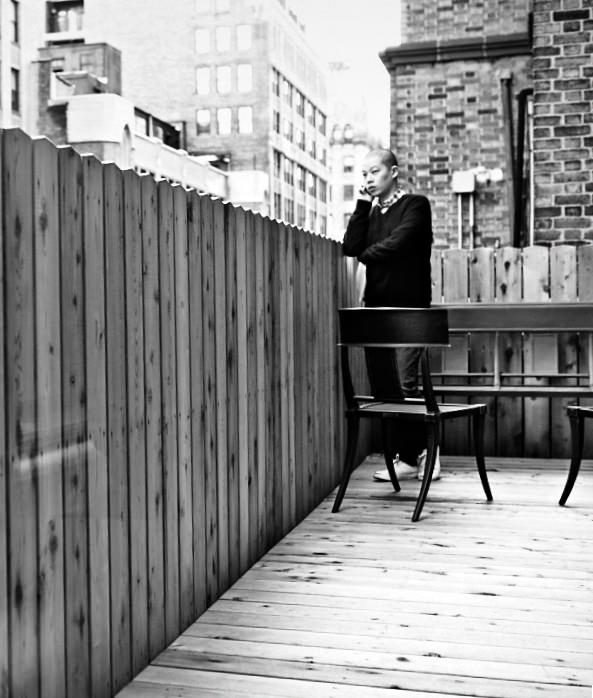 Of all the pivotal moments that young fashion designers dream of, it doesn't get much better than having First Lady Michelle Obama wear your gown to her husband's inaugural ball.
That moment was in 2008, and for New York–based Jason Wu, now 29 years old, he's never looked back.
"I feel like I worked my entire life to be here, but I guess I'm just getting started," says Wu. "I feel really great about it, and I can check some things off my to-do list. Only now I can make myself more things to do." Wu, dressed in a black sweater, jeans, and Jack Purcell sneakers (one of the 60 pairs he owns) is previewing his spring/summer 2012 collection at the Room at the Bay, Vancouver.
How did it all begin for him? At the age of nine, Wu moved from Taiwan to Vancouver with his parents and brother. "I was never the best academic student. My parents knew I wanted to be in the arts—that's why we moved here. They really are the pillars of my life and have always supported me in what I do. They're super cool," he says. Wu got his first Singer sewing machine when he was just 10, and he learned to sketch, draft, and sew doll clothes. When he was 13, Wu's family moved to the United States, where he attended middle and high school in Massachusetts and Connecticut, respectively, and then travelled to Paris for his senior year. In 2001, he moved to New York, where he attended the prestigious Parsons the New School for Design, with his sights set on becoming a fashion designer.
After fashion school and an internship at Narciso Rodriguez, Wu debuted his first ready-to-wear collection in 2006, turning the heads of fashion editors and buyers around the globe. Blending modern American sportswear with feminine touches—pretty and precious, including hand beading and embellishment—soon became signature Jason Wu looks. Accolades followed and included being named a finalist in the CFDA/Vogue Fashion Fund in 2008, and winning the Swarovski Award for Womenswear in 2010.
Wu's spring/summer collection began as a collaboration with New York graffiti artist and designer Kaws—whom Wu refers to as "this generation's Keith Haring"—and a flower-petal print they created together. Kaws's signature black Xs (which he uses as his character's eyes) appeared as crossed crow feathers in the models' hair.
"I tried to take two very different ideas—haute couture shapes and the bright colours of pop art. I like the return to detail, craftsmanship, and to bring something unusual into the mix," he says, referring to a Day-Glo pink gown. "That's what I love about fashion—it's about balancing two elements in such a way where they work, where a little bit too much would be bad. It's a fine line. It's like baking, like when an extra teaspoon would have it fall flat—like building the perfect soufflé."
Other details of the collection included Swarovski crystals and laser-cut sequins to create "electrified" embroideries, along with gazar dresses, peplum skirts, and defined waists, plus sport elements like windbreakers.
Wu has done countless collaborations for everything from bathroom fixtures with Brizo to working with French atelier Cécile Henri. This spring, Wu was tapped by Target to create a very limited-edition collection, 53 pieces, which was available for only three weeks in the U.S. in late February.
He also has an ongoing relationship with St. Regis Hotels & Resorts, which invited Wu to be a St. Regis Connoisseur. As an ambassador for the luxury hotel chain, the designer will regularly post blogs and host events, including St. Regis Midnight Supper soirees. Wu describes the collaboration as "bringing some young energy into this New York institution. It's quite exciting. Fashion isn't just about clothes—it's about lifestyle. I can relate to so much that the St. Regis does. It's about quality, not quantity. It's about luxury, and everything is done to perfection. It's a great fit," he says.
Do his parents get it? "In some ways they didn't understand what I did at all for the longest time," he says, laughing. "Fashion isn't always the easiest career for one to grasp, and I come from a family of business people."
Take that as a yes.