The king of French fashion.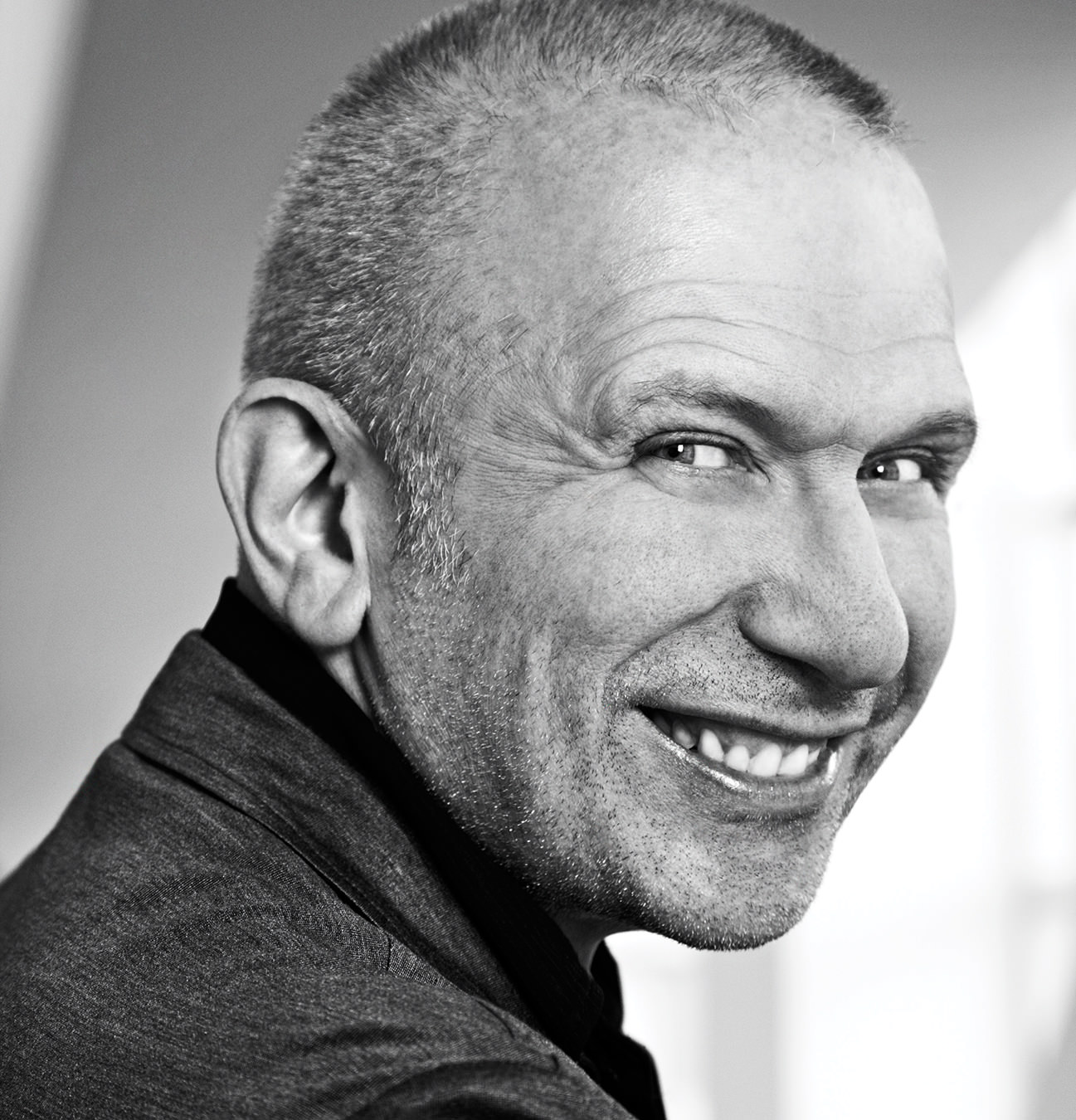 Jean Paul Gaultier hearts Montreal. He gushes about his "petits cousins Canadiens" in the quintessential French accent that has become his trademark—"The people are so sympathique, so nice," and then he adds with a chuckle, "Not so snobbish as in Paris." And, clearly, the feeling is mutual between the fashion icon and the artsy metropolis. In the most comprehensive exhibition on Gaultier to date, the Montreal Museum of Fine Arts (MMFA) wears the nautical-striped designer on her sleeve—if not plastered all over downtown—with this summer's international debut of "The Fashion World of Jean Paul Gaultier: From the Sidewalk to the Catwalk," on display from June 17 until October 2.
To announce the project, as well as oversee and collaborate on what he has promised will be his "biggest show ever," Gaultier quietly traded the City of Light for La Belle Province during a brief visit in November of last year. He's been to Canada before, and he warmly recalls his first time in Quebec City. "It was so cold—incredible! But that's part of what I was expecting. If it was not like that, I should have been disappointed."
The veritable King of Couture navigates the museum like a tall shadow, staying largely unnoticed while walking through hallways and standing at elevators. Despite the fact that his severe black eyebrows and bleached-blond crewcut of the nineties are long gone (he now sports a close salt-and-pepper crop), Gaultier's current low-key look and calm public demeanour seem to conflict with the non-conformist images distilled of him in popular culture. (Where's the kilt? What, no mohawk today?) He has powder-blue eyes, pale pink skin, and cartoonish, oversized ears; not even his manly five o'clock shadow can offset his Buddha-like serenity.
Mass media has tagged Gaultier, who is currently celebrating the 35th anniversary of his eponymous label, as the rebellious artiste responsible for Madonna's infamous conical bra, gender-bending men in skirts, bust-shaped perfume bottles, and his atypical and oftentimes tattooed or pierced models. Says the approaching sexagenarian of his enduring epithet, "Well, the enfant terrible is now 58, so how can you say that still?" (Gaultier turned 59 on April 24.)
Born in a southern suburb of Paris in 1952, Gaultier says that his very first model was his teddy bear, Nana, for whom he crafted a newspaper brassiere.
Born in a southern suburb of Paris in 1952, Gaultier says that his very first model was his teddy bear, Nana, for whom he crafted a newspaper brassiere. His parents were of working-class backgrounds, and he credits his rather eccentric, tarot card–reading beautician grandmother, Marie Garabée, as a major creative influence, particularly her closet of corsets.
Gaultier says that his early artistic talent was a way for him to "integrate with others," which came in handy as a child because of his poor soccer skills. "One evening, when I was nine years old, my grandmother let me see an excerpt of Les Folies Bergère on television," he recalls. "There were half-naked women in feathers and lots of sequins—the next day at school, I drew a picture of one. When the teacher saw my drawing, it didn't make her happy at all. She told me to go up to the front of the class and she slapped my fingers with a ruler, because that's what they did in those days. And to humiliate me further, she pinned the drawing on my back and made me walk through the other classrooms so that I would be ashamed. And what happened was the complete opposite. It made everyone laugh and I became 'the one who could draw.' My classmates would ask me, 'Can you draw me a dancer like this or like that?' So this drawing became like a passport that allowed me to open doors to new friendships. Of course, it also gave me the desire to continue."
The self-taught prodigy spent his teenage years admiring the great fashion designers of the time, such as Yves Saint Laurent, and even sent them sketches in hopes of recognition. One of the recipients was the illustrious Pierre Cardin, who was so impressed by the young man's talent that he eventually hired him on Gaultier's 18th birthday. After stints at Jacques Esterel and Jean Patou, Gaultier found himself back at Cardin, where for six months he designed collections for the American market and oversaw the Pierre Cardin licence in, of all places, Manila, Philippines. Not the sexiest of cities, granted, but Southeast Asia opened the young Frenchman's eyes to cultural diversity. He says with pride, "I did some fittings with Imelda Marcos."
Another pivotal figure in Gaultier's story was surely Francis Menuge, his partner in life and in business, who passed away in 1990. Gaultier has acknowledged him publicly as his one true love, and the key factor that motivated Gaultier to start his own line in 1976. The same year, the duo also launched a collection of electronic jewellery that proved popular in nightclubs; one necklace incorporated lights that mimicked the wearer's heartbeat.
Two decades later, after la maison Christian Dior overlooked him as successor to Gianfranco Ferré, Gaultier opened his own haute couture house. He ascribed the rejection to Eurotrash, a weekly tabloid show that ran on the BBC from 1993 to 1997, on which he hosted as a parody of himself alongside Antoine de Caunes. (The coveted position at Dior went to the recently dismissed John Galliano.)
No stranger to catwalk drama, FashionTelevision host Jeanne Beker has followed the career of Gaultier for a quarter of a century. She weighs in on the genius behind his art of provocation: "There's always been an incredible level of extraordinary flamboyance at his shows, but always tempered with those beautiful, brilliantly tailored garments that women really can wear." To this effect, his work encompasses a wide spectrum, ranging from the styles of front-row regular and Chanel muse Catherine Deneuve, to pop music's latest agente provocatrice, Lady Gaga, to the everyday style mavens who shop at department stores and boutiques all over the world to buy his prêt-à-porter clothes and fragrances.
Evidently, hard work makes the man—or in this case, the "man in skirt". Although he jokes that the first thing he does in the morning is "regret waking up," the creative mastermind is a tireless, multi-tasking businessman. Walking a tightrope between brand awareness and overexposure, Jean Paul Gaultier's banner spans several collections, including haute couture; accessories; ready-to-wear ladies' and men's, junior, baby, and fur lines; men's skin care and skin styling products; and six core scents: Le Male, Classique, Fragile, Fleur du Male, Gaultier2, and the newest one, Ma Dame. There have also been notable collaborations, such as a high-end furniture collection for Roche Bobois and a budget line for mass-market retailer Target last year.
Regarding his recent departure from the aristocratic house of Hermès, where he was creative director from 2003 to 2010, Gaultier says it was a mutual agreement. "It's good because I have more time for myself. I learned a lot and I gave a lot of myself. I have done seven years, so I think seven years is like a love story."
This summer, the Gaultier love story will conquer the Montreal artscape, drawing Gaultier admirers from far and wide into the Golden Mile Square. To the purist who might frown upon fashion design within the walls of a fine arts museum, Nathalie Bondil, director and chief curator of the MMFA, is quick to defend her decision. In the converted schoolhouse just behind the Liliane and David M. Stewart Pavilion that now serves as her office, the French-turned-Canadian citizen explains that fashion brings more visitors into the museum because people understand design instinctively. "If you show someone an abstract object, they say, 'Yes, I like it, but maybe I'm wrong because I don't know anything.' They are intimidated because they think you have to be a scholar to understand a painting or sculpture. And I think that's wrong.
"And who can see haute couture?" Bondil asks. "Everyone can see photographs in magazines, but who can experience the sensuality of the fabrics? Very, very few people. I am not a fashion specialist, but I am completely amazed by the quality, beauty, and technique of the fabrics." To make her point, she produces an image of a Gaultier gown (from La Russie collection, fall/winter 1997) where the likeness of a leopard head and skin is intricately stitched with crystal beads into the bodice and flows decadently into a full-bodied skirt. Gaultier calls it "a faux fur made of pearls." Each of the 130 garments in the exhibit—a tally that includes both ready-to-wear and haute couture—will include a note describing the number of hours invested in its creation to explain the complete artistry that goes into the designs. Bondil reiterates, "So when we open an exhibition like Yves Saint Laurent [in 2008], Denis Gagnon [in 2010], or Jean Paul Gaultier, everyone can experience haute couture and understand why it is so expensive, so extraordinary." She likens the concept to the terracotta army exhibit at the MMFA from Xi'an that ends in June, the same month Gaultier opens: "Not everyone can go to China."
Bondil also assures that the Gaultier universe about to be revealed is entertaining. Ticket holders will get their fill of original sketches, fashion photographs taken by celebrity photographers and renowned artists such as David LaChapelle and Cindy Sherman, rare archival garments, and personal objects such as Nana, the bra-wearing bear. Reflecting on the impact of re-creating a lifetime of work in just over 16,000 square feet of space, the focus of all this preparation and attention lowers his eyes to the floor and says, "It's a lot of emotion, because [there are] things that I even forget that I did. I know all my babies, but [there are] some that I didn't remember."
Just don't call the exhibit a retrospective, which in Gaultier's mind was always too "funereal" and why he was so impressed by Bondil's pitch to create more of a theatrical spectacle. She promises, "Not only will you see the clothes, but the whole exhibition is like an installation. You are in an enchanted garden—an enchanted installation." In more technical terms, the journey through Gaultier's "garden" forgoes chronological sequencing and is instead organized by recurring themes and his many obsessions, which the designer admits is "a little more my style."
"The Boudoir" will be staged in a vignette, showcasing lingerie and Gaultier's signature cage dresses, as seen on Helen Mirren in Peter Greenaway's 1989 film The Cook, The Thief, His Wife, and Her Lover. "Skin Deep" explores nudity through trompe l'oeil illusions, piercings, and glorified tattoos. (Gaultier himself has a pair of tattoos: one of Îles Marquises, and another of a bull—he's a Taurus.) "Punk Cancan" is a nod to the underbelly stylings of London and Paris clichés, exploring the novelty of "fusion couture" that mixes street and high fashion. "Urban Jungle" pays tribute to different ethnicities, such as gypsies, geishas, maharajas, and the controversial collection in 1993 that explored the heritage of Hassidic Jews (the media dubbed this collection "Rabbi Chic"), as well as exotic animal skins and feathers. And "Metropolis" looks to the future with unconventional yet innovative fabrics like vinyl, neoprene, and also includes 3-D prints, the latter he debuted at his spring/summer 2011 show after the audience donned proper viewing glasses.
Adding even more life to the exhibit are the "living" mannequins. Gaultier was originally inspired by the play Les Aveugles by Maurice Maeterlinck, which he viewed in Avignon, France. The play was produced by theatre director Denis Marleau, who, coincidentally, is from Quebec (as is the rest of the exhibition's team, save for those responsible for scenography, who hail from France). Marleau used no live actors throughout the performance; instead, facial images were projected onto blank visages, giving the (eerie) impression of talking heads. Similar speech and projection technology will replace the heads of 30 of the 130 fibreglass mannequins, each one moulded from a real human, Gaultier's included.
Another of the avatars reincarnates Ève Salvail, a model from the small town of Matane, Quebec, with whom Gaultier fell instantly in love because of her classic features and "tough boy" power: "I saw her and I have the shock." Should her name not ring a bell, perhaps her description will: Salvail was the bald model with a tattoo of a Chinese dragon just above her left ear. Similarly, Montrealer Francisco Randez, who was the face of Gaultier's fragrance Le Male when it launched in 1995, is also immortalized in this novel robotic life form.
While the remaining 27 figures represented are fellow Quebeckers, one model in particular stands out in a different way. The one with delicate features who is dressed as a sailor is none other than the exhibit's head curator, Thierry-Maxime Loriot. Responsible for archival research, 50 celebrity interviews (for the 424-page tome by Montreal graphic design firm Paprika that accompanies the exhibit), and, yes, basically hanging out with JPG, Loriot says he learned his craft visiting museums and galleries during his off-camera and off-runway time. "Gaultier and I never worked together when I was a model. He asked me once to see him, but I'm not his type. He likes faces with big noses or very dark skin. In fact, it's funny, because the only way I could work with him is by doing this exhibition," he says, laughing.
Although Loriot agrees the Gaultier gig is a dream job, he admits he was overwhelmed by his subject's vast portfolio, which also delved into the arena of costume design. Dance choreographer Régine Chopinot called upon Gaultier for several of her ballets. Gaultier also contributed to over a hundred music videos, including his own "Aow Tou Dou Zat" of 1989. There are obvious celebrities like Madonna in "Vogue", but the versatile creator also dressed the Nirvana boys in "Heart-Shaped Box" and Sade in "Smooth Operator", and even created the red protective cup in Cameo's "Word Up". A large, multi-screen display will show a selection of these music videos, along with advertising clips directed by Gaultier, while big screens throughout the exhibit will play feature-length films to which he has contributed. Cinephiles will remember the classic Gaultier moment when Milla Jovovich appeared in nothing but white straps in Luc Besson's The Fifth Element (1997), and his contributions to Pedro Almodóvar's Kika (2003) and Bad Education (2004). A third collaboration with Almodóvar, titled The Skin I Live In, is slated for release later this year.
Making both a fashion statement and a social commentary, Jean Paul Gaultier decrees, "It's always been my purpose to show that there is not only one kind of beauty."
In an interesting twist of events, especially considering the name of the exhibit, "The Fashion World of Jean Paul Gaultier: From the Sidewalk to the Catwalk," the city of Montreal will bring Gaultier back to the street, literally, when the Just For Laughs festival kicks off with a choreographed parade on July 16 in honour of the city's special guest. Eight 10-foot-plus échassiers (artists on stilts), each representing a Gaultier theme, will be followed by a troupe of 200 dancers representing different boroughs of the island. The parade will start at the museum and sashay its way down rues Crescent and Sainte-Catherine to Place des Festivals, where it will culminate in a Jean Paul Gaultier party.
While most designers might shudder to imagine such a circus-like tribute, Gaultier practically leapt at the idea. Bondil notes that during his November visit, Gaultier spent time at the city's Cirque du Soleil international headquarters. "He's like a child. Everything is amazing. He's always seeking something. He's always scanning everything." When deciding to do an exhibition, Bondil says, she considers "right purpose" and "relevance." And to her, Gaultier's powerful message is his "inclusive" conception of beauty: from classic beauties like Dita Von Teese to voluptuous apple-shaped American singer Beth Ditto to androgynous model-of-the-moment Andrej Pejic, who recently strutted down Gaultier's runway for men, only to reappear a week later in the women's show as his bride.
Bondil stresses that Gaultier's attraction to challenging tradition and stereotypes was not so much bad-boy motivated or provocation for provocation's sake, but a sincere quest to showcase beauty in all its shapes, colours, and sexual orientations. "His intention was never to make fashion that was vulgar. There's such a large conformism that is so apparent—a lot of lies about beauty, about what is essential," says Bondil. "Jean Paul Gaultier shows something that is very open to everyone, an open idea of 'Be what you are.' " And perhaps that's where the Jean Paul Gaultier magic lives, and where his followers have found recognition and solace. Making both a fashion statement and a social commentary, he decrees, "It's always been my purpose to show that there is not only one kind of beauty."
In a sincere, hushed tone, Gaultier says his story always goes back to his youth. "Maybe when I was a child myself, I felt a little more fragile or different because I was rejected. And I remarked that people are very much judged by their appearance—and in France, we are very much like that. For example, when you go to the bank, you have to be dressed with a tie. And how wrong can it be with people who can lie through their appearance? So I always wanted to show in reality our codes of what is good taste and bad taste is so relative and subjective. Sometimes something we hate in one period, 10 years later we find it and we love it and it's beautiful. I wanted to show that. Not that I am a nurse about it, but it's a way to show that you can perceive beauty everywhere." The most important thing to know about him, Gaultier says, is his honesty. "I was shy when I started to do this job. I was lying all the time. Now, I try not to lie at all." With the Montreal exhibit on the world stage, Gaultier is letting the whole truth out.
So is Paris not even the slightest bit jealous of this love affair with Montreal? After all, although Cartier Foundation director Hervé Chandès first asked Gaultier for a retrospective and got the Bread Exhibit ("Pain Couture" at the Cartier Foundation for Contemporary Art in 2004), Montreal gets the entire feast. Gaultier internalizes this question, allowing the idea to dance in his eyes. Then, slowly, mischievously, he leans in and whispers, "Oh, I think they should be."
View the behind-the-scenes video.