Why You Should Keep It Cool When It Comes to Your Skin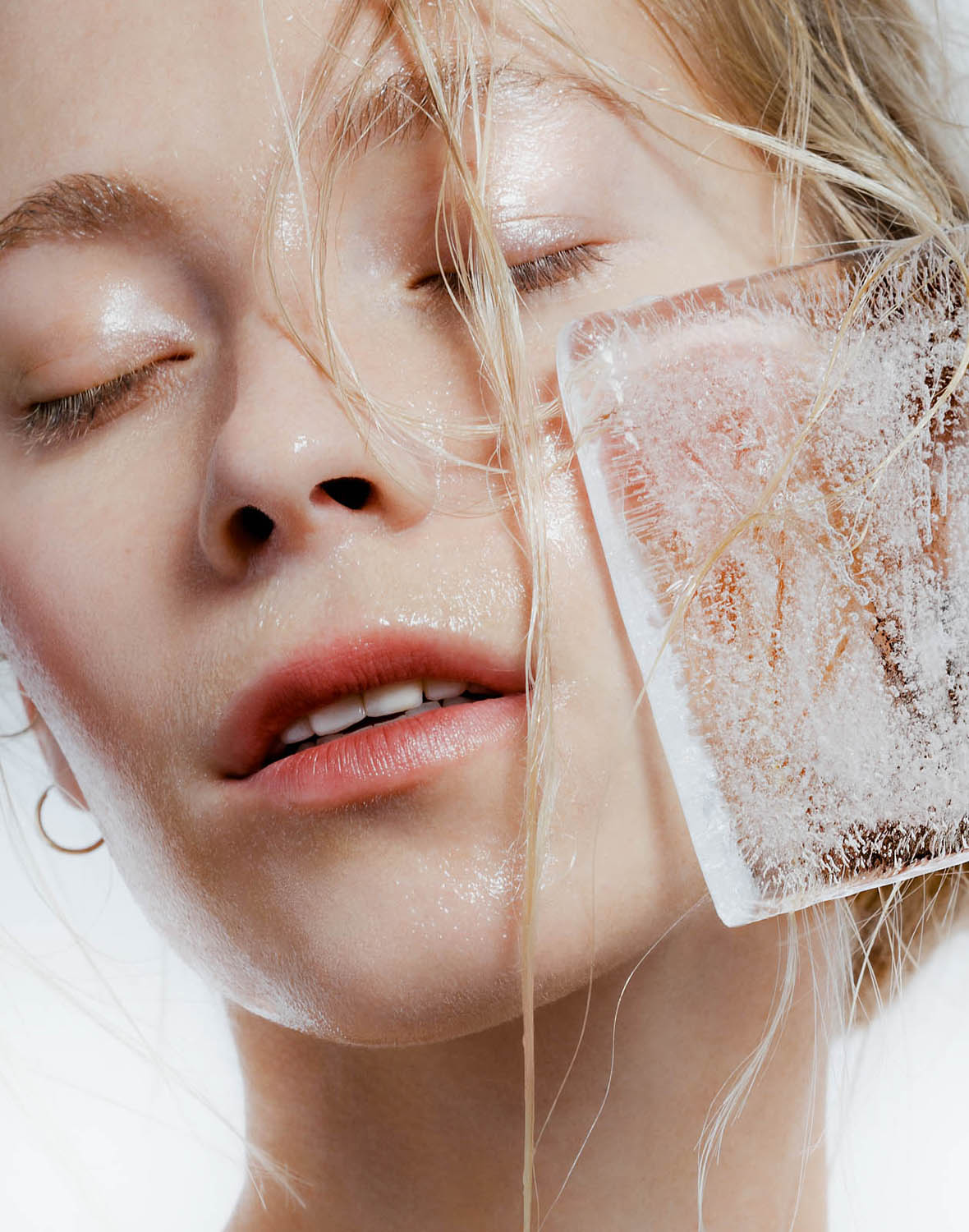 Earlier in her career, when facialist Vee Mistry used steam and piping hot towels on her clients, something didn't feel right. "I always felt like I was cooking the face," she says. At the end of each treatment, she would reassure the client that the redness would calm down in the subsequent 40 hours, but she would think, "How does this make sense? Shouldn't they be leaving looking better than the way they did before they came in?"
In the following years, Mistry began to remove heat from her aesthetic services. "I started using cold water and eliminating hot towels," she says. "The skin just looked that much better. And so slowly I got rid of all the heat and just went cold." Now, her facials are delivered chilled on a heated table. Clients are covered in a plush blanket and leave "glowing and happy." As for blackhead extraction, she uses chemical acids like salicylic, glycolic, and lactic to facilitate the process instead of steam. "These are the emulsions that really help dislodge things at a follicular level," she says. Clients new to cold facials, which she provides at her Toronto studio Skin by Vee, are sometimes skeptical whether she'll be able to deliver a deep cleanse. But once they see the results—Mistry also uses massage and sculpts the face with her cold gua sha cryo sticks—they leave convinced.
Applying cold to the face isn't new. Hollywood film star Joan Crawford apparently splashed hers with icy water 25 times every morning to tighten pores. And using cold compresses, cucumber slices, or chilled spoons to depuff eyes has been around seemingly forever. But using heat in facials has also been part of the process for a long time. Likely stemming from the steam baths pioneered by the Greeks and Romans, steaming the face is used to soften and prep the skin for products, and before exfoliators arrived on the market, it was seen as the best way to clean skin. Hot towels also remove skin-care treatments like masks quickly and efficiently. "It's comforting to be in warmth," says Mariam White, general manager for French skin-care brand Biologique Recherche Canada.
Biologique Recherche has favoured cold since launching in the 1970s, from its formulation of products to its approach to treatments. Hot towels and steaming the skin during a BR facial are verboten. "The issue is if you do that a lot, the skin's ability to bounce back is diminished over time," White says. "And that's what contributes to laxity and larger pores. When you start pairing that with extractions, it's a big assault on the skin." Who hasn't stumbled into daylight after a facial with red marks of injury after an aesthetician went all out on your chin?
The aftermath can be even worse if clients have issues such as acne, rosacea, or sensitivity. "These are all low levels of inflammation," Mistry says. Exposing these conditions to steaming, exfoliation, and extractions adds insult to injury. "So why not go the opposite way?" she asks. "When you deliver everything from a cold perspective, it's going to cut that inflammation by 50 per cent." In addition, cold causes blood vessels to constrict. "When blood vessels constrict, they pull fluid from the surrounding tissue into that kind of negative space and can actually create a vacuum effect that can pull products deeper into your skin," says Erika Schwass, science and wellness manager at Consonant Skin+Care. "So if you're using cold facial tools like a gua sha or cooling globes after applying serums, there could be additional benefits."
After the skin's been calmed and returns to its normal temperature, a surge of oxygen is delivered, which helps with tightening, lifting, and the overall complexion, Mistry explains. "Not only are we calming and soothing, but we're also creating a global regeneration to the skin as a whole," she says. Schwass notes that "cold can act as an astringent and actually help to reduce oil production." Some people notice they get less acne in the winter than in the summer.
And sometimes, a jolt of cold is just what we need. "When you're not putting small stressors on your body, it can become stagnant," Schwass says. Something as simple as letting your shower run cold for the last minute or two will do you some good, sending electrical impulses to your brain to increase alertness, clarity, and energy. It's something to think about the next time you feel winter is dragging on forever. Forcing yourself outside for a brisk, frosty walk might put some spring in your step as well as boost your complexion. "It's just so invigorating," Mistry says of cold for both the skin and the mind.
Model: Julianna Laine for Alaeria Agency. Hair and make up: Melanie Neufeld for Lizbell Agency. Production Assistant: Anne Lee.