The natural skin-care queen.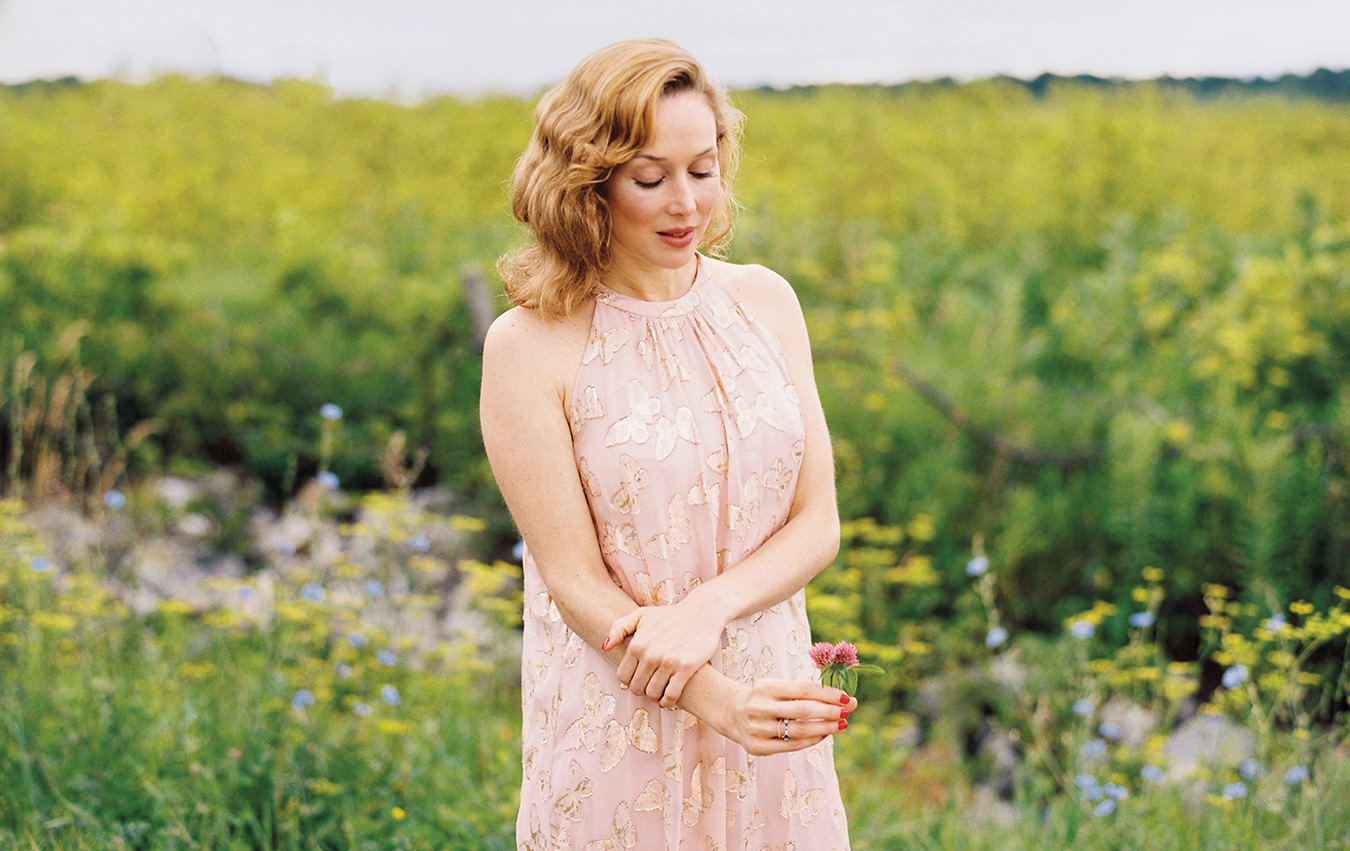 When it came to launching her namesake skin-care brand, Tata Harper will tell you two things: she knew nothing about the beauty industry, and she concluded very quickly that she had no intention of listening to its pundits.
"I was living in Miami, working with my husband doing real-estate development—a totally different life. So one of the first things I did was hire people to tell me where are the good labs? How is it done? I had no idea, and it felt like I was handed over a Lego kit. They were like, 'We'll need your ingredient story, and you're from Colombia, and there's lots of things coming from the Amazon that have clinical this-and-that, so let's make it about blah blah blah, and we'll put it into a base and you'll have everything up and running in six months, eight at the latest,' " she recalls.
If that works for the average beauty startup, it didn't for engineer-turned-entrepreneur Harper, whose interest in the subject runs more than skin deep.
Growing up in Cartagena, Harper's grandmother Bertha would regularly host "spa days" for the women in her family. "In a Latin country, you know, beauty is not perceived as a luxury like in North America. I've been indoctrinated since I was maybe 12 years old about cleansing, toning, and moisturizing. For Latin women, beauty is kind of like brushing your teeth; you're happy to do it every day as part of your normal rituals," says the 40-year-old.
In 2001, Harper's stepfather was diagnosed with bladder cancer, and on his path back to wellness he examined what products in his life—from food and household cleaners through shaving cream and shampoo—might have contributed to the disease. His research ignited a spark in Harper, and she began turning over bottles to read the labels, looking for synthetic chemicals that are known carcinogens and toxins in the products she used.
"Before, I didn't even question it. You naively assume that everything has some sort of approval process and you're not going to have serums and night creams and stuff that haven't had any testing. You live your life using so many products, and then all of a sudden you realize that no one is actually looking at anything and you're like, 'Oh my God, what am I putting on?' "
"Ignorance is really not bliss in the things that affect your health."
Many of us use up to 20 products a day, each one containing 20 to 50-plus ingredients, for a total of up to 1,000 chemicals we are exposing ourselves to, according to the book No More Dirty Looks, by Siobhan O'Connor and Alexandra Spunt. The authors say safety testing is done, it's just that it's being done almost exclusively by the cosmetics companies themselves.
"I'd go to department stores or really high-end stores to buy my skin care, and I'd say I wanted something natural. The salesperson would say, 'Yes, this rose cream or algae cream' and throw out all these active natural ingredients, but when you turn around the box you're like, yeah, I see the rose in there, but I also see all this other stuff that doesn't belong in things meant to make you beautiful and that are just really not a good idea because they have not been tested," says Harper.
Dashelle Jauhari, director of wholesale for Tata Harper skin care, describes how Harper refused to accept what she found. "She went on this journey to find all-natural skin care—and she found it, but unfortunately she couldn't find anything that was giving her those same, clinical, anti-aging results that she was used to with traditional skin-care brands," says Jauhari. "Rather than accepting that, she set out to make her own brand from scratch."
The common beauty-product manufacturing model is quite cookie-cutter. A brand's unique active ingredients are added to generic, widely used bases that handle the less marketable functions of emulsification, stabilization, preservation, and the like. It's a model that immediately felt ugly to Harper, who envisioned a line that was 100 per cent natural and non-toxic: "I wanted to do something that's truly all-natural. I had no idea about the business and then here I was thinking that everything I was hiring people to tell me, I didn't want to participate in any of it."
After what she describes as "a huge intellectual debate," Harper hired eight independent scientists and chemists in Europe who, unlike the reception she says she received from chemists in the United States, were excited by the challenge of developing unique formulas. The process took over five years and resulted in products with a minimum of eight and as many as 38 active ingredients; the line's Elixir Vitae (a super-concentrated anti-aging formula), for example, contains 38. Jauhari says the "industry average is one to three—six if it's a really great product."
"I remember going through ingredient after ingredient and what I wanted to put in all of them. That's how we ended up with formulas with 20-something actives and 30-something actives," Harper says. "Then, instead of adding typical emulsification and preservation systems that are synthetic, we used ones that do the same job but are more obscure. So instead of using BHAs [synthetics commonly used as preservatives], we were like, 'Let's try this gum from Africa or this wax from Italy that's derived from olives.' The process was really intense."
The Tata Harper range consists of 39 skin-care products in addition to 11 SKUs in her makeup line, with fan favourites including the Replenishing Nutrient Complex with arnica and alfalfa and the rosy-tinted Be Adored lip treatment, packed with date palm and rhubarb extract. In addition to being eco-certified, never tested on animals, and almost totally vegan (some products contain honey and beeswax), Harper also decided that the company had to be completely vertically integrated to deliver the quality she was after. "On the operations side, when you outsource you have to buy really big minimums and you end up with inventory that by the time it makes it through your distribution channels it's been made a year ago. I thought that was just not right," she explains.
Enter Julius Kingdom, the idyllic farm in the sleepy county of Addison, Vermont, where Harper and her family live, inclusive of her three children and 12 dogs. ("My husband, Henry, is obsessed with dogs, and the farm is named after his first dog, a Rottweiler.") She converted a barn that was part of the one-time dairy farm into a manufacturing facility, complete with batching room, filling room, and shipping area; the company uses no outside distributors. "I wanted to do it in a completely different way and really keep alive that fantasy you have that when you buy products as a consumer that everything is really coming from that place," she says.
On the farm, Harper grows the calendula, arnica, meadowsweet, alfalfa, and borage that are part of the company's Estate Grown Beauty Complex, which shows up in every single Tata Harper skin-care formula. "The herbs are not the most high-tech thing, but they're great. The calendula is soothing, arnica helps with inflammation, and borage brings a lot of vitamins to the mix," she explains.
From some 48 other countries including Germany, the Czech Republic, Israel, Australia, and Madagascar, Harper sources ingredients from cosmetics biotech labs that make raw, natural materials. A safflower oleosome that acts as a moisturizing active comes from a manufacturing plant outside of Calgary. "When you're a manufacturer of natural ingredients, you realize that to have something that's 100 per cent natural is the ultimate luxury. All of our raw material is from four to 10 times more expensive than synthetics. You're also dealing with fresh, live products that are really powerful but are also fragile, in a way, so the handling of them is completely different."
For all the challenges Harper has faced in creating her company, one last, critical hurdle remains: convincing the public that natural products can be as effective as synthetic ones. "Most of the legacy brands—if they tell you anything—tell you about their natural actives. If they aren't effective, why would they talk about them? There's still a huge group of people who feel that naturals don't necessarily fit the bill," she says, and pauses before adding, "but ignorance is really not bliss in the things that affect your health."