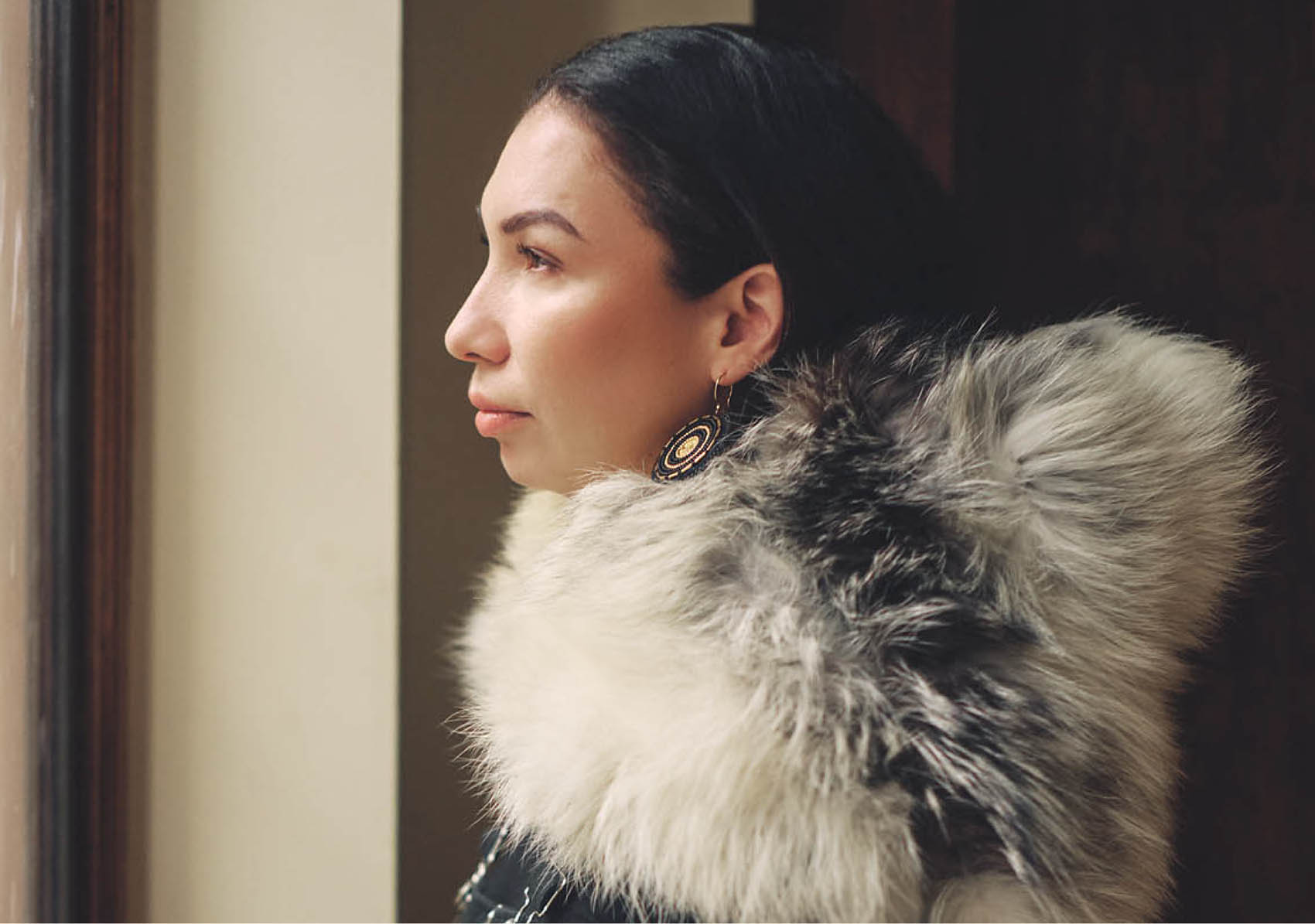 Sage Paul, Founder of Indigenous Fashion Arts, Is Cracking Open the Industry
Fashion people are known for putting on airs, and it's rare to encounter a spirit of cheerful optimism from industry insiders. But a group of Indigenous designers from across Canada is thrilled about attending White Milano, a womenswear trade show held in Milan's Tortona Fashion District in late February. At the heart of this group is Sage Paul, an urban Denesuliné woman and a member of English River First Nation who is changing how the world understands Indigenous design and designers.
Paul is the executive and artistic director of Indigenous Fashion Arts (IFA), which she helped create as a space for dozens of Indigenous-led brands to showcase their work, connecting them with both customers and businesses. Her CV includes orchestrating capsule collaborations between Indigenous labels and the Quebec retailer Simons, designing costumes for legendary Cree artist Kent Monkman, and creating and teaching an Indigenous fashion course for George Brown College. Various high-profile accolades include receiving the inaugural Changemaker Award from the Canadian Arts and Fashion Awards this past October.
Attending White Milano puts Indigenous design front and centre on the global fashion stage. The three-year partnership with White is part of the IFA Trade Program, which promotes global opportunities for Indigenous fashion entrepreneurs. Paul is excited not just about the first Indigenous group and Canadian delegation to attend White but about fashion in general. "I'm really amazed with younger generations, the values that they hold," she says. "Social media obviously has really changed the industry to where we can go direct to consumer, so there is a greater space for designers and makers who are doing one-of-a-kind pieces or slow fashion or whatever it is that they're doing."
The state of fashion today is indeed a radical departure from the industry Paul encountered in 2006 when she graduated from George Brown College with a degree in fashion design. Social media was still in its infancy, fashion-friendly platforms like Instagram and Pinterest didn't exist, bloggers and street-style photographers had yet to dethrone magazine editors as the gatekeepers of taste, and fast fashion was gaining global momentum. "I honestly didn't think I would even be a part of the industry," Paul says. "I just didn't see an access point for me. It's all been about profits, all about getting the trendiest things. And that's what we saw for a really long time."
Growing up in Toronto, Paul created traditional Indigenous designs and learned to sew from her mother and other women in the community. While studying at George Brown, she landed at the imagineNATIVE Film + Media Arts Festival, an organization that showcases, promotes, and celebrates Indigenous media. "I had such a great group of mentors there that really helped me to see what the possibilities were," she says. "They did really create that space for me to feel like I could do something with the skill set that I had been to school for."
After producing her first collection in 2011, she established her own eponymous fashion line before co-founding Indigenous Fashion Week Toronto (IFWTO) in 2016. The organization coordinates runway showcases, exhibitions, panels, lectures, and hands-on workshops, as well as marketplaces. It entered a new chapter in 2021 when it incorporated as a nonprofit, adopting the name Indigenous Fashion Arts. At the 2022 Festival, 25 designers presented runway shows and more than 60 exhibited in a marketplace.
Many of the designers who participated in the inaugural event continue to work with Paul, including Evan Ducharme, one of the seven going to Italy. "Those events are so fortifying and generative for me, to be surrounded by Indigenous designers of every level, every genre of fashion, every price point, just to show the full depth and breadth of talent that is within the Indigenous community," says Ducharme, a Métis designer from St. Ambroise, Manitoba, who creates gender-fluid designs that challenge colonial notions of sexual identity, queerness, and relation to space.
_________

"I really want to create this dialogue and collaboration between Indigenous and mainstream fashion in a way that will help the designers not only creatively but also economically." —Sage Paul
Paul sees a synergy between the heritage of Italian craftsmanship and the Indigenous way of creating, which she explains involves only taking what you need. "That's why I was really excited about White Milano, because of [the organizers'] approach to fashion. They really do love that Italian craftsmanship that Italy is known for. And White is specifically looking for creative types of fashion that are higher end," she says. "I really want to create this dialogue and collaboration between Indigenous and mainstream fashion in a way that will help the designers not only creatively but also economically."
The diverse group headed to the show serves as an important reminder that Indigenous design is not defined by any one product or style. "We've got a good selection of designers who are very market ready and some who are more emergent to help build up that experience," Paul says. Haida designer Dorothy Grant debuted her first outfit, the Raven Creation tunic, at Vancouver's Expo 86. Her clothing and jewellery designs, which combine Northwest Coast art with contemporary fashion, have received widespread recognition, including from the Smithsonian National Museum of the American Indian. Niio Perkins, a jewellery maker and clothing designer of the Kanien'kehá:ka Bear Clan who fuses traditional Haudenosaunee symbols with modern organic shapes in her beadwork, has produced custom designs for Simons and Hudson's Bay Company. She recently moved her studio to Cornwall, Ontario, from Akwesasne, N.Y. Emerging Ross River, Yukon, designer Robyn McLeod creates both mixed-media art and traditional clothing with a modern twist labelled Dene Futurisms—also the title of the piece that made her the Yukon winner of the BMO 1st Art! Competition in 2019.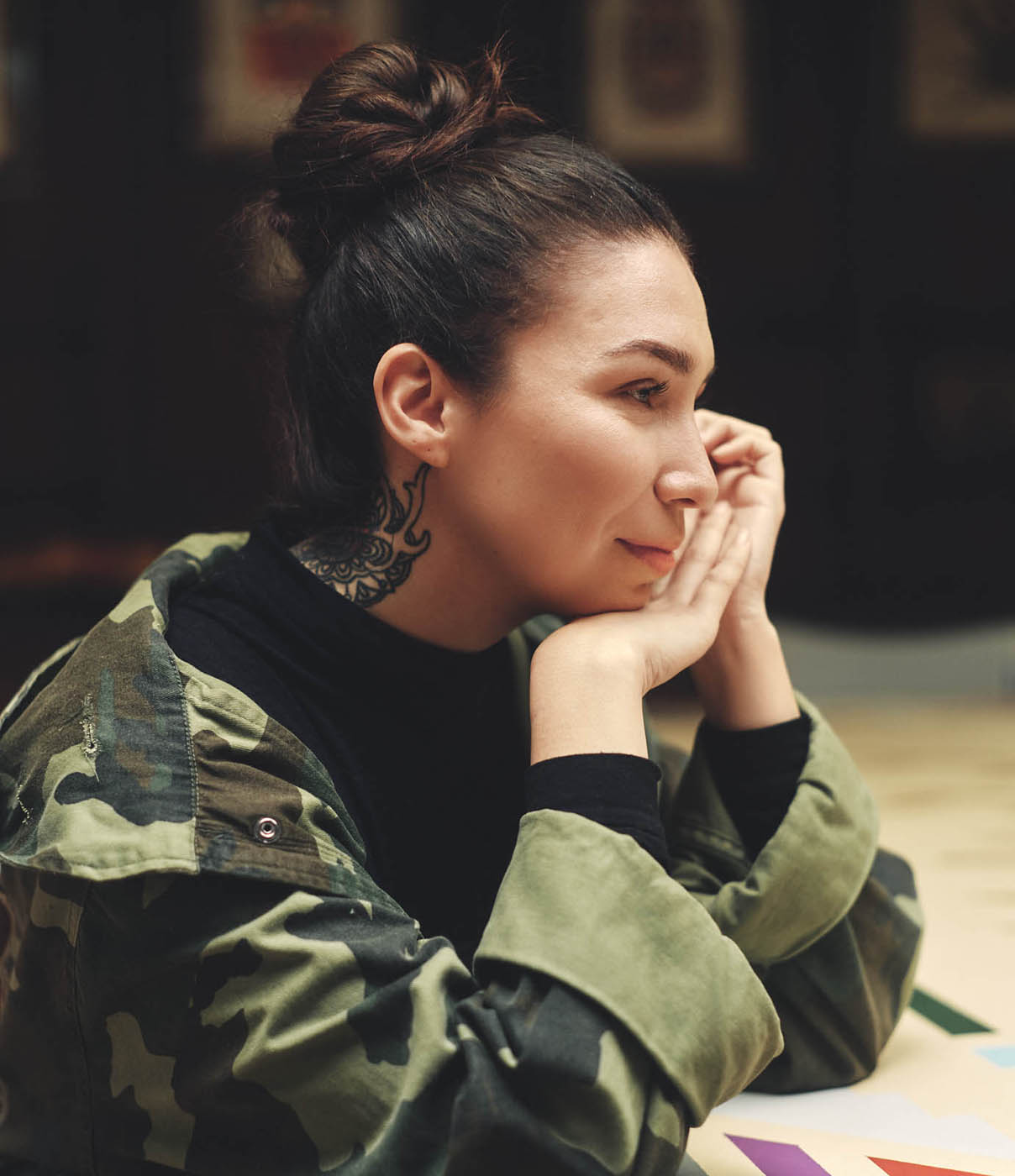 At White Milano, the designers will hold a panel discussion on cultural appropriation and representation. "There's some really interesting work being done by the World Intellectual Property Organization that addresses copyright and trademarks," Paul says. "Protecting your work and your IP and fashion is very difficult. In our communities, there are things that are owned by families, and so there is no model that exists that legally protects things that are owned by groups of people. So they're doing work around that, which I hope will also help to address cultural appropriation."
Lesley Hampton, an Anishinaabe artist and Third Culture Kid in Toronto, first worked with Paul on the 2018 film Through Black Spruce and recalls the impact of seeing her fashion designs light up on the silver screen. "That was superincredible from a career point of view and almost discovering the power that Sage has in how dedicated she is to bringing Indigenous talent to the forefront." Paul's mentorship has helped Hampton overcome the media pigeonholing her into a stereotypical idea of what Indigenous design should look like that she experienced early in her career.
"She's opened the door for so many of us," Justin Louis observes. Louis is a member of the Samson Cree Nation and creative director of Vancouver's Section 35 menswear-focused streetwear label, which was a finalist for Menswear Designer of the Year at the 2022 Canadian Arts and Fashion Awards. In the fall, after White, he will be going to Manhattan, with plans for Section 35 to hit the catwalk at New York Fashion Week. He says Paul's tireless efforts have had a domino effect. "We become successful. We open doors for other creatives. It's really showcasing what our people can do. There's a generation of creatives coming up that are going to be doing amazing things as well."
For Erica Donovan, the Inuvialuit artist from Tuktoyaktuk, Northwest Territories, behind the brand She Was a Free Spirit, White Milano is a chance to inspire her community. "It's really important for my people to see this, and for the young girls and the women my age if not older to know that they have a place in this world and within fashion. It's not just me who has talent from where I'm from."
That sense of communal responsibility is something the designers share with Paul. About to turn 40, she has already established a powerful legacy at home and now abroad, one that will affect Indigenous youth around the world for generations. "I just want to make sure that in the future, people who are in kindergarten now, 20 years from now they're going to leave school and have a place to do fashion," she says. Paul plans to return to fashion design herself in five to 10 years. "There's just so much more of an opportunity to be able to live off of the work and off of traditional ways of doing things, whether that's in the way that we're harvesting or weaving materials, and the way that we're designing patterns and the cultural codes that are on the clothing," she says. "I feel like the industry has just been cracked open."
Hair and makeup by Sheri Stroh for Plutino Group.