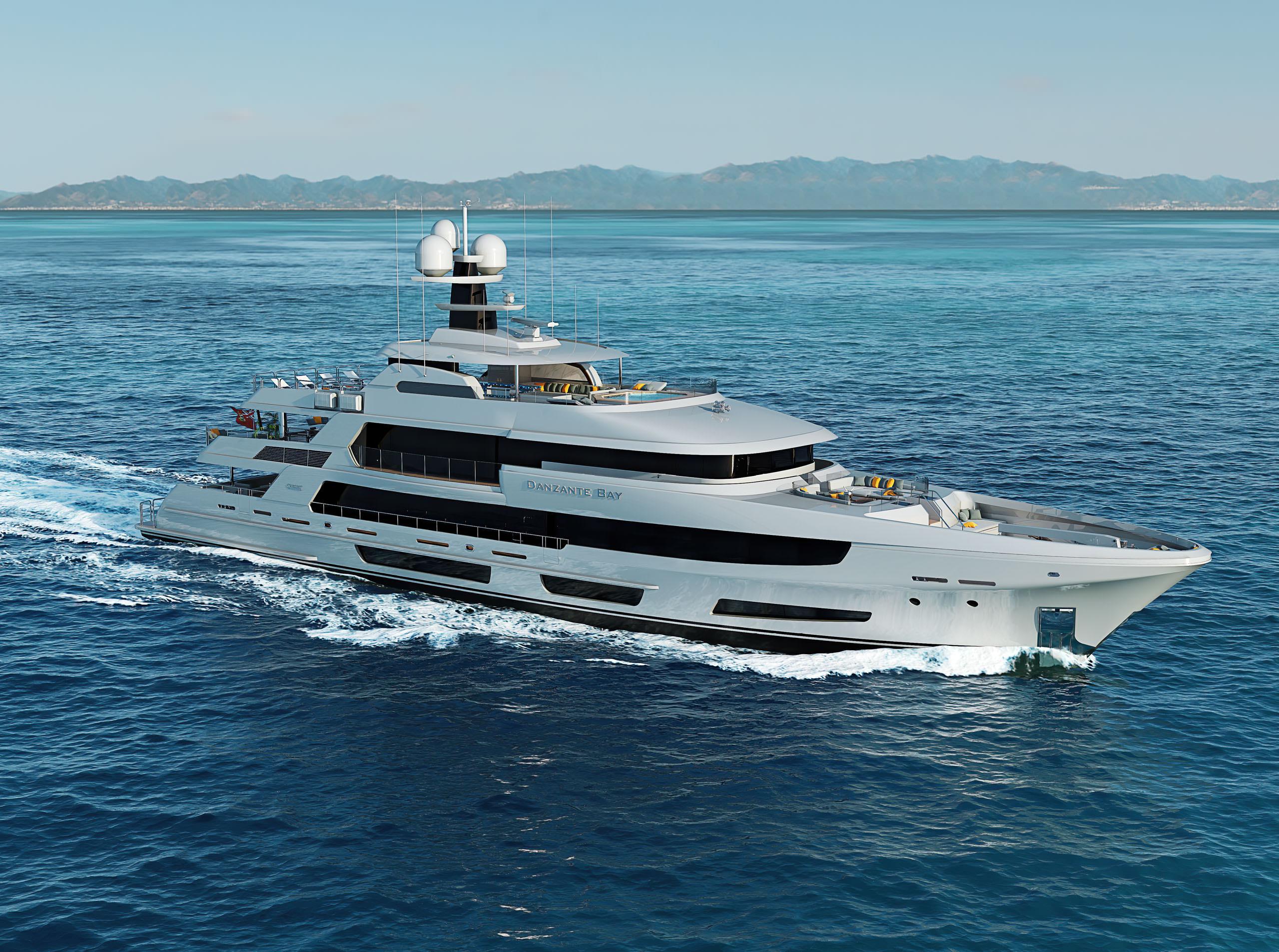 Crescent Custom Yachts Comes Out of Hiding With Something to Prove
_________
When we think about luxury yachts, most people quickly form a mental image of the Côte d'Azur. Or maybe the Seychelles. The Thai coast, perhaps. Not Richmond, B.C. And yet, the Vancouver suburb is very much ground zero for a growing number of yacht buyers worldwide. Not as a destination, mind you, but as the place where some of the most exciting luxury yachts being built today come to life and gain their first taste of the sea. Richmond is the home of Crescent Custom Yachts, a Canadian yacht builder that has been raising eyebrows with its designs and bold approach to making dreams a reality.
Owner Tim Charles has an extra bounce in his step these days as Crescent's latest project—a 50-metre-long Crescent 164—begins to take shape in the shipyard. "No one here has done anything like this before," he says. "It's the biggest yacht anyone has built in Canada."
It's no exaggeration to say that the vessel represents a major milestone for Crescent, the boutique yacht builder established by Charles' grandfather Jack. Crafted with an eye to include every imaginable luxury, the vessel—with exteriors designed by Gregory C. Marshall and interior by H2 Yacht Design—is being built on a composite hull for an American entrepreneur. When it finally launches in late 2021 or early 2022, the yacht will be christened Danzante Bay in a nod to the owner's resort in Mexico. In many respects, Danzante Bay is both a climax for Crescent Custom Yachts and, at the same time, only the beginning of its story.
Crescent Custom Yachts originally opened its doors in the 1980s as Crescent Beach Boatbuilders, named for its location on Boundary Bay between Vancouver and the U.S. border. A successful businessman in the trucking industry, Jack Charles began producing yachts as a sideline after purchasing a custom yacht of his own. Initially sourcing hulls from American shipyards and completing the work on a custom basis, Crescent soon outgrew its original production space and moved to a state-of-the-art shipyard in Richmond, rebranding itself as Crescent Custom Yachts to better reflect the unique, high-end products it created.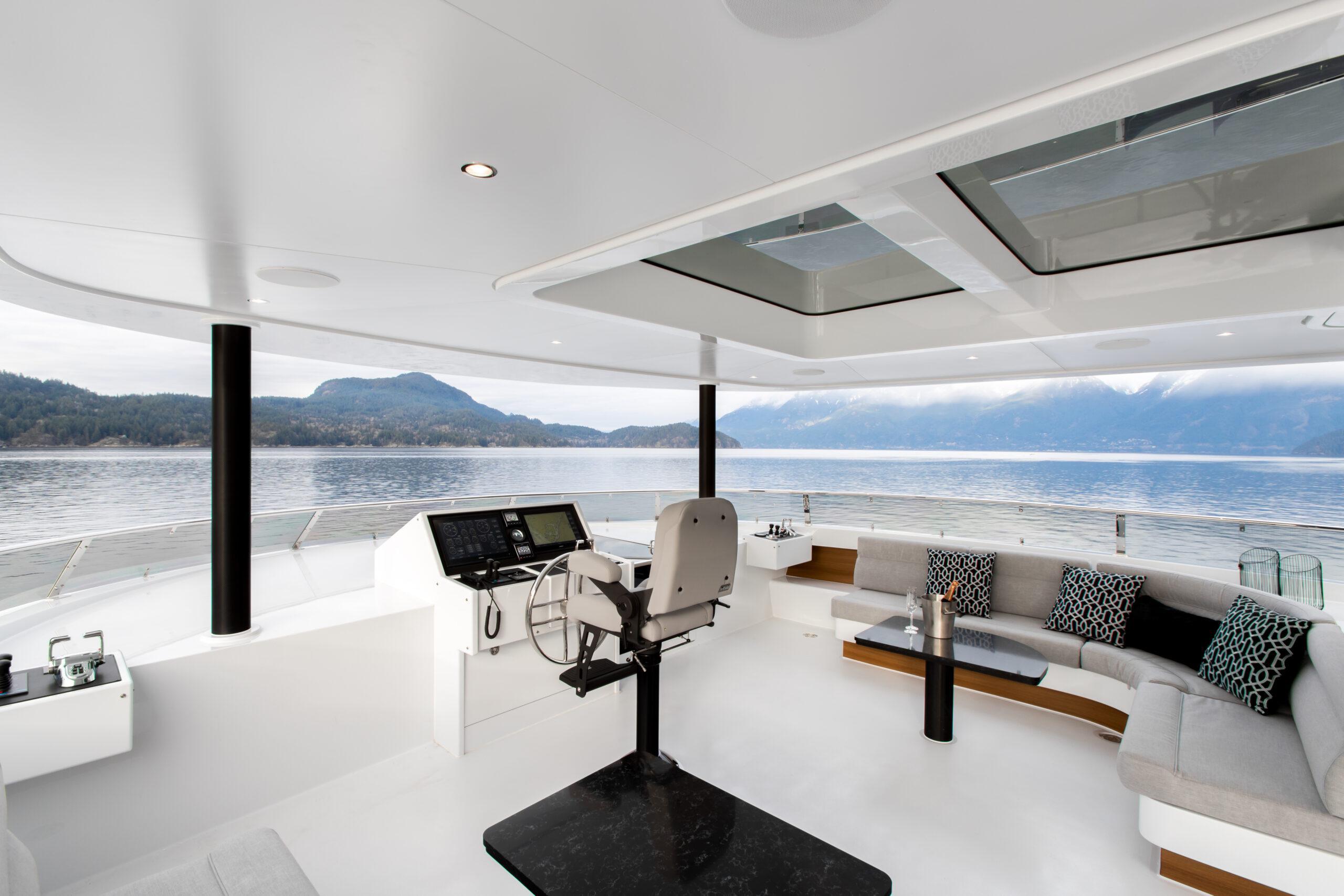 Tim Charles joined the family business with the unglamorous responsibility of pushing a broom while still attending business school. Shortly after he graduated, financial pressures from a soft market led the family to close the business in 2004. "I really wanted to be in the yacht business," Charles says, "so I started, specializing in yacht refits and transformational overhauls. I hired many of the former Crescent employees, and within a short period of time, I began leasing service bays from the new owner of the building that Crescent had formerly occupied."
With the benefit of Charles' business acumen, his new company Platinum Marine soon grew to more than 100 employees. As Charles established himself in the marine industry, the assets of Crescent Custom Yachts were sold to a Florida-based investment group whose intent was to buy up some additional marine businesses and resume building yachts under the Crescent nameplate, but with the arrival of the global recession, the venture went nowhere. In 2015, Charles bought back the Crescent brand and intellectual property. Today, Crescent Custom Yachts focuses on building new yachts, and Platinum Marine on the refit business.
"I saw an opportunity to bring Crescent Custom Yachts back to life by utilizing the capabilities of our exceptional craftsmen," Charles explains. "Prospective yacht buyers come to see Crescent, and they're not walking into a start-up operation, they're meeting with an experienced company that has established capabilities and a history of managing major projects."
It also allows the company to leverage existing relationships with major yacht brokers, a key consideration in an industry where word-of-mouth endorsement remains critically important. "We were able to launch our first yacht, a Crescent 145, in a comparatively short time," Charles says, first showing it at the 2016 Fort Lauderdale International Boat Show.
That first Crescent 145—a 44-metre-long custom fibreglass yacht—made a major splash, in no small part due to the celebrity appeal of being designed by Jonathan Quinn Barnett and built on a hull design by Jack Sarin, two legendary names in the luxury yacht community. But more than that, the yacht raised the bar on fit, finish, and attention to detail.
"Prospective yacht buyers come to see Crescent, and they're not walking into a start-up operation, they're meeting with an experienced company that has established capabilities and a history of managing major projects." —Tim Charles
It also helped to have an impeccable sense of timing. When Charles reacquired Crescent Custom Yachts, the U.S. economy was just beginning to climb back from recession. A completed 145 to show the world and a particularly attractive exchange rate between the Canadian and U.S. dollars meant that yacht buyers on both sides of the border found Crescent's value proposition too good to resist. After all, when you're talking about boats that sell for prices well north of $10 million U.S., the effect of a 75-cent Canadian dollar can't be overstated. "We can offer our U.S. customers unbeatable value, while the exchange rate also encourages our domestic customers to buy Canadian and avoid the currency premium they would face otherwise," Charles explains. "There is no down side to it."
The success of the Crescent 145 launch did more than just re-establish Crescent Custom Yachts as a builder to watch, it led to firm orders for boats. First came a 33-metre Crescent 110, built with an unusual all-aluminum construction, followed by a 35-metre Crescent 117. Then came the Crescent 164 currently under construction, due to be followed by a Crescent 138 once there is space in the shipyard for work to begin. "The limiting factor for us right now is the capacity of our shipyard," Charles says. "Depending on the scope and complexity of the boat, it could take two years or more to complete a large yacht."
Compounding the building-space challenge is the added curveball represented by COVID-19, which has made it more difficult to show the yachts and the facility to prospective buyers. "Probably 75 per cent of our customers are located in the U.S.," Charles notes. "Normally, they could just fly up for the day, take a tour, sea-trial a boat, and make a decision. But that's just not been possible."
Even so, through the summer of 2020, sales of all boats went through the roof. Superyachts were no different. "We saw a lot of people looking to move up in the size and scale of their yacht," Charles observes. "Or to perform upgrades to the one they already have, with a view to spending more time aboard."
Crescent's success in a highly competitive industry speaks to a happy combination of good fortune and good management. But a lot of factors outside of the company have also contributed to British Columbia's ascent as a global yachting hub. One of the biggest was the opening of the Victoria International Marina in 2019. Years in planning and development, Victoria's $42-million, 28-slip eco-friendly superyacht marina happened to finally begin construction just as Crescent Custom Yachts began stepping out in the world. Global news coverage of the construction of the new world-class marina in one of the most beautiful yacht-cruising regions on Earth couldn't help but focus even closer attention on Crescent.
"Victoria Harbour is a natural starting and ending point for yachters exploring the beauty of the Gulf Islands and north to Alaska," says Victoria International Marina CEO Craig Norris. "The Pacific Northwest is a tremendously beautiful yachting paradise, with more than 25,000 kilometres of coastline to explore between Victoria and Alaska. The marina is a critical step toward putting the region on the global yachting map."
In line with its long-term goal of developing Canada's Pacific coast as a superyacht cruising route, the Victoria International Marina had been scheduled to host the Pacific Superyacht Forum in June 2020, an event that has now been rescheduled for later this year in response to the pandemic. "That will be a major boon for us and the entire region," Norris says. The event will also serve as an official launch pad for the newly created Canadian Superyacht Association, which aims, in partnership with its American counterpart, to develop luxury yacht cruising on the West Coast.
It's all music to Tim Charles' ears. From zero new builds in over 10 years to multiple new yachts on the go at once, including the largest luxury yacht ever to be built in Canada, Crescent Custom Yachts today finds itself with the wind solidly at its back.
Photos provided by Crescent Custom Yachts.