The Truth About Clean Beauty
The term "clean" is everywhere in the beauty industry, yet what does "clean skin care" really mean?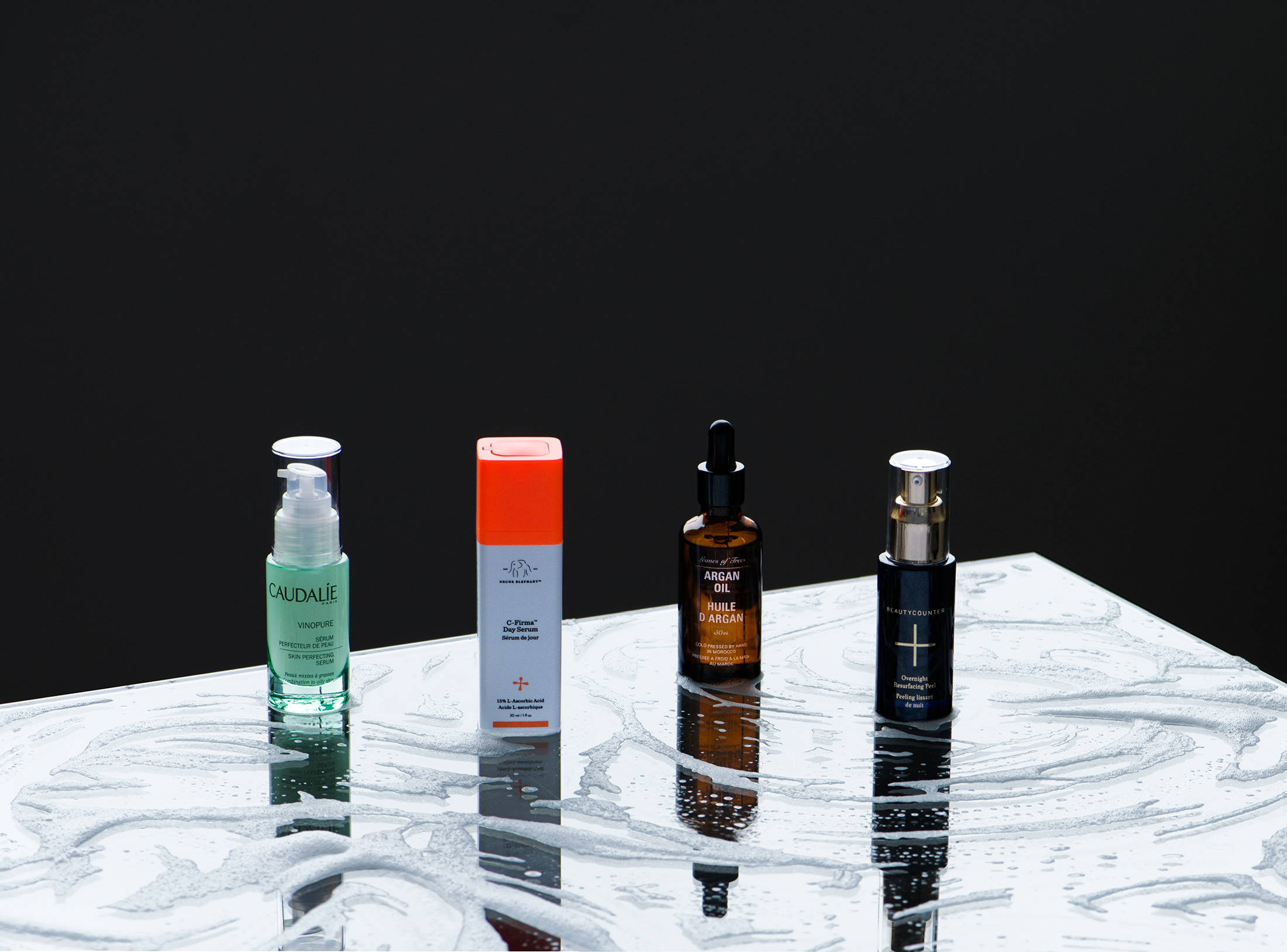 There's no disputing the biggest beauty trend of the moment: clean skin care. Research firm NPD Group reported that in 2017, U.S. sales of clean skin-care brands grew by 34 per cent, compared to a 9 per cent uptick for all prestige skin care, and the clean beauty sector as a whole grew 42 per cent from 2017 to 2018. No doubt our obsession with wellness—physical, mental, and spiritual—fuels this movement for clean beauty. But what's unclear to most people is what that actually means.
The rationale behind this beauty trend is clarity and transparency. Simply put, brands that espouse clean beauty exclude possibly harmful ingredients from the skin-care products they make, and include only ingredients believed to be safe and beneficial for skin. This is not the same as "natural", because clean brands often include synthetics they've deemed safe, whereas natural brands limit themselves to only ingredients found in nature. So, a brand can be natural and clean at the same time, like Leaves of Trees and Aman Skincare, or it can just be clean, like Beautycounter, Goop, Drunk Elephant, and REN Clean Skincare.
Clean beauty brands usually skip preservatives like parabens and formaldehyde-releasing agents, sulfates (the foaming ingredients in soaps and cleansers), phthalates (they improve the consistency of nail polish and make fragrance "stick" to skin), and chemical sunscreens. Their websites list what they exclude—there are 1,500 ingredients on Beautycounter's Never List—and detail everything that's in their products. So far, so straightforward.
But behind all this ostensible clarity, things get pretty opaque. First, there's no regulation of what "clean" means and who can apply it to their products. Sephora made a concerted attempt last year—its Clean at Sephora program is a seal of approval for 2,000 products that omit 12 particular ingredients, but the company hasn't revealed how it selected those ingredients and if/how those products are tested. Basically, because there's neither an official definition nor a body overseeing who uses the term, arguably making "clean" yet another meaningless marketing term. "We have seen the term 'clean' go from not at all understood to hypermarketed and potentially misunderstood again," says Arnaud Meysselle, CEO of REN Clean Skincare, which was founded in 2000 and might well have been the first brand to apply the word "clean" to beauty (REN is now owned by multinational Unilever). "While it feels good to finally be heard, our challenge is that 'clean' will be seen as a buzzword, much like 'organic' was in cosmetics/personal care years ago."
"A lot of the things that are printed in the press are based on preliminary research, and the findings are not definitive conclusions. It's not bad to know those things—we can avoid ingredients if we're concerned—but I think there's a lot of fear-mongering to get people to buy products."
Further clouding the issue is the fact that there's no consensus on what harm supposedly "unclean" ingredients actually cause. Formaldehyde and parabens have been linked to cancers, and parabens have also been associated with fertility problems, but both can come from sources other than cosmetics. Many ingredients that clean brands omit are known to cause irritation and allergic reactions, but only in some people. And clean brands don't agree among themselves which ingredients are on the naughty list. Some load up on essential oils, while others claim they're irritating. Some forbid retinol, but others say it's fine. Artificial fragrance is usually a no-no, but not always. The biggest issue is that often research is taken out of context—it hasn't been carried out on humans; subjects are given megadoses of ingredients—quantities they'd never be exposed to with cosmetic use; or it isn't finished. "A lot of the things that are printed in the press are based on preliminary research, and the findings are not definitive conclusions," says Roohi Qureshi, a medical doctor and chemical engineer, and the founder of Leaves of Trees. "It's not bad to know those things—we can avoid ingredients if we're concerned—but I think there's a lot of fear-mongering to get people to buy products."
However, just because we can't prove certain "unclean" ingredients are harmful doesn't mean they're not and that we should use them without thinking. "The level of controversy depends on who you talk to," says Lindsay Dahl, vice-president of social and environmental responsibility for Beautycounter. "We talk to leading scientists … and take a preventative approach to selecting ingredients. We do not assume that the absence of safety data means that an ingredient is safe." Many scientists agree there haven't been enough studies done. "We don't have information on the long-term effects of some ingredients, and we need better models to study them," says Professor K.P. Ananth, director of the cosmetic science program at James L. Winkle College of Pharmacy, University of Cincinnati. "In addition, minimal research has been done on aging populations, where the skin is more vulnerable, or conversely on infants in the first couple of months of life." There's also research going into nanosizing of skin-care ingredients, previously seen as a plus because it allows for deeper penetration into the body, but now viewed by some as worrisome for the exact same reason.
Ananth, who spent 26 years making and studying cosmetics for a major international brand, says that new ways of thinking, plus advances in technology, mean formulating without certain ingredients isn't a problem. "We have to consider, do we really need antimicrobials in regular cleansing products? Probably not," he says. "Can we control the pH of a product and use airtight pumps instead of jars, so we can minimize bacterial growth and therefore eliminate certain preservatives? And can we do it in a way that doesn't compromise the efficacy and sensorial experience of the final product?"
Much of the recent boom in clean skin care is due to the fact that brands have solved those exact problems. "Twenty years ago, you had two choices: completely natural/organic (not pleasurable or results driven) or chemical/synthetic (results driven, pleasurable, but harsh)," says Meysselle. Nowadays, you don't have to choose between results and ingredients. The retinol in REN's Bio Retinoid Anti-Wrinkle Concentrate Oil comes from natural sources and is said to have the same anti-aging effects as cosmeceutical products.
It's a common theme. SkinCeuticals (owned by multinational L'Oréal) is even suing skin-care maker Drunk Elephant for patent infringement, claiming the latter's C-Firma Day Serum is a straight copy of its famous CE Ferulic serum. The ingredient list doesn't disagree: both have 15 per cent L-ascorbic acid (vitamin C) plus ferulic acid and vitamin E, but Drunk Elephant leaves out a preservative and emulsifier it believes is harmful and adds antioxidants and marula oil. Beautycounter's Overnight Resurfacing Peel contains 15 botanically derived acids to improve the texture of skin and reduce the appearance of pores, dark spots, and fine lines. (It's worth noting that Beautycounter topped the list of most-searched beauty brands last year, according to Google.) It's also not just anti-aging products that have gone clean. French brand Caudalie's new Vinopure Skin Perfecting Serum targets acne, oiliness, and blackheads with natural salicylic acid, plus rosewater to hydrate and grapeseed polyphenols to protect.
Twenty years ago, you had two choices: completely natural/organic (not pleasurable or results driven) or chemical/synthetic (results driven, pleasurable, but harsh). Nowadays, you don't have to choose between results and ingredients.
Basics like cleansers and moisturizers have also been given the high-tech clean treatment. Beautycounter's Countermatch Eye Rescue Cream has ingredients that adapt to the skin's condition throughout the day, while Goop by Juice Beauty Revitalizing Day Moisturizer is light and quickly absorbed, with vitamins C and E and peptides, in a 73 per cent organic formulation. Leaves of Trees Argan Oil contains only argan oil. Cold pressed at a women's co-op in Morocco, it is rich in antioxidants, squalane, and fatty acids, and is said to help with everything from wrinkles to acne. And fresh-to-market is Aman Skincare, from the luxury resort company. It's created a whole collection of clean skin and body care including Purifying Marine Face Wash, a non-foaming cleanser with seaweed extract and Moringa oil.
There are different ideas about how to clean up the beauty industry at large. Ananth believes it's in manufacturers' interests to take responsibility. "Big companies have rigorous processes, especially around safety and purity of ingredients. If there's a safety issue or product recall, it can damage the reputation for many years," he says. To his point, brands like Unilever, Procter & Gamble, and L'Oréal are supporting the Personal Care Products Safety Act, a U.S. bipartisan bill that seeks to tighten regulations on skin-care ingredients. (The U.S. is woefully unregulated, banning or restricting just 30 cosmetic ingredients, while Canada forbids 600 and the EU over 1,400.)
The act has been spearheaded by Beautycounter, which believes that legislation is the way forward for everyone. Dahl says the company wants all beauty brands to eventually become clean or at least be mandated to be clear about what's in their products. "The world of clean beauty is so complicated that it's our goal that Canada and the U.S. pass stronger laws that give consumers the confidence to know that when they walk into a store, the product has been tested and screened for safety," she says.
There's general agreement that all brands need to be more transparent and help educate customers, but Qureshi thinks consumers have a responsibility, too. "Sometimes customers will make uninformed remarks to me about the risks of certain products and I will correct them, but they don't care," she says. "They want to believe things and identify with a certain camp. It can end up where people are scared or shamed into buying things they can't afford. I personally will use mainstream products if I like them and feel they work. Ultimately, if it doesn't work, it doesn't matter how clean it is." 
_______
Never miss a story. Sign up for NUVO's weekly newsletter, here.