Johnny Coca, Mulberry's Creative Director
Redefining the British heritage brand.
Ask anyone to define "Britishness" and a few characteristics are likely to emerge. A dry sense of humour, perhaps, a certain type of eccentricity, or a wit that's heavily laced with sarcasm. To Johnny Coca, who joined Mulberry as creative director in July 2015, learning the brand's unique take on Britishness has been an entertaining task. "For me," says the Spanish-born Coca, "Britishness is something that's quite individual. There's a sense of humour that can be quite unexpected, and it [comes out] in the way people dress, mixing pieces—they want to make sure they give a strong personality in terms of their silhouette."
A playful, tongue-in-cheek sensibility has perhaps always been present at Mulberry, a fashion label founded in Somerset, in southwestern England, in 1971. It has simply manifested in different ways over the years: a collection inspired by Maurice Sendak's Where the Wild Things Are, for instance, or classic animal prints presented in whimsical colours. Since arriving at Mulberry, Coca's job has been to meticulously work through these motifs and other brand codes, teasing them apart to determine which continue to be pertinent and which are no longer relevant. "I knew Mulberry had a really conservative customer," says Coca during a chat at Mulberry's headquarters on Kensington Church Street in West London. He also knew he had to "be very clever to not lose those customers, but at the same time attract a new, younger, more international customer." It's a dilemma faced by creatives at many major fashion houses.
Coca is acutely aware that his role as creative director at Mulberry goes beyond designing a few handbags and fashion collections. "I need to bring something that's not comparable to other brands," he explains. "It's quite tricky and very important to be different, but to also protect your DNA and understand the test of 'What is the Mulberry customer? " When designing, Coca doesn't ever have just one woman in mind, but several. "Each girl is different," he says. "She has her own taste and her own lifestyle. I like to sit on the terrace and look at all the people on the street, trying to imagine what the most useful products would be for her."
In fact, Coca sees himself not just as a fashion designer, but as someone whose job it is to make others' lives easier. "I speak to my mother every day, my sister in Paris five times a day," he says. "I know where they go, what they buy, and what they need. It's about trying to create something that's useful, that's functional and comfortable—something they would want and need each day."
Unlike designers led by an aesthetic or an idea, Coca takes a function-first approach. "I think, 'Does she need a tote, or a messenger bag, or a coat?' " From there, he works on the construction and silhouette of the piece, incorporating colours, textures, and hardware to bring that uniquely playful Mulberry finish: a scalloped hem on a 1960s-inspired spring dress; oversized, multicoloured buttons on a swing coat; a satchel covered in retro floral cabochons.
Throughout his career, Coca has tried to "understand the philosophy [of Mulberry], because you can create so many things—but for what purpose? You have to take responsibility for what you design and what you offer," he says. Born in Seville, he moved to Paris as a teenager and studied art, architecture, and design at École Nationale Supérieure des Beaux-Arts and École Boulle before joining Louis Vuitton, Bally, and eventually Céline, where he was Phoebe Philo's design director of leather goods and accessories. "Vuitton was like my school," Coca says. "I learned everything related to construction, process, cost, manufacturing, all the work in the atelier making prototypes. I learned how to make a product." Fast-forward a few years: "At Céline, what I really learned from Phoebe was the love you give your design. It's really emotional: if you do something, it needs to come from your heart, and you need to trust what you do, and you need to be convinced, without any concessions."
Mulberry is the first fashion house where Coca has been responsible for the entire product range. His inspirations range from Ludwig Mies van der Rohe to furniture designer Warren Platner, and artists such as Gustav Klimt and Pierre Soulages. "You have to adapt your style in relation to the brand," Coca says. "There are a lot of competitors out there. You have to find the reason people will come to you."
Whatever he's doing is working. Year-end revenues in 2015—the year Coca joined the company—were £148.7-million ($255-million Canadian); in 2018, they were £169.7-million ($291-million). And there's plenty of room to grow. The U.K. accounts for 72 per cent of Mulberry's revenues, but only 46 per cent of its global retail footprint, so as part of its strategy to expand its global reach, Coca's objective is to re-establish the name worldwide. "It's also important to invest, consolidate, and redefine the stores, the image, the communication, and the press globally," he says.
Still early in his tenure with Mulberry, Coca is clear about approaching changes carefully and strategically. "I'm looking at all the things I've done to try and analyze and understand what was strong [for sales] and what was strong for image, so we can combine them and bring something quite balanced to proceed with growth." One of the near-immediate changes Coca made at Mulberry was to the logo, rolling out a new iteration less than six months after joining the company. "How you write a brand [name] is so specific to you and where you come from. When you look at Asprey or Church's, there's a strong personality in the way the logo is written. When I went to the archives and saw the first Mulberry England, I thought it was better to go back to the original." Gone are the sans serif letters and the tree motif that sat next to the name (Mulberry England remains). "It's important to evolve, but also to respect and keep your identity," he says. "We redesigned the logo slightly, but it is 90 per cent like the original."
Then Coca set to work refurbishing the brand's retail locations, also opening a flagship store on London's Regent Street last September. Designed by Faye Toogood, the space is a collage of plush textures in deep greens, burnt oranges, and soft pinks; it marries an authentic British feel, courtesy of antique artworks depicting the English countryside in bleak weather and hand-painted murals, with a more contemporary aesthetic. Toogood's signature Roly Poly chair—an ice cream scooper–like rounded seat on stout, cylindrical legs—has been reimagined as a modern display cabinet. And while the corporate and partner boutiques (114 in 27 countries) are an opportunity to immerse yourself in Mulberry's physical world, the online shop now represents 17 per cent of total sales. In Canada, there are two boutiques, both located in Toronto—Yorkdale and Bloor Street.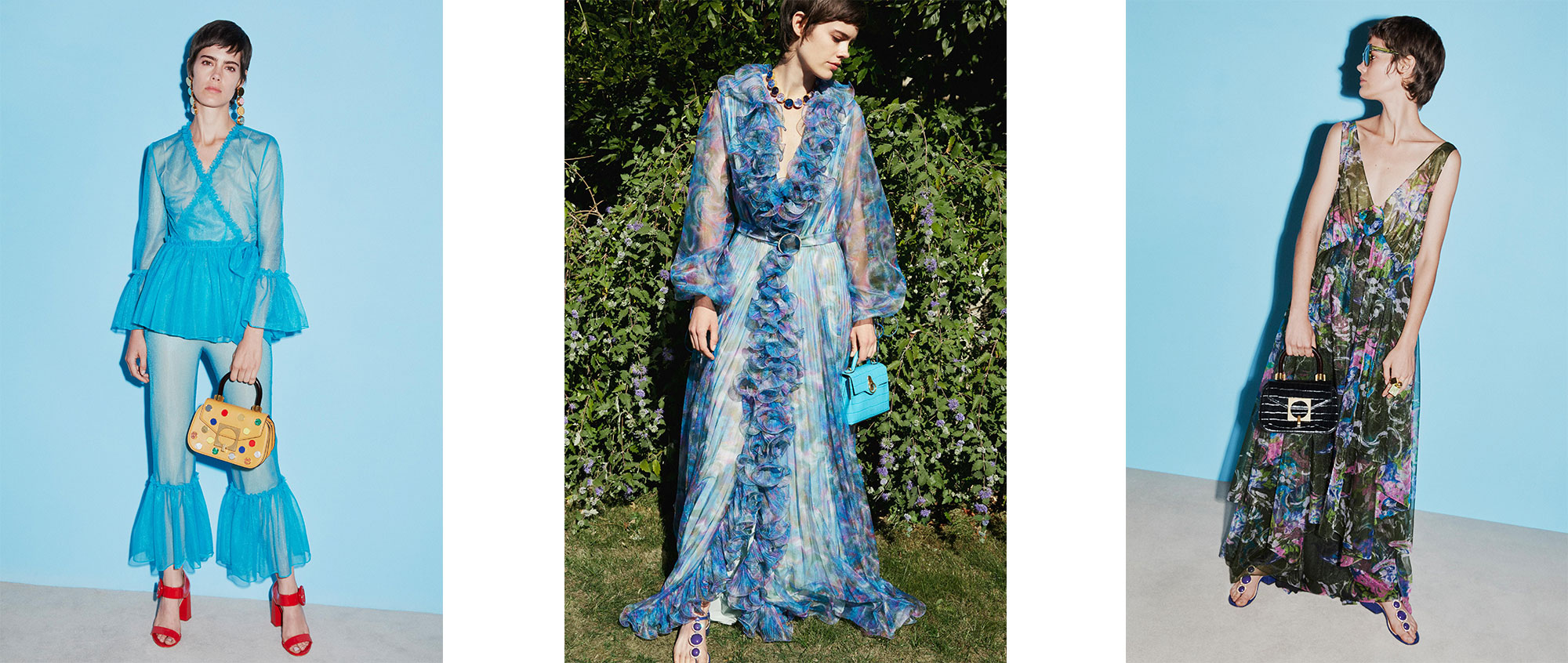 In 2018, handbags accounted for 70 per cent of revenue, with accessories and small leather goods making up another 20 per cent, followed by ready-to-wear making up just 10 per cent. Indeed, since its founding, Mulberry has mainly been known as a purveyor of fine leather goods, and Coca is clearly ready to take it beyond this. "The biggest exercise now is how to make the brand more of a lifestyle brand."
There was a time when you'd have been hardpressed to walk into a room and not spot a Mulberry Bayswater, Lily, or Alexa handbag; at their peak, they were as ubiquitous as an Alexander Wang Rocco or a Marc Jacobs Stam, and as such held pride of place in many women's closets. When Coca joined Mulberry, he faced a challenge. "My first exercise was to review and modernize the Bayswater," he recalls. "I knew it was a success for a specific customer in the U.K., but internationally, it was another story. I wanted another option with a different construction."
Enter the Hampstead, a soft, versatile bucket bag making its debut in this year's spring/summer collection. Available in two sizes, with a customizable cross-body strap, the bag also includes the Rider's Lock, a new Mulberry hardware signature. Coca admits the Hampstead bag took a while to perfect. "A bag is ready when it's ready; if you need more time, it's better to delay and take the time to fix it," he says. In addition to the Hampstead, there's the Brockwell, a half-moon-shaped bag with a chain strap; plenty of shift dresses and above-the-knee swing coats; and square-toed, buckled shoes with smoked translucent lucite heels, inspired by those worn by Twiggy and Jean Shrimpton on King's Road in the 1960s.
Ultimately, Coca says, "There's no rush to design a product. If you can keep it for a while, it's a good design." Cheers to that. 
_________
Never miss a story. Sign up for NUVO's weekly newsletter.