Behind the Mask with Street Artist Jerry Rugg a.k.a. birdO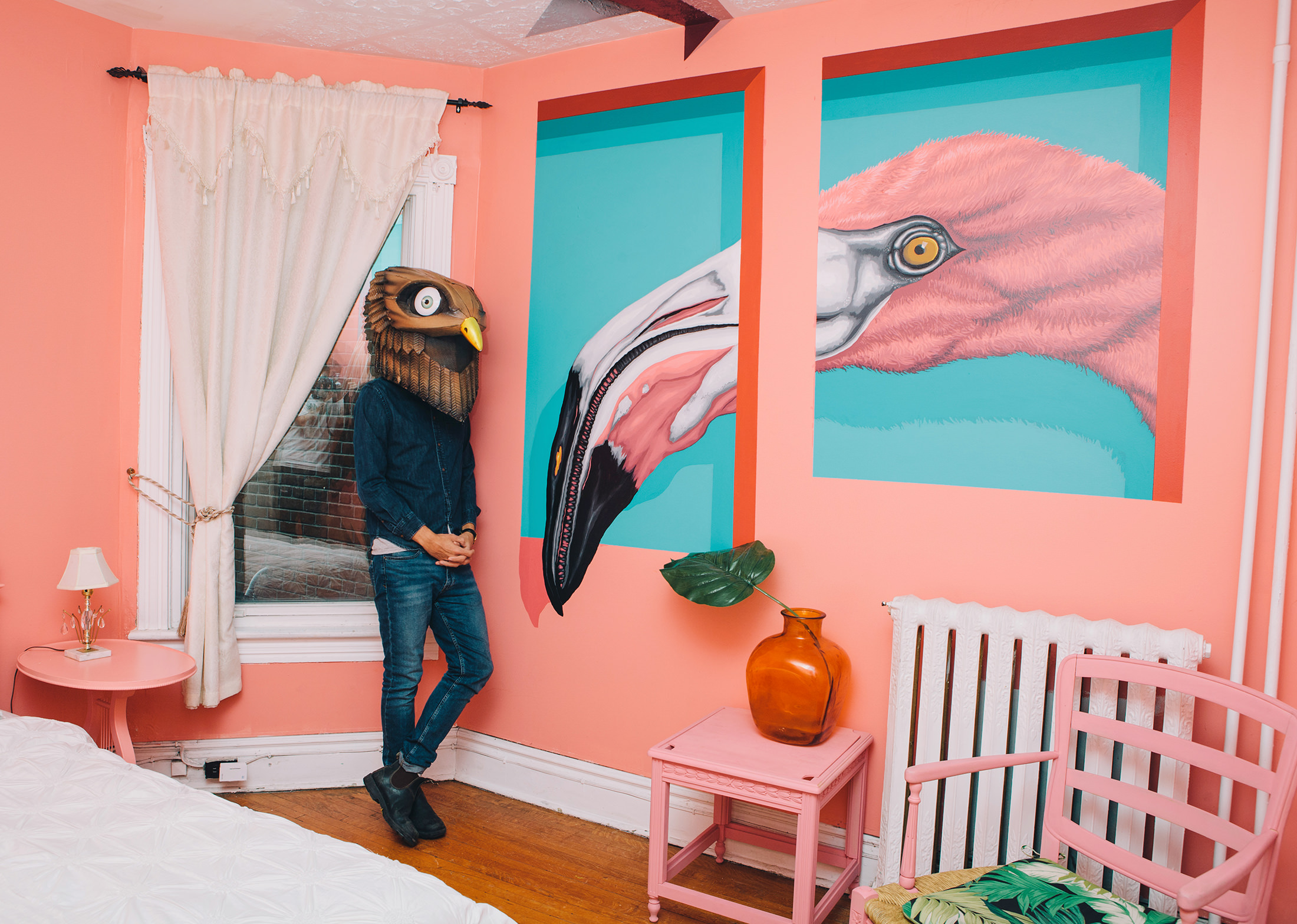 It's a rare sighting: birdO, a creature becoming known around the world for his fabulous beasts murals, unshaven, unguarded, unmasked. He is spied in his native habitat—Toronto's hip Queen Street West—flitting in the direction of a French bakery, where a chocolate croissant will be his morning feed. birdO, also known as Jerry Rugg, lives just a few doors down, in an apartment above an indie hair salon that he shares with a toy Aussie Shepherd and a grumpy cockatiel named Smokey, who barely tolerates the bug-eyed bird mask serving as part of the graffiti artist's public persona.
Rugg prefers to maintain an air of mystery around the moniker he signs to a growing number of spray-painted murals in cities from Chicago to Shanghai. The bird mask serves to hide the obvious, which is that Rugg, a former model, is exceptionally good-looking. Think Matthew McConaughey crossed with Jonathan Rhys Meyers. "I don't want all of that," says the 37-year-old, flashing a Chiclets-type smile, "to get in the way of the art."
So why uncover now? Is it because it's a Saturday? Or has the sudden onslaught of a Canadian winter forced birdO into early hibernation? "I'm at a crossroads," pronounces Rugg, perched on a chair, sipping a coffee and acting quite normal for a guy who makes his living impersonating a bird. "I'm getting ready for a new three-year plan."
His flight pattern will look something like this: After years painting large-scale murals full-time for clients as diverse as the Kimpton Saint George Hotel in Toronto and the Ron Joyce Children's Health Centre in Hamilton, Ontario, Rugg will concentrate on producing canvas art and 3-D sculpture, the plan being to have a gallery show. "I want to take a 50-foot building and put it on a 4-foot canvas," he says. But that doesn't mean abandoning his wall art.This new plan also has Rugg contemplating a southerly migration to Los Angeles, where the promise of year-round sunshine is especially appealing for a street artist whose main body of work exists outdoors: "I like the idea of being in control of my environment. I'm attracted by the possibilities."
A native of Saskatoon, Canada's so-called Paris of the Prairies, Rugg (not his real name) grew up in an environment whose wide-open spaces encouraged him to envision a world of endless possibilities early on. Born in 1981, an only child raised by a single mother of Ukrainian descent, he was encouraged to pursue his dreams from a young age. Today, he jokes that not having siblings gave him his "narrow tunnel vision" and tendency "to forget that the rest of the world exists." These abilities helped him become a graffiti artist who learned through persistence—spray-painting Prairie freight trains with a little help from M.C. Escher and Salvador Dalí, to name two of his artistic influences.
But considering that a viable career would come later, when Rugg was in his late 20s. Before that, he believed he would follow an entirely different path in life—playing professional soccer. "I grew up with a zest for all things athletic," he says, "and I was an ace soccer player, a striker for the most part." Rugg represented his high school at nationals and, as he notes, was one of the best young players in his province. That dynamism remains with him still.
Young Rugg was also quite studious. He excelled at math—this would later come in handy for scaling his drawings up to 16-storey walls—and was so good at drama that his teachers suggested he consider a career on the stage. birdO, whom Rugg describes as a "surrealist character" derived from his high school nickname of Jbird, builds on his innate flair for the theatrical.
But instead of becoming an actor, a professional athlete, or even an artist for that matter, Rugg initially decided to do something quote-unquote practical with his life—enrolling in a pre-commerce program at the University of Saskatchewan in 1999, at age 17. Though clearly business minded (his savvy present-day negotiations with corporations that want to use his art can yield him six-figure commissions), Rugg dropped out after first year, then became a model and lived the high life, to the point where he (twice) volunteers how long he has been sober (a decade). It's an indication that somewhere along the line, he abandoned the goal-scoring dreams of his youth and went over the edge. He shrugs, "I was a fun dude."
Part of the fun came from hanging around with a group called the Parkdale Strange Posse after he moved to Toronto in 2001. This community of self-described renegades included a graffiti artist who encouraged Rugg to try his hand at nocturnal spray painting, which he enjoyed until the cops caught him and tossed him in jail. "It wasn't worth losing my passport over," says Rugg, who in that moment opted to go legit.
Realizing he needed to sharpen his skill set in order to take his art beyond a backpack filled with spray cans, in 2010 Rugg enrolled in the two-year advertising and graphic design program at Toronto's Humber College, where he mastered compositional flow and rhythm, negative space, and balance, design principles he eventually incorporated into his mural art. He honed his style by painting hybrid animals like panthers, puffins, peacocks, and pelicans—you name it—by knocking on neighbourhood doors and asking people if he could embellish their blank canvas garages for free. "I was building a portfolio," Rugg says. "I was upping my game."
Yet the art remained a side gig to the main objective of getting a job and becoming what he calls "systematized". He achieved this in 2012 when, upon graduation, he landed a position as a junior designer with advertising firm Grey Canada in Toronto. The president knew he was moonlighting as a street artist and accurately predicted that it was just a matter of time before Rugg would leave for bluer skies. Rugg quit after three years to paint full-time. Today, street assignments come in from Canada, the United States, Europe, and Asia including, most recently, Puerto Rico and Maui. Increasingly, he needs forklifts to realize them.
"I take the responsibility of public artwork very seriously. I take gratification from knowing that I leave a community looking better off than when I first found it." This bird is flying.
_________
Never miss a story. Sign up for NUVO's weekly newsletter.