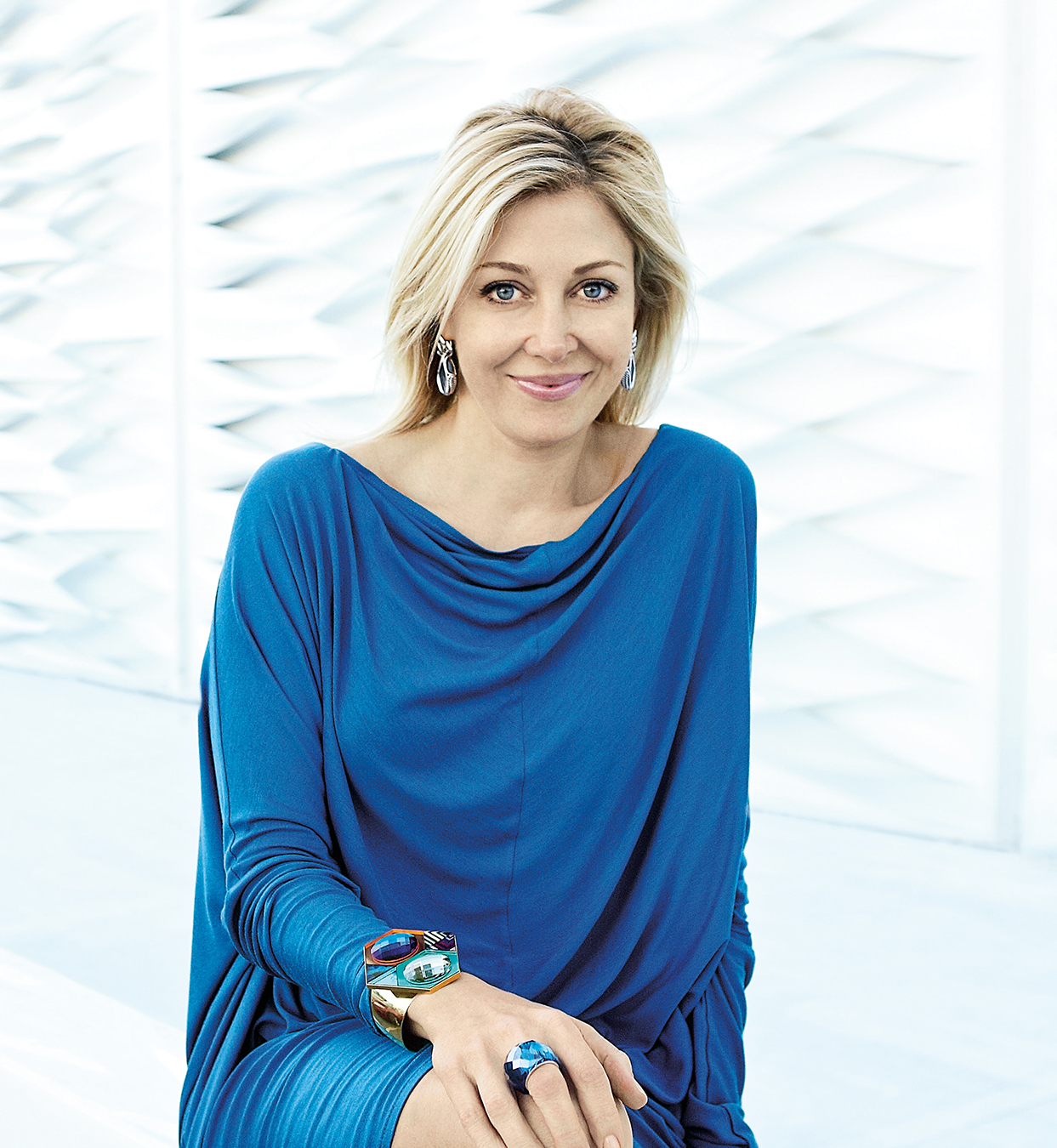 In 2009, acclaimed architect and set designer David Rockwell created the extraordinary Swarovski Crystal Curtain, which made its debut on stage at the 81st annual Academy Awards. It was made from 6,000 one-metre-long, handcrafted crystal strands, incorporating more than 100,000 Swarovski crystals. "The aim was to create a sense of wonder and magic," he described in The Art of Light and Crystal, a book recently released by Swarovski Crystal Palace (the avant-garde lighting and design division of the Swarovski brand). "And the Crystal Curtain was one of the key ways of doing that. Crystal is endlessly fascinating: as it moves, it changes the light that it throws off." Whether they hang from the Crystal Curtain, the restored Louis XIV chandelier at Versailles, or, more intimately, from a woman's neck, Swarovski crystals have laid a claim on that wonder and magic, and it has made them the most successful and versatile crystal enterprise in the world for well over a century.
Nadja Swarovski, the company's creative director and vice-president of international communications, is a striking woman. She is also the great-great-granddaughter of Daniel Swarovski I, the man who founded the crystal company more than a century ago. In 1892, Daniel, from Bohemia, invented an electric cutting machine that facilitated the production of precision-cut crystal glass and polished crystal stones. This invention allowed crystals to be cut more efficiently and precisely than the manual methods of the time. (Daniel's father was a glass cutter who owned a small glass factory.) Three years later, Daniel left Bohemia and moved to the Tyrolean village of Wattens, Austria, a region in the Eastern Alps, to set up a factory with his brother-in-law Franz Weis and financier Armand Kosmann. The trio began making very high-quality jewellery stones. "As he expanded [the business], Daniel chose the location of the factories in Austria based on the water. There is this very strong stream that comes out of the mountains—a lot of the energy that is harnessed from the mountains is present within the crystals. Daniel used the hydroelectric power to power the machines; he truly was part of the technological revolution," Nadja says, referring to the Second Industrial Revolution, which lasted from the second half of the 19th century up until the beginning of the First World War. As a result of the war, many of Swarovski's competitors fled Bohemia (which became part of the Republic of Czechoslovakia in 1918), making Swarovski an important player in the supply of jewellery stones. "Daniel was a visionary—we [Swarovskis] have a lot to live up to," asserts Nadja.
Today, Swarovski has grown to be the world's largest producer of precision-cut luxury crystal for fashion, jewellery, lighting, architecture, and interiors. In 2009, the company launched its first watch collection at the Baselworld watch and jewellery exhibition in Switzerland. Swarovski is also in the midst of launching Swarovski eyewear with Italian luxury eyewear company Marcolin, as well as the first-ever Swarovski perfume, Aura, designed by French designer Gwenaël Nicolas, to be released in April. Still family-owned, the Swarovski Group is run by fourth- and fifth-generation family members. "Twenty-five are active within the company, and there are more than 60 shareholders," says Nadja. The company had a turnover in 2009 of €2.25 billion ($3.38 billion Canadian); Nadja has been credited with tripling Swarovski sales since she joined the family business in 1995. The company itself comprises two major businesses: one produces and sells loose crystal elements, while the other creates design-driven, luxury finished products. To this day, every single Swarovski crystal comes from Wattens. The population of the village is approximately 8,000, and the majority of the inhabitants work for the company—and have for generations.
Swarovski has grown to be the world's largest producer of precision-cut luxury crystal. Nadja has been credited with tripling Swarovski sales since she joined the family business in 1995, with a turnover in 2009 of  €2.25 billion ($3.38 billion Canadian).
A Swarovski adage says that jewellery based on true feeling is just as important for the inner being as food is for the body. "And Daniel understood that every woman innately loves jewellery," Nadja relates. At a time when diamonds were meant only for royalty, Daniel thought that jewellery should be more accessible, and he wanted to create a "diamond" that every woman could afford. The crystal's charm came from its inherent inscrutability. Starting from the early 1930s, "Diamonds you saw in the movies were nothing more than a Swarovski crystal," Nadja says. Even Dorothy's ruby slippers in The Wizard of Oz were accented with Swarovski sparkles, and nearly 250,000 Swarovski crystals were sewn into the Rodarte-designed ballet costumes in Darren Aronofsky's Black Swan.
But the road to success wasn't always a glamorous one. The first Swarovski jewellery collection wasn't launched until 1977, about a decade after the brand started catering to the fine jewellery industry with precision-cut genuine and created gemstones. Nadja remembers the collection well, but not particularly for its design or quality. "It was rather unremarkable," she says. "It was really just a bunch of gold metal pieces and a lot of crystal that was clear and very large. Unfortunately, it did fit the crystal stereotype of imitation jewellery. It wasn't popular." It took another 10 years, but Swarovski started to change their design style. "We decided we needed a better variety of the colour of the stones, we needed to size the stones, we needed to better the application of the stones," Nadja says. "Basically, we changed our entire product approach." Swarovski began working with top embroiders in Paris and opened an office in France. It was a step in the right direction. In 1989, the Daniel Swarovski couture line, in tribute to the company's founder, was designed by Rosemarie Le Gallais; it was Swarovski's first haute couture jewellery line, and the pieces (which include fashion accessories such as handbags and belts) were, and continue to be, bold and innovative.
Following the success of the Daniel Swarovski couture line, Swarovski began to create more design-driven, highly original crystal techniques. In 1993, Crystal Mesh, an intricate and fluid metal mesh integrated with Swarovski crystals, was developed. The design can be treated like swatches of fabric—it's very heavy and can be ironed onto fabric and sewn together. A complicated and cutting-edge technique, Crystal Mesh did not immediately take off. "Initially, Versace was the only fashion house that used it in their designs," Nadja says. "It wasn't until Alexander McQueen implemented Crystal Mesh in his [spring/summer] 1999 fashion show that it just exploded. Suddenly every fashion designer began incorporating Crystal Mesh into their collections. I give McQueen full credit for bringing Swarovski into the fashion industry." Today, Crystal Mesh is employed by fashion houses such as Chanel, Dolce & Gabbana, and Louis Vuitton.
Much of crystal's allure comes from its mysterious, timeless sensibility. Nadja Swarovski has reshaped the crystal's image, making it a coveted and complementary component to high design.
Swarovski would go on to develop Crystal Fabric in 2003—a design whereby innumerable tiny crystals create a delicate shimmer over a variety of materials—and, a year later, the Xilion cut for jewellery design, where designers experiment with alternating large and small facets, resulting in a crystal with significantly increased brilliance.
Crystal's potential seems endless, and as a result, Swarovski has collaborated on many influential design projects. Swarovski Crystal Palace, a showcase for revolutionary light design, strives to create radical interpretations of light and design using the affective medium of cut crystal. Although the very first Swarovski crystals for chandeliers and lighting were used in 1965, Swarovski Crystal Palace was launched in 2002 at the Milan Furniture Fair. Since its creation, Swarovski Crystal Palace has focused on reinterpreting the traditional chandelier by pushing the boundaries and potential of crystal, and has worked with the world's most collectable designers.
At Design Miami this past December, Swarovski collaborated with London-based multidisciplinary art and design team Troika to create Falling Light, an installation consisting of 50 custom-made, ceiling-mounted light devices with powerful LED lamps projecting through Swarovski crystal optical lenses. "It shows the medium of cut crystal in its purest form," says Nadja. "In a jewellery piece, one can take this for granted. The installation really shows crystal as a lens and what it does to the light, when a crystal catches the light and refracts it."
The experience is an organic one. Small drops of light appear to fall from the ceiling onto the gallery floor, immersing the visitor in a shower of light. Each drop is encircled by an aura of rainbow colours created by the Swarovski lens, which is used to break up the white light from the LED into its spectral colours. A humming sound is audible as each of these "raindrops" hits the floor; the sound is contemplative and soothing, even meditative.
Other collaborative design initiatives include Runway Rocks, a jewellery division of Swarovski that focuses on creating one-of-a-kind pieces featured on the fashion runway to demonstrate the versatility of crystal, and are not for sale. Atelier Swarovski is a commercial project that involves fashion designers creating jewellery for their runway collections using Swarovski crystals with the consumer in mind; they work on seasonal accessory collections with designers from all spheres, and the collections are sold through a network of boutiques and department stores including Henri Bendel in New York, Colette in Paris, Selfridges in London, and Beams in Tokyo, in addition to the 80 Swarovski stores worldwide. One of the project's most recent collections involved a collaboration with Karl Lagerfeld; the autumn/winter 2010 couture collection Lagerfeld created for Atelier Swarovski was very Inca-inspired and serpentine pieces contain elements of sacred symbolism.
Much of crystal's allure comes from its mysterious, timeless sensibility. Nadja Swarovski has reshaped the crystal's image, making it a coveted and complementary component to high design. "We keep working with designers and people who are on the pulse of the trend," she says. In the words of Markus Langes-Swarovski (great-great-grandson to the founder, cousin to Nadja, and a member of the Swarovski board of directors), "You can draw conclusions about the entire cosmos from the smallest of crystals."
February 26, 2011
Updated: January 6, 2015