The Macarons of Pierre Hermé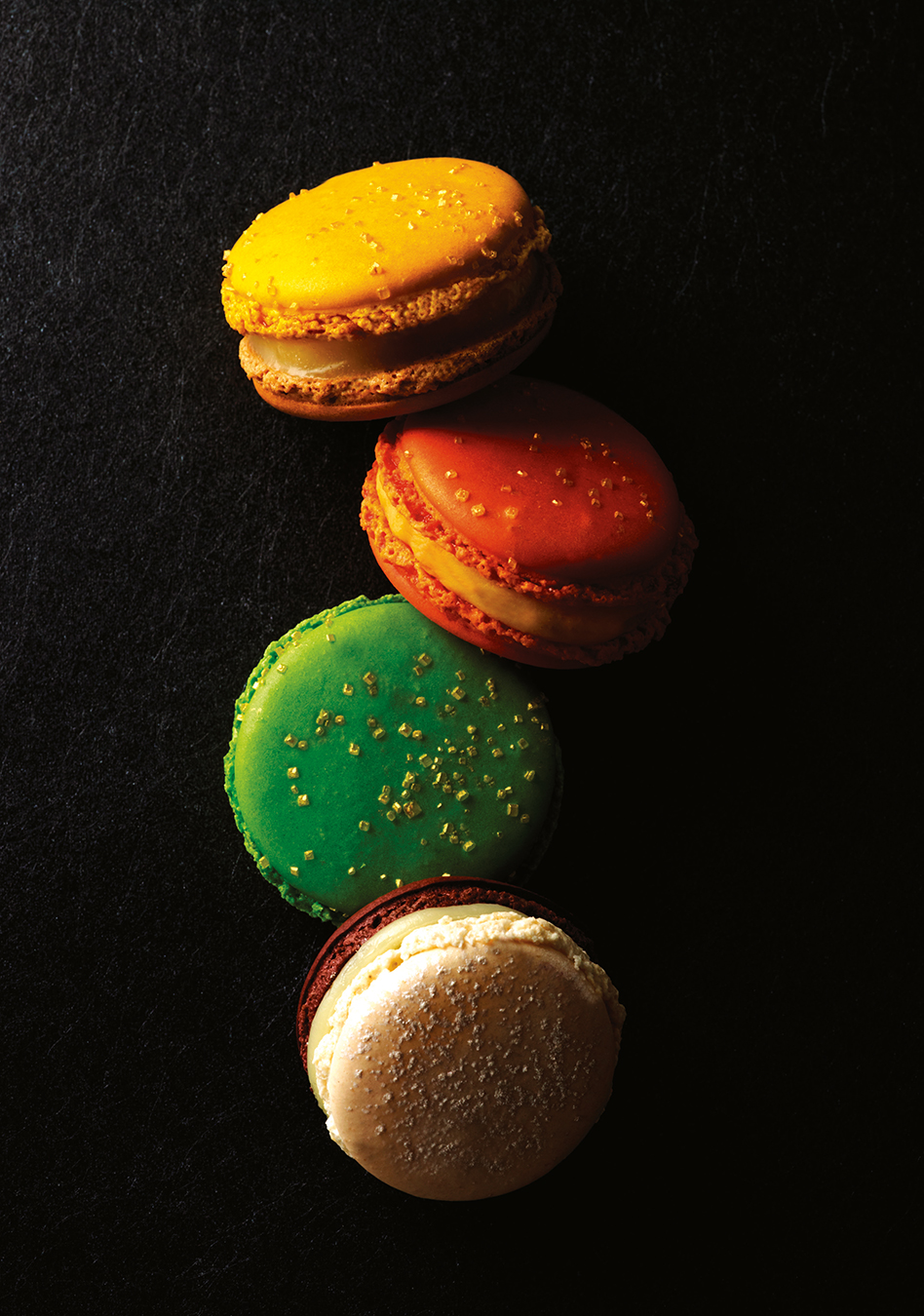 Everything gets debated in France. Consider the ongoing philosophical discussion about cookies that's been raging for the last decade or so in the tonier arrondissements of Paris: it's the war of the macarons.
Cookie is probably too prosaic a word for this iconic dessert: two delicate coques (or shells) of meringue with a rich ganache centre. Technically, the filled macaron is just one variation of the pastry—the macaron parisien, as it is called by some, a big-city innovation on the original, unadorned almond meringue. As French food writer Clotilde Dusoulier points out, almost every Gallic city worth its beurre-au-sel has a regional variation. They date back as far as the 1500s, when Queen Catherine de' Medici brought a version of the macaron, along with much else of what we now call French cuisine, from Italy.
But at some point in the early 20th century, a Parisian—perhaps Pierre-François Guyot Desfontaines, second cousin of Louis Ernest Ladurée, or maybe an anonymous genius in a now-forgotten Belleville patisserie—was the first to stick ganache between two coques. Which origin story you believe is all part of the debate, but the macaron parisien is now ubiquitous throughout the country; brightly hued versions of it cluster on patisserie counters from Normandy to Nice. Internationally, it's become a chic star of film and television, offering perhaps the only credible performance in Sofia Coppola's Marie Antoinette, and making pivotal cameos in Sex and the City and Gossip Girl. (Less chic-ly, the macaron has recently appeared in selected McDonald's McCafés in France.)
But in Paris itself, the question is, simply: Ladurée or Hermé?
For most of the last 100 years there has been little doubt about the answer: if you wanted the best macarons you went to Ladurée. A venerable institution, with a landmark salon on the Champs Élysées flocked to by hordes of tourists and long-time regulars, the Ladurée brand is centred on its long association with the little hamburger-shaped treats. Those glossy macarons in Marie Antoinette were Ladurée macarons.
But in the last years of the 20th century, a macaron revolution swept the country, due in part by the work of Pierre Hermé, a brilliant pastry chef from a long line of Alsatian bakers. He began his career at the age of 14, apprenticing with Gaston Lenôtre, the great Norman chef who refined French pastries a generation ago. He first became a star at the Paris gourmet store Fauchon, where he rewrote formulas that French pastry chefs had followed for generations. He played with time-honoured recipes, changing proportions, experimenting with ratios, and tweaked textures. In an era when pastry chefs were succumbing to excess—creating towering architectural desserts covered in gold leaf and spun-sugar garnishes—Hermé produced subtle, profoundly original versions of the classics.
In the mid-1990s, seemingly every leading Paris pastry empire began to issue monthly macaron flavours. The macaron arms race began in earnest, and in 2002, the craze was at its height. Lenôtre created the macarré—the square macaron; Ladurée retaliated with the double macaron.
In 2001, Hermé opened his first Paris store, Pierre Hermé Paris, just off Boulevard Saint-Germain on Rue Bonaparte, a minimalist temple to the art of pastry and chocolate where the season's masterpieces are displayed like expensive jewellery. Borrowing from haute couture, new lines are released twice a year. And in case it hasn't become obvious which side of the debate I'm on by this point, let me make it clear: Hermé, all the way. "He is—and this is not a word I use lightly—a genius," says David Lebovitz, pastry chef, author of The Sweet Life in Paris, and the man behind the vastly popular website DavidLebovitz.com. "It's the way he uses detail. When I first tried his white truffle macaron, there's this little piece of hazelnut he's stuck in there, and it's when you bite into that that the whole thing just makes sense. And there's some little detail like that in everything he does."
While Ladurée has tradition and brand recognition—and very decent macarons—on its side, it's Hermé who makes me think deep thoughts with almost every bite. His new releases and seasonal variations are all lots of fun, but these days I usually stick to my standard favourites: the milk chocolate and passion fruit mogador, the profound caramel au beurre salé, and one of his staggering deux milles feuilles for my wife. Once every couple of months, you will find me, standing on a sidewalk in Saint-Germain-des-Prés with a feathered Hermé bag in one hand and a caramel au beurre salé macaron in the other, lost in thought. Perhaps I'm pondering the integrity of texture—the way the coques mesh perfectly with the ganache, the way the flavour of the caramel is curlingly elongated by the salt. It's symphonic. I wish I had one right now.
He's had his wild cards—I moved to Paris too late to try his ketchup-flavoured macaron, thank God, and some (though not I) were taken aback by his recent foie gras versions—yet there's a kind of higher math in Hermé's creations. (I'm not exaggerating; if you wish, and if you read French, you can find online seminars on Hermé's work, in which specialists discuss the scientific principles that determine the combination of textures in his macarons.) A grateful nation awarded him the Chevalier de la Légion d'honneur in 2007, and he fully deserves it. Victory, in this war, is his.
February 1, 2010
Updated: March 20, 2014