The changing face of dining in Las Vegas.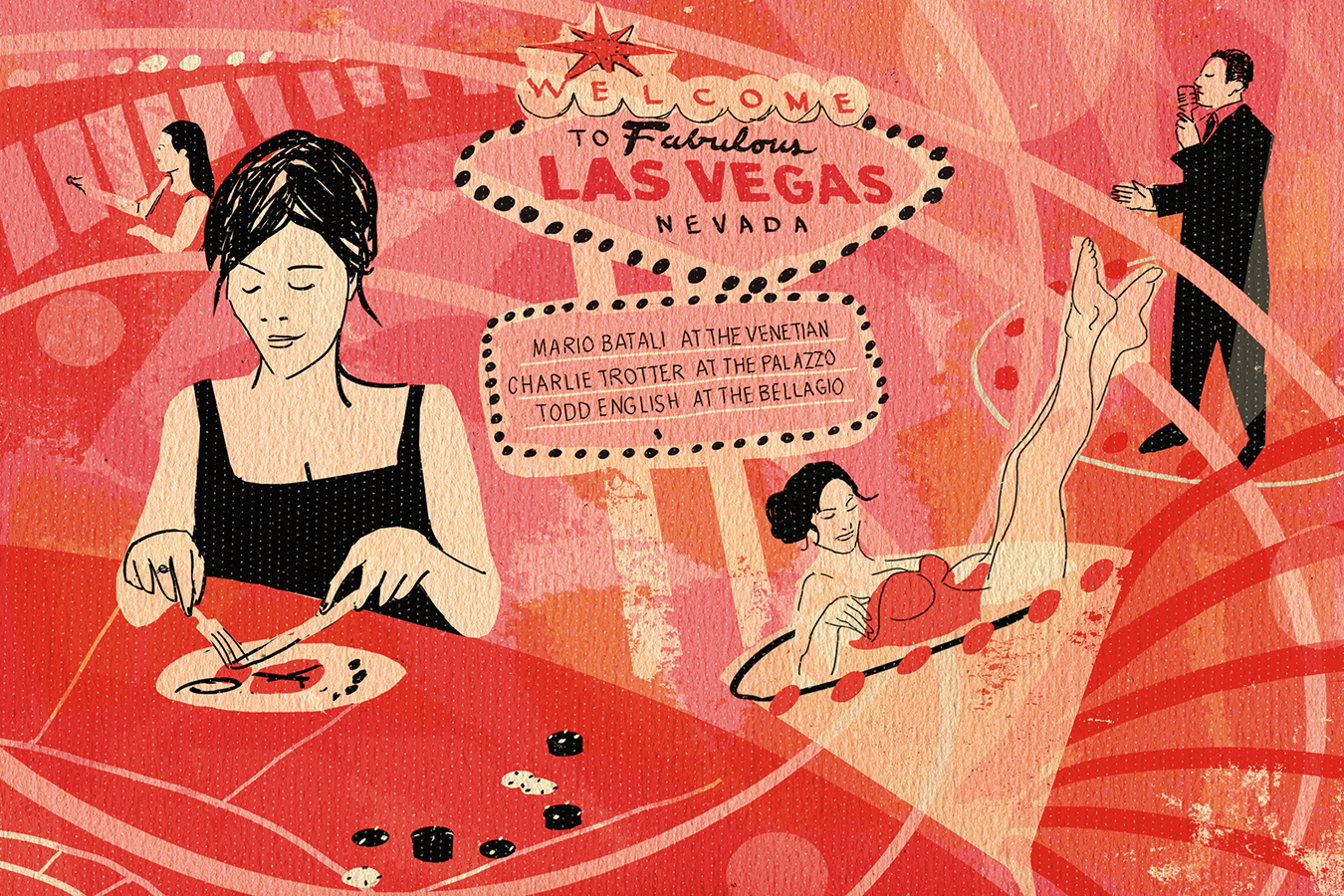 Everything you hear about Las Vegas is true. It's wonderfully tacky, deliciously sleazy, and as irreverent as the late Amy Winehouse on a bender. Half the fun here is watching everyone live it up. Grannies work the slots and bachelor-party boys drool over burlesque babes bathing in oversized martini glasses. Modern-day Ginger McKennas, the hustling blonde depicted by Sharon Stone in Scorsese's Casino, linger in the lobbies of shabby hotels, while over at the Mirage, soccer moms bob their heads to the Beatles at the Cirque du Soleil show Love.
But look hard at that horde and you'll find people like me, people who thought they'd hate Las Vegas and ended up loving it. We chose Vegas not to be wowed by Cher, Cartier, or Carrot Top, but by Guy Savoy, Joël Robuchon, and Thomas Keller. We came, we dined, and we weren't disappointed.
In 1992, California star chef Wolfgang Puck decided Las Vegas was ready for gourmet pizza. Then in 1997, the late, great French chef Jean-Louis Palladin introduced salsify soup with rabbit sausage and truffles. Ever since, Sin City's restaurant scene has been snowballing. Some thought it had peaked a decade ago. Little did they know the gourmet party was just getting started.
Once exclusively the land of all-you-can-eat buffets, cowboy bars, and coffee shops, the Las Vegas of the Rat Pack, Mel Tormé, and Nipsey Russell is disappearing as fast as the towering neon signs that once lined the Strip. Instead, we have the new Las Vegas, epitomized by hotels like the Bellagio, the Venetian, the Palazzo, and the Wynn. With their luxury shopping concourses, private baccarat rooms, swish suites, Disney-esque lobbies, and in-house theatres, these resorts have become the ultimate moneyed-man's playground.
Restaurants fronted by star chefs were a natural progression. And they're making their mark. The casinos are still buzzing, but as of 2004, non-gaming revenues—that's rooms, shops, and food and beverage—have surpassed gaming revenues in Clark County, Nevada.
Today, you'd be hard-pressed to find a city that boasts as many name restaurants. Cities like New York, London, and Paris all create star chefs, whereas Las Vegas is the city that uses its star power to attract the tourist dollar. And the chefs obviously can't resist the showcases they are offered. Thomas Keller's Bouchon in Yountville, California, is quaint, whereas Bouchon in the Venetian—with its towering ceilings and long zinc bar—is magnificent.
Indeed, it's hard to walk anywhere in Vegas without seeing some star chef's name plastered above a Hollywood soundstage of a dining room. To list but a handful, you have Mario Batali at the Venetian, Daniel Boulud at the Wynn, Bobby Flay at Caesars Palace, Tom Colicchio at the MGM Grand, Todd English at the Bellagio, and Charlie Trotter at the Palazzo. Two of France's top chefs, Joël Robuchon and Guy Savoy, have serious gastronomic restaurants, and Emeril Lagasse has as many restaurants here as in New Orleans.
The whole restaurant scene is certainly overwhelming and, for the gourmet diner used to elegant surroundings, more than a little strange. At the MGM Grand, you'll find 10 fine-dining restaurants. While reading dish descriptions like "Maine lobster in a gelée of vegetables topped with chilled leek soup" on the degustation menu at L'Atelier de Joël Robuchon, a barefoot young woman, plastic cocktail cup in hand, wanders one from the slot machines to peruse the menu by my side.
Lost in the vast expanse of Caesars Palace, I happened upon the patisserie of François Payard, the New York chef whose Upper East Side pastry shop and bistro is recreated here in a rococo style of chocolate-brown arabesques, glass casings, and chocolate sculptures. Blinded by the loveliness of it all, I drop $100 on chocolate truffles and macaroons I don't need. Better there, I figure, than at the blackjack tables or at Louis Vuitton. And that's the beauty of it all. Guilt is a lesser factor when spending your hard-earned dollars on food.
And spend you will. At Joël Robuchon at the Mansion, at the MGM Grand, tasting menus vary between $250 and $385 (U.S.). This restaurant—one that many top food critics consider the best French in the United States—takes itself seriously, very seriously. The decor is extravagant, the menu luxurious, and the wine list would make even the most hardcore Bordeaux aficionado weep. Executive chef Claude Le Tohic is a Meilleur Ouvrier de France and it shows in the complete mastery of cooking techniques and the elegant plate presentations. There's a bread cart, a cheese cart, an ice cream cart, and a candy cart, and when you order a chocolate soufflé, they bake three to ensure yours is utterly perfect.
Robuchon's patrons take the experience pretty seriously as well. The women wear their hair up and crack out the bijoux reserved for special occasions. The jacketed men slice through lobster and sweetbreads as though they were symbols of their success.
Robuchon's patrons take the experience pretty seriously as well. The women wear their hair up and crack out the bijoux reserved for special occasions. The jacketed men slice through lobster and sweetbreads as though they were symbols of their success.
It's all so civilized that if you arrived here blindfolded, you would never know you were in a casino with all sorts of trailer park boys gambling away the family nest egg right outside the door. Of course, Robuchon is the restaurant for winners. The losers can head for the buffet.
Life is nice in the winner's circle. The 16-course tasting menu features dishes with names like Le Caviar (thin slices of warm scallops with lime zest, smooth cauliflower cream, thin couscous, and Oscetra caviar), Le Potiron (pumpkin gnocchi with Mimolette and white truffles), and Le Veau (sautéed veal chop with natural jus and vegetable taglierinis flavoured with pesto). One can't help but be tempted by little extras and you would be right to give in to temptation, because that's why you came to Robuchon, a restaurant that, for foodies, rivals the Pussycat Dolls Lounge for excitement.
If the word epicure isn't part of your vocabulary, just sit back and soak up the scenery. With crystal chandeliers, water features, mosaic-tiled floors, apartment-sized bathrooms, and enough fresh flowers to fill Beyoncé's boudoir, Vegas restaurants are unparalleled for sheer luxury. A little fantasy can indeed enhance even the most innocuous foodie experience. In the $2.7-billion (U.S.) Wynn resort, you can't even get a gelato without being wowed. At the ice cream parlour Sugar & Ice there are swanky red seats, wavy marble-topped tables, a jaw-droppingly gorgeous ice cream counter, and a terrace overlooking a massive waterfall. Sound ostentatious? Of course, but this is Vegas, baby.
Head a few doors down and you'll find Bartolotta, where chef Paul Bartolotta prepares Italian seaside specialties like sautéed cuttlefish, pan-fried soft-shell crabs, and oven-roasted sea bream. Of the 300-plus seats, the most coveted are the lagoon-side tables, where diners lounge on cushy banquettes in individual tented cabanas overlooking a round reflection pool filled with silver globes.
Vegas, with its skin shows and squalid gambling parlours, can be crass, as anyone who ventures outside the confines of these swank resorts knows. But the restaurant scene has brought it a lot of class. It wouldn't be a stretch to plan a whole vacation of restaurant adventures here. Forgo the gambling, shun the shopping, and enjoy the sourdough waffles at Bouchon for breakfast, a ceviche tasting plate at Dos Caminos in the Palazzo for lunch, and the black cod with miso at Nobu in the Hard Rock Hotel for dinner.
Looking for some world-class Thai? You won't find better than the Lotus of Siam in the Commercial Center strip mall. Not into Asian? Fear not, as there are 17 Michelin-starred restaurants in Sin City. And if you've pulled an all-nighter, just head to the Café at the Drugstore in the Wynn for the flakiest and most buttery croissant you've ever tasted. No surprise, the resort's executive pastry chef, Frédéric Robert, worked for Alain Ducasse for 25 years.
And yet, alas! When star chefs fail to deliver on the Vegas stage, the disappointment is all the more bitter, as I discovered at the Ducasse-fronted restaurant, Mix. Located on the 64th floor of THEhotel at the Mandalay Bay, this Michelin-starred restaurant is a vertigo-sufferer's nightmare. Half the customers I met here stated the setting, not Ducasse's innovative fusion menu, as the reason they made a reservation.
You want to see the epitome of Vegas restaurant excess, check this out: multiple glassed-in wine cellars, a sweeping central staircase, a seven-metre chandelier (the largest in the world), and strings hung with 15,000 hand-blown glass spheres that reflect the light of the twinkling landscape below. Add to that a cast of burly hunks and mini-skirted model types thrilled with their tuna tartare and rum soufflés, and you have a restaurant that does the city proud.
Yet despite the glam and the French-chef connection, the Mix experience falls short. The pricey/trendy food is more in the fancy hotel dining room vein than Ducasse-worthy, lacking any sort of personal touch or sense of style. I walked away from Mix with the empty feeling of many high rollers on the floors below: filled with riches, yet far from satisfied.
But who goes to Vegas for the personal touch? "What's newer than nouveau riche?" asks John Curtas, the restaurant reviewer behind www.eatinglv.com and a resident since 1981. "That's the Vegas clientele. There's no lack of affluent people and nowhere else can tourists eat at the hands of so many of the world's top chefs. But if Vegas were a person, it would be a 14-year-old. Just 12 years ago, the only cheese you could find here came in a can."