Glenmorangie's Rarest Whisky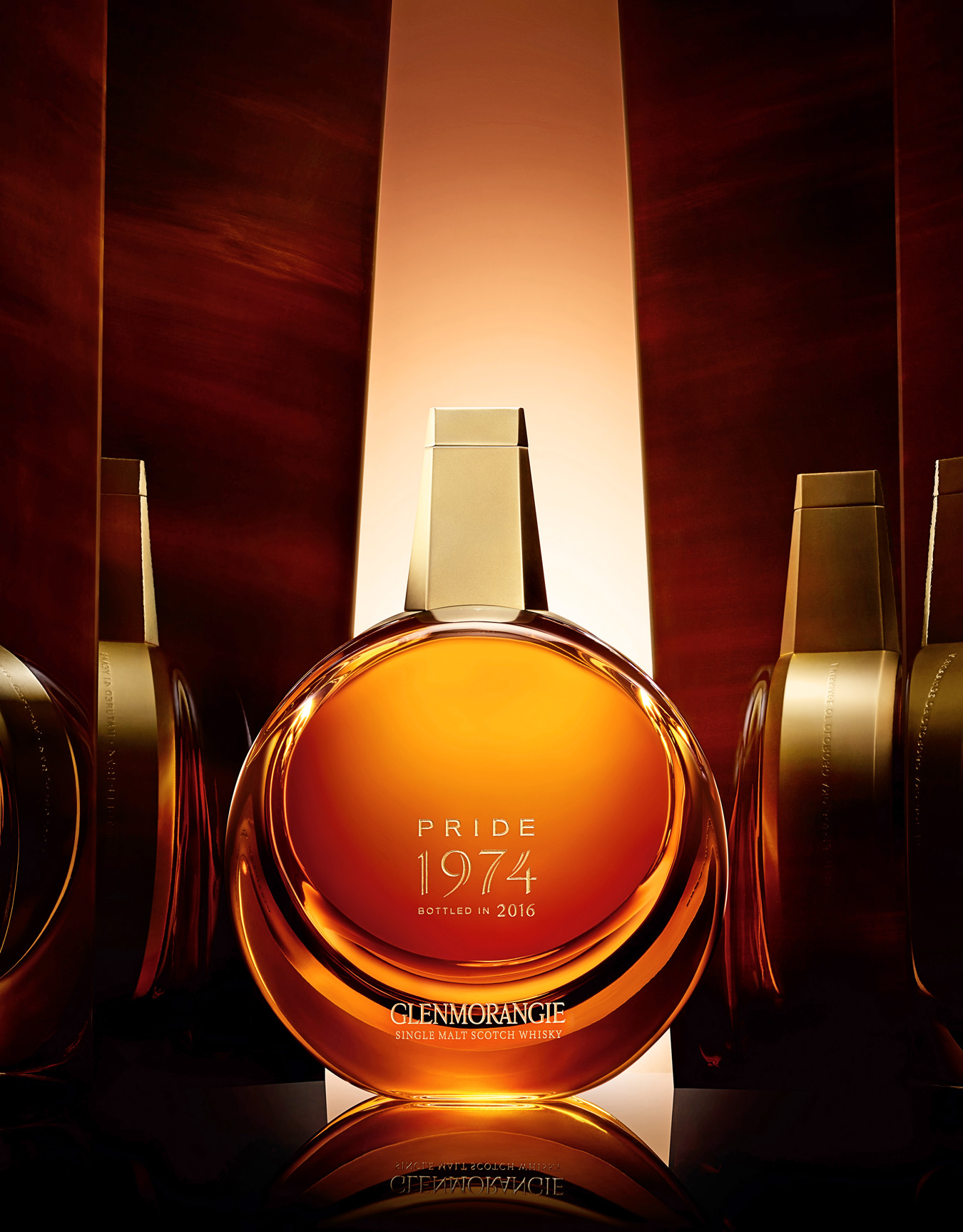 So prevalent are the words rare and exclusive in marketing copy that more often than not they should be taken lightly. But in the case of Glenmorangie Pride 1974, the distillery's oldest whisky expression, they should be taken like a fine scotch: straight, strong, and with a sense of gravitas.
Glenmorangie, one of the pillars of the LVMH group, presents its latest whisky theatrically: in a cherrywood veneer box with mirrored interior where a crystal decanter, designed by Laurence Brabant, takes centre stage. It's a coffer of regal spirit, of which only 503 bottles have been produced. The golden prize: Glenmorangie Pride 1974, a Highland single-malt whisky that combines eaux-de-vie derived from two parcels (groups of casks) aged for 41 years, one matured in ex-bourbon refill casks and the other in ex-Oloroso sherry butts. It was Dr. Bill Lumsden, the company's award-winning director of distilling, whisky creation, and whisky stocks, who married these two parcels together. This rare beauty of a whisky has collectors and aficionados in thirst for it, even with the per-bottle price tag: around $15,000 Canadian (depending on the province).
Glenmorangie Pride 1974 is the third of the Glenmorangie Pride trio; the others—Pride 1981 and Pride 1978 (the years reference when the liquid was distilled and laid down for maturation)—but it is the newly debuted Pride 1974, which Lumsden asserts "is, absolutely, the best of the three. It is the least woody, the least drippy, and the least tannic of the Prides and is remarkably soft and gentle on the palate for a whisky of that age." In celebration of the 1974 debut, Glenmorangie partnered with 31-year-old Grammy Award–winning jazz pianist Aaron Diehl and piano maker Steinway & Sons to compose an original piano piece, which was performed at the New York launch this past spring.
Diehl found inspiration at the Glenmorangie distillery in Tain, Scotland where he and Lumsden shared in the creative spirit of the place. (In Scots Gaelic, Glenmorangie means "valley of tranquility.") Of his visit to Scotland, Diehl regrets not having more time to experience the surroundings and to spend with Lumsden, who is a hive of information. "I had to take a tape recorder with me, to be honest—he talks a lot," says Diehl. "You can go into the scientific methods about how the whisky was made, but there is also a mysterious element in there, an alchemy. It's like building a Steinway piano: it takes nine months or a year for the wood to age before they can even start building the piano itself."
Diehl's score, Echoes of the Glen of Tranquility, is a 12-minute piano composition inspired by Glenmorangie Pride 1974, its origin, and its heritage. From the Oloroso casks' Spanish history, Diehl drew on notes of flamenco music; from the bourbon casks came blues and bluegrass; and from the whisky's Scottish heritage, the composer included references to bagpipes. "I feel the piece is complete," explains Diehl, "but I think I'd like to extend it. There is always room for that."
From the joyous experience of hearing to the ones of taste and smell, Lumsden's Pride 1974 is a sensory masterpiece with its salty-spice aroma of balsamic vinegar, oranges, and salted caramel toffee followed by rich flavours of brown sugar, toffee, and baked apples. "I've got a very highly developed sense of smell and taste," explains Lumsden. "I celebrate diversity and inconsistency, but really, my real job is guaranteeing the quality of the whisky. And there is more to come. I have identified another two parcels which may or may not become Pride 4 or 5." We can only hope. For now, we'll savour Glenmorangie Pride 1974—and enjoy every last drop.
_________
Never miss a story. Sign up for NUVO's weekly newsletter.