Stéphane Parmentier for Christofle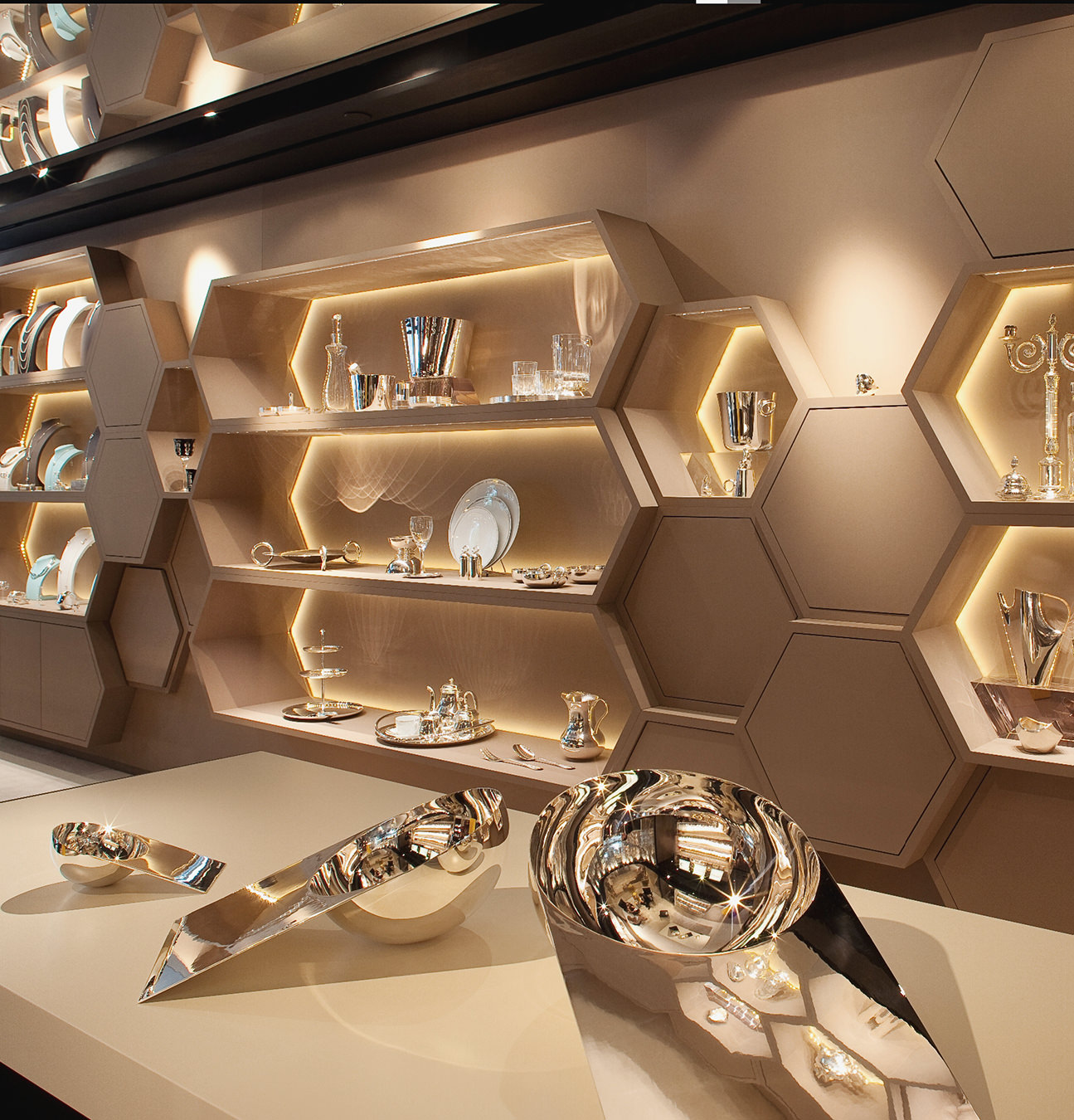 The best storytellers are those who understand the splintered origins of their tales, and are able to unite these fragments of meaning and connect them, viscerally, to their listeners' lives. It is, epically, a storyteller's era in design, and at 46, Stéphane Parmentier, former Lanvin, Léger, and Lagerfeld fashion designer turned interior architect, has polished this skill to a fine shine.
According to Parmentier, one of the hallmarks of modern luxury is eclecticism. In his hands, eclecticism is barely discernible, as he has so deftly fused its components together. For just this reason, the designer was commissioned to create the Madison Avenue flagship for 182-year-old Parisian silver house Christofle, which had its soft opening in June. "We were seduced by what Stéphane was doing," says CEO Thierry Oriez, who observed Parmentier's move from fashion to interiors 11 years ago, just as Oriez's predecessors had watched and tapped Gio Ponti in 1928 and an elite roster of others since then. "It was his ability to build bridges between the heritage story of a brand and its future."
The flagship is less of a boutique and more of an expression of a modern art de vivre. Parmentier gave it a tone-on-tone, metal-on-metal look that, far from feeling chilly, evokes the art deco charm of Manhattan's Chrysler Building. A mirror-finish stainless steel "island" (as Parmentier puts it—the installation appears to float within the boutique like an island in the sea) displays flatware and engraved silver trays hung like mirrors via magnets. "First it drinks in the environment around it, and then it becomes invisible," Parmentier says of the island. "You feel it, but it recedes." The profusion of reflective surfaces that populate the space capture fragments of visuals, but then disappear luminously themselves, he points out, like the mirror through which Cocteau's Orpheus passed.
Those intimate with Christofle should find no element of its persona missing from the new retail space, and it feels fresh and up to date. Parmentier mixed materials from previous shops (from bronze and wood to limestone and ebony, used during the 1930s) that he calls "small, silent references to the story … One of the stories of Christofle is: We're not in a showroom. Welcome to our home." Parmentier has designed residential interiors everywhere from on his home turf in the south of France to Miami, calling living space one of the most powerful places to express identity.
Parmentier was born in Nice and studied languages and art history before leaving school at the age of 20, having won a fashion competition. In fashion, his influences ranged from Alaïa and Comme des Garçons to the radicalism of the Bauhaus to 1960s Italian film and commercial aviation. A love of style, not just fashion, was the foundation of all these interests, which meant that after 18 years working for the best houses, Parmentier wanted to design more than just clothing. "In design or in interior design, you can build, more like an artist, a whole universe of shapes ranging from a cup of coffee to a whole building," he explains. "I felt as if I could step out of a one-dimensional experience." Today, he makes custom furniture for his interiors, has recently finished an Hermès pop-up and the France Telecom-Orange headquarters in Paris, and serves as the interior and design editor for Le Printemps de la Maison. And it isn't the fashion that informs the interiors; they both grow from the same root. "In style, I am not an iconoclast," Parmentier insists. "I don't like to provoke just for the pleasure of it."
And so he wields the details of his design "stories" with great subtlety, choosing carefully what to reveal and what to withhold to make the narrative most effective, whether it is a Claude Montana dress, an Ormond Editions stool, or a house in Miami. "I prefer cloth or an object to be progressively revealed, rather than leaving nothing to discover when approached," the designer says. "And I like people the same way. How wonderful when you come close to someone who looked dull and you realize how internally rich or original this person is. This is the pleasure of fashion and design, to surprise, and it is in the nature of fashion and interior design to discover a new approach and to be fearless in expressing it."
Photos by Jean-François Jaussaud.