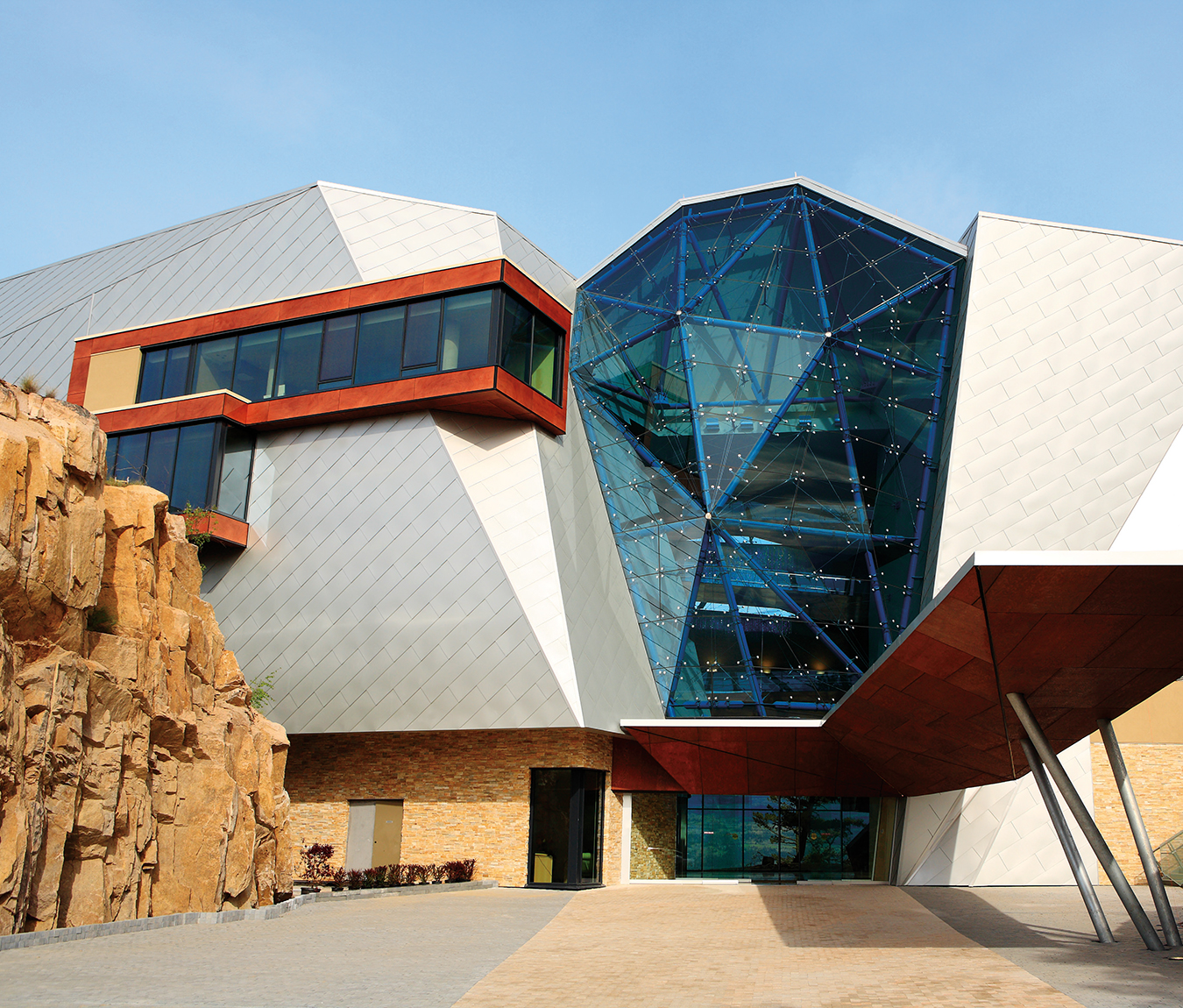 Spa treatments are known to pamper and soothe, but nowadays there are some that truly differentiate themselves from the rest. And, chances are that even the most spa-obsessed among us has yet to experience a cold sauna. Yes, a cold sauna, which entails spending three minutes in a -110°C cold chamber. No parka allowed—just earmuffs, a bathing suit, gloves, socks, and shoes. Cryotherapy is already a sought-after spa offering in Europe; Germans and Austrians, particularly, are fond of working the icy cold treatment into their wellness regimes. The positive effects are numerous and can help to heal conditions like arthritis, stress, and depression. But in North America, there's only one spa that offers the treatment: KurSpa, located within the new Sparkling Hill Resort, which opened in Vernon in B.C.'s Okanagan Valley this past spring.
The locals have dubbed Sparkling Hill Resort "the Crystal Palace," an apt moniker because this resort is, indeed, full of crystals, and sits high atop a granite ridge overlooking a kingdom of scenic rolling hills and Okanagan Lake below. Crystal architecture is its central theme, with more than 3.5 million individual Swarovski crystals incorporated into the design. Extravagant, yes, but the concept is so tastefully executed that it is far from gaudy. This crystal theme is present throughout the resort, appearing in towering chandeliers as well as in minute details such as tiny fibre optic crystal stars embedded in ceilings and cabinetry throughout the guest rooms. Crystal baubles weighing almost 1.5 kilograms hang from Douglas fir trees outside the lobby and, like all the crystal elements, serve as kaleidoscopes that brilliantly refract the light, scattering rainbows across walls.
The $122-million Sparking Hill Resort and Spa development is owned by Austrian businessman Gernot Langes-Swarovski of the family-owned Swarovski crystal company. His vision of a European wellness resort imbedded in the natural beauty of British Columbia became realized when his colleague Hans-Peter Mayr discovered this heavenly spot in the Okanagan. Mayr saw it was the ideal location to build a European-inspired wellness resort, and Swarovski wholeheartedly agreed. (He even had a personal residence built into the resort.) Year-round, the affable Mayr, now president and CEO of Sparkling Hill, oversees the day-to-day running of the resort.
Conceived upon the principles of a European health spa, KurSpa (kur is German for healing) prides itself on offering a complete wellness experience. It comprises seven themed steam sauna rooms, a complete gymnasium, a relaxing tearoom, exotic couples treatments like Turkish hammams or Ayurveda massages, soothing fango mud wraps (using genuine volcanic ash flown in from Austria), and, of course, the cold sauna. Not for the faint of heart, the sauna has three chambers, the first set at a bracing -10°C, the second at -60°C, and the third at -110°C. Heavy-duty doors connect the three chambers, and daring guests spend a few seconds in each, easing warm bodies into the shock of that final chamber. The cold penetrates right down to the bone, and a steady shuffling around the chamber is encouraged to keep the blood flowing; stepping out of the cold sauna feels much like defrosting and, of course, invigorating. Skin temperature tends to drop around 5°C after only three minutes, which makes bundling up in a terrycloth bathrobe after the treatment feel most gratifying. "Your whole body is affected," says KurSpa manager Tinus Pietersen. "You want to enter the chamber always aware of using all your senses."
This holds true for the entire resort experience at the Crystal Palace. Whether enjoying the European-inspired cuisine at PeakFine restaurant, gazing out at the sweeping views from one of the guest suites, or inhaling the rich aromatherapy used in the one of the steam sauna rooms, Sparkling Hill Resort truly is a feast for all senses.