Two parts Canadian, equal parts Japanese.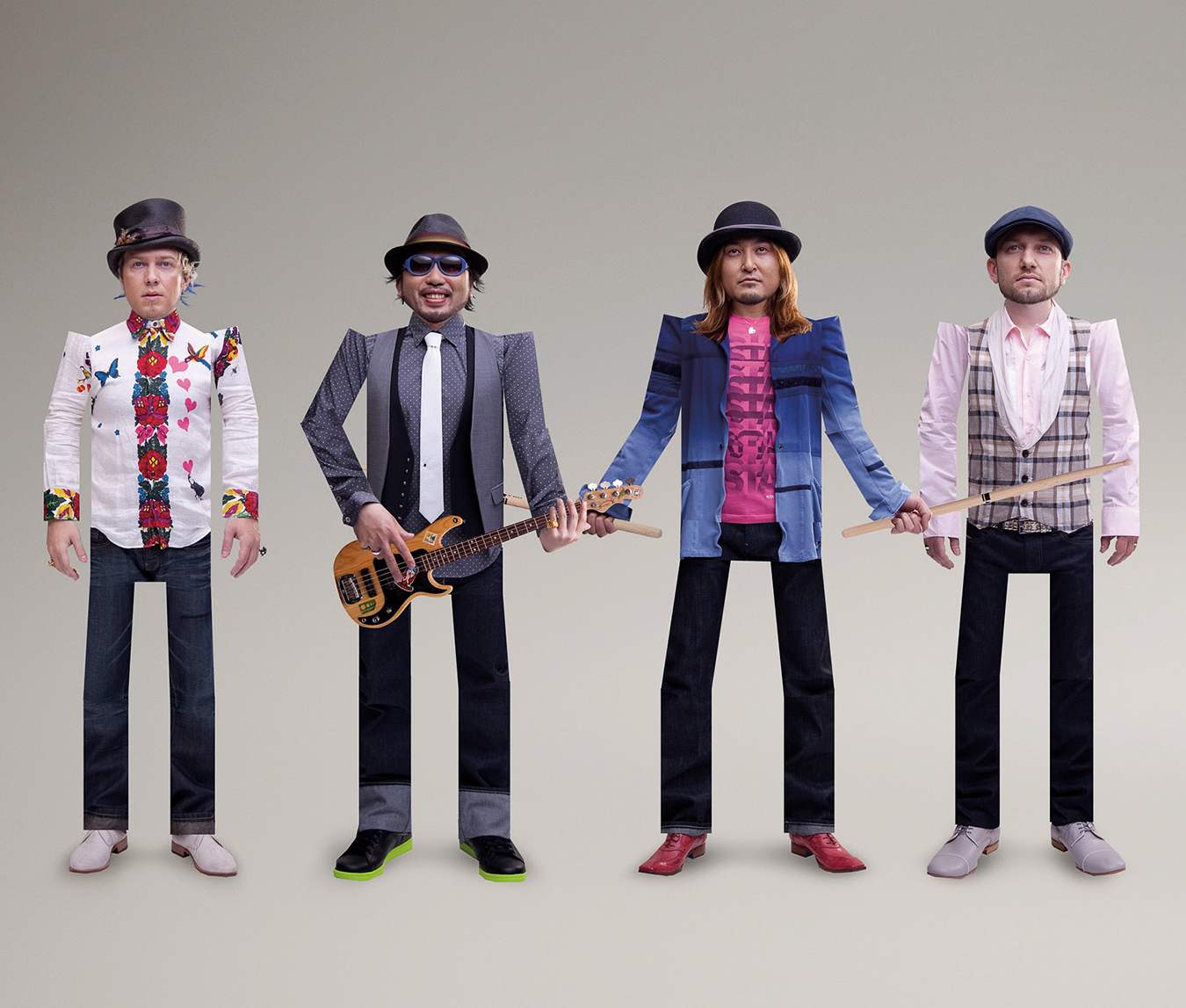 The ultimate hybrid is not what you think. Largely unknown in North America yet hugely successful in Japan, Monkey Majik, a bicultural pop quartet (two members are Canadian, two are Japanese), has been driving their sweet pop-rock tunes toward mass appeal since 2000, on the other side of the Pacific. The hype belongs to Ottawa-born brothers Maynard and Blaise Plant (no relation to Robert), who both sing and play guitar, and their counterparts, known as Tax (real name: Takuya), the drummer from Sendai, Japan, and Dick (real name: Hideki), the bassist, who's from Sapporo.
At first glance, Monkey Majik has all the trappings of a typical garage band. (The name was gleaned by original drummer Tom Pritchard from the song "Monkey Magic", which was the theme for Saiyūki, an English-dubbed Japanese show he watched as a child in the U.K.) But a closer listen (or scan through the lyrics) yields an easy, seamless blending of English and Japanese. Says Maynard, the elder of the two brothers, "We've been here [in Japan] so long that we move back and forth between languages without thinking really. There is no decided pattern, except that the melody always comes first. If a melody feels Japanese, we write the lyrics in Japanese. If it feels English, we write them in English." Waxing poetic on universal themes of love—newfound, lost, and unrequited—the vocals are sometimes in Japanese, sometimes in English, and sometimes with both languages in the same breath, as in "Picture Perfect": "Inakute mo ii [I don't care if she's here], I wanted to be free / Inaku natte mo ii [I don't care if she leaves], I wanted her to leave."
On a deeper level, Monkey Majik songs deal with content that straddles not only a linguistic but cultural divide. In a modern twist on Japanese tradition, "Change" rocks out with a shamisen, a three-stringed instrument developed in the 16th century. Similarly, the Plant brothers, who are now based in Sendai, remain connected to their North American roots. "I am a Canadian citizen first and foremost," says Maynard. "However, there are certainly times when I feel that the Japanese way is more appropriate and comfortable for me. I believe that my embracing of Japanese culture and adapting to certain Japanese lifestyles is actually a product of my Canadian upbringing, and it is in fact what makes me Canadian." Although the Plants have lived abroad now for over a decade, the band's second album release, entitled Eastview, is a shout-out to the Ottawa neighbourhood where they grew up, now known as Vanier—if not a clever nod to the Land of the Rising Sun.
Although the band has done limited touring in Canada, and in much smaller venues at that, it is clear that their Japanese fans are the ones who go bananas. Buoyed by an impressive list of number one hits, sold- out shows, and millions of hits on YouTube, the boys recently released a greatest hits album, Monkey Majik Best~10 Years & Forever~, a radio-friendly collection of 19 ditties including "Fly", "Around the World", and "Sora wa maru de"; the latter (which, loosely translated, means "The Sky Reminds Me") is famous for soaring to the top of the charts before it was officially released. Monkey Majik's popular style has spearheaded the group toward their present state of stardom, with their familiar sound scoring movies, TV shows, and advertisements for brands like Subaru—an act that lacks the sellout stigma in Japan that we might identify here in North America.
And all this cross-cultural love has not gone unnoticed. Last year, Monkey Majik became goodwill ambassadors for the 80th anniversary of Canadian-Japanese relations, a mission started in 1929 that began an official diplomatic friendship when the Japanese consulate opened 21 years later in Ottawa.
This October, the quartet will take their show on the road and embark on their 10th-anniversary tour, which was kick-started with the new single "Sakura" this past spring. In the music video, the four band members act out a spoof of a samurai movie, in which the boys are, well, monkeying around. Fitting, indeed.