The Rock and Roll Hall of Fame
Stairway to memorabilia heaven.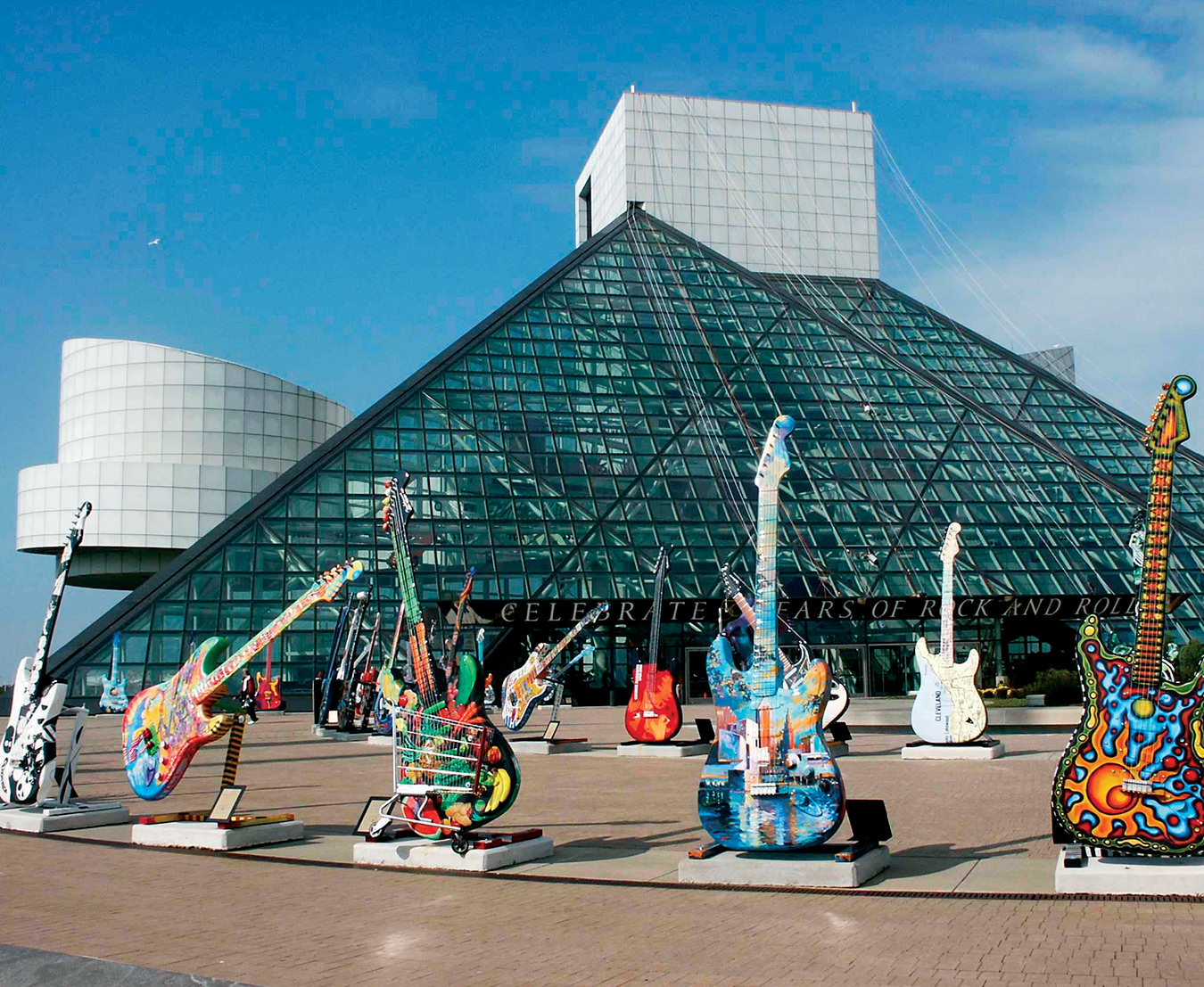 In ancient Egypt, a pyramid was referred to as mer; translated literally, mer means "place of ascendance". Little wonder, then, that the Rock and Roll Hall of Fame and Museum in Cleveland resembles a super-sized glass pyramid; the structure pays homage to those musicians who have indeed ascended the summit of popular music. And much like those triangular Egyptian tombs back in the days of the pharaohs, there is priceless treasure lurking just inside the walls of this structure set upon the always-frigid shores of Lake Erie.
The collection is certain to bring back memories for many baby boomers. A good thing, too; as the saying goes, "If you can remember the sixties, you probably weren't there."
As for Cleveland, the so-called "Mistake by the Lake" may seem like an unlikely place for the museum. But it was Cleveland DJ Alan Freed who coined the term "rock and roll" as a substitute for black "race" music. Freed, who died in 1965, is himself immortalized here: the urn containing his remains resides within the museum.
Throughout the museum are shrines showcasing the careers of various artists, typically jam-packed with fascinating memorabilia. A glass-encased display lauding Bob Seger contains his 1957 Gibson acoustic guitar. The instrument was a birthday present from Glenn Frey of the Eagles—proving that even rock stars aren't above regifting.
Where does all this stuff come from? For the most part, says Todd Mesek, the museum's vice-president of marketing and communications, fans can be thankful that many artists have mothers who are pack rats. "Some of the artists' moms just hang on to everything," he says.
It's fascinating to observe how some artists have stood the test of time by remaining relevant through the decades (such as 2008 inductee Madonna). Other artists, however, haven't fared as well. A case in point: the Michael Jackson exhibit displays the werewolf mask worn by the King of Pop during performances of "Thriller" on the Dangerous World tour in 1992 and 1993, and the HIStory World tour in 1996 and 1997. Alas, the latex mask actually comes across as less gruesome than Wacko Jacko's current real-life mug.
A display dedicated to Pink Floyd's 1979 masterwork, The Wall, is captivating. Written on white bricks the size of refrigerators is a short essay by Roger Waters regarding the epiphany he experienced in 1977 that led to the album's creation. Waters recalls how he was "shocked" by his own behaviour after he spat in the face of an adoring fan at Montreal's Olympic Stadium. "I was forced with a choice," he writes. "To deny my addiction and embrace that 'comfortably numb' but 'magic-less' existence or accept the burden of insight, take the road less traveled and embark on the often painful journey to discover who I was and where I fit. The Wall was the picture I drew for myself to help me make that choice."
There's other correspondence on display as well. The most gulp-inducing missive is surely the 1979 letter by Bill Lawrie, former director of artists and repertoire for Arista Records. Lawrie's letter begins "Dear Friends" and goes on to note that "although it [the demo tape] doesn't meet our needs at present, we would like to thank you for thinking of us, and encourage you to keep us in touch with your future musical endeavors." The recipient of Lawrie's letter? An obscure band out of Dublin, Ireland, by the name of U2.
If anything, the Rock and Roll Hall of Fame and Museum is proof positive that this genre continues to thrive and evolve despite enduring a considerable backlash from "the establishment" over the decades. (Consider the multimedia display featuring quotes and TV clips from decades past in which critics opine that rock music is responsible for societal ills ranging from premarital sex to Satan worship.) Still, one can't help but notice a perverse undercurrent of irony in the very idea of establishing a rock and roll Hall of Fame in the first place.
Rock music was once a piss-and-vinegar part of the counterculture movement. Today, the genre has its own multi-million-dollar self-congratulatory temple (including a gift shop where a souvenir T-shirt can fetch as much as $47.) Surely such a flagrant embrace of capitalism is about as "establishment" as you can get. One wonders what the likes of Morrison, Hendrix and Vicious would have to say about it if they were still alive and rocking today.
Photos provided by Positively Cleveland.
August 1, 2008
Updated: October 2, 2014