Marine Drive Residence by Scott Posno Design
Clad in dark brick, this Vancouver home by Scott Posno Design mixes elements of the contemporary château with an intellectual minimalism. Spread over 12,000 square feet, the house is presented from the street as a series of planes. A few windows disperse light through the interior and give insight into its soft-materials palette. The difference between the austere exterior and gentle interior make this house a sort of modern castle.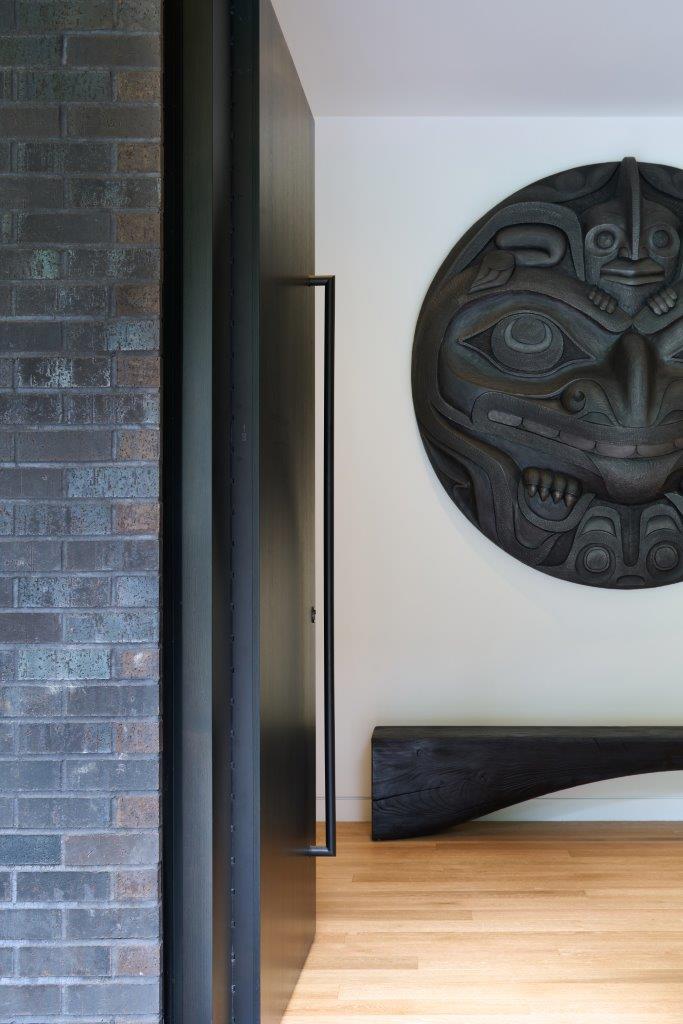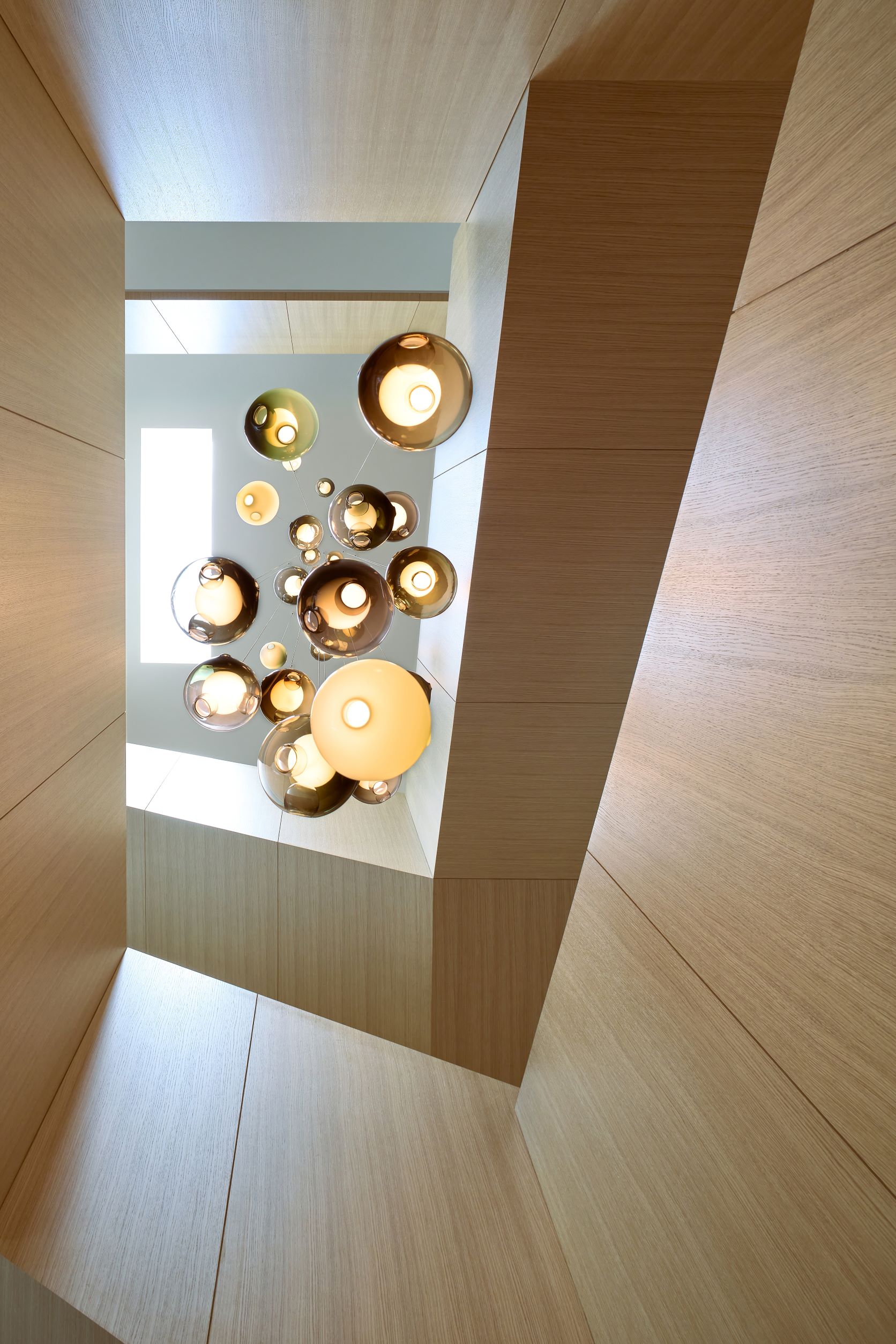 Posno, who also designed the landscape and interiors, says his firm was given carte blanche by the clients, whose asks gravitated more toward the types of room. They requested elevators, a golf simulator, and two kitchens, all of which were integrated seamlessly into this impressive property, along with a theatre and four gas fireplaces.
Seven bedrooms and eight bathrooms explain the need for the double kitchens (the second being a spice/wok kitchen), and the primary dining space features a built-in banquet dining table. Two of the bedrooms are in the basement, while the other five, including the master suite, are in the top storey. The master has a separate balcony looking over the backyard. The multiple living areas throughout were furnished with the help of Inform Interiors. Bountiful oak creates a stillness: in the flooring, the millwork, and the central staircase, adorned with a tasteful Bocci chandelier. A skylight above the staircase filters light through the central envelope, all the way into the basement.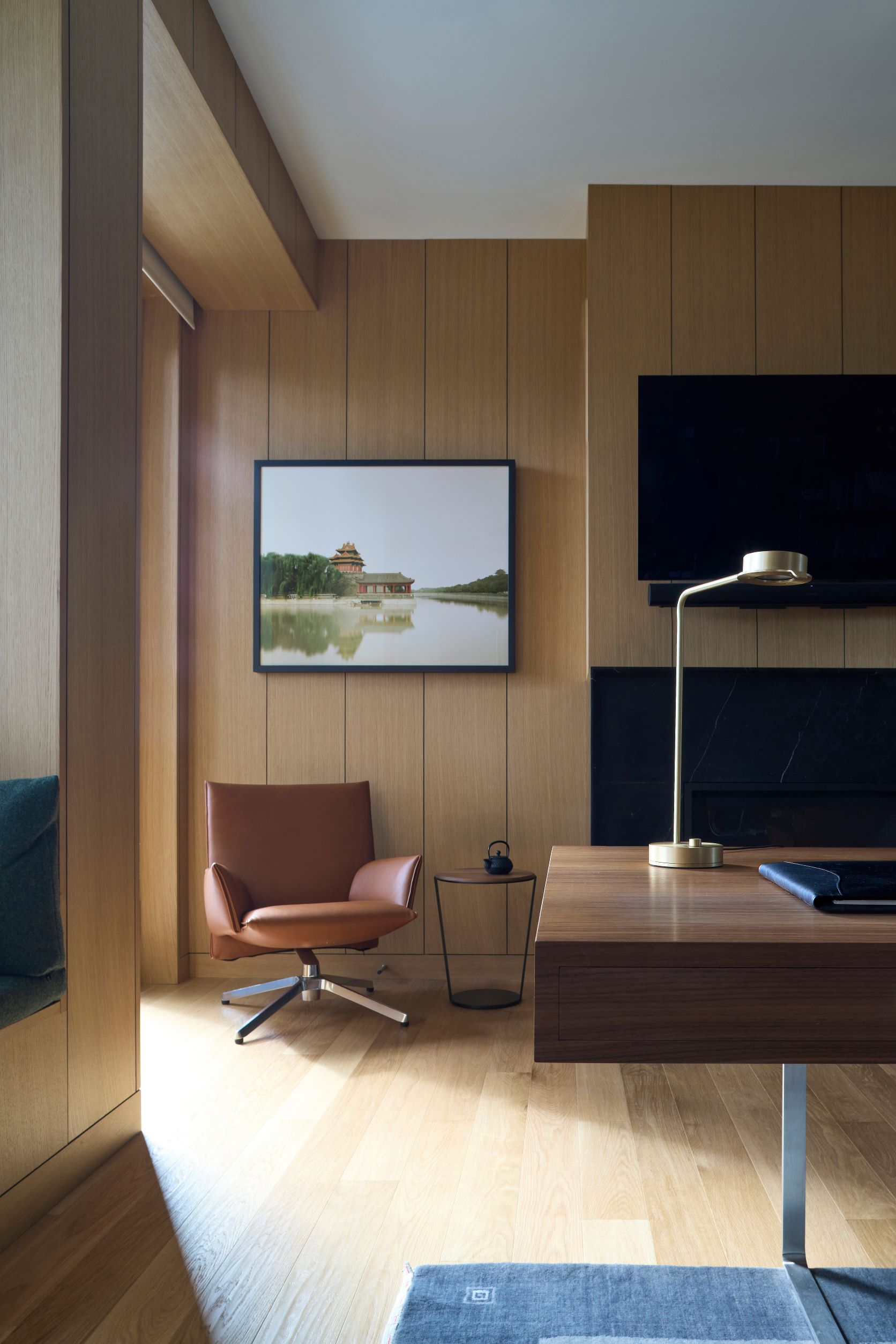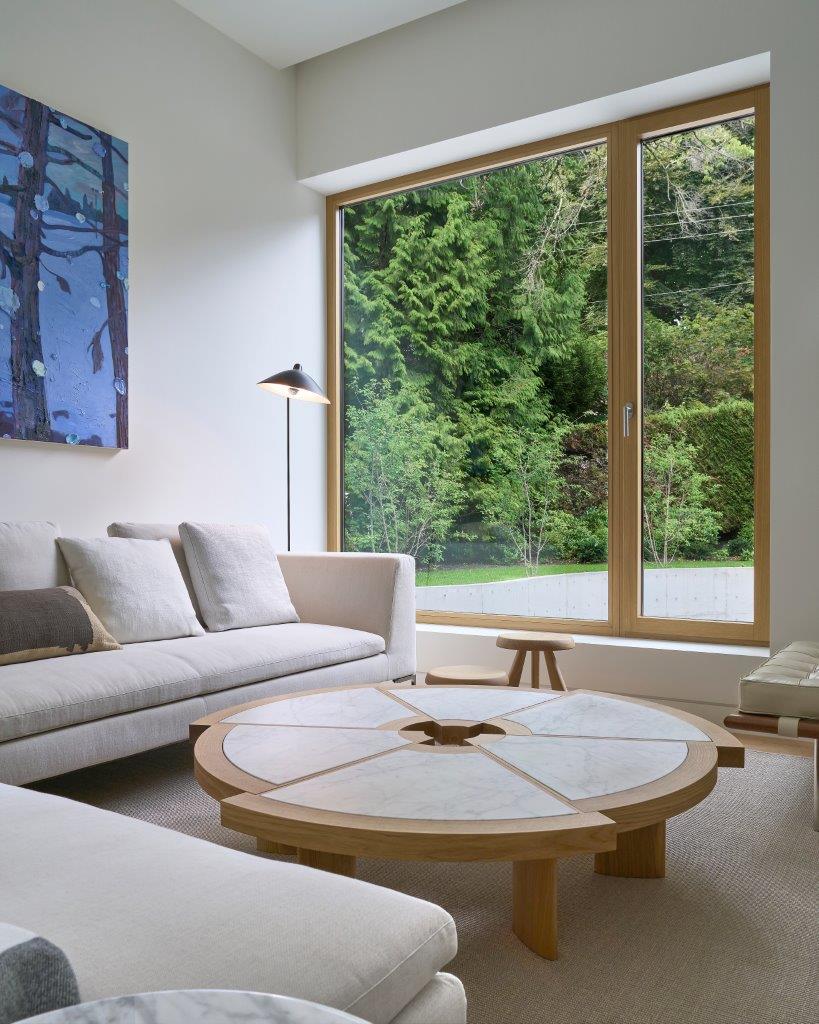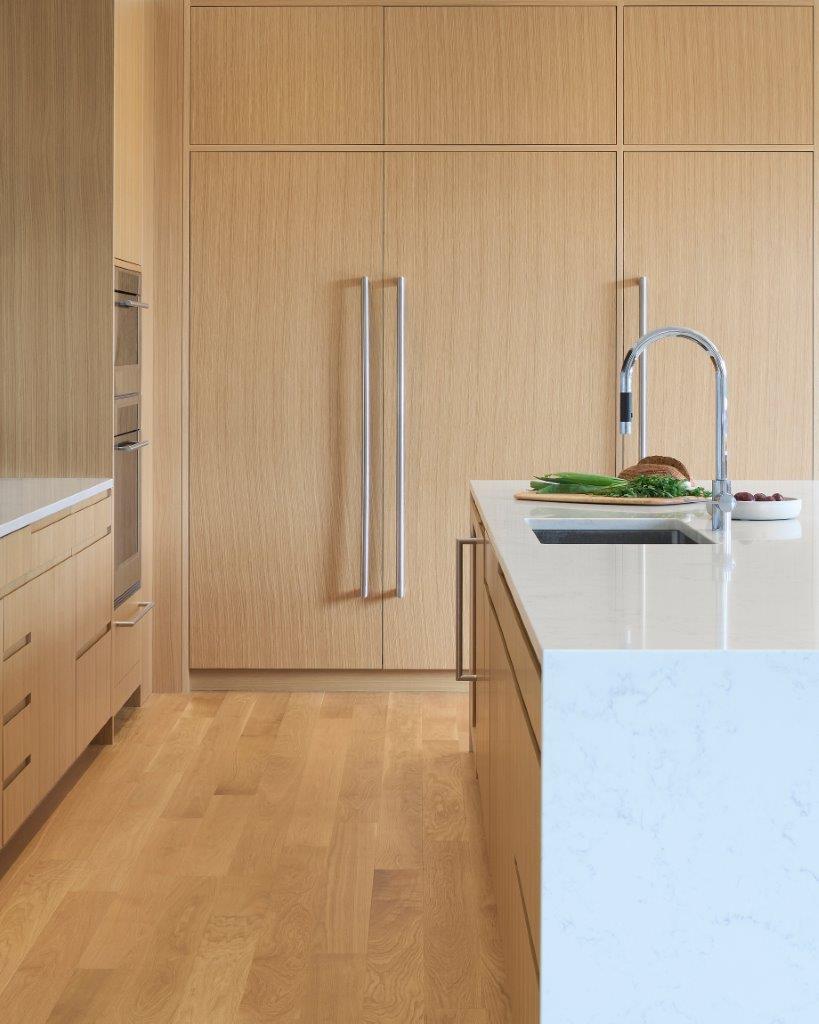 Ample windows on the backyard-facing wall bring in lots of light to the living and recreation areas. The bathrooms are richly clad in soft grey stone, and the bedrooms all have an airy relaxing palette in the interaction between colour and exterior light. From the top floors, especially the master suite's balcony, the Strait of Georgia is visible through the mature trees that have been on the site for decades.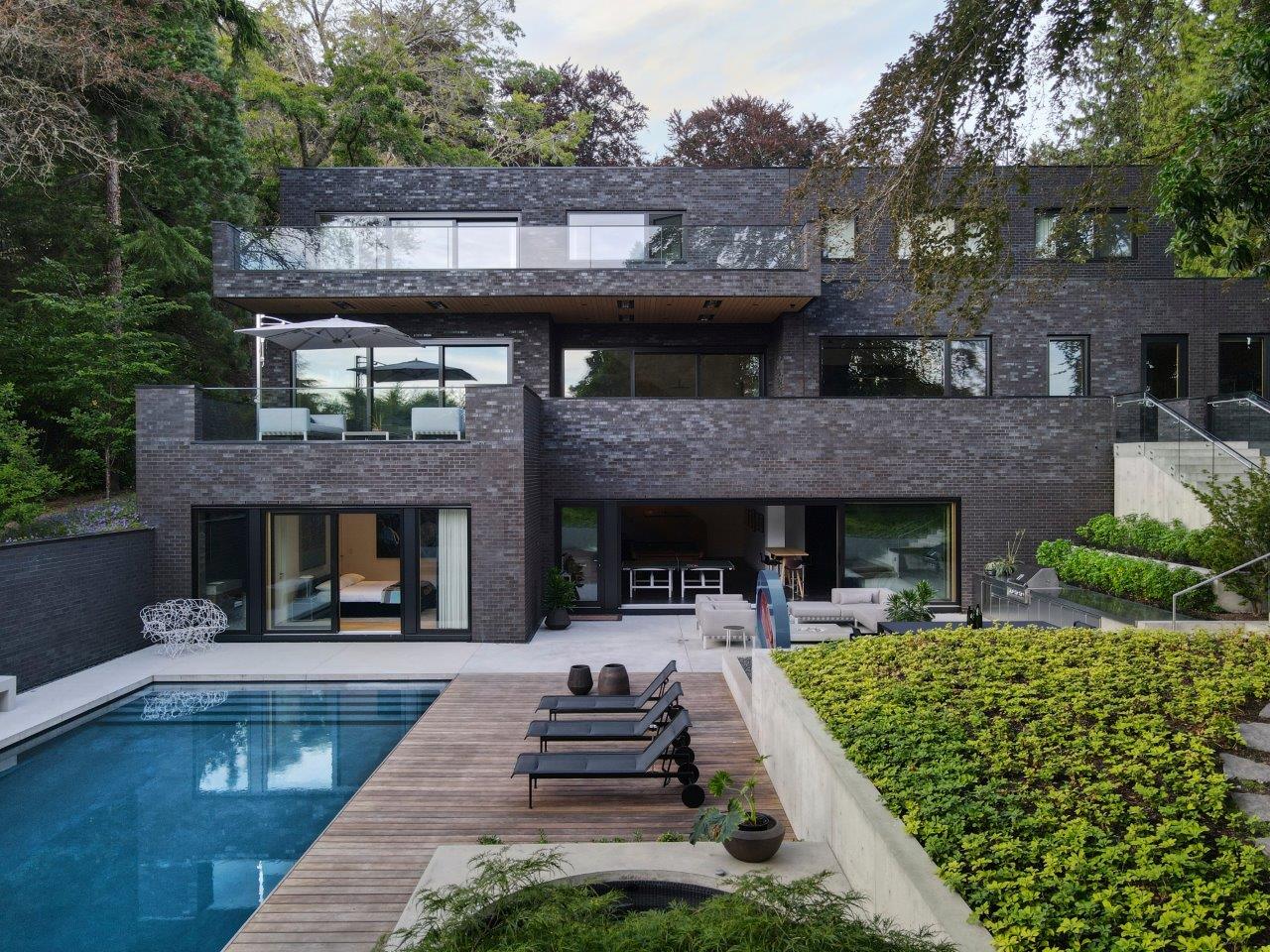 The backyard is a paradise of landscape and recreation. A walkout basement opens to the pool and hot tub area, which is flanked by a tasteful lounge area and a built-in barbecue nearer the structure. The sloping backyard is also accessible from a concrete stairway with a transparent railing feature that is seen again in the main-storey balcony that is in line with the pool.
It's a home that makes us ask, why ever leave?
Photography by silentSama.
—
Part of our Home of the Week series. Read more HERE.