Designer John Sharp Is Busy Experiencing Things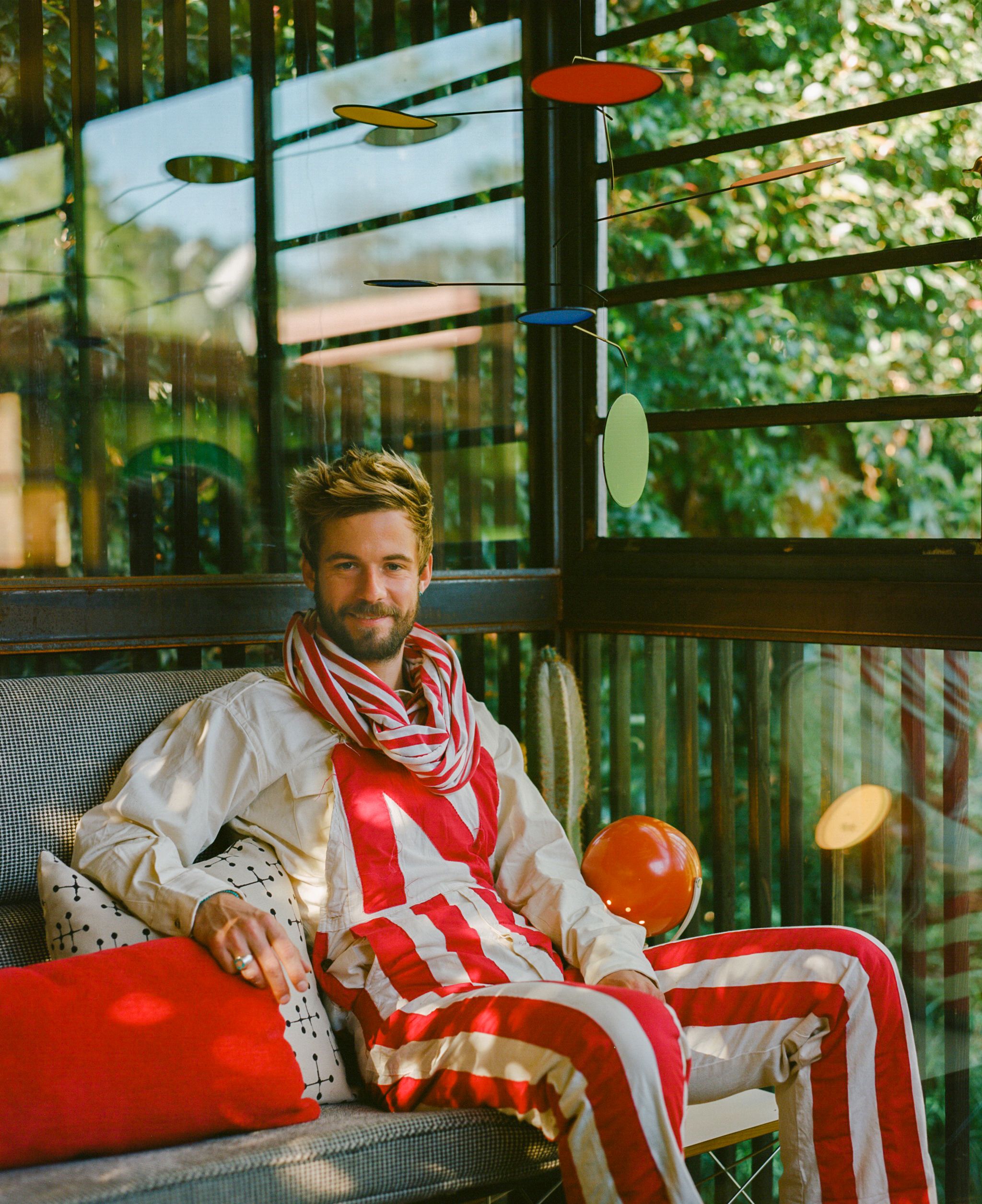 Pre-pandemic there was plenty of talk around how we were disengaged. Concerts watched through phones, vacations booked for the photos—a disconnect between the moment and the memory.
Through the pandemic, that perspective has shifted. We're hungry for any experience, no longer preoccupied with how to be present. Now, it's the things we took for granted—strangers, touch, newness, culture—that we crave.
And this era seems to be exactly what designer John Sharp has been waiting for. Based in Southern California, Sharp describes himself as a spatial conceptualizer and environmental designer, rightfully swerving the traditional bounds of an interior or landscape design practice. His work is larger than life, fantastical, and above all, experiential.
"I think now the box is breaking," Sharp over the phone from Los Angeles. "The way that a lot of space is designed, it's centred around the concept of the nuclear family. The reality is, that has changed. People live with friends now until they're adults. They live more communally, more sustainably, and live with a greater consciousness of the environment."
Sharp made big waves in 2020 with his work with actor, comedian, and pandemic Instagram darling Jordan Firstman. Working closely with Firstman, he created a tongue-in-cheek maximalist pleasure palace out of Firstman's Silverlake Dion Neutra rental. Neon, black light, infinity mirrors, life-sized panther statues, devil-horned office furniture, this house has it all. But the pièce de résistance is a platform bed with bar seating swathed in faux fur in tones of almond milk and caramel (walls too). "I'm not generally called to people's backyards to say, 'Let's put in a fire pit.' It's like, 'Let's throw in a fucking jungle,'" Sharp laughs.
The project is a superlative representation of Sharp's approach. "With Jordan, he has this out-there personality, so it only made sense that his space had to represent the way he's out there," Sharp says. "It really comes to my specific way in design, which is detailed and tailored to each client—to know them better than they know themselves." Rather than holding steady to a particular trademark, Sharp would rather act as a conduit—excavating, interpreting, and extrapolating a visual of each of his clients.
Sharp, who often works with Los Angeles stars and up-and-comers like Sophia Bush and Charlie Carver, understands the importance of Internet presence but doesn't seem too convinced by it. Even for Firstman's home, who mostly creates content from home, life and character take precedence. "That space started because he had just gotten out of a relationship; he was finding this whole new sense of identity with his work and the attention his work was getting." Yes, it was important that space make a splash online, that's a given. But to do that, Sharp didn't turn to Pinterest mood boards, he went to flea markets and Beverly Hills estate sales and commissioned local artists to translate Firstman into a design language all his own.
This concept of identity and experience is closely related to feeling at home in one's space. "Everyone is just trying to be comfortable," Sharp reflects. "And I think the idea of comfort comes from identity. I have clients now who are looking to transform their home so it accents their identity." Sharp references one client whose friend comes over Saturday nights to play guitar, so an outdoor amphitheatre becomes essential. Or perhaps, as in another project, a Japanese tea house on stilts and a creek populated with butterflies and turtles becomes essential.
As Sharp says, with California casualness, "Designing for the moment and designing to be in the moment. That's so cool."
Photography by Sean Hazen.