Veuve Clicquot Celebrates 250 With a Collectors Edition by Paola Paronetto
La Grande Dame gets a makeover.
Champagne dresses up a party. Veuve Clicquot does so in its signature yellow. Enter Paola Paronetto, and the Veuve Clicquot Grande Dame 2015 gets a makeover with an entirely new colour palette, a collaboration in celebration of the maison's 250th anniversary. A milestone anniversary is cause for a grand fete, and for the occasion Veuve Clicquot transformed Galleria Michel Leo's space in Milan into Galleria La Grande Dame by Veuve Clicquot for Design Week. Paronetto's artistic interpretation for Grande Dame was the showcase.
For this special edition of La Grande Dame 2015, Paronetto created a collection of six boxes in the style of her celebrated ceramic sculptures in a spectrum of colours. "The colours express optimism," the designer says. "I wanted to bring sun to the table." The Italian artist and designer is known for her mastery of colourful ceramics. "I started with the iconic yellow of Veuve Clicquot," she says, "and then the colour of the sky that surrounds the sun. I chose two blues, one very light to represent the clouds. I had to include green because I was working with a product that is born of the earth—the vineyards—and then I left a space for lilac, a feminine colour that sweetens the composition."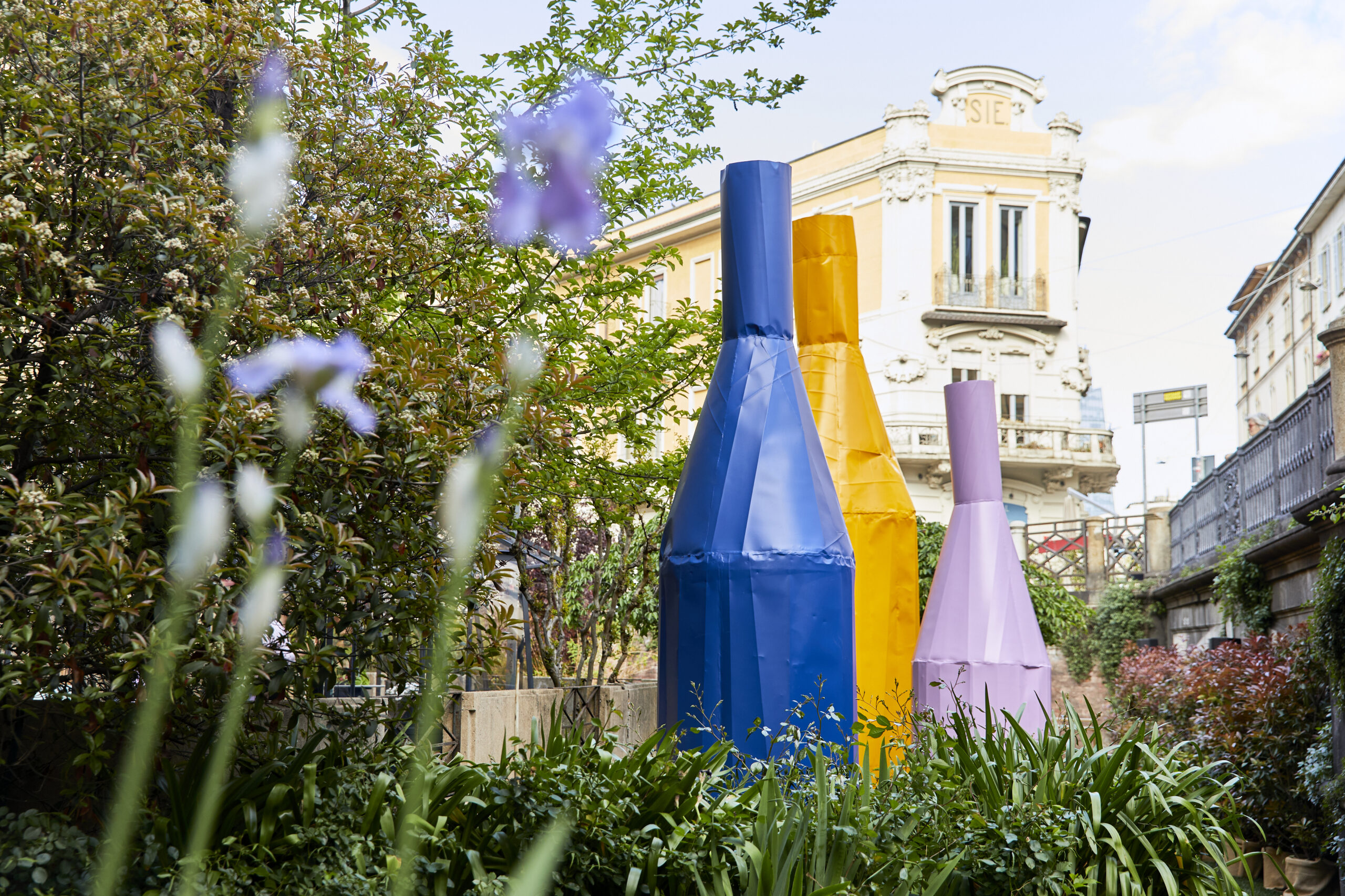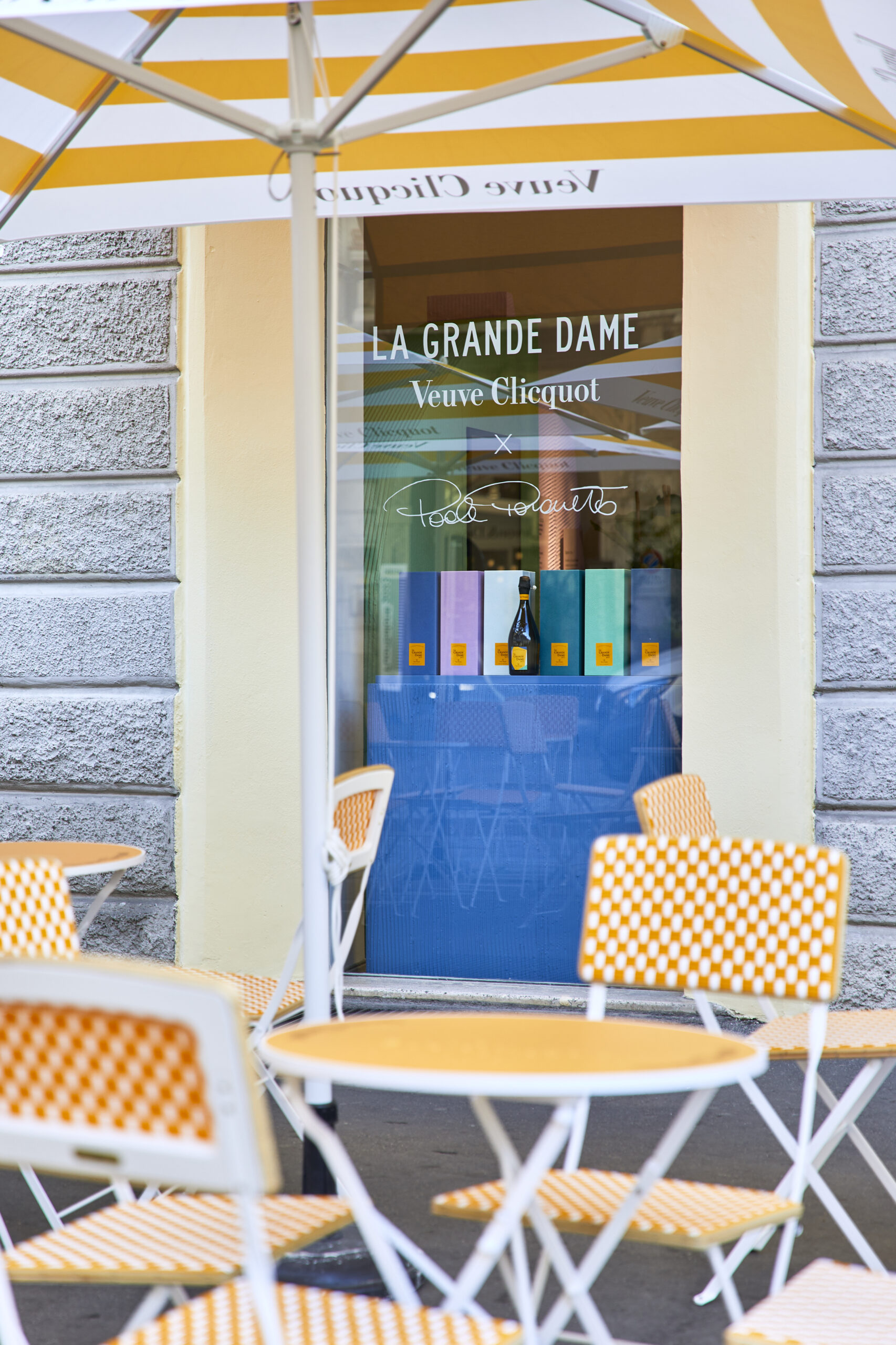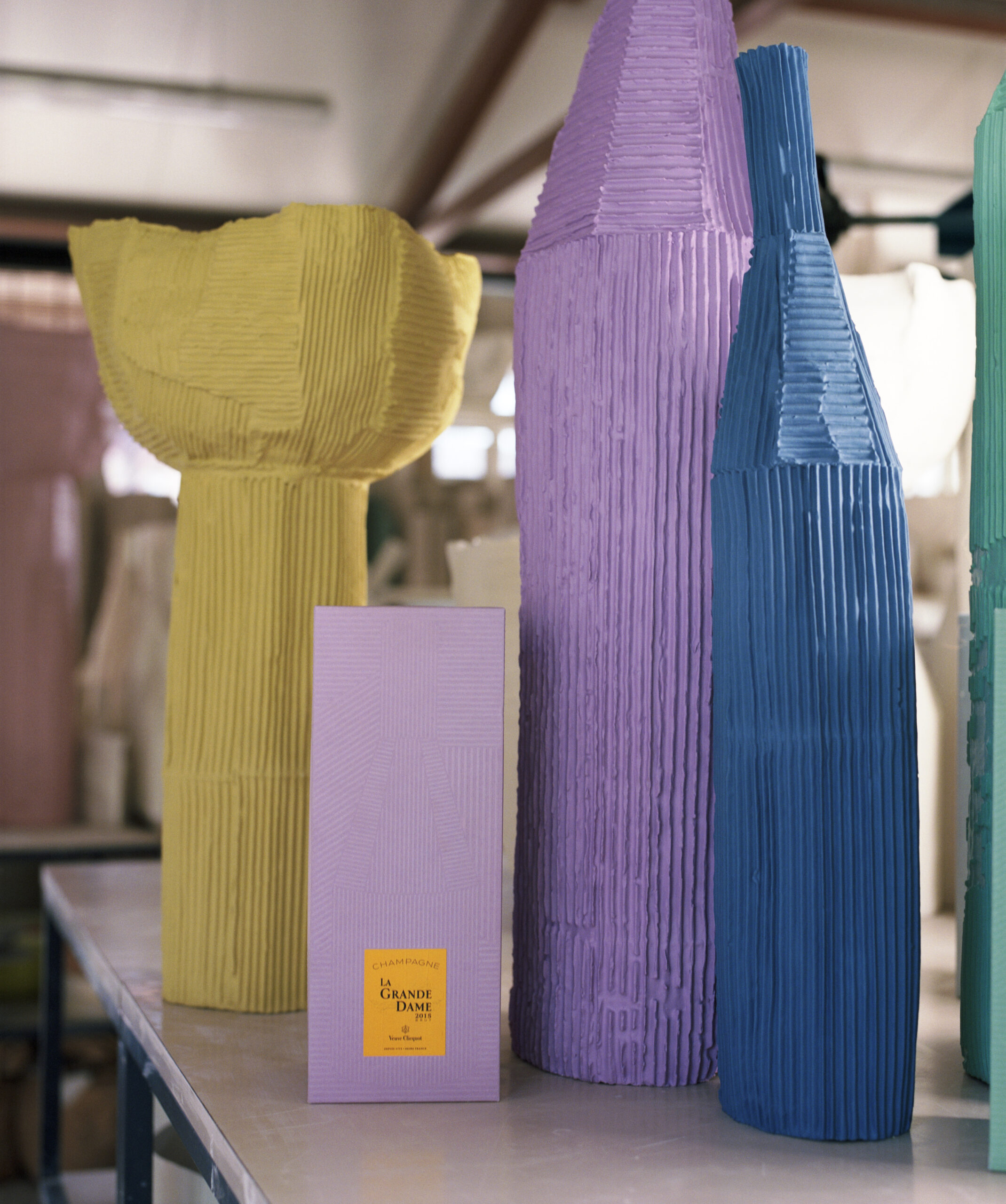 Paronetto and the Veuve Clicquot team were determined that the packaging be as eco-friendly as it is beautiful. They share a pledge in the brand's EcoYellow commitments, which focus on minimizing the impact of the winemaking process, from reducing water usage in the vineyards to making packaging lighter and producing less greenhouse gases during shipping. The 100 per cent recyclable boxes are made of hemp, FSC-certified wood fibres, and cotton.
"It took a few months for the final choice of colours," Paronetto admits. "Colour is a study. Looking at them together, it seems easy, but it wasn't so obvious in the beginning. From my colour palette of 90 shades, I did various tests, and I removed, removed, and removed [colours] until I arrived at these six, which had to stay." In addition to the gift boxes are the Giganti Bottiglie, consisting of a bespoke composition of three bottles (one yellow and the other two in hues of your choice from Paronetto's palette) in a limited series of 100 sets and signed by the artist. This limited edition composition is accompanied by a jeroboam of La Grande Dame 2008, three magnums of La Grande Dame 2012, and six bottles of La Grande Dame 2015.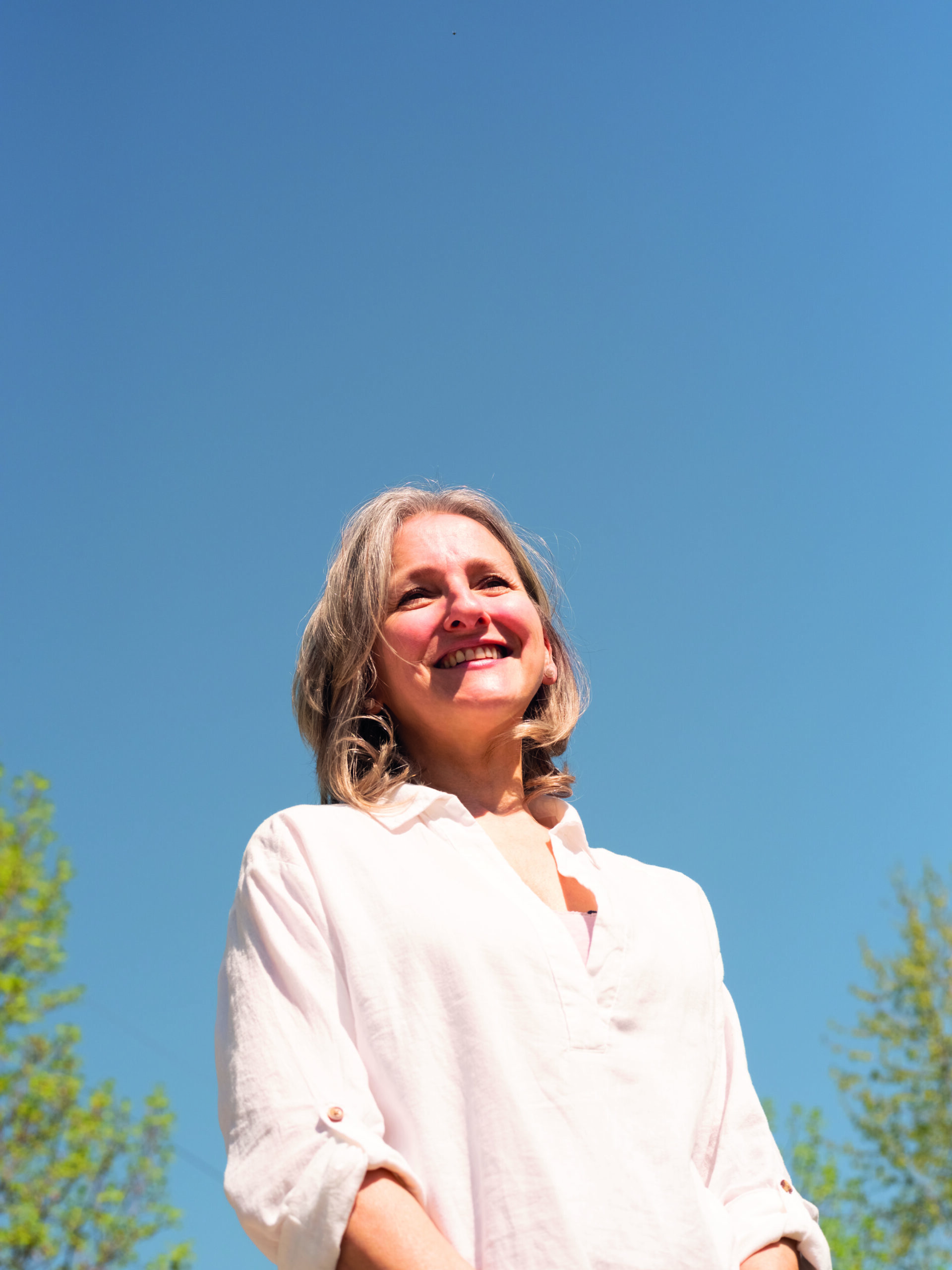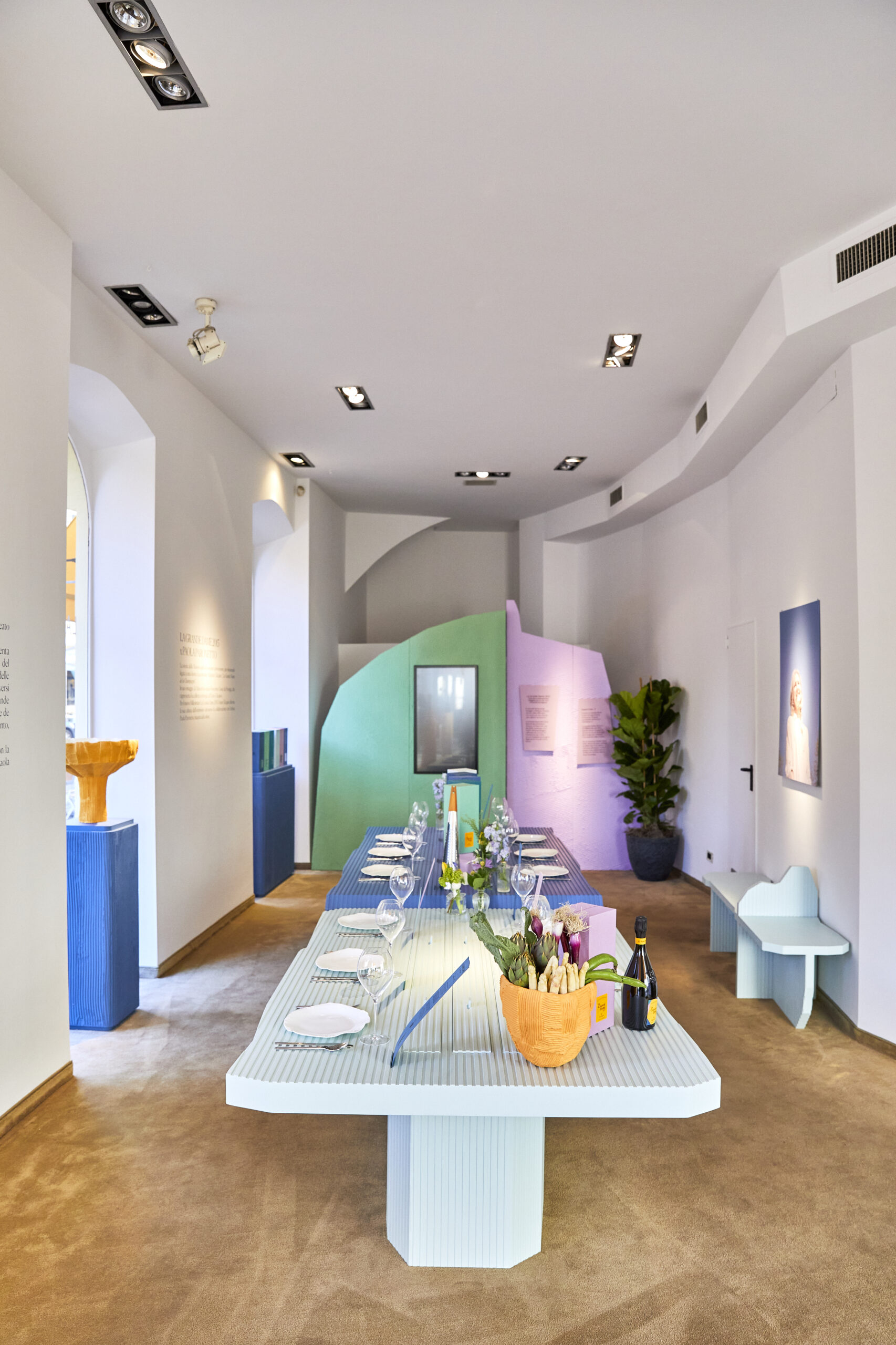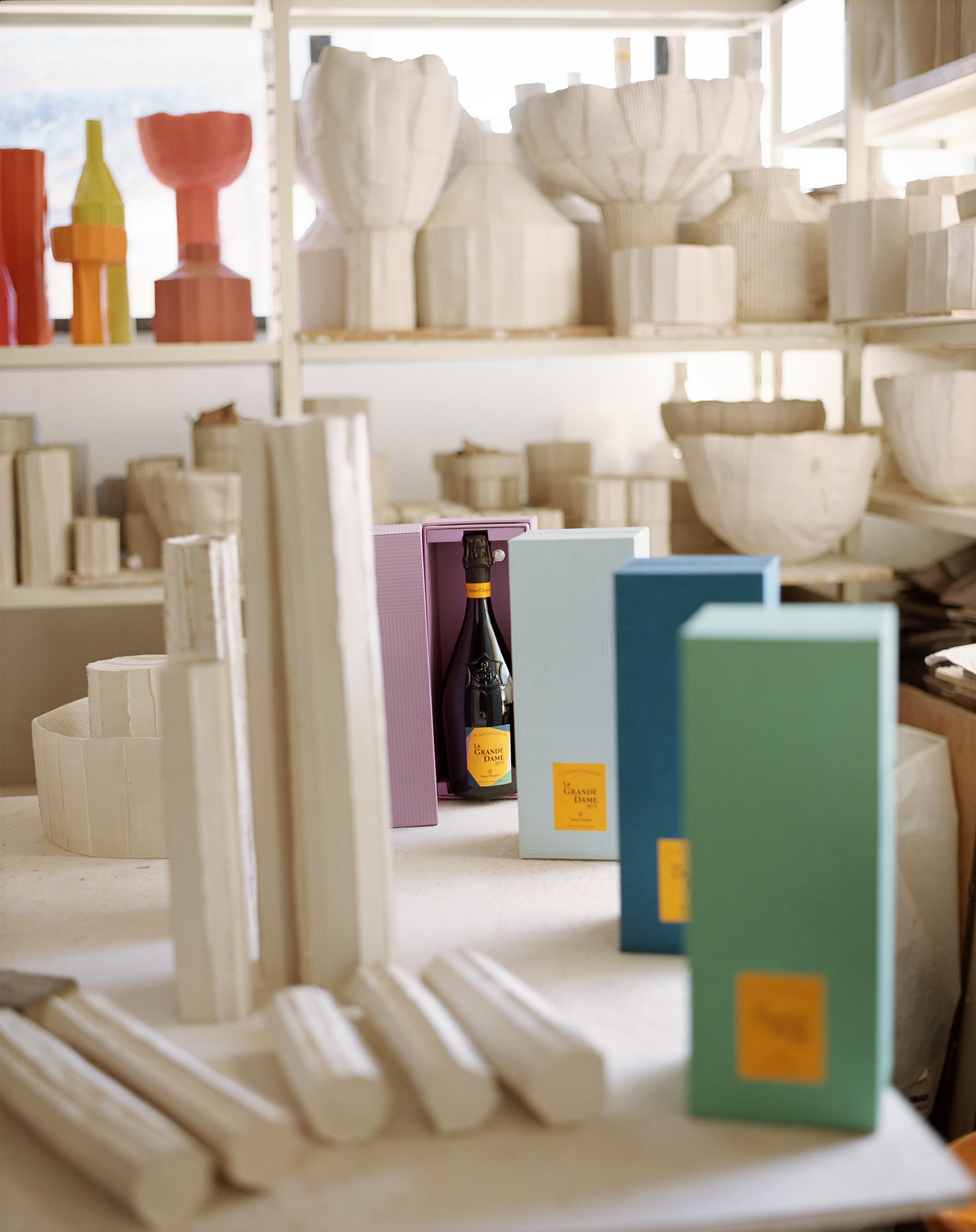 Based in the town of Pordenone in Fruili, where she grew up, Paronetto has developed a unique method for creating ceramics with seemingly fragile shapes and proportions. Her technique, which she calls "paper clay," involves adding paper pulp to the ceramic mixture. "After so many years of working with ceramics in a traditional way, I really wanted to do something completely different and something that represented movement and lightness—so that it didn't really look like ceramic but represented something else," she says. To look at, Paronetto's work appears weighty, sculptural, and solid. To the touch, it is fine, delicate, and paper thin. As thin as one millimetre, "but that is too fragile," states Paronetto, whose base is now between two and three millimetres.
The bottle shape is Paronetto's signature, "long before the Veuve Clicquot collaboration," she points out. "I always show them in groups, almost like people talking to each other," the artist says. Every bottle is closed at the top as "I don't want them to be used as vases. They have their own life."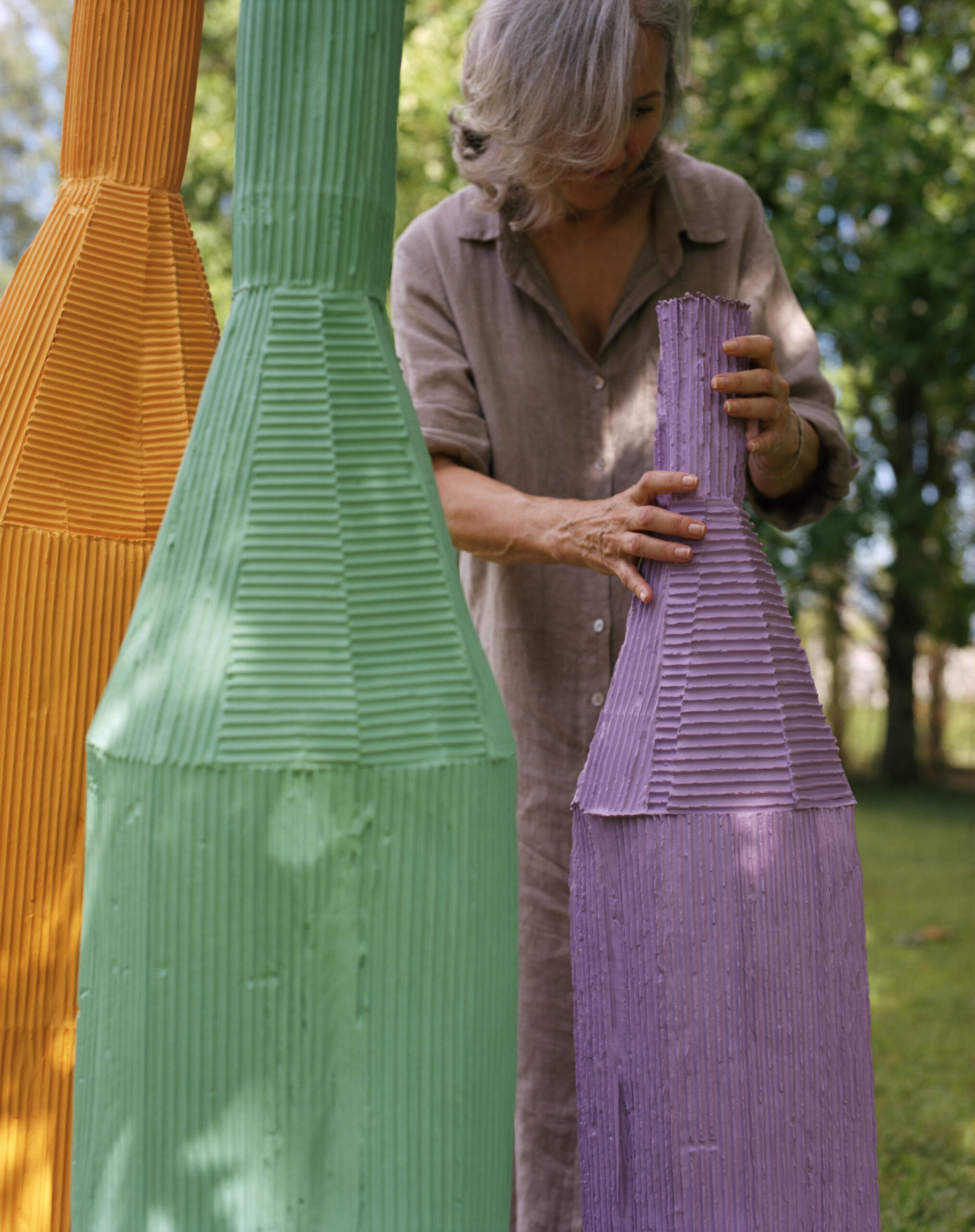 The formidable Madame Clicquot was Paronetto's main source of inspiration, sharing "a lens of joy and optimism." Clicquot, who inherited the company in 1805 ( she was widowed at 27 and took over her late husband's business), was known for her audacious spirit. Paronetto wanted to pay homage to the grande dame, and thus the Giganti Monumentali public art installation of three giant metal bottles in Milan's Conca dell'Incoronata garden, where they will be on display until the end of the year.
Veuve Clicquot has collaborated with various artists and designers over the years, including Yayoi Kusama, Pablo Reinoso, Tom Dixon, Karim Rashid, and Cédric Ragot. Each has reinterpreted the bottle in some way, but for Paronetto, "the bottle is perhaps the most banal"—and so her choice to think outside the box.