Vancouver's Fig is More Than a Pretty Facial Bar
The self-proclaimed "first clean facial bar".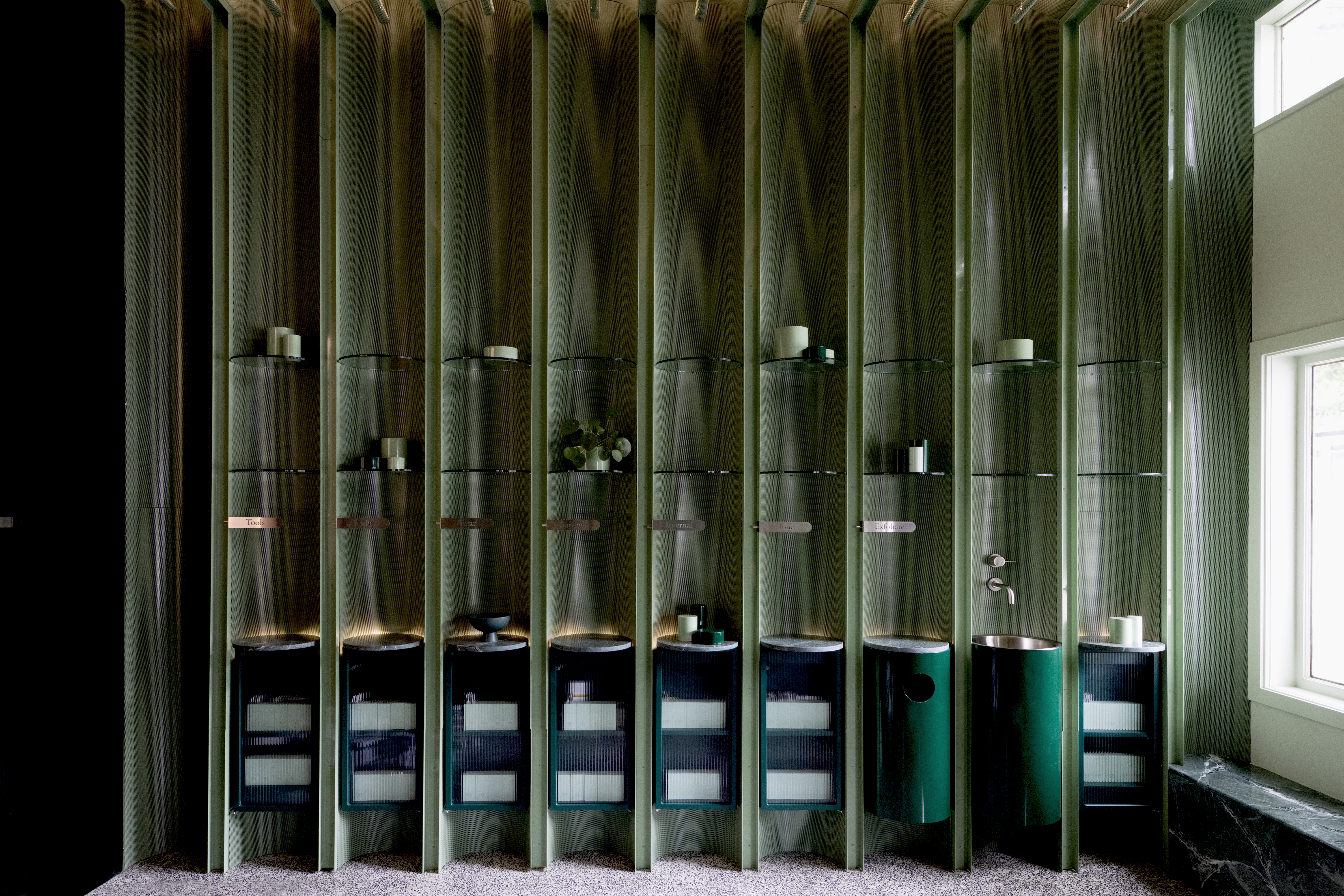 There's something deliciously intriguing about figs, those not-quite-a-pear, not-quite-a-peach fruits that often find their way into desserts and onto carefully plated charcuterie boards. They're sweet, chewy, a little crunchy, and a killer source of fibre. Physically, they share qualities with our skin—an organ that's best treated from the inside out. "The fig is an internal flower, so it blossoms on the inside," notes Jessica Walsh, founder and creative director of Fig, a recently opened facial bar in Vancouver. "It's fleshy and plump and luscious. I love that connotation."
The loose analogy explains the name of Fig and the green interior of its 500-square-foot space, inspired by the skin of one variety of the Mediterranean fruit. (An all-millennial-pink bathroom references the fig's sweet inside.) Like its fruit namesake, Fig is also natural. More specifically, the treatments offered at the Kitsilano spot—facials, wrinkle-relaxing injections, and energy-boosting vitamin shots—are free of silicones, synthetic fragrances, and other potentially hazardous components that are typically found in conventional beauty items. Fig's facials incorporate products from brands like Dr. Loretta and Beautycounter, which forgo controversial ingredients such as parabens. The fine-line-reducing "Stingers" on the treatment menu use Xeomin, an alternative to Botox that has zero additives. In fact, Walsh claims that Fig is the first skincare bar in the world to ensure such standards in its offerings and to bill its services as clean and non-toxic.
A former brand consultant and fashion editor of Tatler magazine from London, England, Walsh conceived of Fig after she relocated to Vancouver with her husband and two children in 2014, and fell in love with the city's buzzing health-and-wellness scene. It was then—while sporting Lululemon, paying closer attention to the ingredients listed on skincare labels, and teaching barre classes—that she saw a market for a local facial destination that prioritizes natural products and marries the benefits of botanicals with the strengths of both science and alternative medicine. "I love my medical doctor; I love my naturopath. I love organic, but I also love hi-tech [innovation]," explains Walsh. "I thought there should be a happy medium."
That happy medium has been embraced by Vancouverites, who have flocked to Fig since it quietly opened in May. In addition to offering clean facials in a chic and intentionally unfeminine space (Walsh estimates that 30 percent of the business's clients are men), Fig is designed to be as accessible and non-intimidating as possible. Treatment options  are broadcast on a large display, with prices  clearly visible, not unlike a menu at a juice bar. There are three 30-minute facials, with a fourth to come this fall, the aforementioned stingers, and B12 shots. Instead of a reception area, there's a single marble-topped island and a wall of curated beauty-and-wellness goods from hard-to-find brands like Corpus and African Botanicals, which guests are encouraged to sample.
Treatments are performed in womb-like pods, each of which is just roomy enough to house a custom Japanese-made barber chair, a phone-charger-equipped storage cabinet, and an Ionic OxyLight or, as Walsh calls it, the "Rolls Royce of facial machines." The same contraptions will be employed at Fig's downtown Vancouver location—set to open by early 2020—as well as at three outposts in Los Angeles, which are slated to launch within the next year. It's perhaps in these snug spaces that Fig's clients—covered in cozy wool throws and shielded from the rest of the room by floor-to-ceiling velvet curtains—feel the fig-skin analogy most at work. "I want people to feel like they're being looked after," says Walsh. "Great skin confidence is our mission."
Photography by Scott + Scott.
_______
Never miss a story. Sign up for NUVO's weekly newsletter, here.