A Lakeside East African Manor Retreat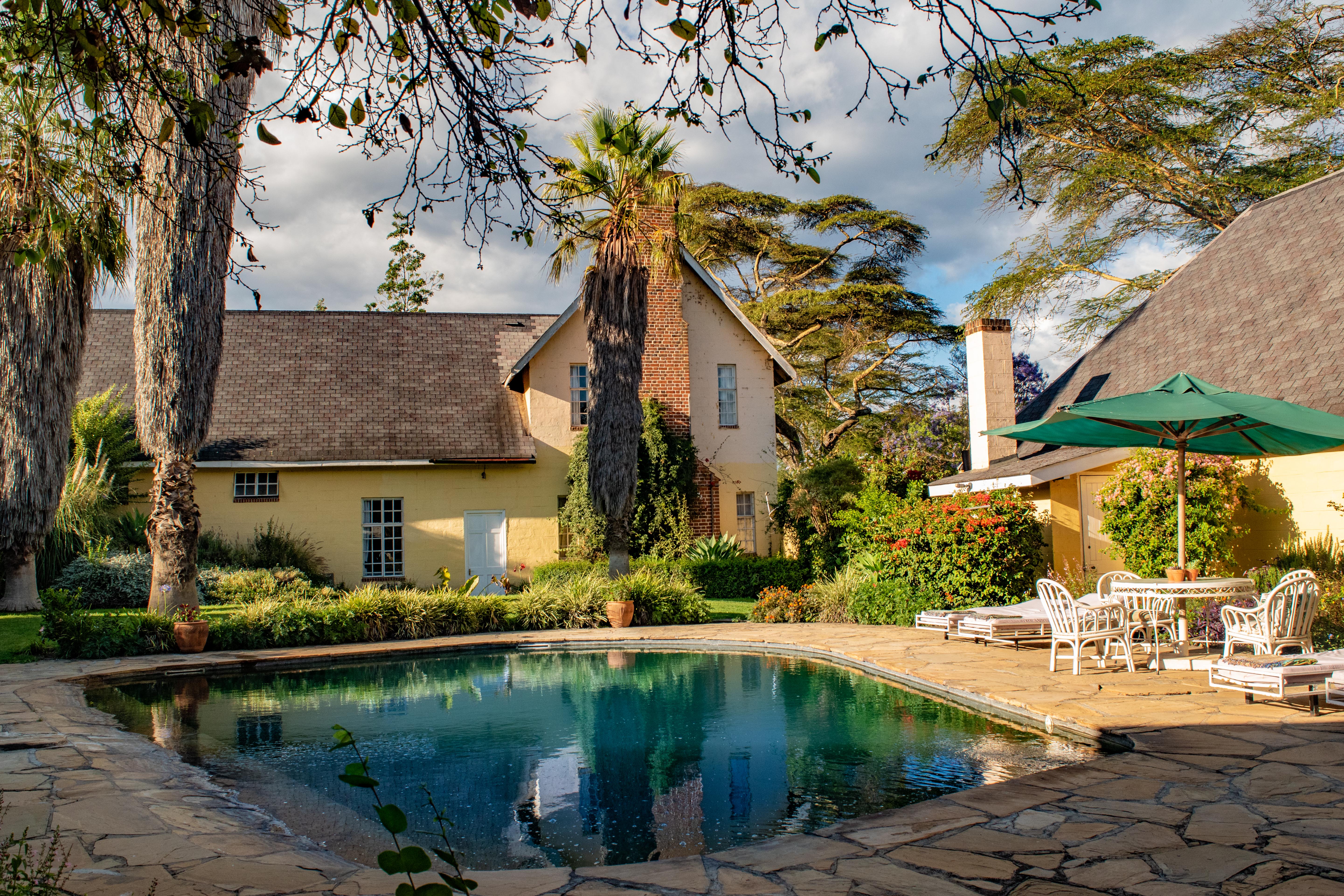 Nestled on the floor of the Great Rift Valley, which slashes the East African country of Kenya from north to south, are several lakes known as the Jewels in the Rift: Turkana, Bogoria, Nakuru, and Naivasha being the superstars. Another tiny gem known as Lake Oloiden, located two hours from Nairobi, flies under the radar despite being the location of Mundui House, whose guests have included Winston Churchill and Ernest Hemingway.
Built in the old colonial architectural style around a central courtyard, Mundui hosts international visitors as well as African society weddings. Fever trees sweep down to the lake, which is rimmed by phalanxes of pelicans bobbing in the water and fish eagles tilting their heads back to emit their haunting cry. On a moonlit night, a tweak of the bedroom curtain reveals a plump hippo grazing on the lawn outside.
Margaret Zak, the Polish owner of Mundui House, as well as the private 1,000-acre conservancy upon which it sits—and also the nearby Kongoni Game Valley Conservancy—is dedicated to her ARR (Animal Rights Reserved) foundation: the land hosts buffalo, giraffe, zebra, hyena, leopards, bat-eared foxes, and many more bush animals. Focused on Kenya's precious wildlife, Zak funds the ARR's mobile vet clinic—an effort aided by the Kenya Wildlife Service Mobile Veterinary Unit—which stars in the endearing YouTube video, "Meet the Veterinarians Saving Kenya's Wild Animals." Whether working close to home, maybe treating a zebra whose leg has been damaged by a poacher's snare, or travelling further afield to relocate lions, ARR workers are continually busy.
Mundui's Richard Hartley—who, along with his wife, Helen, acts as a gracious host—entertains guests with tales of the past, yet is in constant contact with vet headquarters, ensuring animal well-being. His demeanour brings to mind Hemingway's words: "I never knew of a morning in Africa when I woke that I was not happy."
_________
Never miss a story. Sign up for NUVO's weekly newsletter, here.