The Teahouse's Pastry Chef Noel Singh's Apple Streusel Cookies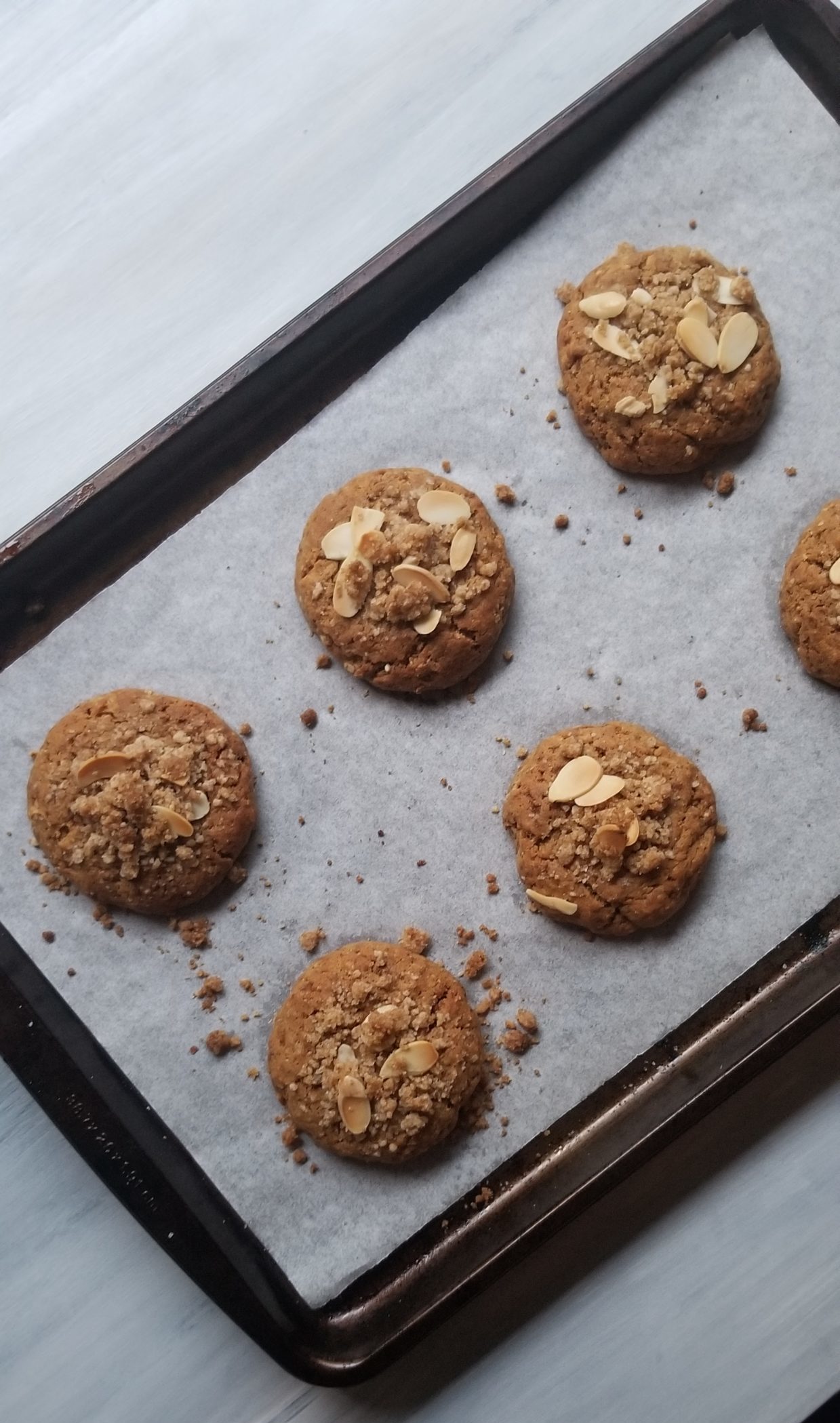 A sweet treat made at the beginning of the week can give you the motivation you need to make it to the end. These little cookies by pastry chef Noel Singh taste like apple pies but require less time, which mean you get to eat them quicker! Like many of us, kids are also getting a bit antsy being stuck indoors. This recipe is something you could easily do with them to keep them occupied. I'd just suggest leaving grating of the apple to the adults. This recipe makes 1 dozen cookies.
Cookie Dough
1-1/4 cup all-purpose flour
2 tsp baking powder
1 tsp cinnamon
1/2 tsp ground nutmeg
1/4 tsp dried ginger
1/4 tsp ground allspice
1/3 cup vegan butter (I used Becel)
2 tbsp coconut oil, solid but not hard
1 cup coconut sugar
1/2 cup shredded apple
1 vegan egg substitute
1 tsp vanilla extract
1/4 cup oat flour
Zest from 1/2 of a lemon
pinch of salt
Streusel Topping

1 tbsp vegan butter
2 tbsp brown sugar
3 tbsp all-purpose flour
1 tbsp sliced almonds, optional
Directions
Make your vegan egg substitute—I used 1 tbsp of ground chia seeds with 3 tbsp of water. Once you have it mixed with the water, set it aside for a moment until it starts to thicken. However, there are many different options you could use for a vegan egg replacer. A few examples are ground flax seeds, mashed banana, or even mashed soft tofu.
Peel, core, and grate the apple in a small bowl. Gently squeeze out any excess juice and measure out 1/2 cup. One apple will be more than enough.
To make the oat flour, place some oat flakes into a food processor and pulse a few times until you get flour consistency and a full 1/4 cup.
Add the all-purpose flour, baking powder, cinnamon, nutmeg, ground ginger, allspice, and salt to the food processor; pulse a few more times to blend together.
In your mixing bowl, combine the vegan butter, coconut oil, and coconut sugar; cream together.
Scrape down the sides and add the vegan egg with the vanilla extract until it is combined.
Add the grated apple and the lemon zest. Mix until it is even throughout the butter mixture.
Add the dry ingredients you combined previously to the mixing bowl and mix until it forms a dough.
Portion the dough into 12 equal pieces. If you have a kitchen scale, this will also come in handy, but you can also do this by eye.
Line a baking sheet with parchment paper and place the balls of dough on the tray about 2 inches apart. Press them down and flatten them slightly. You may need more than one tray.
Place the tray in the freezer for about 20-30 minutes so they will not spread too much. Preheat the oven to 350°F.
To make the streusel topping, in a small bowl, combine the vegan butter, brown sugar, and flour. Use a fork to mix together until you get a crumbly mixture. If using almond slices, mix in last. Place in freezer with the cookies to chill until the time is up.
Once the time has passed, take the cookies and streusel out of the freezer. Sprinkle some of the streusel on top of each of the cookies. Place them in the preheated oven for 15-20 minutes.
Pull them out of the oven and allow to cool on the baking sheet for about 10 minutes; transfer them to a cooling rack to cool completely. They will firm up when they are cooling.
You probably won't be able to wait for them to cool completely because they smell so good! Enjoy!
________
Never miss a story. Sign up for NUVO's weekly newsletter here.