The Self-Isolation Styles of Canadian Fashion Designers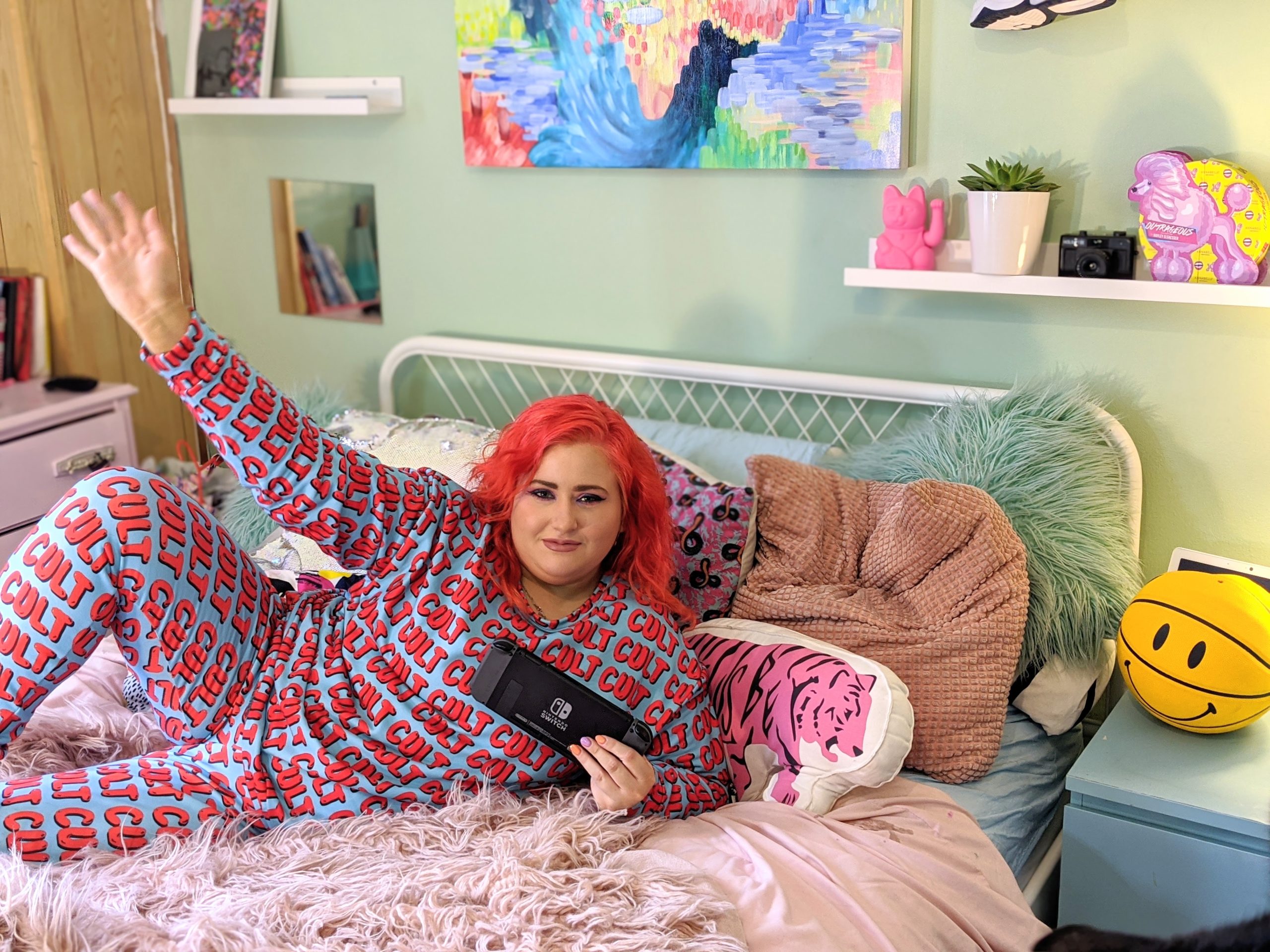 In the time of coronavirus, our once-colourful lives have retreated indoors, taking on a rather unfamiliar shape. As the pace of life has slowed, getting dressed on the daily has taken on new meaning. Now, more than ever, fashion can be a tool for creativity, for escapism, and yes, for comfort. We spoke to some of Canada's most exciting fashion designers about what they're wearing while self-isolating, and their tips and tricks to maintaining a sense of normalcy amidst the chaos.
Hayley Elsaesser
Hayley Elsaesser delighted Canada's fashion palate when she debuted her chic 'n' cheerful designs. Her instantly recognizable prints possess vim and vigour like no other, and Elsaesser has also made her voice known, speaking up on topics such as mental health. The designer's personal style has remained unchanged at home. "I'm a comfort queen on a good day, which is why most of my designs either usually have stretch or are a comfortable silhouette, so now is no different," she says. Right now, her CULT print sweatsuit has been a go-to look.
To stay as productive as possible, the designer has been maintaining a daily routine much like she did pre-coronavirus. "Everyday I get up and get showered and dressed, take my dog for a walk, and then drink some coffee, which I'd do normally," Elsaesser says.
Mani Jassal
Since stepping into the world of fashion, Mani Jassal quickly carved out a niche for her brand. Her unique approach to South Asian attire nods to her Indian heritage while modernizing the silhouettes. She counts Rupi Kaur and Gigi Gorgeous as fans. Despite all the embellishment \in her designs, Jassal's go-to look has been comfy sweatsuits. "I feel like I am always wearing WFH outfits—especially on days that I am working in the studio," she says. "From Peace Collective to Aritzia to OVO, I have so many options."
Unfortunately, the ramifications of coronavirus have meant Jassal no longer has a team working for her. "Since I have my own company, I have actually been completing pending client orders," she says. "I have been doing all the cutting and sewing myself on orders." Beyond running her company, Jassal has been focusing on another creative outlet: painting.  "I have recently taken out my watercolour paints and have been painting for fun," she says. "It is super relaxing."
UNCUFFED
Olga Barsky is Toronto's unofficial lady of leather and the mastermind behind UNCUFFED leather. Counting the likes of Brooke Lynn Hytes and Rita Ora as fans, Barsky has wooed leather aficionados with her creations that walk the line between kinky and whimsy. While she reached for loungewear at the start of her self-isolation period, the designer swiftly reverted to high-waisted jeans and an oversized band tee—her uniform. "I have, however, been eyeing a playsuit by Evan Biddell, which would make for the most stylish and cozy WFH look."
Aside from running her fashion business, Barsky isn't trying to overwhelm herself at the moment. "I think that now, more than ever, it's important for us to be gentle with ourselves," she says. "This isn't about learning new languages and instruments for the sake of feeling accomplished, or in control." However, to help maintain a sense of normalcy, she does spritz on her signature scent every morning.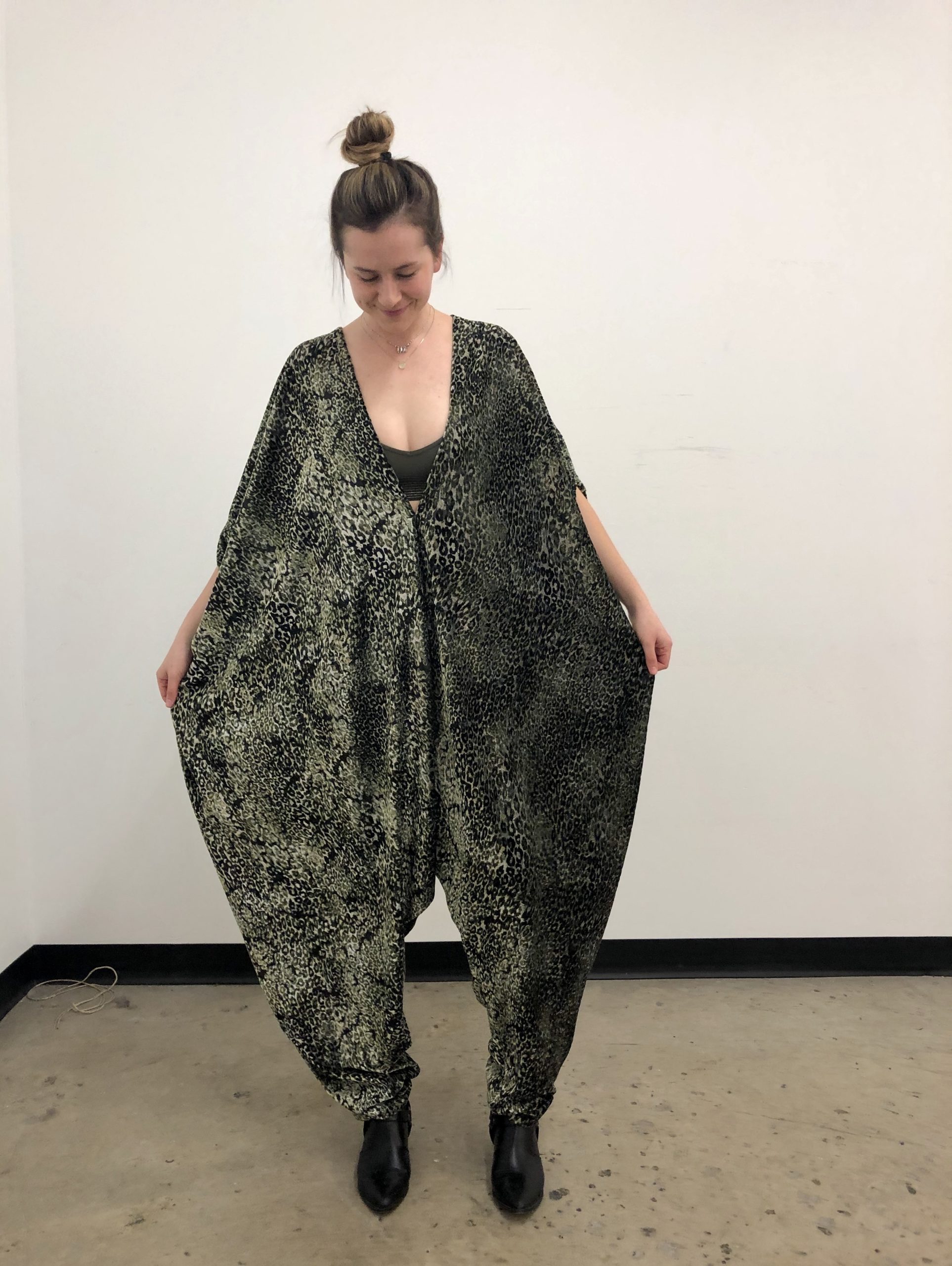 Evan Biddell
Designer Evan Biddell worked his way into the hearts of Canadians back in 2008 when he won Project Runway Canada. Since then, the Toronto-based designer has been stitching up creations that do drama with a side of fun—such as reworking deadstock leather jackets to add some badass fringe. A quarantined Biddell has been far more focused on dressing others; his distinct playsuit (yes, that one) is just the ticket for these weird times.
When Biddell isn't at his sewing machine, he can be found bringing the people together. "I feel the need to connect and sweat together, so I've started the Church of Biddell on my Facebook Live every Sunday at 2 p.m. EST," he says. "I make a sick playlist of upbeat tunes, dance around, and walk like a model, and chat with people." Amen, sister.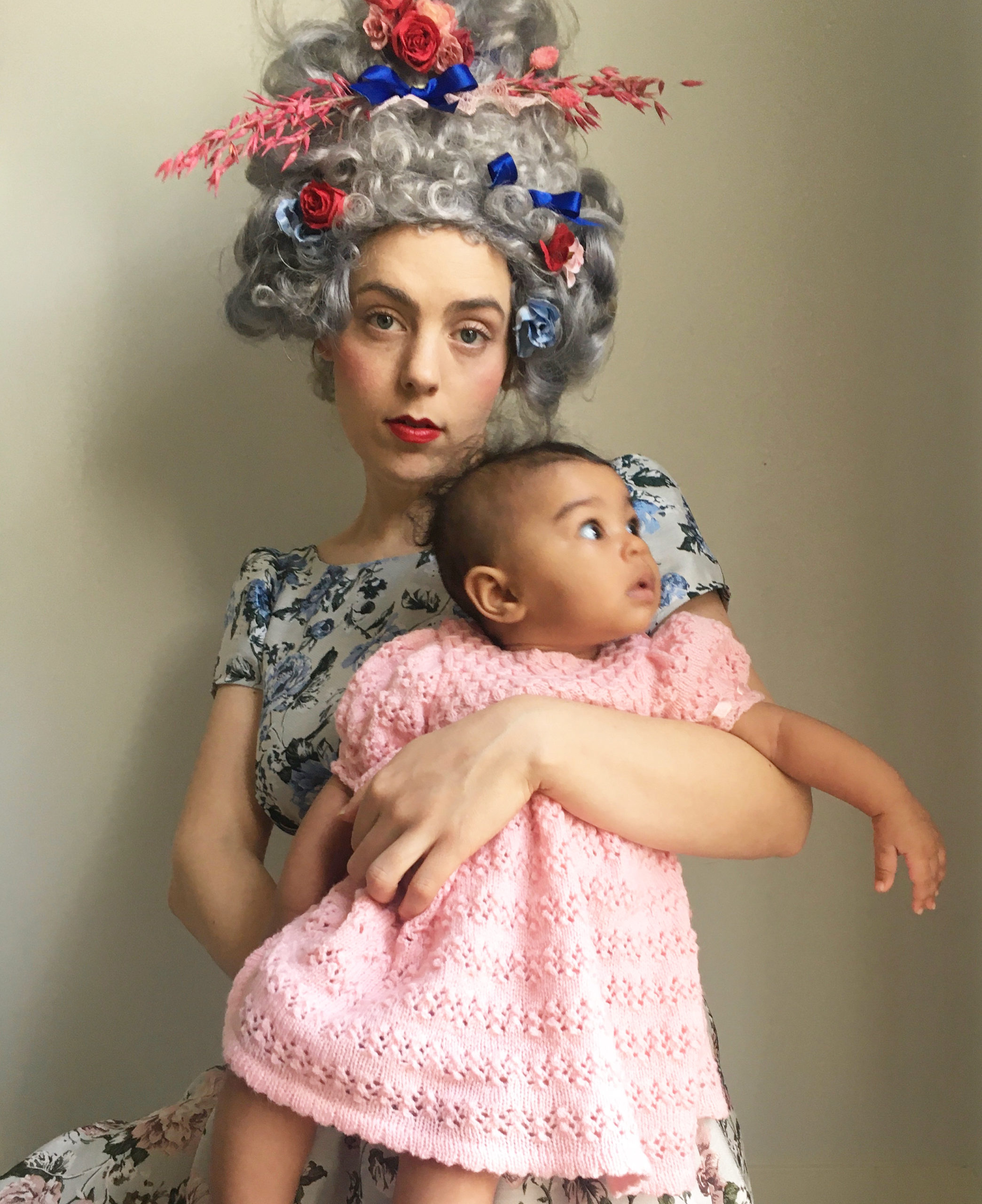 Rose McMahon from Rightful Owner
Rightful Owner is what happens when Marie Antoinette gets stuck in the 1950s. Based out of Montreal, Rose McMahon takes a romantic approach to her clothing line, with an affinity for puff sleeves, lace-up bodices, and plenty of floral prints. This period of social distancing hasn't put a damper on the designer's playful personal style. "One day I'll wear an all-red sweatsuit, and the next I'll wear one of my going-out dresses with a massive wig, you know, just to keep it fresh!" she says.
A rosy outlook partnered with a vivid imagination has helped McMahon adapt to the current situation. "I imagine that we are living in the past, like Jane Eyre, where a household might go an entire winter without seeing people anyway," the designer says. "My grandmother grew up in rural Canada, and I know they would go months without seeing anyone that wasn't in their immediate family. I hope collectively we can make some positive changes for the future."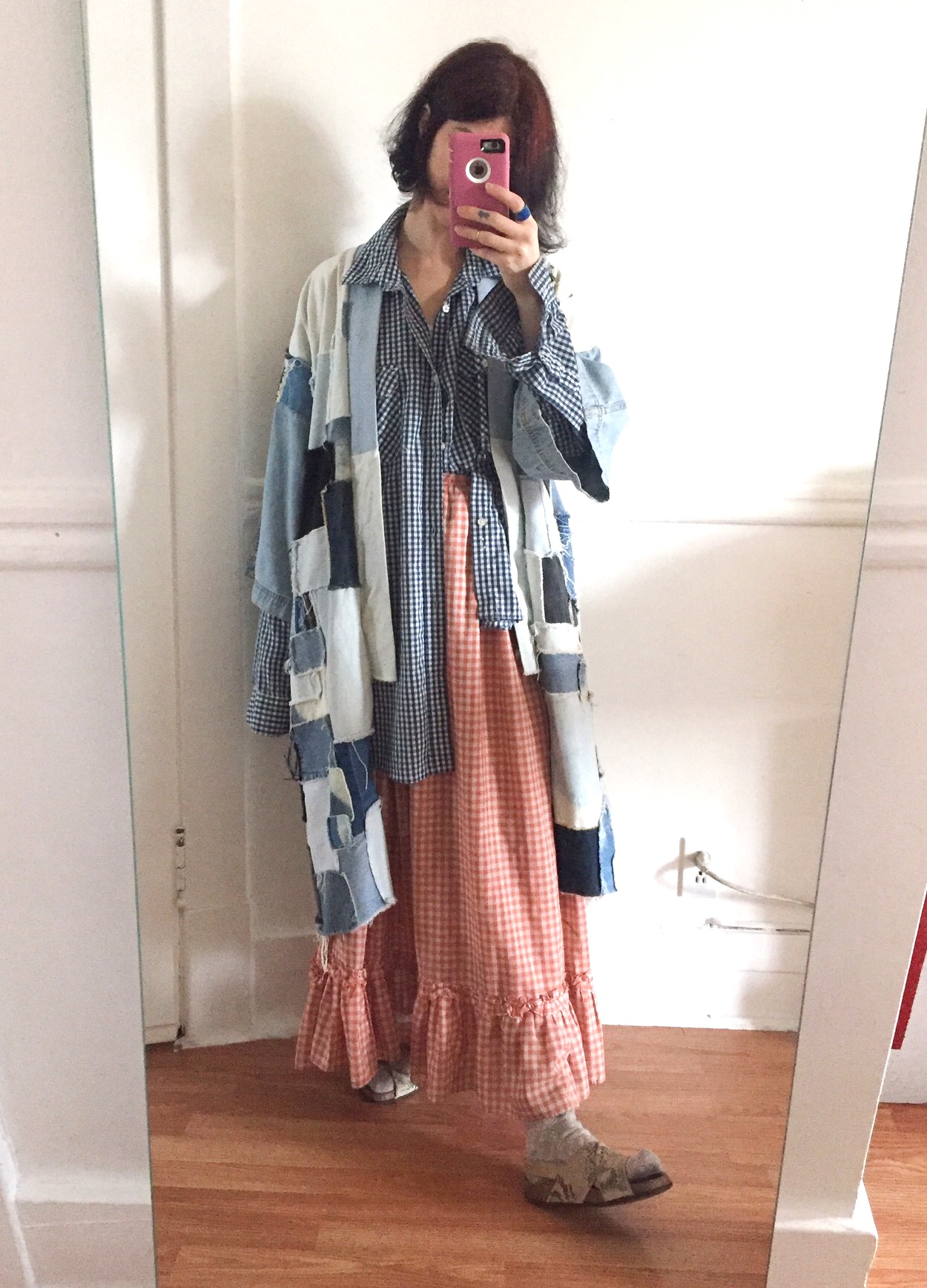 3_3_4_7
Through her label 3_3_4_7, Montreal designer Courtney Pedersen whips up sustainable fashion with a seriously magical lean. Dramatic tiers and plenty of volume are some of her signature moves, and Pedersen uses locally sourced recycled materials to create her one-of-a-kind garments. Proceeds from each purchase from her current collection will help support Canopy, a not-for-profit that works to preserve ancient forests.
Perhaps unsurprisingly, Pedersen's personal style tends toward the absurd, and this continues during her self-isolation. Calling it her "various states of undoneness," the designer dons a double-layered denim robe that's "pretty much my uniform." With luck, Pedersen will be able to get her Etsy vintage shop, VintageFortyseven, up and running again once she's able to properly source pieces, but for now she's focused on her label.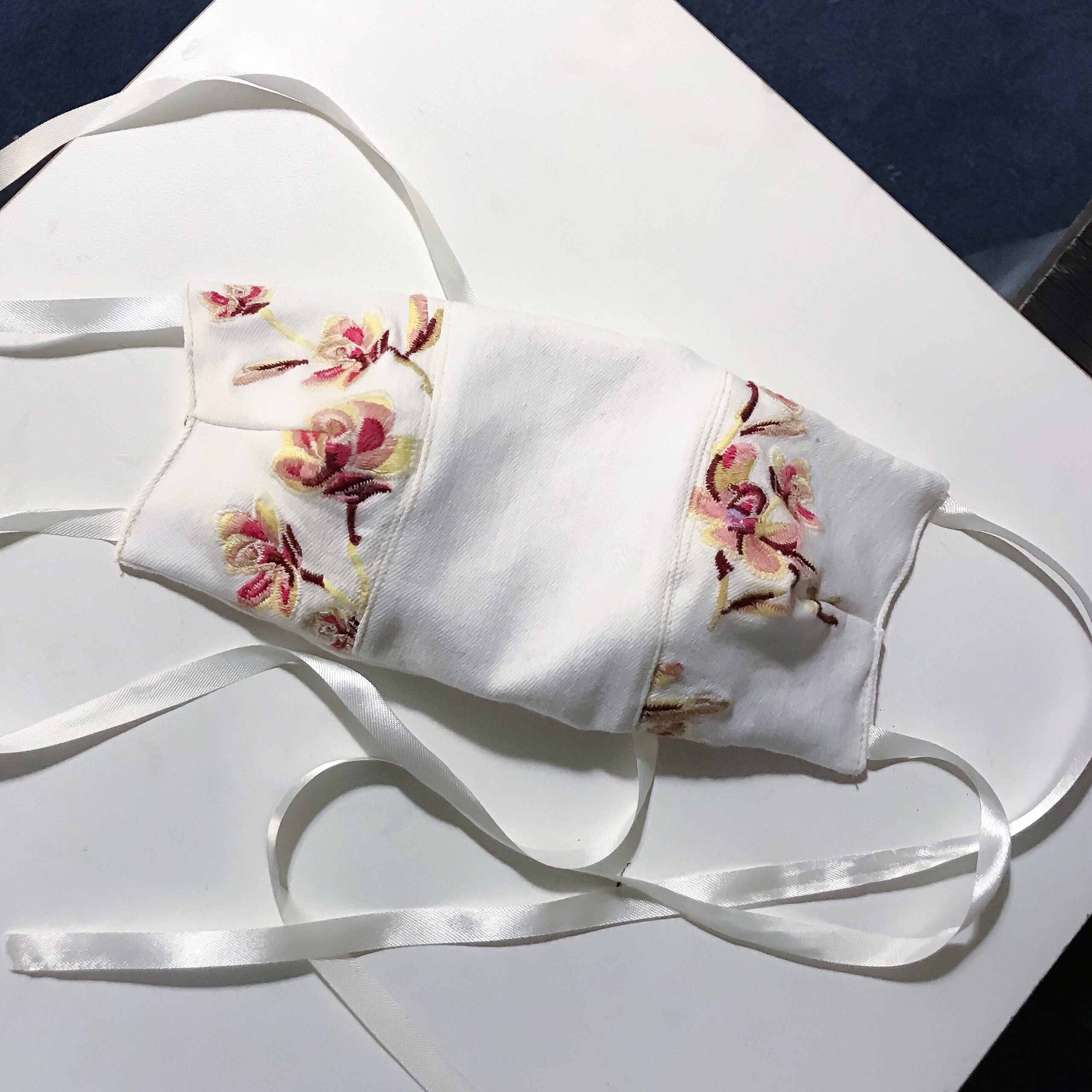 Casey Lamb of KSLAM
Designed by Vancouver's Casey Lamb, KSLAM clothing is for, well, everyone. It just so happens that Kali Uchis, Carly Rae Jepsen, and Rita Ora have fallen for the designer's playful aesthetic. While recent offerings include skirts crafted from upcycled ties—a fresh take on the work wardrobe—Lamb imagines her work-from-home muse wearing something a bit more comfortable. "I think my WFH muse would wear an oversized button-down, with some cute underwear and socks," she says. "Basically, Tom Cruise Risky Business vibes."
When she's not sewing outfits, the designer has been whipping up custom denim masks made from sustainable materials. Lamb notes, "all proceeds are going to the local food bank as food continues to be less accessible for those who really need it." Lamb has armed herself with a positive attitude, giving herself a daily purpose—whether is an idea or a task. "I think it's important to set the tone as soon as you wake up, especially now, because it can be both isolating and hard to hold yourself accountable in this current climate."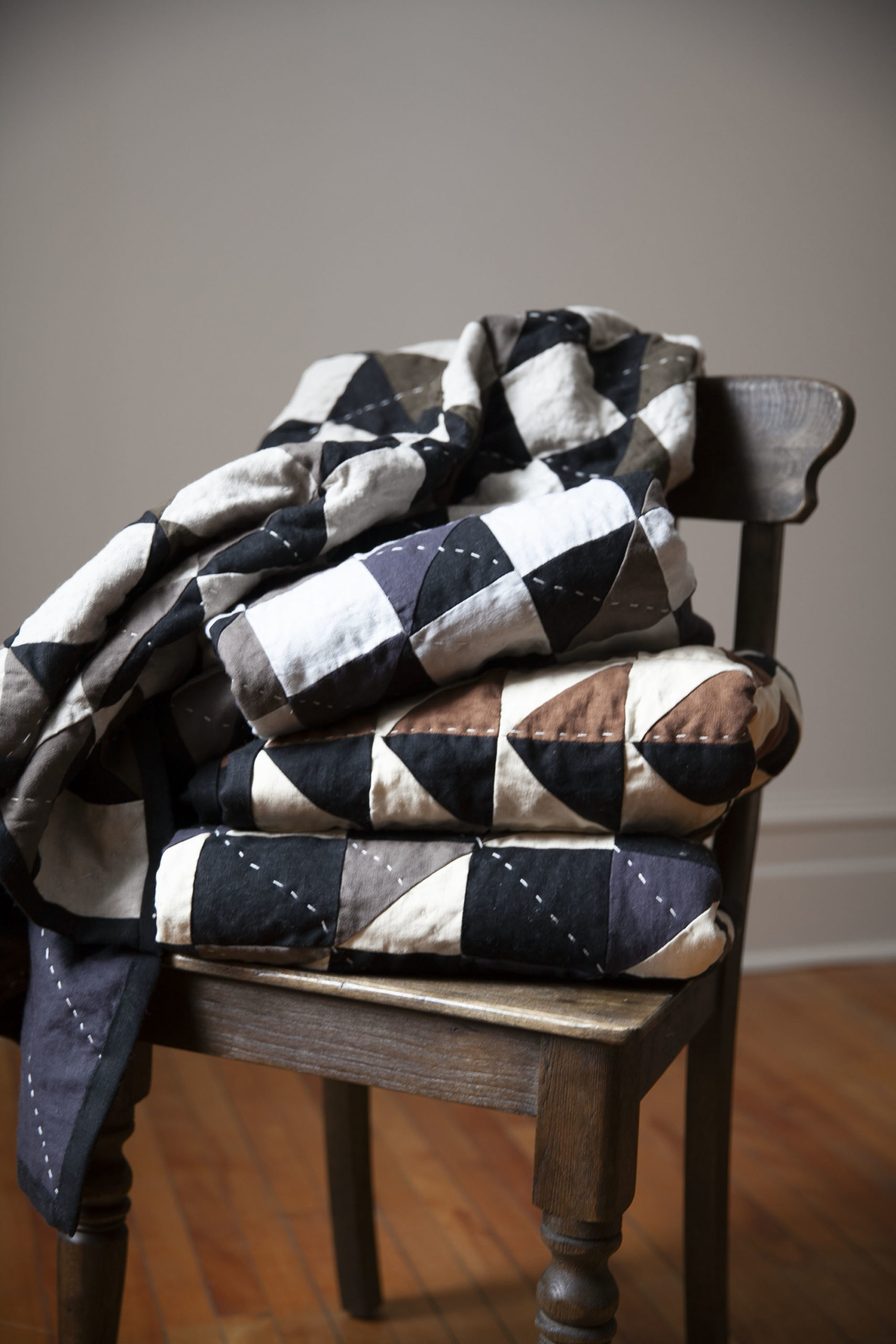 Ovate
Occupying the space between the romantic and the minimal, Montreal's Ovate label is the work of designer Audrey Cantwell. Available exclusively online, Cantwell's pieces are entirely handcrafted and dedicated to sustainability.  "Like many people working from home, I've been prioritizing comfort these days," Cantwell says. Currently, she tends to reach for soft, loose linen dresses—such as her Hyssop dress—while layering on additional pieces for warmth.
To keep herself further occupied during this period of isolation, "I've been working through a few heaping baskets of linen and cotton scraps, and making quilts to sell in my shop, as well as handmade fabric masks, which I am donating."
________
Never miss a story. Sign up for NUVO's weekly newsletter here.